Detroit IndyCar GP postscript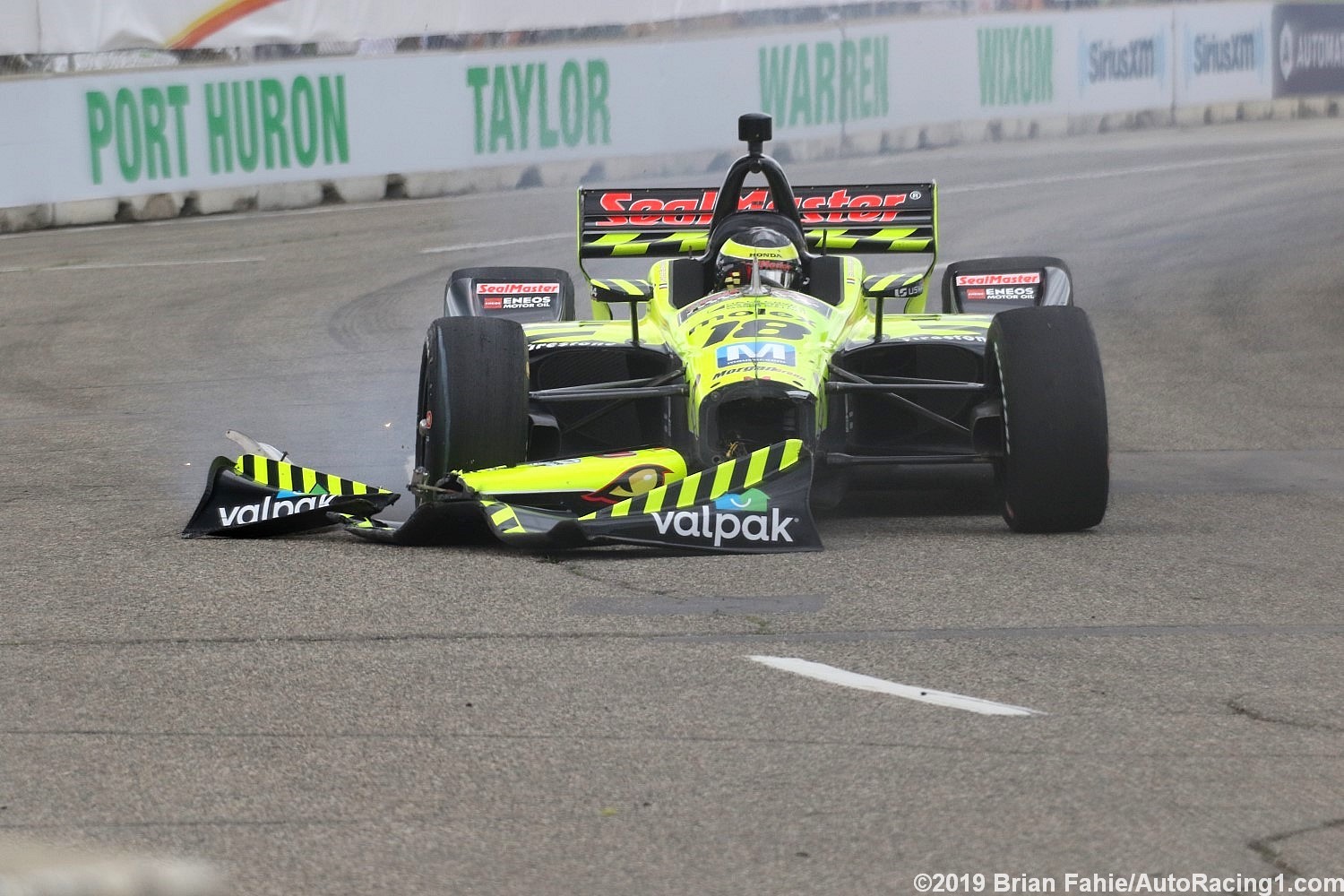 The Detroit GP had its usual share of carnage
The NTT INDYCAR Series made its annual stop in The Motor City this past weekend. Team Penske's Josef Newgarden took the checkered flag in Dual 1 of the Chevrolet Detroit Grand Prix presented by Lear, with Chip Ganassi Racing driver Scott Dixon winning Dual 2. Both races were also filled with some of the characteristic carnage we have come to associate with the racing on Belle Isle.
As is almost always the case in the world of IndyCar, there were storyline aplenty off the track. And that is where we will begin our Detroit Postscript.
The Captain
For a brief history lesson, CART held its first race on Belle Isle in 1992 and continued the event through 2001. However criticism of the paddock area, a narrow track that promoted little passing, and dwindling attendance resulted in the event not being renewed for 2002 on what had become known to many as 'Hell Isle'.
Michigan native Roger Penske took control of the event's rights in the interim and the race on Belle Isle was reborn under Indy Racing League sanction in 2007. However, due to the economic crisis Penske discontinued the event following the 2008 race before once again renewing the event in 2012 with the current doubleheader format running ever since 2013.
Running parallel to the revitalization of the race has been the revitalization of Belle Isle itself. An estimated $13.5 million in improvements have been made to the island in the form of better bridges, drainage, lighting and roads. That record is something Mr. Penske is very proud of.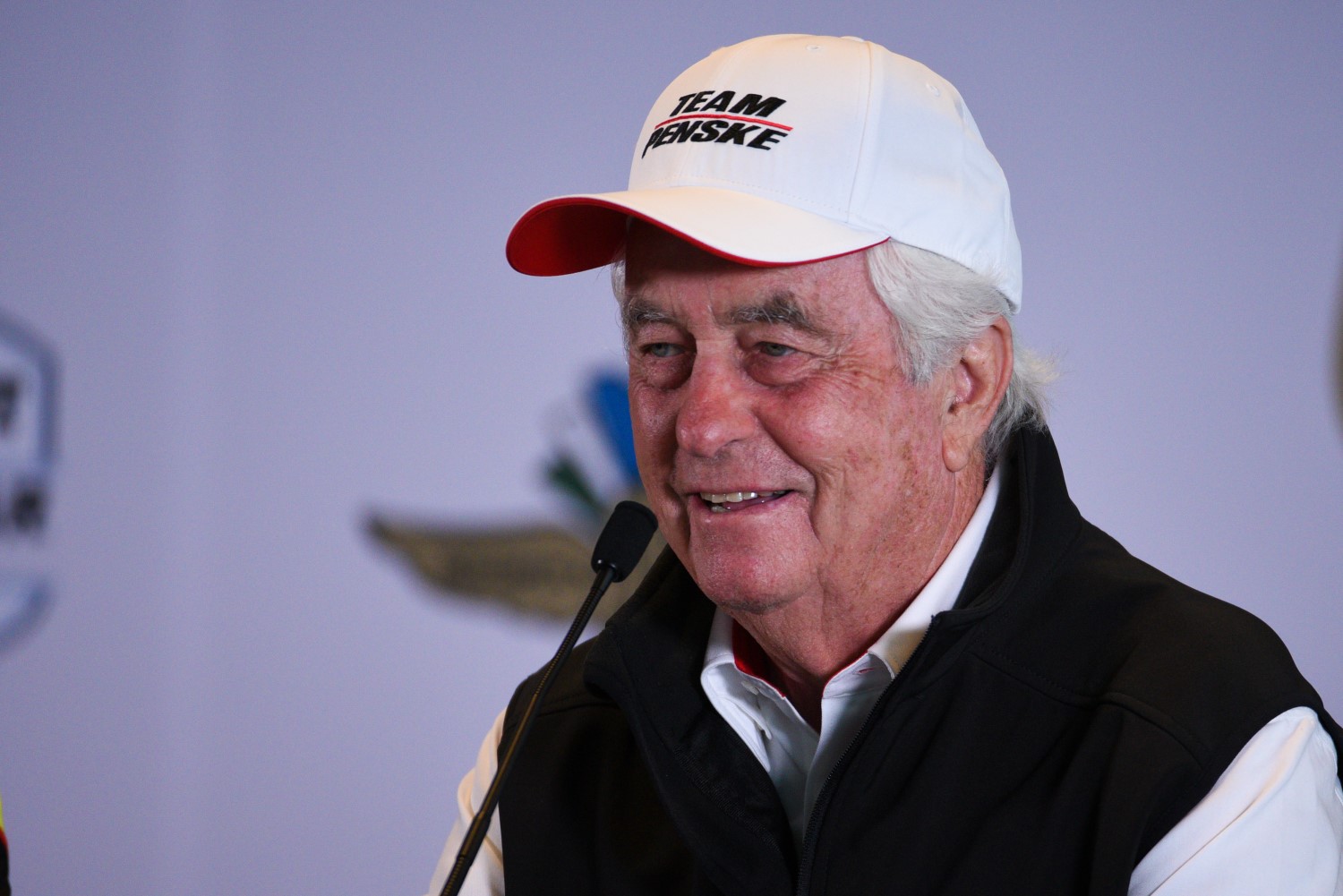 If not for Roger Penske Belle Isle would still be a shit hole
"I think if you step back and you weigh what we've brought to Belle Isle, from the standpoint of investment and what the conservancy has done, what we've done to the western end of the island, I don't think we should have a problem,", said Penske before the 2018 race in response to opposition of the event in Detroit. Penske also views the race as a showcase for a city that shall we say, hasn't enjoyed the best perception in recent years.
In short, we all know that Penske views the race on Belle Isle through the lens of civic pride. A city and an island that have seen better days are on the way back, and Penske sees the race as part of that revitalization.
Penske also addressed something that has been a subject of discussion in the IndyCar paddock for numerous years now: the Detroit race date.
Two things, seem to really irk people about the Detroit date:
It's a doubleheader following the busiest month of the year, and thus an absolute drain on the teams.
The notion that Detroit is something of a letdown following Indy.
The second one I've never thought was fair, as any race is a letdown following Indy, and I'm not exactly sure where people are suggesting the series go. Certainly, any alternative venue would not have Roger Penske as the promoter.
As for the first point, I think there is some meat on this bone worth chewing a little.
I've never worked for an IndyCar team, and I've never traveled to all the races in one season. But I can tell you that having traveled to numerous races in succession is incredibly draining without the hassle of having to work on an Indy car in warm weather hours into the night. Yes, this is the life that those who work in the series have chosen and the teams chose, but that doesn't mean that the series should disregard the people in the trenches so to speak that are vital to the success of the sport. Simply put, this Indy GP-Indy Qualy-500-Detroit double-Texas stretch is brutal. And it's particularly brutal for the out-of-town teams (Foyt, Coyne, Penske).
That said, I'm not sure Detroit is where the series should be cutting back.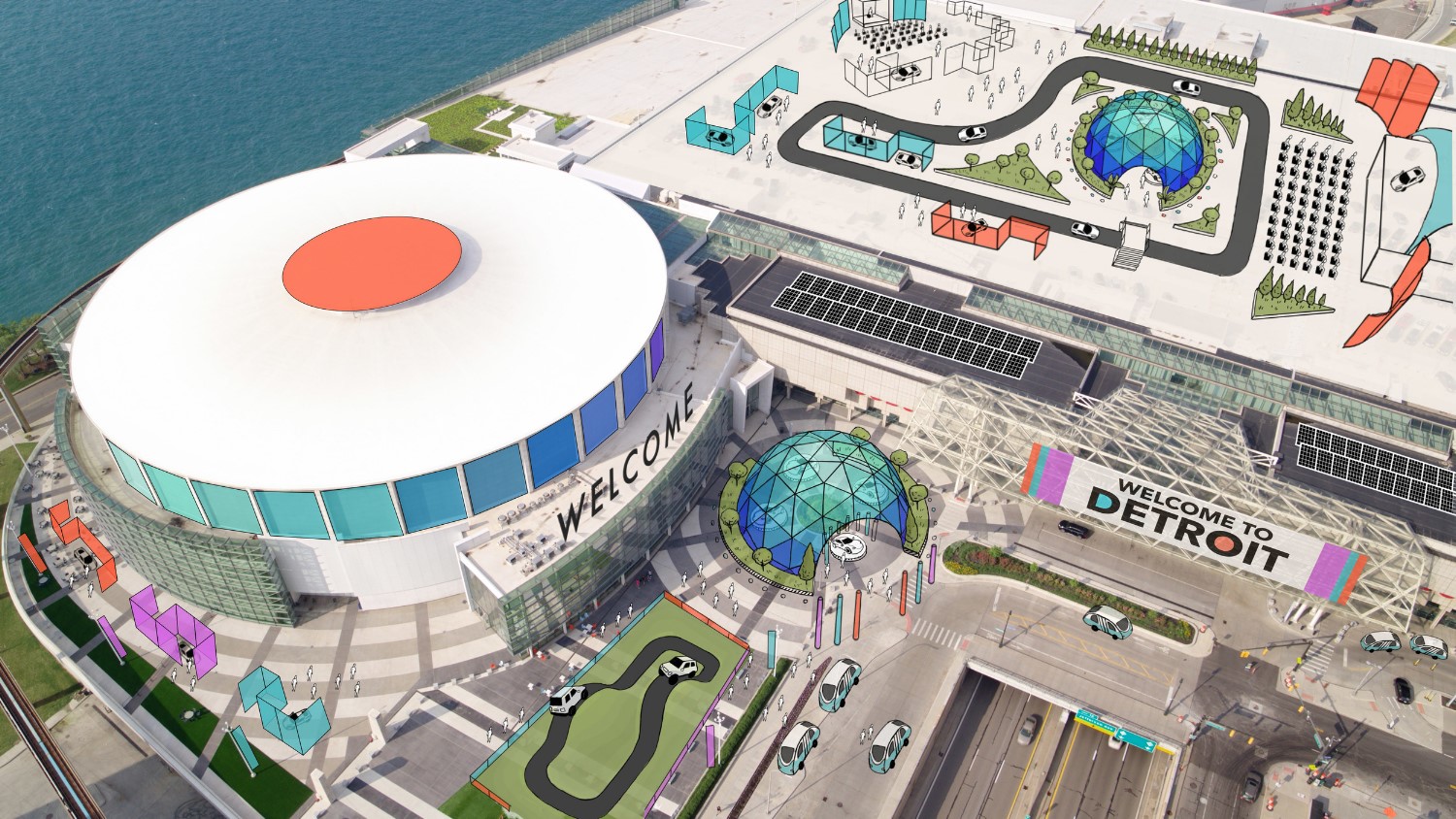 Next year the Detroit Auto Show will follow immediately after the Detroit GP races
For one, Penske was clear this weekend that he wants the race on the date its currently scheduled. Citing the end of school and the equity his group has established locally, Penske is not giving up the weekend following Indy. You might also remember from January that Penske was happy with the date change for the Detroit Auto Show starting next year .
In other words, if Penske were being brutally honest and not speaking with the corporate polish he has mastered, his words would probably sound something to the effect of:
My group has spent millions investing in this event, millions investing in the island, and millions investing in the community. We've spent countless hours promoting the event and working with local agencies and citizens to minimize disruption and accommodate their needs. This event is important because it is in the manufacturers' backyard, and those relationships are vital to both myself and the series.
Also, tell me another promoter that would be able to survive the bad weather this race has had in recent years? Simply put, I want it on this date, the city wants it on this date, and we have too much equity in this date. If you want relief in the schedule feel free to look elsewhere.
This is real simple: the event is staying on Belle Isle on the weekend following the Indianapolis 500. And despite what many might suggest, that's a good thing.
VSC
I know I've said this before, but it bears repeating.
The way for the NTT INDYCAR Series to mitigate the chances of races being decided based on who guesses correctly on when a yellow flag falls is a Virtual Safety Car type procedure that we see in Formula One. Yes, Josef Newgarden is a very good driver, and yes, I suppose his team should be commended for making the best of the hand they were dealt Saturday. However, wouldn't it be better if Josef Newgarden won the race by say, passing Alexander Rossi on track.
As things stood, Rossi, who had dominated the race was forced behind Newgarden through absolutely no fault of his own. And to be clear Rossi isn't the only victim here as numerous other drivers such as Will Power, Dixon, Helio Castroneves and others have fallen victim to mistimed cautions in recent years.
If there were not a way to mitigate such effects I'd have a different answer here. But if you're trying to determine a worthy champion shouldn't you take every measure possible to remove the randomness from the races we see too often?
Speaking of Rossi…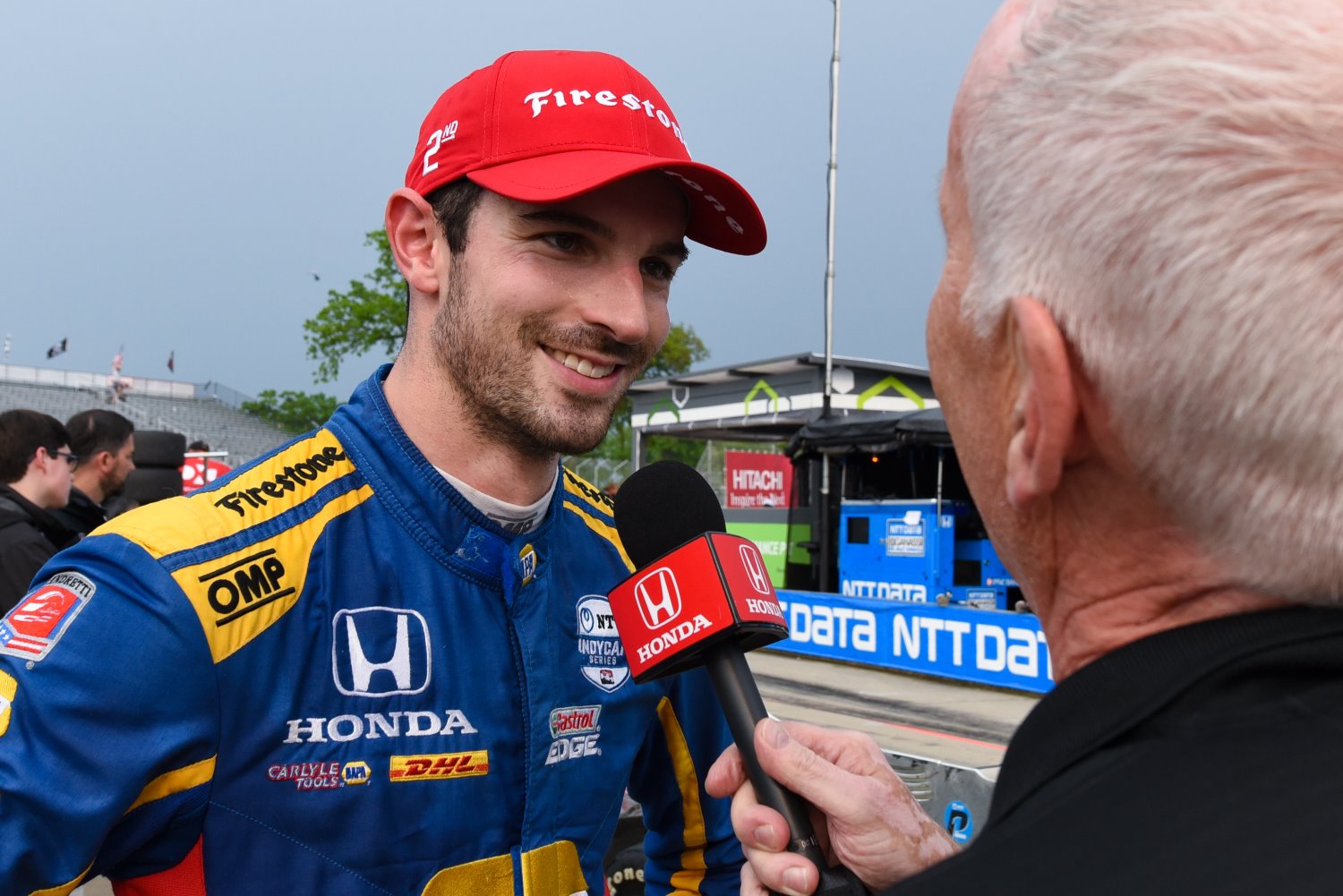 Rossi in demand for 2020
Until something concrete is decided about his future, the story of this summer is the pending free agency of young Rossi. Of course, prior to Simon Pagenaud standing on his head during the month of May, the No. 22 Team Penske seat was thought to be a strong possibility for the 2016 Indy 500 winner. Although, Pagenaud is not yet – to our knowledge at least – signed for 2019, Penske stated he would be back in 2020. So might Penske run a fourth car for Rossi? And what about Chip Ganassi? NBC Sports' Townsend Bell said he ran the idea of writing Rossi a big check by Ganassi this weekend, and Ganassi responded, "I just might."
If I had to guess on Rossi, I imagine Honda and Andretti are going to do everything they can to keep him. Rossi also enjoys a certain status at Andretti now having clearly emerged as the top driver. At Penske, he would be part of a 4-car armada – albeit a very good 4-car armada.
With Ganassi, Scott Dixon will turn 39 in July, so it makes sense that Ganassi is beginning thinking about life after Dixon. Of course, a post-Dixon/Ganassi world might come in 2023 or 2024, but it's not going to be in 2020. And with the very notable exception of Dario Franchitti, Dixon has long outperformed his teammates at Ganassi. Would Rossi want to go to Dixon's team with Dixon still at the top of his game? And if he did, how juicy might an intra-team Dixon-Rossi rivalry be?
Look, these are all questions at this point. However, until there is resolution on Rossi's future, these are going to be questions. And frankly, very valid ones.
One last thing
If you keep up with AR1 rumors page you know that there has been significant discussion regarding corporate restructuring in motorsport. NASCAR, of course, is undergoing a restructuring, as did Formula One about 18 months ago.
I don't have any particular news or inside information on this subject, as I simply read the rumors page like everyone else. It seems to be an incredibly tangled web, and I have no idea how any sort of buyout, takeover, merger, collaboration would work.
But I will say this: motorsport needs consolidation. There are too many series competing for too little of a market share. I'm not saying the sport needs a global commissioner, but some type of collaboration between the different groups would be a very good thing.
Let's hope something happens in that regard. [Editor's Note: We will have a forthcoming separate article on this topic]
Brian Carroccio is a senior columnist for AutoRacing1. He can be contacted at BrianC@Autoracing1.com.