IndyCar Detroit GP: Race 2 Press Conference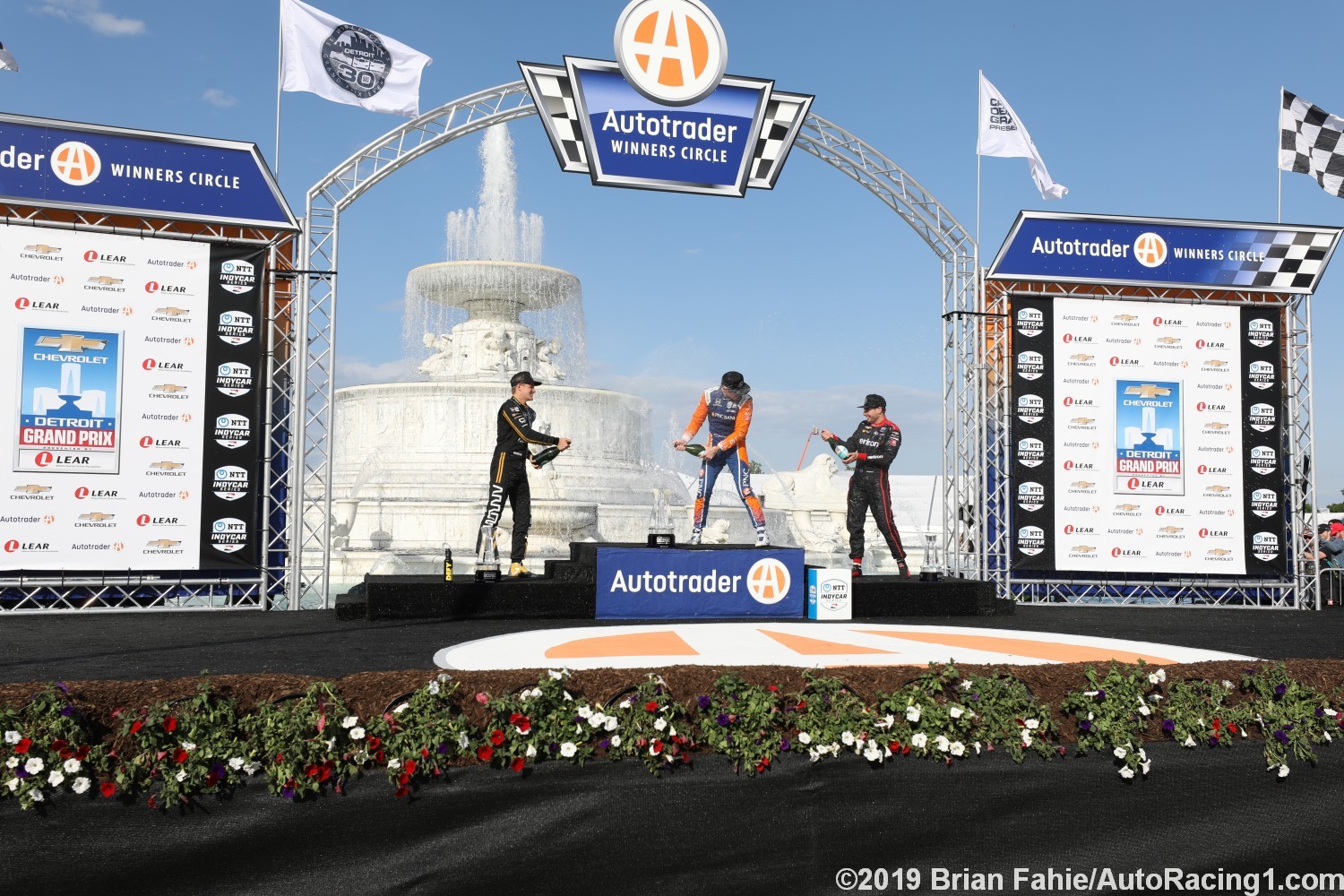 From left, Ericsson, Dixon and Power
Participants
1st – Scott Dixon, Chip Ganassi Racing
2nd – Marcus Ericsson, Arrow Schmidt Peterson Motorsports
3rd – Will Power, Team Penske
THE MODERATOR: We are joined by Scott Dixon, the race winner today. Perhaps a bit damp.
Scott, first win of the season, first win came last year here. 45th of your career. Keep adding up. We'll worry about the numbers another time. This had to be pretty gratifying.
SCOTT DIXON: Yeah, big-time, more so just for the team. Felt like a bit of an idiot yesterday, especially clipping that inside wall. Honestly, when I hit it, I didn't think it was going to break the suspension. It did.
Today was all about redemption. The team nailed the strategy, the car was super fast. Were able to get the mileage we needed to, which was going to be really tough, with the exception of those last couple cautions.
It's pretty interesting how INDYCAR right now is stopping the races and making sure they get proper restarts. It's definitely great for the fans. A bit nerve-wracking for the drivers, I think. You kind of just want it to be done. I would have been happy for it to end under caution. It wasn't going to go that way.
THE MODERATOR: Your crew members diving into a one-foot pool. Looked like there might be some bruises after this.
SCOTT DIXON: (Crew Chief) Blair (Julian), I don't know what he was trying to do, man. He went for the full belly flop from a great height. I thought he was coming to come up bleeding. He didn't. That was good.
Got my chin when I dove in. It looks very different when you're standing from above (laughter). Who cares at this moment. We're just happy that we got the win, the first win out of the way this year. Points-wise it was a big day for us. I thought when you get to that hundred-point deficit, we were pretty close to it after yesterday's result, it was going to be tough.
We almost halved that today. We'll keep working on that this week coming with Texas. Hopefully we can get on a bit of a roll here.
THE MODERATOR: Questions.
Q. It seemed like the key was after that first pit stop, you had a clean track ahead of you. At that point you were able to start running qualifying laps to build the gaps. How important was that strategy?
[adinserter name="GOOGLE AD"]SCOTT DIXON: Yeah, the way the whole strategy played out, that first one, I saw the whole field pit. Oh, dear, I've seen this movie before, and it didn't work out very well.
We knew we had to kind of try and create the gap. We had to try and go as long as possible on the reds, so at least we had only one more stop to go. We tried and we tried. They just fell off a cliff.
I think we started losing almost four seconds a lap. (Spencer) Pigot had the same issue. We came in, dove into the pits, then the caution came out, which was definitely a little bit of a life safer.
Still even from that point, to get the fuel mileage, pretty big numbers we had to reach. We knew that the other pack was going to try to stretch it out. They could run as hard as possible if they had some clear air. Never seemed to really go. The pack stayed quite tight.
We had some issues there with Hinch (James Hinchcliffe) and Pato (Patricio O'Ward), slowing us down. I was kind of worried about that for a point there. He had the issue with his car, which I thought they were going to let go for a while, maybe just pull it in. That didn't happen.
Q. How memorable will this day be for you, same day that you get honored by the Queen?
SCOTT DIXON: Yeah, it was definitely a huge honor to get the Companion (New Zealand) Merit of Order, which is definitely very prestigious, something you don't expect. For me, I think it's not like a normal accolade, like a trophy or a race win. It's something of a very different, you know, feeling. So for me it's definitely been outstanding. Very proud to get that CNZM label.
Yeah, I don't know. It's kind of weird that whole thing in a great way, to have that recognition in New Zealand, from England as well, all part of the Commonwealth. Yeah, huge day and definitely not one I'm going to forget.
Q. Was Mike Tomlin your good luck charm? Did you have any interactions before the race? Did he motivate you?
SCOTT DIXON: No, it was all Chip (Ganassi). He wasn't sharing him. I got to briefly shake his hand before the race. That was it. I think he was kind of hanging out with our stand, both the 10 and the 9. Good luck, I hope he comes back. Hope he's coming to Texas next week.
Q. Seemed a bit confused during qualifying with the steering issue. I assume those were resolved?
SCOTT DIXON: Yeah, it's just a bit unnerving when you have a steering wheel that's really offset and making a clicking situation. Every time you go in a corner, you're hoping it's going to work. Thankfully it did.
It's kind of that uneasiness you have that it makes it very difficult to push hard in qualifying. Especially on this circuit, it's about 110 percent commitment.
We found the issue with the steering rack and put another one in for the race. The car in the race was perfectly fine.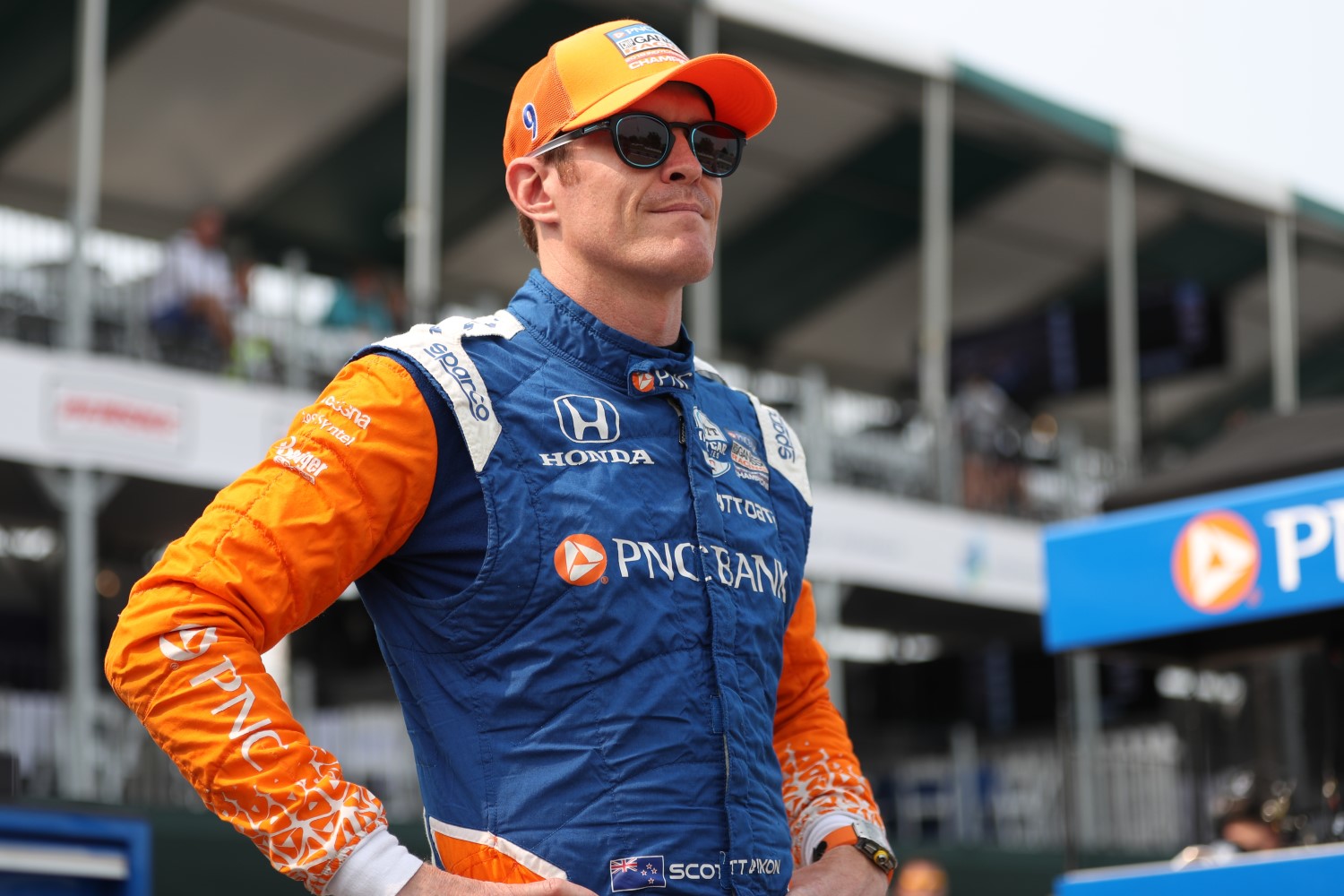 Scott Dixon
Q. The redemption things you were talking about. You said it had been quite a while since you had the self-inflicted incident. What was last night like, this morning? Did you feel more pressure to redeem yourself today?
SCOTT DIXON: Yeah, I was definitely pretty miserable. I think I went straight back to the bus and stayed in the whole night, didn't go see anybody. I went and hung out with the team when they were repairing all the damage I caused.
When scenarios like that happen, you feel really bummed. When you know all the effort that goes into these race weekends, especially a doubleheader right off of Indy, we had a bad run at Indy, yeah, you just want to try and make something positive out of it.
Kind of even more in a hole after qualifying. I felt like we had a car that was definitely capable of pole, but we just didn't really do it this morning. It was perfect for them to kind of dig me out of the situation that we had from yesterday and earlier in the race. I just tried to keep it off the walls.
Q. Bonus today? Josef (Newgarden) exiting the race earlier, suffering a bad day helps you out.
SCOTT DIXON: Definitely helped the points situation. I think it was 92 or 93, he got the pole today, a 93-point deficit which is not a great deficit. It was nice to half that almost. I think we're almost 52 now. At least we're kind of in the mix.
But as you can see, it changes so quickly. We'll just keep our head down and try to make the best of it.
Q. With Marcus (Ericsson), his seventh or eighth race in INDYCAR, were you concerned on any of those restarts? Did you think he might have a little bit there, might be able to pull a surprise out of his bag?
SCOTT DIXON: Yeah, it can go either way, right? Sometimes with a rookie in that situation, they want to kind of get it home and get a decent result as opposed to getting aggressive and not finishing. I was kind of relying on that.
Seemed like he hung back a little bit, especially on the restarts didn't push as hard. Even after the first attempt when he was behind us, I can understand that's maybe what he was going for.
I felt like our car was really good on restarts anyway. When you have the clear air, you're able to set the tone for where you can start, where you need to start, created enough of a gap that we didn't have too much pressure.
Q. I think you told someone yesterday you're going to go after wins this year because the championship is a lost cause. Adding to the Newgarden situation, change your mind at all?
SCOTT DIXON: No. Going for the wins is kind of what you got to do. I think with the competition right now, it's never one other you're fighting a constant of five or six people. After Indy, it actually got really tight for the first five or six. Previous to Indy, it seemed like two or three kind of stretched out.
This year I think is going to be another year, especially from this point, you're going to have to be really consistent to get a championship. It's how we won last year. We did have three wins, but we were able to turn bad weekends into good ones. We've seen that from Josef. Some pretty average qualifying positions. Him and the team have been able to pull out some great podiums, some big wins when they really needed it.
THE MODERATOR: Texas in a few days. Excited about that?
SCOTT DIXON: I got a big week. Detroit tomorrow, then simulator for Le Mans on Tuesday, then I go to Houston to hang out with A.J. (Foyt) for the day. Thursday we're at Texas. Won't be at home much. Yeah, looking forward to Texas.
THE MODERATOR: No. 45 for the No. 9. Congratulations.
SCOTT DIXON: Thank you.
THE MODERATOR: We are joined by today's third-place finisher Will Power of Team Penske.vYou seemed to have some struggles during the day, but here on the podium.
WILL POWER: I know, felt like a win. Felt like that's kind of where we should have been yesterday. Unfortunately had a mishap in the pits.
Today, the car stopped on track, just got about past me. Because I got hit from behind, damaged the gear parts. Had to go in emergency mode, kind of manually flip, lift to shift. Then it fixed itself somehow. I was able to then go fast and race hard.
Yeah, very, very happy with the day. When I heard it was in 12, I saw people peel off, All right, got to lay down some qualifying laps now, we can make a lot of ground here. That's what we did.
THE MODERATOR: What else were you involved in today or around?
WILL POWER: Yeah, it was amazing, wasn't it? Some of the stuff. First-lap incident, someone hit me from behind, then I think I got into Felix (Rosenqvist), I don't know what happened behind. Obviously a bunch of cars that came around next lap.
THE MODERATOR: I heard you say it's been since Gateway last year you were happy with a weekend.
WILL POWER: I'm never satisfied. Still not good enough, but I haven't had, like, Yep we now this weekend did everything right. Haven't had that.
THE MODERATOR: Questions.
Q. With a few laps to go, Roger (Penske) came on the radio and said you might have a tire pressure sensor registering.
WILL POWER: He was just telling me (Ryan) Hunter-Reay may have the tire going. It wasn't me.
Q. When you were stalled, did the (AMR INDYCAR Safety Team), were they able to restart you? Was the engine dead?
WILL POWER: Yes, they were able to restart me just in time. Because what I was trying to do, recycle the car, switch it off, switch it back on. It didn't refire. Don't know why it wouldn't refire. Like when you released the clutch again, it wouldn't refire unfortunately.
Q. What were you gesturing?
WILL POWER: I was trying to let them know, all I needed was a start. Just try to keep our lap, which we did.
Q. How tempted were you to try to get around (Marcus) Ericsson on your two restarts?
WILL POWER: I tried to get the best restart possible. We actually had diffuser damage, front wing damage, a bit of tow damage from the first incident in the race. The car was still fast. It was still quick enough.
I didn't want to take any risks. Third was a good day, yeah. So if I would have gone for it, for sure. I was never close enough. Did my best to get close, I just couldn't.
Q. After the 500, you had a run of bad luck, which you were OK with because you won the Indianapolis 500. This year you've had another run of bad luck. Do you feel vindicated today?
WILL POWER: Yeah, I did. It's been just so often now that it doesn't go right. It's amazing how it all played out, finally went right.
This is it. It's going to turn around here. Let's see what we can do.
Q. Earlier in the race when you had the misfortune, announcers kept saying you were going too long on your tires. Did you feel like you could not give up any track position at all due to the tires and that?
WILL POWER: With?
Q. I kept hearing you were going way too long with the tires. Was that the case or was it not the case?
WILL POWER: No. We basically pitted, when it went yellow again, went to reds, did five or six laps on them because we know how quickly they drop. Yeah, there was no weird tire situation. Yeah, the stint after that was long for the tires. We went as far as we could, yeah. It gave us all that track position.
Q. Is this the most challenging podium you've had on a street circuit or can you think of another race where you had to go through more to get to the podium?
WILL POWER: No, I haven't. Yeah, I can't remember the last time I was almost a lap down, pretty much a lap down. Well, Pocono. Street circuit? No. I'm sure there has been. Crazy Indy car races over the years where you're totally down and out, come all the way back, sometimes even win.
This was more of a typical 2012 IndyCar race, '13, '14 IndyCar race, where it's just mayhem, just hanging in there. You can get yourself a lot of points.
Q. Did you know how close it was going to be with (Takuma) Sato, Hunter-Reay and (Alexander) Rossi when you came out of the pits?
WILL POWER: I don't know if they were all in a line behind that because I saw Hunter-Reay came out of the pits. It was going to be interesting because I saw all those cars in front me. All right, now we're going to do some qualifying laps.
Yeah, it was great to keep Hunter-Reay behind me. Very, very good. That was the key to getting on the podium.
Q. Six days, you're in Texas. One of your favorite places. Talk about that.
WILL POWER: Yeah, I mean, after last year, very determined to have a good day there, good night there. We crashed out unfortunately last year, a radio issue. Another one of those days. Yeah, looking forward to it. Always pretty good racing there. We generally do well there.
Actually I have a good year, bad year, good year, bad year. This year a good year. Change the cycle, I don't know why.
THE MODERATOR: Thank you, Will.
WILL POWER: Thank you.
THE MODERATOR: Marcus, congratulations. Your first podium for the NTT IndyCar Series. You said it had been since 2013 since you were on a podium, I think that was GP2, Abu Dhabi?
MARCUS ERICSSON: Probably, yeah. I don't even remember it's been so long ago.
THE MODERATOR: I've believe Alexander Rossi won that race.
MARCUS ERICSSON: Second behind Alex, right.
THE MODERATOR: Talk about the excitement of today.
MARCUS ERICSSON: I'm super happy. It's been one of those years where we've had pretty much every weekend good pace, but for some reason there's always been something that's happened, it's made it not come together result-wise. I think our results have not been sort of representative of the pace we've got.
That's why it was such a nice feeling finally to get it together for a whole race today. Even in qually we had a great car. Didn't get the perfect lap together, but in the race executed very well. The team did great strategy calls, pit stops. I have to thank the crew because they did an amazing job.
Yeah, it's just a great feeling to be on the podium again.
THE MODERATOR: I understand some of your F1 crew members were here today.
MARCUS ERICSSON: 10 of the guys from Alfa Romeo that's been working for me the last few years, here supporting the weekend. Obviously they go to Montreal next weekend. It was good to see them. They must have brought some good luck, as well. It was good.
THE MODERATOR: Questions.
Q. The expectations were fairly high for you coming in this season. Is today a day where you really feel like you're an INDYCAR driver now?
MARCUS ERICSSON: Yeah, for sure. I think I came into this year with a lot of experience, like you said. My goal and expectation was to run up front from the start. I think we had the pace to do it, but it's been a bit of a deeper learning process than I maybe expected.
I didn't underestimate the series, but it is a very tough series, it's a lot of experienced guys in the series that are incredible drivers and also teams. That's been a sort of process for me to get used to all that, get used to the tires, the cars. Everything is quite different.
I think the pace we've shown all the way through, the results was going to come. I'm just really happy it did today because I think we deserve that. The team did deserve that because they've done an amazing job all year.
Q. With Scott Dixon in front of you, Will Power, a few other INDYCAR champions, did you feel any extra pressure coming down the stretch of the race or did you put it out of your mind and drive?
MARCUS ERICSSON: I have a ton of respect for all these guys. For sure it was a great feeling to race these guys. When you're out there, you sort of focus on your job. That was sort of my main thing.
Obviously sharing the podium with Scott and Will was a special moment, yeah, for sure.
Q. Will just referenced the mayhem of today. What was that like being out there?
MARCUS ERICSSON: It's tough. That's the thing with IndyCar that I've learned this year. Even if you're fast, that doesn't mean you will get a good result. In many other series, if you have the pace, you always sort of tend to get to the front for different reasons.
Here in INDYCAR, it's so close, the competition between P1 and P22 or 24 is a second. That means you have so many moments in a race where you need to execute well. You need to make the pit stops, strategy calls right. The pit crew needs to do their job right. Out laps on cold tires, restarts, all these things. It's such a complex and difficult series.
I think that's something I learned this year. Today was definitely like that. So much going on. A lot of restarts. Yeah, it was a difficult one. That's why it makes me even more happy that we actually executed the way we did. I think we did everything right.
Also we started 12th, so it was not like we were starting on the front row. We executed extremely well. The guys did an amazing job.
Q. Standing next to Scott Dixon and Will Power, what was that moment like for you?
MARCUS ERICSSON: It was very special. Like we said, it was my first podium since 2013. That's been an extremely long time. I missed that a lot, that feeling. Then to be up there with two legends like Scott and Will, to run with these guys, running behind Scott Dixon, Indy last week I was running with Scott. You just learn so much running behind these guys because they are so experienced, good drivers, doing the right things.
It was nice mixing it up with them. Hopefully we can continue that for the rest of the year.
Q. Race Control had a red flag today so they could finish the race under green. The same thing with the Indy 500. I imagine you don't get that in Formula 1 often. Talk about that, how that affects your concentration to finish the race.
MARCUS ERICSSON: When it happened, it's obviously not the best thing maybe from a purely, like, my own perspective. I was on for my first podium. Obviously, whenever you restart, there is a risk something will happen.
I was feeling confident in myself and in the car. After every restart, we managed to pull away, me and Scott. I was feeling good about it.
I think it's great for the series that we do it this way. We do it for the fans, for the sport. I think that's a great thing. Every restart there's things going on, yeah. We take the checkered flag running behind a pace car. I think it's a great thing.
At the moment when it was a red flag, five laps to go, I didn't like it that much. But now I think it was a very good thing.
Q. You came from a series that races every other weekend. I believe the races are 72 laps each. This past seven days you've had a 500-mile race and a back-to-back doubleheader. Is this the most grueling week you've had as a race driver?
MARCUS ERICSSON: Yeah, probably. Probably month, I would say. That's what we do it for. We love to race. All of us out there today, that's what we live for.
I've had such a good experience this whole year. But this month especially. It's something I've never experienced before. I've had such a good time, enjoyed it so much.
It was hard last time out in Indy because we wanted such a good result, and I had my spin in the pits, which was a little hard to accept what happened. But it made me even more hungry to sort of keep pushing, working hard.
Today we got that sort of success that I feel was coming for us. It took a bit longer than I wanted. But it's been a tough month, coming back to your question, but it's been one of the best months probably in my life, as well.
Q. Have you been closely followed back home in Sweden? Will there be a big splash in the media back there for you, the first Swede to score a podium in God knows how long?
MARCUS ERICSSON: Since Kenny (Brack), 2000 something, early 2000s.
Yeah, I mean, I have a great following from back home in Sweden, around the world I would say. Got tons of support from back home. I know the races there are shown live. I know a lot of people are watching them, sending support from there.
I expect it to be, yeah, quite big news back home. That's been the great thing this year. With both me and Felix (Rosenqvist) coming to the series, there's been so much attention in Sweden, Swedish media. Also so many fans writing to me, saying, Such a great series, it's so fun to watch, it's so exciting to see you fight for top positions. Fans are really excited about that.
I'm sure when I check my phone later, there's going to be lots of things going on. But, yeah, I'm proud of that support. I'm happy to show them or give them a result like today.
THE MODERATOR: Marcus, thanks a lot.
MARCUS ERICSSON: Thank you.