Newgarden wins pole for IndyCar Detroit GP Race 2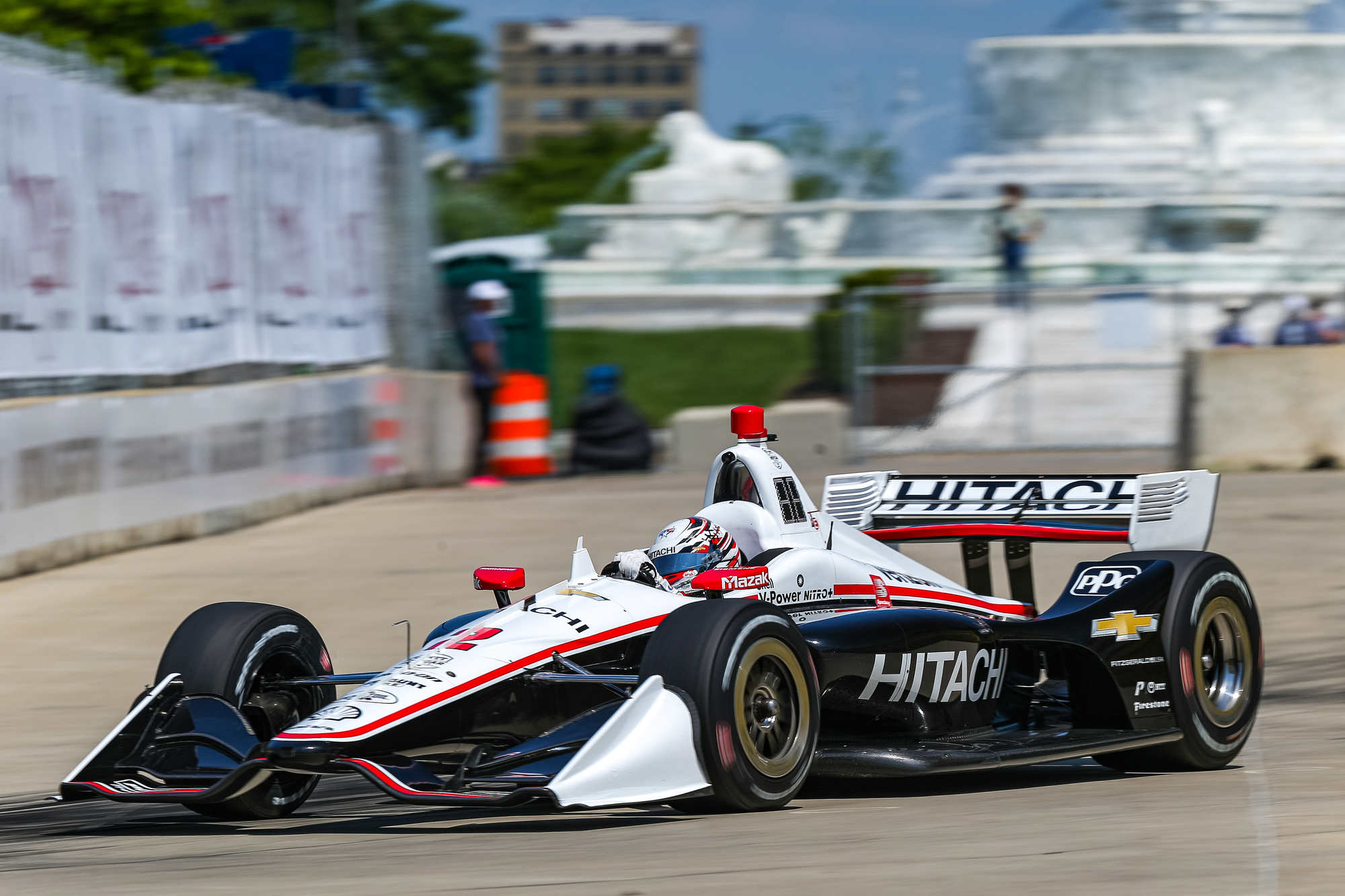 Josef Newgarden
Race 1 winner Josef Newgarden, with the benefit of a faster rubbered in track, has won the pole for race 2 of the IndyCar Detroit GP with Andretti Honda driver Alexander Rossi lined up on the outside after turning the fastest lap in the first session (Group 2).
Newgarden and the rest of Group 1 will lineup in the odd numbered starting positions and Rossi and the rest of his Group 2 drivers will lineup in the even number starting positions.
**********
Not only did Noogie win the pole, but he did so with a monster 3/10 of a second gap over second-fastest Alexander Rossi. Rossi dominated the practice speed charts, but Newgarden pulled out a win yesterday.
The second session was stopped after a few seconds when water started leaking out of the tire barriers. The rain yesterday was of nearly Biblical proportions, and gallons were trapped in the tire barriers. One dumped a large amount on the track during qualification, and it took some time to vacuum it all up. The TransAm race that followed also discovered some water in the tires when Ex-IndyCar driver Rafa Matos went into the wall on lap 12.
Also having great runs are Zach Veach (starting third) and Colton Herta (4th) Veach is still limping from last week's accident at Indy — including some hairline bone fractures. Herta had a fuel leak at Indy, which caused the small fire once the race started, putting him out of the race.
Having a horrible round was Graham Rahal. Graham stunk up both races 2 years ago, under the old massive-downforce rules. Still, he expected to qualify in the top half of the field, but gearbox problems put him out after a couple of "Bankers laps" on the black tires.
Also disappointed was Ryan Hunter-Reay, who engaged in a legendary battle with Alexander Rossi to win the second race in law year's Grand Prix. RHR will start 15th.
Quotes
[adinserter name="GOOGLE AD"]JOSEF NEWGARDEN (No. 2 Hitachi Team Penske Chevrolet, NTT P1 Award winner): "It was a good lap. I got (the pole) on the first (lap). I could tell the temperatures were coming up quicker than yesterday. Normally, second lap (is quicker). I could see the grip was already there, so I had to go. The second lap was done; the tires were already burned off. I tried to maximize that first one. Pretty good lap. Must have gotten lucky. I guess it worked out." … "Team Chevy has done a great job, like I've said all weekend. Great to have Hitachi here this weekend. Team Penske overall, putting on this event and having all the people out, it's good to have a solid weekend here." … "I guess it's good to be lucky; better to be lucky than good. These guys have done a great job. Team Chevy has really brought it this weekend. They've worked really hard and circled this place on the calendar. We had a good car here. All our boys, they've worked extremely hard at the shop. We knew we needed to be better on street courses and you can see (the improvement). It's fast, really fast, and we've executed well. We got the tires (up to temperature) when we need them to. I'm pleased as punch at the moment. We've just got to try to finish off the second race. I think it's going to be physical today, really hard to get through it, so we've got to focus on (finishing) off the weekend." … "The (Firestone alternate) reds are fast but they tend to go off. That's always the case with them but it seems to be more extreme this weekend. But Firestone does that for a reason. They want us to have a strong performance tire that doesn't last very long to give you that contrast with the primary tire, so you can try to make the most of it. It also mixes up the strategy. I think you're going to see a lot (of mixed strategies) today. People are going to struggle with long distances on the reds and that's going to make things dicey for a little bit of the race."
ALEXANDER ROSSI (No. 27 NAPA AUTO PARTS HONDA, qualified second): "It was out of our control with us being in Group 1 going for pole. I wasn't expecting it to hold up, but we did the best run that we could. Group 2 is always quicker here. We'll take that championship point, move on and try to do one better in the race today." … "Pole here is in Group 2, so we knew it was going to happen, but we're on the front row so that's a positive." … "I think the black (Firestone primary tires) did a very good job in the race. I think the red (alternate tires) are still a mystery for us at this point. Everyone is going to learn and experiment in the race." … "I think we had the advantage yesterday in the wet, just got unlucky with the yellows that fell. I think we have the car to beat again and we'll try to get to the point early on and then bring it home from there." … "The strategy will be very different, obviously, today. You weren't worried with tire life in the rain, just fuel. Today, we have to see how the red (alternate tires) and the black (primary tires) fare. There will be a huge tire wear factor today and we won't really know until we get out there this afternoon and race."
Group 2 Times
| | | | | | | | | |
| --- | --- | --- | --- | --- | --- | --- | --- | --- |
| Pos | No | Name | Time | Diff | Gap | Speed | Engine | Team |
| 1 | 27 | Alexander Rossi | 1:15.183 | –.—- | –.—- | 112.526 | Honda | Andretti Autosport |
| 2 | 88 | Colton Herta | 1:15.648 | 0.4653 | 0.4653 | 111.834 | Honda | Harding Steinbrenner Racing |
| 3 | 9 | Scott Dixon | 1:15.800 | 0.6177 | 0.1524 | 111.609 | Honda | Chip Ganassi Racing Teams |
| 4 | 31 | Patricio O'Ward | 1:15.926 | 0.7438 | 0.1261 | 111.424 | Chevy | Carlin |
| 5 | 21 | Spencer Pigot | 1:15.974 | 0.7913 | 0.0475 | 111.354 | Chevy | Ed Carpenter Racing |
| 6 | 7 | Marcus Ericsson | 1:16.128 | 0.9454 | 0.1541 | 111.129 | Honda | Arrow Schmidt Peterson Motorsports |
| 7 | 22 | Simon Pagenaud | 1:16.219 | 1.0365 | 0.0911 | 110.996 | Chevy | Team Penske |
| 8 | 30 | Takuma Sato | 1:16.231 | 1.0488 | 0.0123 | 110.978 | Honda | Rahal Letterman Lanigan Racing |
| 9 | 14 | Tony Kanaan | 1:16.585 | 1.4023 | 0.3535 | 110.466 | Chevy | AJ Foyt Enterprises |
| 10 | 59 | Max Chilton | 1:17.261 | 2.0786 | 0.6763 | 109.499 | Chevy | Carlin |
| 11 | 15 | Graham Rahal | 1:17.370 | 2.1873 | 0.1087 | 109.345 | Honda | Rahal Letterman Lanigan Racing |
Group 1 Times
| | | | | | | | | |
| --- | --- | --- | --- | --- | --- | --- | --- | --- |
| Pos | No | Name | Time | Diff | Gap | Speed | Engine | Team |
| 1 | 2 | Josef Newgarden | 1:14.861 | –.—- | –.—- | 113.010 | Chevy | Team Penske |
| 2 | 26 | Zach Veach | 1:15.263 | 0.4018 | 0.4018 | 112.407 | Honda | Andretti Autosport |
| 3 | 5 | James Hinchcliffe | 1:15.439 | 0.5786 | 0.1768 | 112.143 | Honda | Arrow Schmidt Peterson Motorsports |
| 4 | 10 | Felix Rosenqvist | 1:15.496 | 0.6351 | 0.0565 | 112.059 | Honda | Chip Ganassi Racing Teams |
| 5 | 18 | Sebastien Bourdais | 1:15.591 | 0.7302 | 0.0951 | 111.918 | Honda | Dale Coyne Racing w/Vasser-Sullivan |
| 6 | 12 | Will Power | 1:15.695 | 0.8338 | 0.1036 | 111.765 | Chevy | Team Penske |
| 7 | 20 | Ed Jones | 1:15.712 | 0.8511 | 0.0173 | 111.740 | Chevy | Ed Carpenter Racing |
| 8 | 28 | Ryan Hunter-Reay | 1:15.721 | 0.8601 | 0.0090 | 111.726 | Honda | Andretti Autosport |
| 9 | 19 | Santino Ferrucci | 1:16.085 | 1.2240 | 0.3639 | 111.192 | Honda | Dale Coyne Racing |
| 10 | 98 | Marco Andretti | 1:16.110 | 1.2497 | 0.0257 | 111.154 | Honda | Andretti Herta Autosport w/Curb-Agaj |
| 11 | 4 | Matheus Leist | 1:16.955 | 2.0945 | 0.8448 | 109.934 | Chevy | AJ Foyt Enterprises |
Race 2 Lineup
| | | | | | | |
| --- | --- | --- | --- | --- | --- | --- |
| Rank | Car | Driver Name | Engine | Time | Speed | Session |
| 1 | 2 | Newgarden, Josef | CHEVY | 01:14.8607 | 113.010 | Qualifications / Group 1 |
| 2 | 27 | Rossi, Alexander | HONDA | 01:15.1825 | 112.526 | Qualifications / Group 2 |
| 3 | 26 | Veach, Zach | HONDA | 01:15.2625 | 112.407 | Qualifications / Group 1 |
| 4 | 88 | Herta, Colton (R) | HONDA | 01:15.6478 | 111.834 | Qualifications / Group 2 |
| 5 | 5 | Hinchcliffe, James | HONDA | 01:15.4393 | 112.143 | Qualifications / Group 1 |
| 6 | 9 | Dixon, Scott | HONDA | 01:15.8002 | 111.609 | Qualifications / Group 2 |
| 7 | 10 | Rosenqvist, Felix (R) | HONDA | 01:15.4958 | 112.059 | Qualifications / Group 1 |
| 8 | 31 | O'Ward, Patricio (R) | CHEVY | 01:15.9263 | 111.424 | Qualifications / Group 2 |
| 9 | 18 | Bourdais, Sebastien | HONDA | 01:15.5909 | 111.918 | Qualifications / Group 1 |
| 10 | 21 | Pigot, Spencer | CHEVY | 01:15.9738 | 111.354 | Qualifications / Group 2 |
| 11 | 12 | Power, Will | CHEVY | 01:15.6945 | 111.765 | Qualifications / Group 1 |
| 12 | 7 | Ericsson, Marcus (R) | HONDA | 01:16.1279 | 111.129 | Qualifications / Group 2 |
| 13 | 20 | Jones, Ed | CHEVY | 01:15.7118 | 111.740 | Qualifications / Group 1 |
| 14 | 22 | Pagenaud, Simon | CHEVY | 01:16.2190 | 110.996 | Qualifications / Group 2 |
| 15 | 28 | Hunter-Reay, Ryan | HONDA | 01:15.7208 | 111.726 | Qualifications / Group 1 |
| 16 | 30 | Sato, Takuma | HONDA | 01:16.2313 | 110.978 | Qualifications / Group 2 |
| 17 | 19 | Ferrucci, Santino (R) | HONDA | 01:16.0847 | 111.192 | Qualifications / Group 1 |
| 18 | 14 | Kanaan, Tony | CHEVY | 01:16.5848 | 110.466 | Qualifications / Group 2 |
| 19 | 98 | Andretti, Marco | HONDA | 01:16.1104 | 111.154 | Qualifications / Group 1 |
| 20 | 59 | Chilton, Max | CHEVY | 01:17.2611 | 109.499 | Qualifications / Group 2 |
| 21 | 4 | Leist, Matheus | CHEVY | 01:16.9552 | 109.934 | Qualifications / Group 1 |
| 22 | 15 | Rahal, Graham | HONDA | 01:17.3698 | 109.345 | Qualifications / Group 2 |