Kyle Larson wins Outlaws race at I-55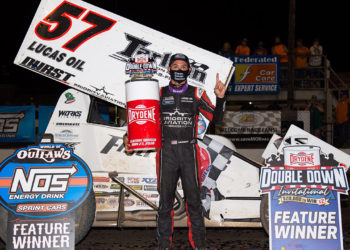 Kyle Larson
Trent Gower Photo
Kyle Larson climbed out of his #57 Sprint Car and immediately threw his arms around crew chief and car owner Paul Silva.
The two embraced each other for a moment that was both congratulatory and compassion.
One of the highest profile drivers in motorsports, Larson's last month and a half has been "life changing," he said. By his side for the whole journey has been Silva, his family and fans.
On Saturday night, in front of a limited crowd of fans at Federated Auto Parts Raceway at I-55 on Memorial Day Weekend, he was able to turn a page in his journey and reward those who stuck behind him with a World of Outlaws NOS Energy Drink Sprint Car Series victory. After a derogatory comment he made during an online racing event cost Larson much of what he built in NASCAR, he was visibly relieved after winning just three races into his return to his dirt racing roots.
"Can't thank all you fans enough for the support over the last few handful of weeks here," Larson, who lost his ride at Chip Ganassi Racing after using a racial slur in an iRacing event a month ago, told the I-55 fans and a DirtVision audience. "It really means a lot. Everybody who's on this car, my family, my friends. This win means so much personally. It's … uh, I can't even describe it."
Before being joined by his wife, Katelyn, and his son, Owen, for the victory lane celebration, Larson again expressed gratitude again to his fan base.
"I can't thank each and every one of you enough," he said. "Everybody watching on DirtVision at home. All my supporters. It means a lot, and I can't wait to get my journey started and kind of see where my future goes from here."
The victory was a $20,000 payday for Larson, who started fourth and finished first ahead of Brent Marks and Brad Sweet. Points leader Logan Schuchart and Brock Zearfoss rounded out the top five.
"Hats off to Kyle," said Sweet, Larson's brother-in-law who had beat him Friday night. "I know he needed that."
Results, 40 Laps
1. 57-Kyle Larson [4][$20,000]
2. 5-Brent Marks [8][$7,000]
3. 49-Brad Sweet [2][$3,000]
4. 1S-Logan Schuchart [5][$2,700]
5. 3Z-Brock Zearfoss [3][$2,500]
6. 71-Shane Stewart [6][$2,200]
7. 2-Carson Macedo [12][$2,000]
8. 15-Donny Schatz [25][$800]
9. 18-Ian Madsen [20][$1,600]
10. 26-Cory Eliason [14][$1,450]
11. 83-Daryn Pittman [7][$1,300]
12. 14-Parker Price-Miller [10][$1,200]
13. 24-Rico Abreu [19][$1,100]
14. 17B-Bill Balog [18][$1,000]
15. 11K-Kraig Kinser [9][$1,000]
16. 51-Freddie Rahmer [11][$1,000]
17. 41-David Gravel [23][$1,000]
18. 7S-Jason Sides [26][$]
19. 13-Paul McMahan [21][$1,000]
20. 83R-Lynton Jeffrey [16][$1,000]
21. 1A-Jacob Allen [17][$1,000]
22. 87-Aaron Reutzel [24][$1,000]
23. 4-Terry McCarl [13][$1,000]
24. 17-Sheldon Haudenschild [1][$1,000]
25. 41S-Dominic Scelzi [15][$1,000]
26. 21-Brian Brown [22][$1,000]
Lap Leaders:Brad Sweet 1-2, Sheldon Haudenschild 3-23, Kyle Larson 24-40
KSE Hard Charger Award:15-Donny Schatz[+17]