Van Gisbergen new championship leader after clean sweep in USA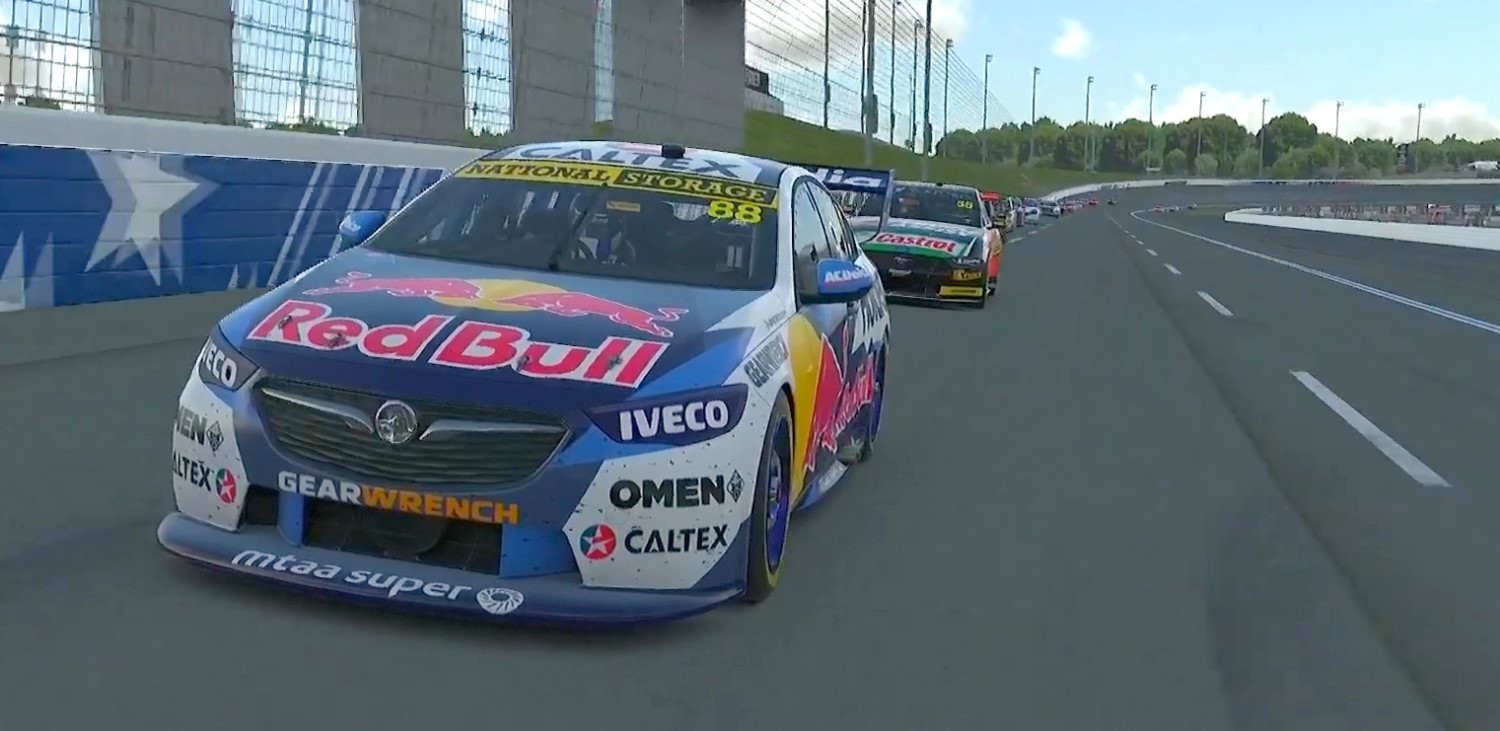 Shane van Gisbergen cleans up in USA
Kiwi Shane van Gisbergen is the new leader of the BP Supercars All Stars Eseries after a clean sweep of tonight's three races on virtual NASCAR circuits in the USA.
The 2016 Supercars Champion steered his Red Bull Holden Commodore to victory in all three races last evening, the first held at Charlotte's oval circuit and the final two at the famous Daytona Speedway.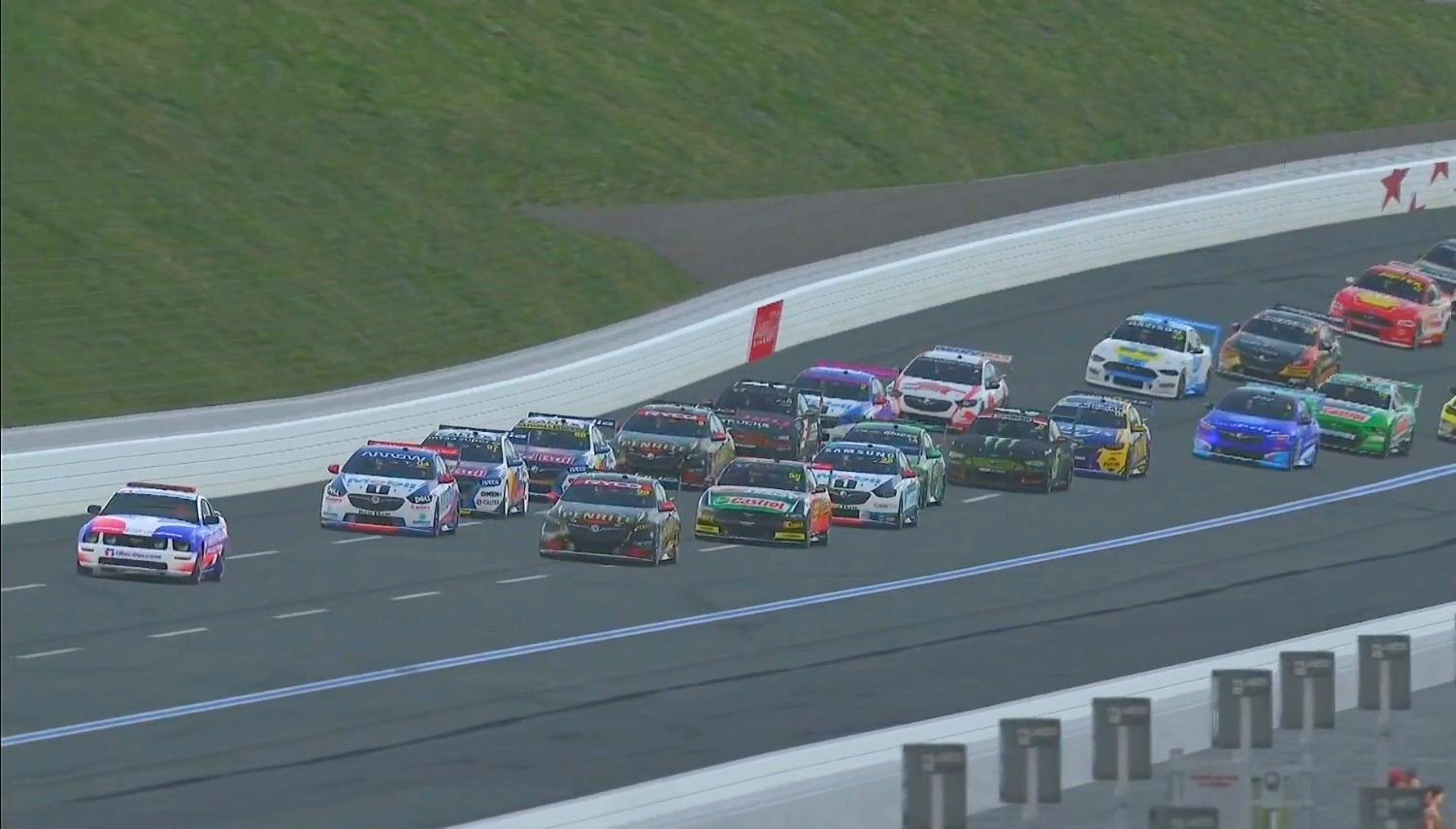 Charlotte pace lap
The results from tonight mean van Gisbergen is the new points leader, opening up a 64 point leader over former leader, Shell Ford's Scott McLaughlin.
There were plenty of thrills and spills in all three races of the night, the opening race at Charlotte featured crashes galore in Supercars first ever race on a NASCAR Oval circuit.
Even McLaren F1 star Lando Norris struggled, following his win last week Norris could only manage a 14th, 18th and last place finish this evening from his home in the UK.
ROUND SEVEN RACE RESULTS
| | | |
| --- | --- | --- |
| RACE 21 | RACE 22 | RACE 23 |
| 1. Shane van Gisbergen | 1. Shane van Gisbergen | 1. Shane van Gisbergen |
| 2. Cam Waters | 2. Anton De Pasquale | 2. Chaz Mostert |
| 3. Fabian Coulthard | 3. Chaz Mostert | 3. Garry Jacobson |
Next week Supercars will race at Autodromo Enzo e Dino Ferrari (Italy) and Autodromo Jose Carlos Pace, home of the Brazilian F1 Grand Prix.
One of the wildcards joining the grid will be a lucky fan, who will win their way into the race against Supercars' best via the BP Ultimate Wildcard competition.
COATES HIRE PROVISIONAL LEADERBOARD
| | | | |
| --- | --- | --- | --- |
| Driver | Team | Points | Behind |
| Shane van Gisbergen | Red Bull Holden Racing Team | 1663 | Leader |
| Scott McLaughlin | Shell V-Power Racing Team | 1599 | -64 |
| Cameron Waters | Monster Energy Racing | 1464 | -199 |
| Anton De Pasquale | Penrite Racing | 1389 | -274 |
| Chaz Mostert | Mobil 1 Appliances Online Racing | 1315 | -348 |
| Andre Heimgartner | NED Racing | 1163 | -500 |
| Garry Jacobson | Matt Stone Racing | 1158 | -505 |
| Will Davison | Milwaukee Racing | 1072 | -591 |
| Fabian Coulthard | Shell V-Power Racing Team | 1056 | -607 |
| Lee Holdsworth | Truck Assist Racing | 1019 | -644 |
| Bryce Fullwood | Mobil 1 Middy's Racing | 982 | -681 |
| Jack Le Brocq | Supercheap Auto Racing | 982 | -681 |
| Nick Percat | Brad Jones Racing | 961 | -702 |
| Jake Kostecki | Matt Stone Racing | 868 | -795 |
| Zane Goddard | Matt Stone Racing | 830 | -833 |
| Todd Hazelwood | Brad Jones Racing | 800 | -863 |
| Scott Pye | Team 18 | 794 | -869 |
| Mark Winterbottom | Irwin Racing | 767 | -896 |
| Jamie Whincup | Red Bull Holden Racing Team | 686 | -977 |
| Macauley Jones | Team CoolDrive | 683 | -980 |
| Alex Davison | Team Sydney | 653 | -1010 |
| David Reynolds | Penrite Racing | 682 | -981 |
| Rick Kelly | Castrol Racing | 581 | -1082 |
| Chris Pither | Team Sydney | 478 | -1185 |
| Will Power | Shell V-Power Racing Team | 366 | -1297 |
| Jack Smith | SCT Logistics | 438 | -1225 |
| Lando Norris | Mobil 1 Arrow Racing | 417 | -1246 |