Verstappen considering Red Bull exit (2nd Update)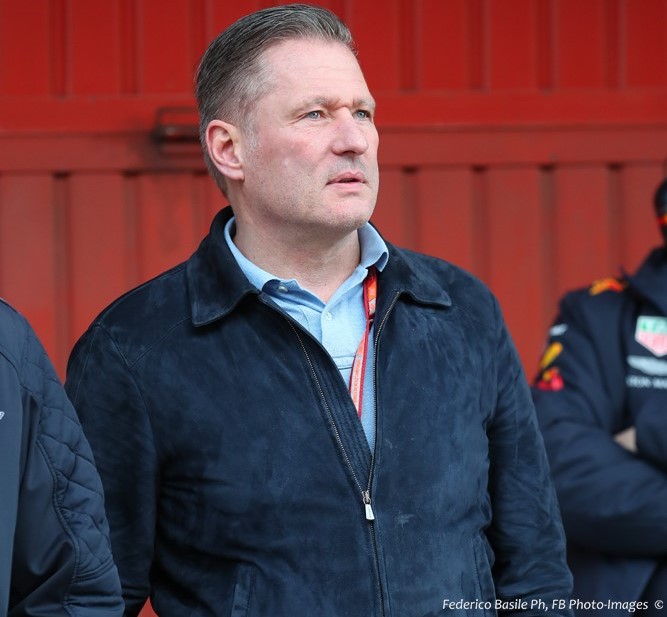 Jos Verstappen knows his son must move to Mercedes to win an F1 title. In F1 the car is 99%, the driver 1%
UPDATE (GMM) Max Verstappen's father has 'retweeted' a news article about the Dutchman potentially leaving Red Bull.
On Sunday, we reported Dr Helmut Marko's quote in La Gazzetta dello Sport that said the Red Bull boss was "worried" about losing Verstappen to a rival.
"At the moment there is only one car that is winning and it is Mercedes," he also said.
When asked about the article and the fact that his father Jos had 'retweeted' it on Twitter, Verstappen said in Canada: "There is a lot in this article, but in the end I am the driver, not my father."
However, Max would not rule out a scenario in which he could leave Red Bull.
His current contract runs until the end of 2020, although Marko has admitted it contains performance clauses.
"I am satisfied where I am, but we can perform better," he said.
"I believe in the project with Honda. Everyone is working hard to make the car faster, so let's see what level we have at the next races.
"If we have more power, and the car becomes better balanced, then the situation will change," Max added.
Two weeks ago in Monaco, Verstappen diced with Lewis Hamilton for victory, but he had a tougher time on the long straights in Canada.
"I knew we would have trouble in Montreal," he said.
"Last year we were competitive here, but our car was then better than Mercedes and Ferrari and I cannot say that now.
"It's no secret that we need to improve. We have known our position since the beginning of the season, so the results have not surprised anyone in the team."
Max Verstappen talks to media
06/09/19 (GMM) Dr Helmut Marko has admitted he is "worried" Max Verstappen may leave Red Bull.
"Of course I am," the Red Bull driver manager told Italy's La Gazzetta dello Sport.
He is also worried Pirelli is supplying what he describes as "Mercedes tires" in 2019.
"At the moment there is only one car that is winning and it is Mercedes," said Marko.
"We have taken a step backwards even though our performance is better," he added.
Verstappen, undoubtedly one of the hottest properties on the driver market, is under contract until the end of 2020 but Marko has admitted the deal includes a performance clause.
"This year's Red Bull is not as good a car as we had last year," Verstappen told Ziggo Sport in Montreal.
And he says the problem isn't the improving Honda engine.
"I think Honda is doing well, but of course it can always be better," said the Dutchman.
"Above all, we must continue to work as a team on improving the car," the 21-year-old said.
Toyoharu Tanabe, the new Honda boss in F1, said the Japanese manufacturer is happy to be working with Verstappen.
"For now we are very happy with this collaboration," he told the Dutch newspaper Algemeen Dagblad.
"The communication with Max is very nice and all about improving the engine. His feedback is very simple, precise and clear. That makes it much easier for us to work on a problem.
"He only says something if he considers it necessary, but that's ok for us. As long as he asks the necessary questions and points out problems. And he does," Tanabe added.
He said he doubts Verstappen will eventually turn on Honda, in the way that Red Bull's former relationship with Renault broke down.
"I don't think we can expect anything emotional from Max, as long as we remain productive," said the Japanese.
As for when Red Bull-Honda will finally close the gap to Mercedes, though, Tanabe will not name a precise date.
"It remains difficult to put a timeframe on it," he said.
"Mercedes is of course not standing still either. Of course we see the gap, so we must continue to push.
"Our package is ok now — not fantastic, but not disappointing either."
And so the goal for both Red Bull and Honda is to give Verstappen a winning car as soon as possible, especially with contract negotiations set to begin.
"For the remainder of the year, Max must be confident that he has the best package here. We aim for Max to take another win this year," said Honda's Tanabe.
"He knows how to get the most out of his material, and that is very nice for an engine supplier to work with."
05/20/19 Jos Verstappen has hinted that his son Max may not stay at Red Bull beyond his 2020 contract.
Max, 21, is the clear number 1 at the team but his father Jos, a former F1 driver, suggested a move to another team cannot be ruled out.
"As it looks now, it is good for Max to stay with Red Bull. But we are watching very carefully how things go," Jos told De Telegraaf newspaper.
The comments follow rumors that the Verstappen camp has been in contact with Mercedes' Toto Wolff. Responding to those reports, Wolff admitted he is friends with Jos.
Jos said: "We thought we would have a better chance this year. But Mercedes has a better engine and a better car.
"In the current situation, it is possible that Max will not win a race this year," he added.
In late 2017, Verstappen extended his contract with Red Bull to the end of 2020.
"In the long term we have to think about what we will do in the coming years," Jos continued.
He acknowledged that the rules are changing significantly for 2021.
"Then it will be a guess as to what team you should be with," said Verstappen senior.