Brandon Jones plays spoiler in Kansas playoff race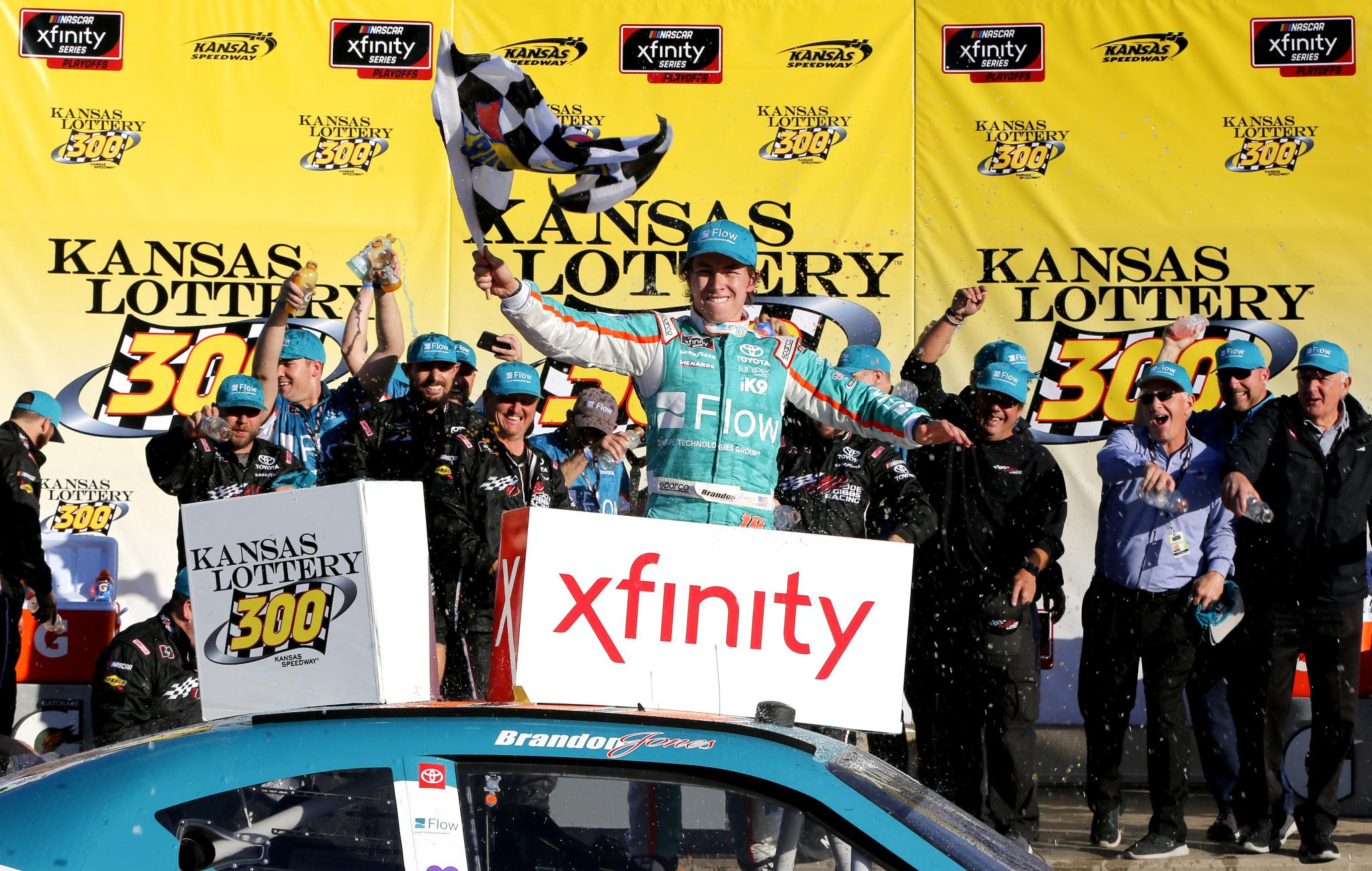 Brandon Jones wins at Kansas Speedway
Jonathan Ferrey/Getty Images
After Saturday's Kansas Lottery 300 took a sharp turn with 16 laps left, Brandon Jones sped away on two straight restarts to collect his first NASCAR Xfinity Series victory in a race that ended with Playoff drivers Cole Custer and Tyler Reddick brawling on pit road.
Jones stretched his advantage after a restart on Lap 196 of 200, with first Chase Briscoe and then Reddick giving chase. Jones held off both pursuers and crossed the finish line 0.272 seconds ahead of Reddick, with Briscoe 0.623 seconds behind the leader.
"My foot was literally shaking on the accelerator on that last lap," Jones said in Victory Lane. "I'm not even sure if I was wide open at the time that I was doing it. There was a lot of nerves and a lot of emotion going through my mind, but I saw it coming, and I was pretty pumped."
Contact from Reddick's Chevrolet forced Custer into the outside wall after the final restart, and Custer dropped to 11th at the finish. After both drivers exited their cars on pit road, Custer approached Reddick to voice his displeasure, placing a hand on Reddick's shoulder.
[adinserter name="GOOGLE AD"]Reddick responded with both hands to the collar of Custer's firesuit, and the drivers fell to the pavement while grappling, only to be separated by crew members.
"I put my hand on him, and he just went berserk," said Custer, who led a race-high 85 laps and won the second stage. "I thought we had a good car. I thought we had a chance to win."
"If he puts a hand on me, I'm going to put a hand on him back," Reddick said. "That's just how it's going to be if we're having a conversation that way… It was just the heat of the moment—we're pissed off. I'm sure we'll talk about it here soon, maybe today, tomorrow.
"I obviously didn't want to get into his quarter panel, but if I lift, I get passed. I hate that it happened to him, but we'll try to move forward."
Briscoe was leading, with pole winner and series leader Christopher Bell right behind when the two drivers closed fast on the No. 0 of Garrett Smithley on Lap 184. Smithley steered toward the top of the track and pinched Briscoe's Ford into the outside wall.
With no room to maneuver, Bell plowed into Briscoe's car, sending Bell's No. 20 Supra sliding across the infield grass with major damage to the right front. Briscoe recovered to run third, after his crew replaced the rear bumper cover on his No. 98 Mustang, but Bell had to settle for a 12th-place finish.
Bell, however, retained the series lead by 11 points over Custer and 12 over third-place Reddick, as the "Big Three" remained comfortably above the cut line for the Championship 4 race at Homestead-Miami Speedway.
Justin Allgaier ran fifth and is fourth in the standings, two points ahead of Briscoe.
Austin Cindric's championship hopes took a severe blow when the driver of the No. 22 Team Penske Ford tangled with the No. 18 Toyota of Harrison Burton on Lap 70. After an intense exchange of positions moments before, Cindric tagged the right rear of Burton's car, turning it sideways.
But Burton remained in Cindric's path, and both cars sustained damage when they collided in the middle of the track. Burton retired with a broken right front suspension. Ultimately, with a succession of unscheduled pit stops, Cindric finished 25th, six laps down, and dropped to eighth in the Playoff standings, 30 points below the cutoff for the Championship 4.
Jeremy Clements, Justin Haley, John Hunter Nemechek, Ryan Sieg and Ross Chastain finished sixth through 10th, respectively.
BRANDON JONES, No. 19 Flow Toyota Supra, Joe Gibbs Racing
Finishing Position: 1st
How much redemption do you feel after this win?
"This is incredible. I knew this was going to happen – that we were going to come here and have an amazing run like we did today. It's only because of those guys here. They have fought with me for a long time, and this feels way better because it has been tough to get to this point. Everyone that has been a part of my career to this point – Flow was on today, a new sponsor with us, we have had Menards in the past, iK9, Toyota, for all they do. I don't think I could have done this without the manufacturer. I wish my parents were here. They have been through a bunch of wins with me. All-in-all, I cannot wait to celebrate with these guys."
I can hear the emotion in your voice. You have come close so many times before. What was going through your mind those last couple of laps?
"I'm not going to lie about this. My foot was literally shaking on the accelerator on that last lap. I'm not even sure if I was wide open at the time, when I was doing it. There was a lot of nerves. A lot of emotion going through my mind, but I saw it coming and got pretty pumped."
Brandon, first career win. What's going through your mind right now?
"I've been a winner in a lot of different series, even outside of NASCAR, through NASCAR – this is the biggest one I have ever had. This is huge. I think it makes it even better that we have struggled so much to get to this point. We have had a lot of just junk luck, really, that has put us out of a lot of these races. But I believe in this team since the start of this. I always did, and it paid off today. This is big. We are going to enjoy this for a long time, and I know the first one is the toughest, so hopefully that means there is going to be more to come."
When you look back on this race 50 years from now, what are you going to remember most?
"The thing that was going through my mind today – I think it was last year – the same thing happened. We had a bunch of good cars at the start of the race get taken out, and that went through my head. I was like 'man, all the good cars are gone, we are going to try to win this race.' Then going down the backstretch, you try to side draft and you get loose and we destroy our car too. I knew that was lingering in the back of my head. I just have to finish this thing out today. Really, the pit crew did an amazing job today. Crew chief did an amazing job and everything just kept lying up. When we kind of got that penalty on pit road, we were a little bit worried, but we drove back through the field pretty good. Those couple of cautions, we had a set of tires laying, it all just fell into play pretty well for us."
Lot of chaos the last 20 laps. Can you talk to us about that last restart?
"Yeah, I was watching (Christopher) Bell the most before a lot of stuff happened to them. Just about every restart, he would run that bottom for five or so laps and you could really tell that was going away and guys were having to start to move up. Having the little amount of laps we did at the end, I think Chris Lambert, our spotter – he spots for (Denny) Hamlin on Sundays – did an amazing job there keeping me calm and make sure that I was just running the bottom line and not get too crazy on the top and knock the wall down like some guys did today too. I think that was the key to today. The last corner I kind of looked up in the mirror and saw the lead that we had and so I didn't push the car there. Like I said, it cleaned up at the end for us. It all came into play and that's what you have to do at one of these."
You had a lot of confidence before this race and said that if you won this race you would wear that suit for the rest of the season.
"If they keep sponsoring, I'll keep wearing it. I wasn't sure if we were a race winning car kind of early on in the race. We didn't have a ton of take off speed at the start of the race. We kind of fell back to eighth or so, and was able to work our way back up to sixth. A couple of times I was able to run top three lap times throughout that event so I knew that we were decent once we got going. But I think as we continued to get cautions, our tires continued to get better as we got cycles on them and I think that's probably what paid off the best and kind of helped our balance go the right way there at the end."
Brandon, this is your fourth full-time season in Xfinity, and your first career win. How does it feel to finally break through?
"If we didn't have any confidence now, I think that it's up now pretty high. I don't know man. The biggest thing is it's been such a long hard battle to get to this point. We've got a few poles – that's checked off my list, and now we got a win. I can check that off. A championship is next to check off at some point in my life. This is big. Like I mentioned before, the lows are tough in this sport, and it's easy to get yourself down when things are not going your way. This is what brings you back up and what keeps you fighting to do this."
Results
| | | | | | | |
| --- | --- | --- | --- | --- | --- | --- |
| Fin | Str | Car | Driver | Team | Laps | Status |
| 1 | 2 | 19 | Brandon Jones | Flow Toyota | 200 | Running |
| 2 | 4 | 2 | Tyler Reddick (P) | TAME the BEAST Chevrolet | 200 | Running |
| 3 | 11 | 98 | Chase Briscoe # (P) | Ford Performance Ford | 200 | Running |
| 4 | 38 | 1 | Michael Annett (P) | AllState Parts and Service Group Chevrolet | 200 | Running |
| 5 | 7 | 7 | Justin Allgaier (P) | Trademark Nitrogen/BRANDT Chevrolet | 200 | Running |
| 6 | 6 | 51 | Jeremy Clements | RepairableVehicles.com Chevrolet | 200 | Running |
| 7 | 12 | 11 | Justin Haley # | LeafFilter Gutter Protection Chevrolet | 200 | Running |
| 8 | 15 | 23 | John Hunter Nemechek # | Fire Alarm Services Inc Chevrolet | 200 | Running |
| 9 | 13 | 39 | Ryan Sieg | Night Owl Contractors Chevrolet | 200 | Running |
| 10 | 9 | 10 | Ross Chastain(i) | Nutrien Ag Solutions Chevrolet | 200 | Running |
| 11 | 5 | 00 | Cole Custer (P) | Production Alliance Group Ford | 200 | Running |
| 12 | 1 | 20 | Christopher Bell (P) | Rheem Toyota | 200 | Running |
| 13 | 10 | 9 | Noah Gragson # (P) | PUBG MOBILE Chevrolet | 200 | Running |
| 14 | 23 | 07 | Ray Black II | ISOKERN Fireplaces & Chimneys/Scub Life | 200 | Running |
| 15 | 17 | 90 | Alex Labbe | Chevrolet | 199 | Running |
| 16 | 21 | 92 | Dillon Bassett | Down Syndrome Awareness Chevrolet | 199 | Running |
| 17 | 19 | 08 | Gray Gaulding | JT Marine Chevrolet | 199 | Running |
| 18 | 18 | 86 | Brandon Brown # | Vero True Social Chevrolet | 197 | Running |
| 19 | 25 | 4 | BJ McLeod | teamjdmotorsports.com Chevrolet | 197 | Running |
| 20 | 27 | 5 | Matt Mills | J.F. Electric Chevrolet | 197 | Running |
| 21 | 30 | 36 | Josh Williams | Starbrite Star Tron/Simcraft Chevrolet | 197 | Running |
| 22 | 20 | 74 | Kyle Weatherman | Chevrolet | 196 | Running |
| 23 | 28 | 52 | David Starr | Wilkerson Rental Chevrolet | 196 | Running |
| 24 | 34 | 93 | CJ McLaughlin | SciAps Chevrolet | 195 | Running |
| 25 | 3 | 22 | Austin Cindric (P) | MoneyLion Ford | 194 | Running |
| 26 | 35 | 61 | Chad Finchum | Garrison Homes Toyota | 194 | Running |
| 27 | 29 | 01 | Stephen Leicht | The McLain Group Chevrolet | 194 | Running |
| 28 | 32 | 15 | Tyler Matthews | LineTec Services Chevrolet | 194 | Running |
| 29 | 31 | 99 | Josh Bilicki | Furniture Mall of Kansas Toyota | 194 | Running |
| 30 | 36 | 78 | Vinnie Miller | Pit Viper Sunglasses Chevrolet | 194 | Running |
| 31 | 37 | 66 | Bobby Earnhardt | CIA/Hyatt Life Sciences Toyota | 192 | Running |
| 32 | 24 | 35 | Joey Gase | Page Construction Toyota | 184 | Accident |
| 33 | 33 | 0 | Garrett Smithley | Flex Tape Chevrolet | 180 | Accident |
| 34 | 16 | 18 | Harrison Burton(i) | DEX Imaging Toyota | 70 | Accident |
| 35 | 22 | 17 | Bayley Currey(i) | RWR Chevrolet | 49 | Suspension |
| 36 | 26 | 89 | Landon Cassill | Visone RV Chevrolet | 28 | Vibration |
| 37 | 14 | 38 | JJ Yeley | RSS Racing Chevrolet | 13 | Electrical |
| 38 | 8 | 8 | Ryan Truex | Marquis Chevrolet | 4 | Engine |