Boyd wins Talladega Truck race after Sauter penalized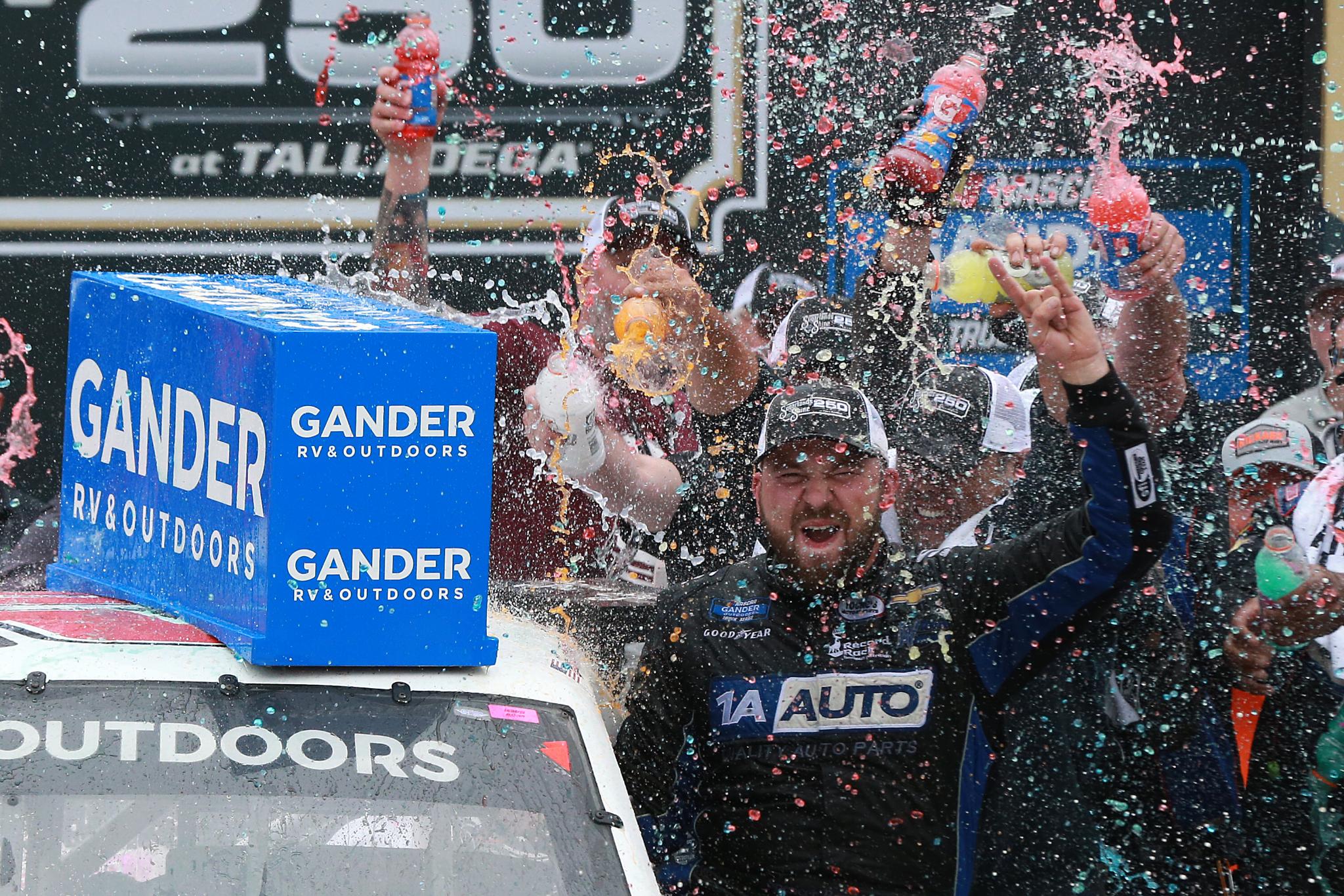 Spencer Boyd celebrates after winning at Talladega
Sean Gardner/Getty Images
Talladega Superspeedway.
Its very name strikes fear into the hearts of playoff contenders and in the same breath gives a new hope to teams with little chance of winning at other tracks. It gives to one what it takes from another, and luck can turn in the time it takes to breathe.
Johnny Sauter thought he was the lucky one in Saturday's Sugarlands Shine 250 when he survived to take the checkers first. But NASCAR had other ideas, ruling that Sauter's move to block Riley Herbst forced Herbst's No. 51 below the yellow line and snatching away the win, scoring Sauter as the last car on the lead lap in 14th place.
That left Spencer Boyd as the last man standing with his first career Gander Outdoors Truck Series win. It's also the first Truck Series win for team owner Randy Young.
[adinserter name="GOOGLE AD"]"It's Talladega," Boyd said in Victory Lane. "Man, I don't drink beer, but it may happen tonight.
"I was sitting there, and I'm like, man, second is amazing for us. We're happy. We finished fourth at Daytona in this truck, and then one of my crew guys was like, 'You just won!' I can't believe this."
Todd Gilliland finished the race in second place, his best result since June 22 at Gateway. Herbst finished third. Brett Moffitt was the top playoff driver in fourth place, while Stewart Friesen rounded out the top five.
Austin Hill finished sixth, Tyler Ankrum was seventh and two-time champion Matt Crafton came home eighth. Sheldon Creed and Grant Enfinger completed the top 10. Ross Chastain was the lone playoff driver to finish outside the top 10, coming home 22nd after a late-race crash.
With the uncertainty of Talladega looming large, drivers were gunning for every point they could scrounge all day long. It wasn't long before the track claimed its first casualty. Harrison Burton spun, possibly with the aid of some fluid on the track, and cleanup brought out one of two red flags on the day for just over eight minutes. Burton would return to the race and eventually finish 11th.
Sheldon Creed bested title hopefuls Moffitt and Chastain in the first stage, with John Hunter Nemechek and Friesen filling the top five after the first 20 laps. Also scoring stage points were Herbst, Hill, Ben Rhodes , Gilliland and Austin Wayne Self with top-10 results.
Like the first stage, stage two went off with just one single-car incident, a Tyler Dippel crash on the backstretch on lap 31. As crucial as stage points are, finishing in one piece is even more so, so drivers were on their best behavior for the first half. Friesen led the field to the green checkers in stage two over Moffitt, Self, Creed and Johnny Sauter. Ankrum, Gus Dean, Anthony Alfredo, Gilliland and Matt Crafton also scored top-10 runs at the 40-lap mark.
The final segment opened up with a little drama, when Moffitt and Friesen were penalized for locking bumpers. Bump drafting is allowed in the Truck Series, but trucks must separate immediately. Both drivers had to serve a pass-through, leaving them out of the draft and in danger of losing a lap to the leaders.
With green-flag pit stops necessary before the finish, the playoff field spread out in the final segment, avoiding incident coming to pit road. With 30 laps remaining, only Ankrum and Hill sat in the top 10. On his pit stop, though, Ankrum incurred a speeding penalty, dropping him deep in the field and needing a caution to get back in touch with the leaders.
He got it on lap 83 thanks to a spin by Alfredo. The caution produced several strategies and saw Sauter in the lead coming to 10 laps to go.
Talladega likes to tease racers, and with just 10 laps remaining, only the three single-car incidents had marred the race. But lest anyone have a false sense of security, the Big One was waiting just around the corner. On lap 87, with just seven to go, Chastain had powered to the lead. Before the lap was over, Chastain's truck was smoking in the infield grass and the red flag was in the air for the second time. A run-in with Creed's front bumper sent Chastain around in front of the field, collecting nine other trucks.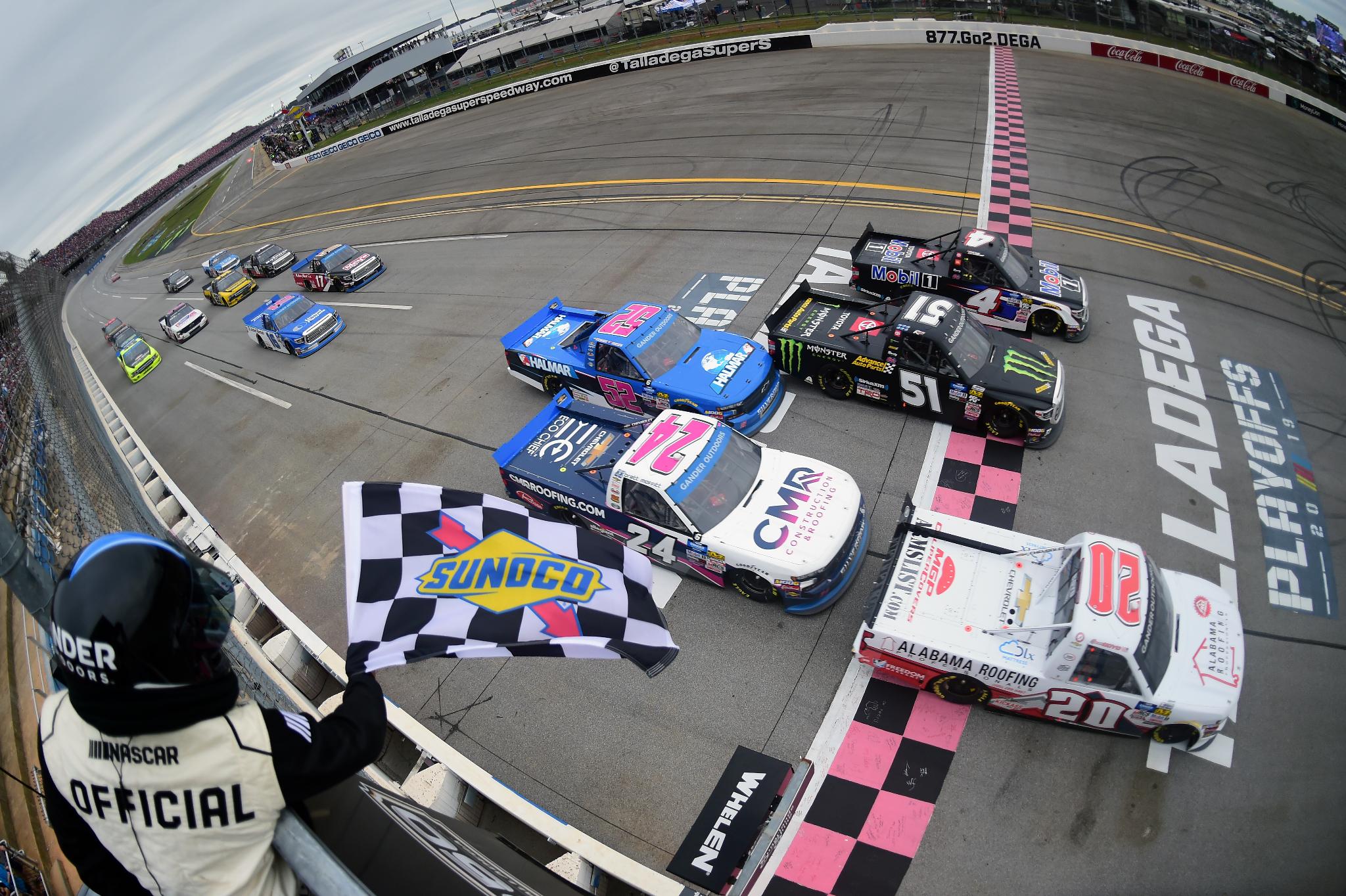 Spencer Bpyd (20) leads a pack of truck across the finish line at Talladega
Jared C. Tilton/Getty Images
The multi-car incident set up a sprint to the finish, but a crash by Dean put that on hold, setting up an overtime dash to the checkers. Sauter, who had been shuffled back in the pack when Chastain took the point, charged back to the front, battling with Creed and Moffitt for the win. It was Herbst who made the late run at Sauter, who blocked Herbst all the way to the apron. That's not allowed on superspeedways, and it cost Sauter the win.
"I went down to put a little block on (Herbst)," Sauter said, "but then when I did, I got hooked sideways, but that's just plate racing. You know, I didn't block his advance or anything like that… I just hate it for my guys. They deserve better than that."
For Boyd, it's the 24-year-old's first win in 23 NGOTS starts – in a race he wasn't even expected to compete in.
"Two weeks ago I wasn't running this race," said Boyd. "We put this together late with Alabama Roofing Professionals. You dream of winning a NASCAR race. Four years ago, I was selling cars with my dad at Hendrick Automotive Group. A lot of people believed in me to get me to this point."
Overall, the race featured 24 lead changes among 15 drivers. Sauter's 28 laps at the point was the most of any driver on the day.
The late crash changed the playoff picture dramatically. With a non-playoff driver winning, no driver has locked into the final race at Homestead. Moffitt continues to lead driver points by 23 markers over Friesen. Hill is third, 10 behind Friesen. Crafton is 11 in arrears to Hill, the last car currently above the elimination cutline. Ankrum is fifth, just one point behind Crafton, with Chastain bringing up the rear, a point back of Ankrum and two markers outside the playoff cut with two races remaining in this round.
The next race for the Truck Series is Saturday, October 26 at Martinsville Speedway. It airs on FOX Sports 1 at 1:30 pm EDT.
RACE RESULTS
| | | | | | | | |
| --- | --- | --- | --- | --- | --- | --- | --- |
| Fin | Str | No. | Driver | Team | Laps | Pts | Status |
| 1 | 25 | 20 | Spencer Boyd | Alabama Roofing Professionals Chevrolet | 98 | 40 | Running |
| 2 | 6 | 4 | Todd Gilliland | Mobil 1 Toyota | 98 | 39 | Running |
| 3 | 7 | 51 | Riley Herbst | Monster Energy/Advance Auto Parts Toyota | 98 | 39 | Running |
| 4 | 8 | 24 | Brett Moffitt (P) | CMR Construction & Roofing Chevrolet | 98 | 51 | Running |
| 5 | 10 | 52 | Stewart Friesen (P) | Halmar International Chevrolet | 98 | 48 | Running |
| 6 | 13 | 16 | Austin Hill (P) | United Rentals Toyota | 98 | 35 | Running |
| 7 | 2 | 17 | Tyler Ankrum # (P) | May's Hawaii/Modern Meat Co Toyota | 98 | 35 | Running |
| 8 | 1 | 88 | Matt Crafton (P) | Black Label Bacon/Menards Ford | 98 | 30 | Running |
| 9 | 5 | 2 | Sheldon Creed # | Chevy Cares Chevrolet | 98 | 45 | Running |
| 10 | 14 | 98 | Grant Enfinger | Champion Power Equipment Ford | 98 | 27 | Running |
| 11 | 3 | 18 | Harrison Burton # | Safelite AutoGlass Toyota | 98 | 26 | Running |
| 12 | 15 | 99 | Ben Rhodes | Havoline/Dish Fish Ford | 98 | 28 | Running |
| 13 | 9 | 7 | Korbin Forrister | All Out Toyota | 98 | 24 | Running |
| 14 | 4 | 13 | Johnny Sauter | Tenda Heal Ford | 98 | 29 | Running |
| 15 | 16 | 15 | Anthony Alfredo # | Mavis Discount Tire Toyota | 97 | 25 | Running |
| 16 | 19 | 54 | Natalie Decker | N29 Technologies LLC Toyota | 97 | 21 | Running |
| 17 | 23 | 28 | Bryan Dauzat | FNDY Chevrolet | 97 | 20 | Running |
| 18 | 31 | 6 | Norm Benning | H & H Transport Chevrolet | 96 | 19 | Running |
| 19 | 32 | 34 | Jesse Iwuji | John's 360 Coatings Toyota | 96 | 18 | Running |
| 20 | 20 | 12 | Gus Dean # | LG Air Conditioning Technologies Chevrolet | 92 | 21 | Accident |
| 21 | 30 | 3 | Jordan Anderson | WCIParts.com/Alberio Energy Chevrolet | 90 | 16 | Running |
| 22 | 17 | 45 | Ross Chastain (P) | CarShield Chevrolet | 87 | 23 | Accident |
| 23 | 22 | 87 | Timothy Peters | Friends of Jaclyn Foundation Chevrolet | 87 | 14 | Accident |
| 24 | 11 | 9 | Codie Rohrbaugh | Grant County Mulch Chevrolet | 87 | 13 | Accident |
| 25 | 24 | 68 | Clay Greenfield | Rackley Roofing Toyota | 87 | 12 | Accident |
| 26 | 18 | 30 | Brennan Poole | Spartan Mosquito Toyota | 81 | 11 | Rear End |
| 27 | 28 | 10 | Jennifer Jo Cobb | PitStorp4Hope.org Chevrolet | 79 | 10 | Running |
| 28 | 26 | 44 | Angela Ruch | The Ruch Life Chevrolet | 72 | 9 | Engine |
| 29 | 12 | 22 | Austin Wayne Self | GO TEXAN Chevrolet | 69 | 17 | Overheating |
| 30 | 27 | 8 | John Hunter Nemechek(i) | Plan B Sales Inc. Chevrolet | 30 | 0 | Radiator |
| 31 | 21 | 02 | Tyler Dippel # | Lobas! Productions Chevrolet | 29 | 6 | Accident |
| 32 | 29 | 33 | Mason Massey IV | Anderson Power Services/Generac Chevrolet | 8 | 5 | Engine |
[adinserter name="GOOGLE AD"]