Chase Elliott rallies to win at the Charlotte ROVAL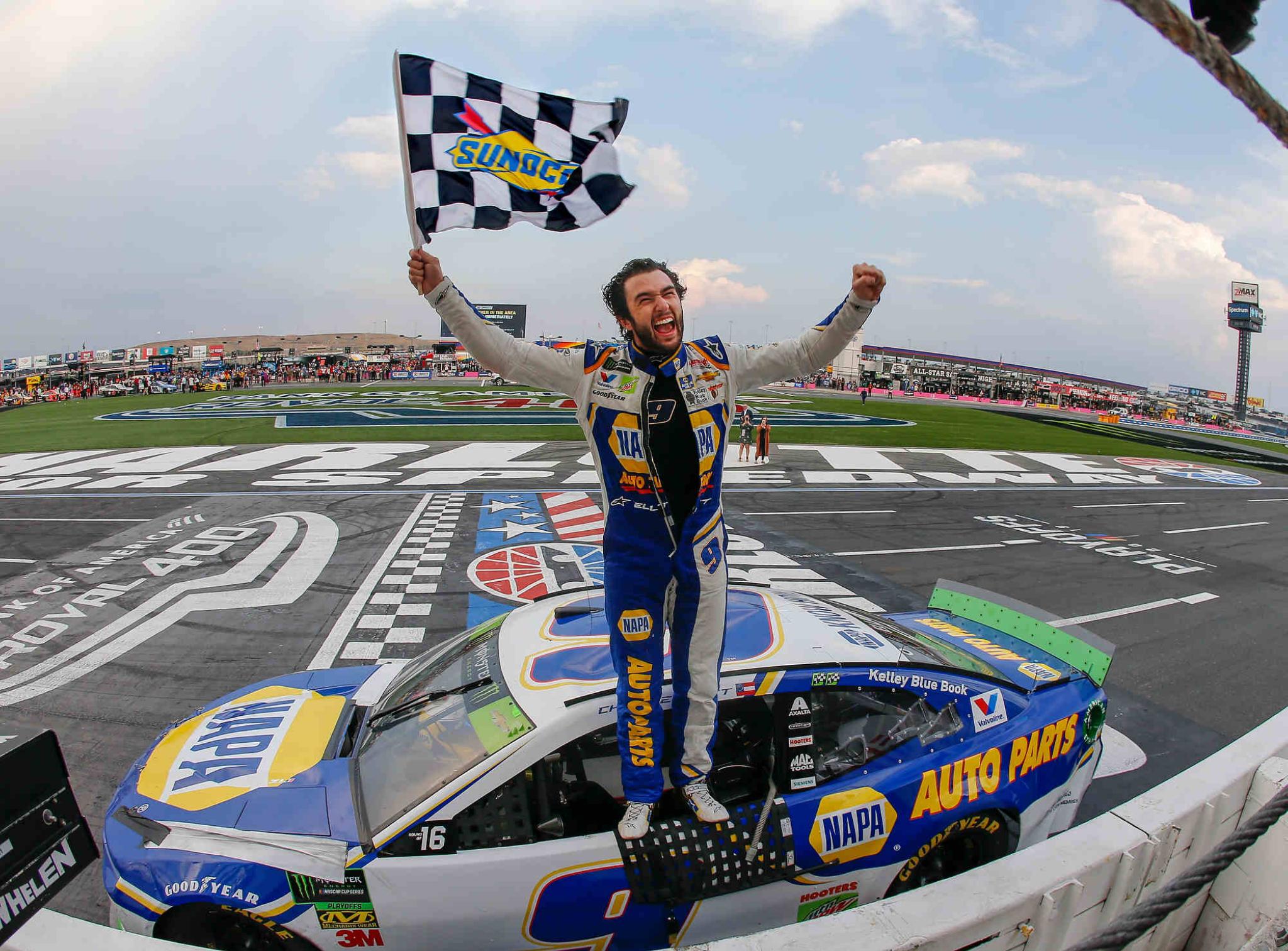 Chase Elliott wins at Charlotte
Andrew Coppley/HHP for Chevy Racing
Chase Elliott shook off a nearly disastrous wreck while leading the race and fought his way back through the field to win the Bank of America ROVAL 400 at Charlotte Motor Speedway to score his third win of the season and secure himself a spot in the next round of the Monster Energy NASCAR Cup Series playoffs.
Elliott was leading the race on lap 65 when he overshot the corner in turn one and pounded the tire barrier. Elliott's crew races to fix the damage to his No. 9 Chevrolet and got him back out on track.
Elliott would fight his way back through the field and caught race leader Kevin Harvick with five laps to go and made the pass for the lead with a power move on the outside in turns 13 and 14. Elliott would pull away to take the checkered flag by three seconds.
"I couldn't believe I did that. That was just so stupid," Elliott said of his crash into the tire barrier. "I don't know that you could have done anything more stupid leading this race than what I did right there. Obviously, I was just really pissed off, and luckily our car wasn't too bad, and our car was fast enough to drive up through there, got the cautions at the right time, and just didn't quit. If there's ever a lesson to not quit, today was the example."
Alex Bowman managed to get around Harvick in the final laps to take second and advance to the next round of the playoffs. Harvick held on for third, followed by Clint Bowyer and Brad Keselowski. All four clinched a spot in the Round of 12, while Aric Almirola, Kurt Busch, Erik Jones and Ryan Newman were eliminated.
Elliott had led 28 laps and won the second stage before a caution flag on lap 63 brought the field under caution for a restart.
Once back under green, Elliott completely missed the first corner and buried the front of his car into the tire barrier and bounced back out onto the track. Elliott quickly grabbed a gear and was back under power and brought the car to pit road.
While most the damage appeared to be cosmetic, Elliott still found himself at the back of the field for the restart, and began to fight his way back to the front.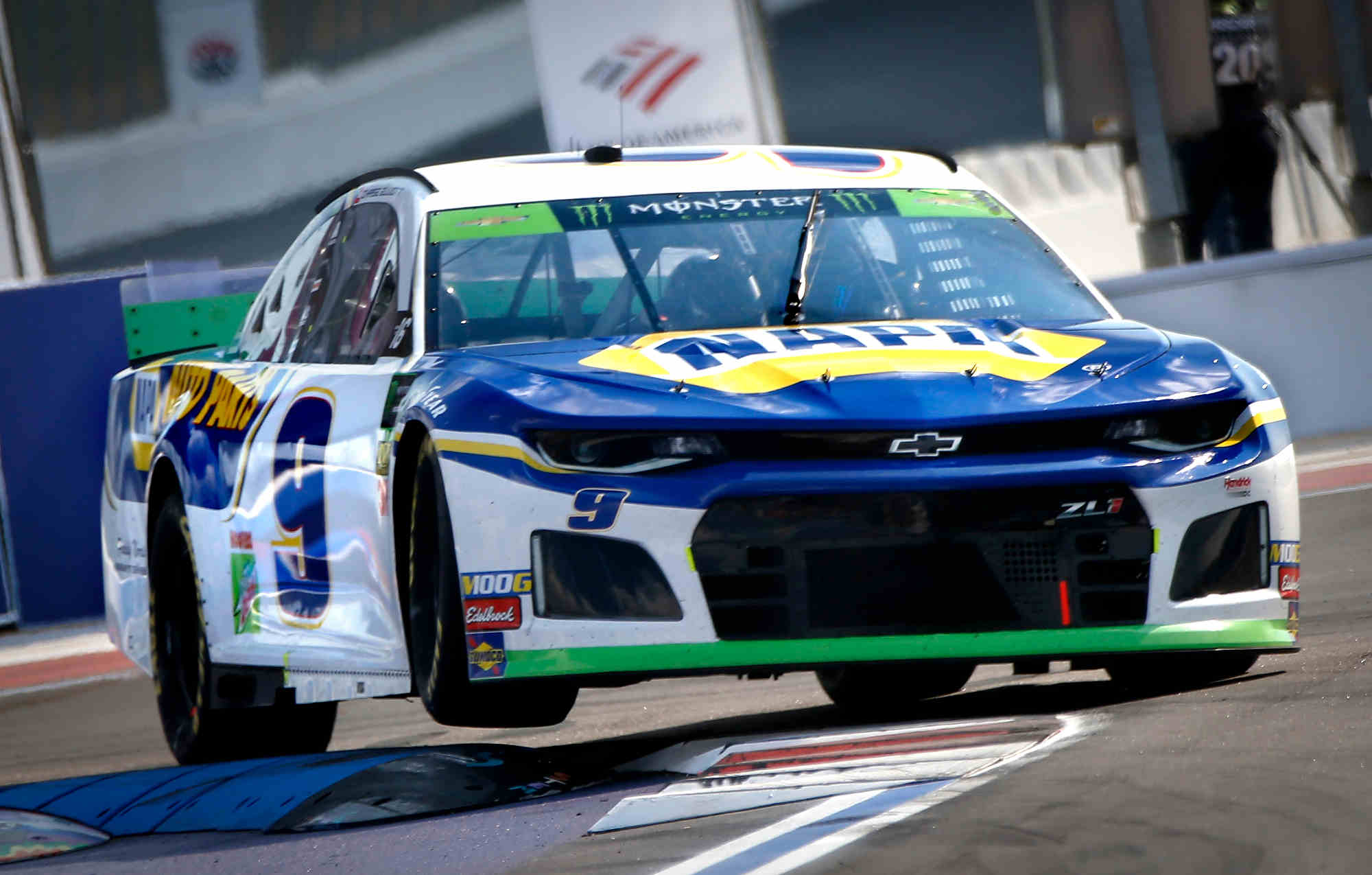 Chase Elliott
Ashley R Dickerson/HHP for Chevy Racing
Elliott worked his way back into the top 10 on lap 83. Following a caution on lap 90, Elliott was in fourth behind Harvick for the restart and soon leader in his sights.
Coming out of the backstretch chicane with five laps left, Elliott powered to the outside on the oval and held his line as he and Harvick entered the frontstretch chicane. With Elliott having the preferred line, Harvick backed off and Elliott moved ahead to secure to the top spot.
"Without all of those cautions at the end, or one or two less, I think we still win the race," said Harvick. "I could see that 9 creeping in my mirror and I knew how good his car was from practice yesterday. Once he got to us, he just rolled right around the outside of us. I thought if I could just get through turn one and beat the 19 (Truex, Jr.), I'd be in decent shape, but the 9 was just so good even after he crashed."
Sunday's race featured record-high temperatures and red-hot tempers, highlighted by Alex Bowman's run-in with Darrell Wallace that resulted in Wallace getting spun. The bad blood had been simmering all race long before Bowman, who was fighting for a spot in the next round of the playoffs, said he had had enough and put the bumper to Wallace.
Following the race, Wallace confronted Bowman on pit road and dosed him with a water bottle before walking away.
"I don't know if he was mad about the first lap, or what, but obviously that was just a mistake," said Bowman. "And then I got flipped off every single straightaway on the entire race track for three laps. I got flipped off by him for like three or four laps in a row at Richmond, so I'm just over it."
Ryan Newman faced an uphill battle after getting tangled up in two separate crashes and needing to hold pace with Bowman to avoid elimination, but ended up cutting a chicane in the final laps and was penalized, ending his playoff run.
"Yeah, we just didn't have it. I screwed up several times," said Newman. "We didn't have a great race car, struggled all weekend, didn't qualify good, just nothing went our way, but that's racing and those other guys did a better job.
"We've learned from the last two races and we learned from every race before that. There's a lot of racing left to go and we'll keep digging."
Erik Jones – fresh off the triumph of winning the Southern 500 at Darlington earlier this month – was the first of the 16 playoff drivers eliminated after getting caught up in a crash on lap 24, relegating him to a last-place finish and out of the playoffs.
Kyle Busch had a miserable day after cutting down a left-front tire on lap 68 and then got socked with a pit road penalty which put him a lap down and knocked him down to 37th in the final rundown.
Despite the DNF, Kyle Busch still earned the top seed in the Round of 12. Truex earned the second seed in the next round, followed by Denny Hamlin, Logano, Harvick, Keselowski, Elliott, Kyle Larson, Bowman, Ryan Blaney, Byron and Clint Bowyer.
RACE RESULTS
| | | | | | |
| --- | --- | --- | --- | --- | --- |
| POS | CAR | DRIVER | MANUF | LAPS | BEHIND |
| 1 | 9 | Chase Elliott (P) | Chevy | 109 | — |
| 2 | 88 | Alex Bowman (P) | Chevy | 109 | 3.016 |
| 3 | 4 | Kevin Harvick (P) | Ford | 109 | 4.325 |
| 4 | 14 | Clint Bowyer (P) | Ford Ford | 109 | 6.044 |
| 5 | 2 | Brad Keselowski (P) | Ford | 109 | 6.638 |
| 6 | 24 | William Byron (P) | Chevy | 109 | 7.775 |
| 7 | 19 | Martin Truex Jr. (P) | Toyota | 109 | 8.742 |
| 8 | 12 | Ryan Blaney (P) | Ford | 109 | 9.440 |
| 9 | 48 | Jimmie Johnson | Chevy | 109 | 9.843 |
| 10 | 22 | Joey Logano (P) | Ford | 109 | 10.310 |
| 11 | 95 | Matt DiBenedetto | Toyota | 109 | 10.828 |
| 12 | 34 | Michael McDowell | Ford | 109 | 12.109 |
| 13 | 42 | Kyle Larson (P) | Chevy | 109 | 12.273 |
| 14 | 10 | Aric Almirola (P) | Ford | 109 | 12.441 |
| 15 | 13 | Ty Dillon | Chevy | 109 | 12.971 |
| 16 | 21 | Paul Menard | Ford | 109 | 13.980 |
| 17 | 6 | Ryan Newman (P) | Ford | 109 | 16.512 |
| 18 | 17 | Ricky Stenhouse Jr. | Ford | 109 | 18.346 |
| 19 | 37 | Chris Buescher | Chevy | 109 | 19.502 |
| 20 | 11 | Denny Hamlin (P) | Toyota | 109 | 19.655 |
| 21 | 1 | Kurt Busch (P) | Chevy | 109 | 20.170 |
| 22 | 47 | Ryan Preece # | Chevy | 109 | 21.837 |
| 23 | 15 | Ross Chastain(i) | Chevy | 109 | 26.180 |
| 24 | 3 | Austin Dillon | Chevy | 109 | 27.131 |
| 25 | 43 | Bubba Wallace | Chevy | 109 | 27.741 |
| 26 | 36 | Matt Tifft # | Ford | 109 | 28.084 |
| 27 | 96 | * Parker Kligerman(i) | Toyota | 109 | 28.819 |
| 28 | 32 | Corey LaJoie | Ford | 109 | 29.236 |
| 29 | 00 | Landon Cassill(i) | Chevy | 109 | 29.685 |
| 30 | 51 | JJ Yeley(i) | Chevy | 109 | 30.619 |
| 31 | 66 | * Timmy Hill(i) | Toyota | 109 | 31.043 |
| 32 | 8 | Daniel Hemric # | Chevy | 108 | 17.361 |
| 33 | 27 | * Joe Nemechek(i) | Chevy | 108 | 36.060 |
| 34 | 41 | Daniel Suarez | Ford | 108 | 37.378 |
| 35 | 38 | David Ragan | Ford | 108 | -1 |
| 36 | 52 | Garrett Smithley(i) | Ford | 100 | -9 |
| 37 | 18 | Kyle Busch (P) | Toyota | 99 | -10 |
| 38 | 53 | * Josh Bilicki(i) | Chevy | 83 | -26 |
| 39 | 77 | Reed Sorenson | Chevy | 66 | -43 |
| 40 | 20 | Erik Jones (P) | Toyota | 23 | -86 |
# Denotes Rookie
(I) Not Eligible For Points
(*) Required To Qualify On Time
[adinserter name="GOOGLE AD"]