William Byron wins back-to-back Charlotte poles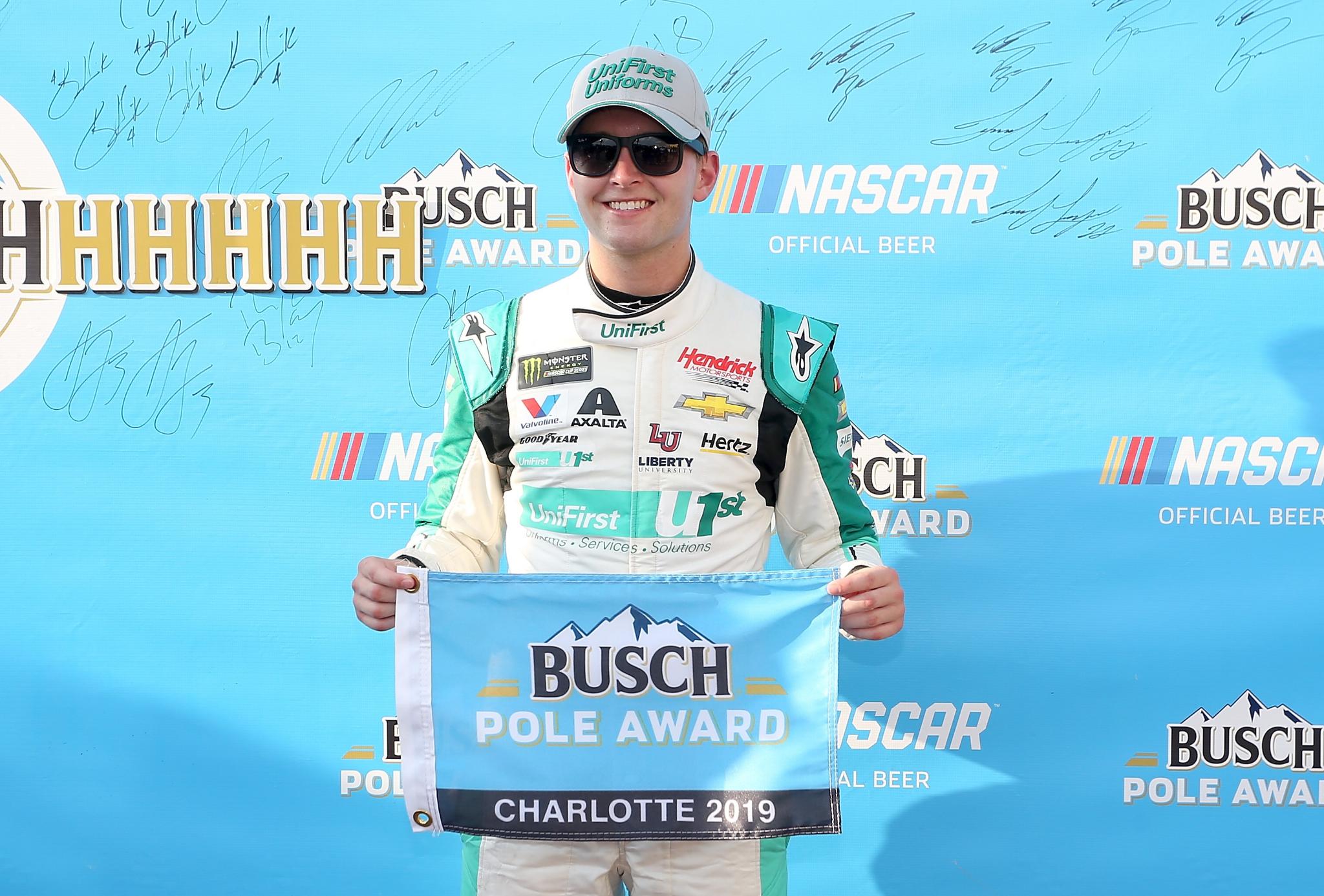 William Byron wins his fifth Busch Pole Award of the season
Streeter Lecka/Getty Images
In a wild final round of qualifying on Friday, William Byron took the pole for the Bank of America ROVAL 400 at Charlotte Motor Speedway. On a slick track, Byron posted a lap speed of 103.198 mph. Teammate Alex Bowman will start on the front row with Byron, with Joey Logano, Jimmie Johnson and Clint Bowyer rounding out the top five.
Byron's pole-winning run was his fifth of the season and hissecond-straight at Charlotte Motor Speedway after winning the pole for the Coca-Cola 600 earlier in May.
Kevin Harvick will start sixth on Sunday, Kyle Larson seventh and Martin Truex Jr. eighth. Defending race winner Ryan Blaney, Paul Menard, Brad Keselowski and Chris Buescher filled the top 12.
[adinserter name="GOOGLE AD"]Both Bowyer and Larson missed the backstretch chicane on their first runs of the final round and had to make a second run. Larson had been on pace to win the pole before his mishap
Byron finished on top in the first round as well, joined in the top five in that session by Larson, Johnson, Bowyer and Keselowski.
Notable drivers not making the top 12 included Erik Jones (15th), Kyle Busch (18th),Chase Elliott (19th), Kurt Busch (23rd) Ryan Newman (24th) and Denny Hamlin (28th in a backup car). Both Kurt Busch and Jones are currently below the cut line for making the second round of the playoffs.
Final practice for the Bank of America ROVAL 400 is scheduled for Saturday at 2:00 pm. Sunday's race broadcast begins at 2:00 pm.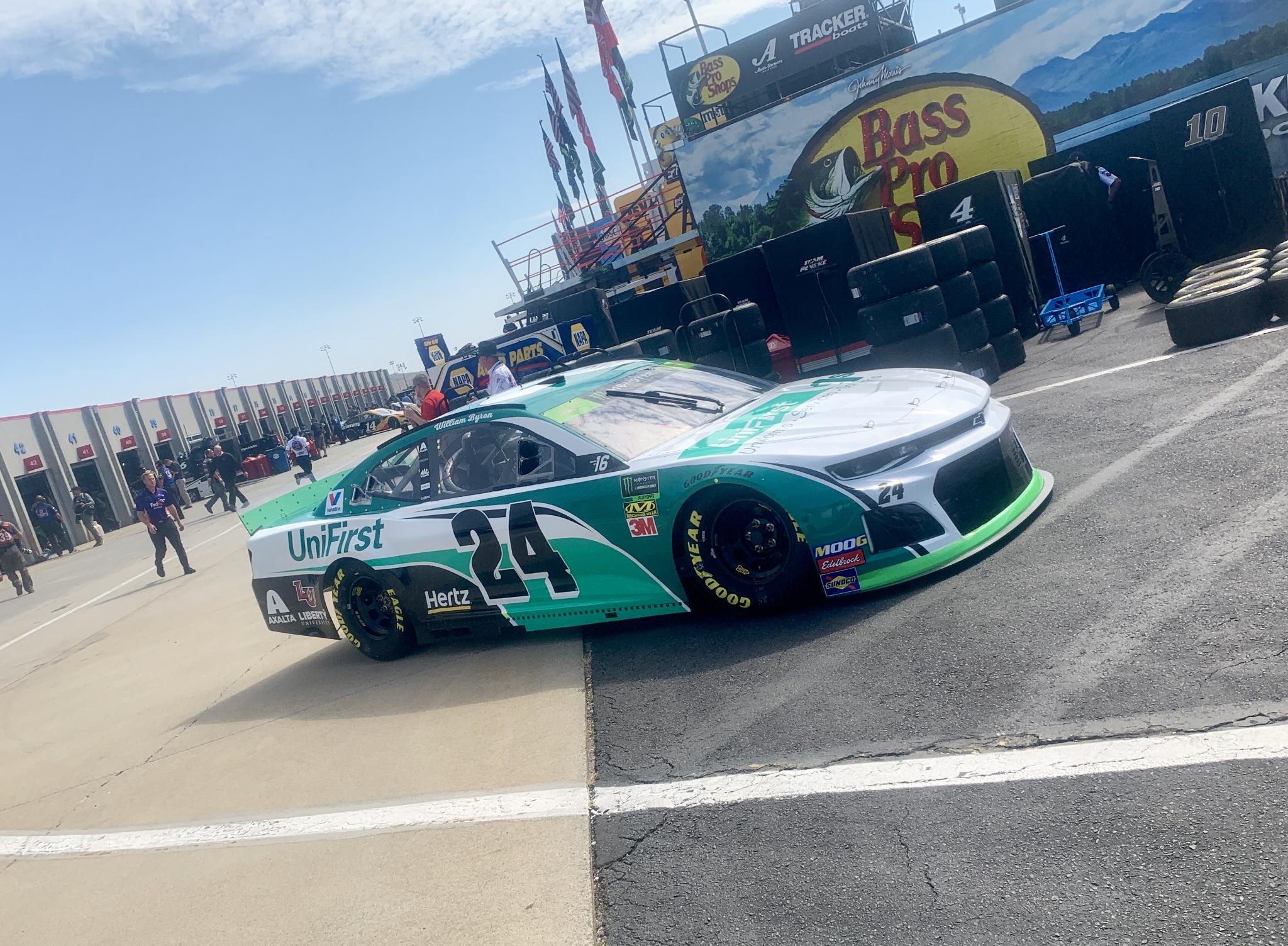 William Byron currently sits 12th in points.
Pete McCole/AR1
Bryon enters this weekend's event 12th in points and just two points ahead of his teammate Alex Bowman for the final spot to advance to the next round of the Cup Series playoffs.
"The guys did a great job with this car and it really takes every corner around this race track to get a pole," Byron said after his run. "I knew we could qualify Top 5, but I really wanted the pole and really kind of went out there and got it. So, I'm really proud of this UniFirst team, it's going to be great to start up front."
RACE LINEUP

| | | | | | |
| --- | --- | --- | --- | --- | --- |
| Pos | # | Driver | Sponsor/Make | Lap | Speed |
| 1 | 24 | William Byron (P) | UniFirst Chevrolet | 80.932 | 103.198 |
| 2 | 88 | Alex Bowman (P) | Nationwide Retirement Plans Chevrolet | 81.026 | 103.078 |
| 3 | 22 | Joey Logano (P) | Shell Pennzoil/Autotrader Ford | 81.058 | 103.037 |
| 4 | 48 | Jimmie Johnson | Ally Chevrolet | 81.172 | 102.893 |
| 5 | 14 | Clint Bowyer (P) | Rush/Cummins Ford | 81.215 | 102.838 |
| 6 | 4 | Kevin Harvick (P) | Jimmy John's Ford | 81.576 | 102.383 |
| 7 | 42 | Kyle Larson (P) | Clover Chevrolet | 81.595 | 102.359 |
| 8 | 19 | Martin Truex Jr. (P) | Bass Pro Shops Toyota | 82.068 | 101.769 |
| 9 | 12 | Ryan Blaney (P) | Menards/Duracell Ford | 82.094 | 101.737 |
| 10 | 21 | Paul Menard | Motorcraft/Quick Lane Tire & Auto Center Ford | 82.215 | 101.587 |
| 11 | 2 | Brad Keselowski (P) | Alliance Truck Parts Ford | 82.297 | 101.486 |
| 12 | 37 | Chris Buescher | Velveeta Chevrolet | 82.327 | 101.449 |
| 13 | 41 | Daniel Suarez | Haas Automation Ford | 81.92 | 101.953 |
| 14 | 47 | Ryan Preece # | Kroger Chevrolet | 81.928 | 101.943 |
| 15 | 20 | Erik Jones (P) | Craftsman Toyota | 81.973 | 101.887 |
| 16 | 10 | Aric Almirola (P) | Smithfield Ford | 81.978 | 101.881 |
| 17 | 18 | Kyle Busch (P) | M&M's Hazelnut Toyota | 81.986 | 101.871 |
| 18 | 95 | Matt DiBenedetto | Toyota Express Maintenance Toyota | 81.993 | 101.862 |
| 19 | 9 | Chase Elliott (P) | NAPA Auto Parts Chevrolet | 82.098 | 101.732 |
| 20 | 8 | Daniel Hemric # | Cat Next Gen Excavators Chevrolet | 82.127 | 101.696 |
| 21 | 17 | Ricky Stenhouse Jr. | SunnyD Ford | 82.232 | 101.566 |
| 22 | 34 | Michael McDowell | Love's Travel Stops Ford | 82.252 | 101.542 |
| 23 | 1 | Kurt Busch (P) | Monster Energy Chevrolet | 82.317 | 101.461 |
| 24 | 6 | Ryan Newman (P) | Performance Plus Ford | 82.572 | 101.148 |
| 25 | 43 | Bubba Wallace | LeithCars.com Chevrolet | 82.582 | 101.136 |
| 26 | 32 | Corey LaJoie | Samaritan's Feet Ford | 82.63 | 101.077 |
| 27 | 38 | David Ragan | Citgard Heavy Duty Engine Oil Ford | 83.088 | 100.52 |
| 28 | 11 | Denny Hamlin (P) | FedEx Freight Toyota | 83.099 | 100.507 |
| 29 | 13 | Ty Dillon | GEICO Military Chevrolet | 83.121 | 100.48 |
| 30 | 3 | Austin Dillon | Jack Daniel's Chevrolet | 83.232 | 100.346 |
| 31 | 51 | Cody Ware(i) | Jacob Companies Chevrolet | 84.22 | 99.169 |
| 32 | 0 | Landon Cassill(i) | Coladka Chevrolet | 84.69 | 98.618 |
| 33 | 66 | Timmy Hill(i) | Duracap Asphalt Toyota | 85.315 | 97.896 |
| 34 | 53 | Josh Bilicki(i) | AQRE.app Chevrolet | 85.572 | 97.602 |
| 35 | 52 | Garrett Smithley(i) | Victory Lane/Kendall Oil Ford | 85.782 | 97.363 |
| 36 | 36 | Matt Tifft # | Louis Kemp Crab Delights Ford | 0 | 0 |
| 37 | 15 | Ross Chastain(i) | Empire Auto Group Chevrolet | 0 | 0 |
| 38 | 77 | Reed Sorenson | Aquesta Bank Chevrolet | 0 | 0 |
| 39 | 27 | Joe Nemechek(i) | Chevrolet | 0 | 0 |
| 40 | 96 | Parker Kligerman(i) | TRD 40th Anniversary Toyota | 0 | 0 |