5 things to look for at Laguna Seca
Josef and Team Penske on the cusp of yet another IndyCar title
The NTT IndyCar Series returns to historic WeatherTech Raceway Laguna Seca in Monterey, Calif. to culminate the 17-race season and crown a new champion at this weekend's Firestone Grand Prix of Monterey.
Josef Newgarden, Alexander Rossi, Simon Pagenaud and Scott Dixon are the remaining title contenders as the NTT IndyCar Series makes its debut at the demanding 2.258-mile permanent road course. It also marks Indy car racing's first appearance at WeatherTech Raceway Laguna Seca since the Champ Car World Series race in 2004.
Sunday's Firestone Grand Prix of Monterey season finale (2:30 p.m. ET, NBC) will award double points for all finishing positions and add more pressure on the contenders to perform well if they plan on hoisting the Astor Challenge Cup.
In addition to the NTT IndyCar Series championship being on the line, there are tight battles for rookie-of-the-year honors and the engine manufacturer's crown.
Here are "5 Things To Look For" heading into the Firestone Grand Prix of Monterey:
"American Idol"
[adinserter name="GOOGLE AD"]When Josef Newgarden (No. 2 Hitachi Chevrolet) won his NTT IndyCar Series championship in 2017 during his first season with Team Penske, he draped himself in an American flag on the podium at Sonoma Raceway.
When it comes to American series champions since the start of this century, they have been few and far between with multiple titles a rarity.
Newgarden, however, finds himself close to taking another monumental step for American drivers with the 28-year-old Nashville, Tenn., native needing a fourth-place finish or better in Sunday's Firestone Grand Prix of Monterey to secure his second series crown in the last three years.
He leads fellow American Alexander Rossi (No. 27 NAPA Auto Parts Honda) of Andretti Autosport by 41 points, Penske teammate Simon Pagenaud (No. 22 Menards Chevrolet) by 42 and five-time series champ Scott Dixon (No. 9 PNC Bank Honda) by 85. Newgarden has built his lead on the strength of series highs for victories (4) and top-five finishes (12).
Newgarden and Andretti Autosport's Ryan Hunter-Reay (No. 28 DHL Honda), the 2012 series champion, are the only Americans to win the title in the last 12 years. If Newgarden is able to win a second title, he will join three-time champ Sam Hornish Jr. (2001, '02, '06) as the only Americans with multiple crowns since 1995.
"Being able to represent the United States in one of the most diverse racing series in the world is such a privilege," said Newgarden, who is in his eighth full season. "And there's definitely a bit of patriotic pride when you can finish up front and represent your country. The IndyCar Series has always been about the best drivers from all over the world competing at the highest level and that's what makes it special. I definitely remember watching Hornish win a lot of races when I was growing up and to potentially be mentioned in the same breath as Sam would be incredible."
Rossi is chasing his first championship while Pagenaud is eyeing his second – the other came in 2016 – and Dixon his sixth (2003, '08, '13, '15, '18). While Rossi is hopeful he is the American that is crowned the new series champion, he is very cognizant of the overall importance of a U.S.-born champ in this series.
"I know I've read a lot of things from other drivers saying it doesn't matter, it's not important, no one cares. I can't really get on board with that," Rossi said. "I mean, I think me as an American, growing up, being a fan of the Olympics and everything, like you cheer for Americans, right? That's what you do as a patriotic person. Canadians cheer for James (Hinchcliffe). We see the Swedish contingent that comes to the races for Marcus (Ericsson) and Felix (Rosenqvist).
"I think Americans will cheer for Americans. I would love to see an American win the championship. I think it's important for the young kids watching hoping to be INDYCAR drivers one day, that they see someone who grew up in Tennessee or California or wherever. It's like, oh, there's a lot of relate-ability to that for a young kid with aspirations of being a racecar driver."
So what do the other contenders need to do to unseat Newgarden? To simplify the process by basing it off a win and not including championship bonus points for pole (1), leading a lap (1) and leading the most laps (2) in the equation, here's what they need to do in terms of finishing positions to win outright.
A Rossi win coupled with a sixth-place finish (or worse) by Newgarden would give the Californian his first title, 652-649.
A Pagenaud win, along with a sixth (or worse) by Newgarden, would give the Frenchman his second title, 651-649.
Dixon needs help from all the contenders and the New Zealander would need all of the following to occur: A win (608 points), Newgarden to finish 23rd (607 pts.) or worse; Rossi to finish seventh (604 pts.) or worse; and Pagenaud to finish sixth or worse (607 pts.).
"You Look Familiar"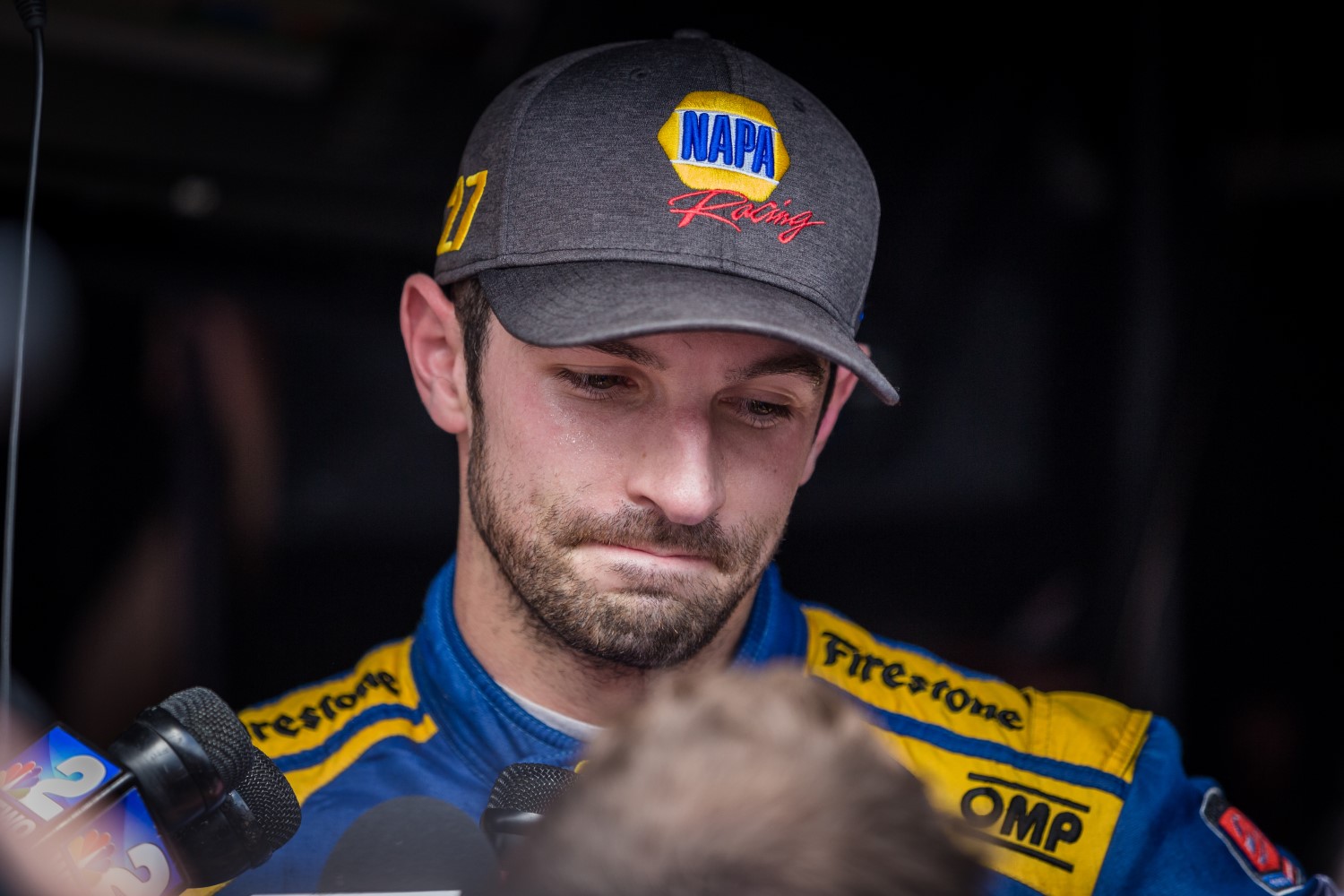 Alexander Rossi on the cusp of being beaten by Team Penske….again
While the Firestone Grand Prix of Monterey will mark the first time the NTT IndyCar Series has competed at WeatherTech Raceway Laguna Seca, three of the four championship contenders have competed at this track previously in other series.
Simon Pagenaud was the most recent, winning an American Le Mans Series race at the track in 2009 and again in '10. The first victory came with de Ferran Motorsports and the latter with Highcroft Racing.
Alexander Rossi, a 27-year-old native of Nevada City, Calif., grew up attending Indy car races at Laguna Seca with his father, Pieter, and later competed there during his teens in the Skip Barber National Championship and Western Regional Series in 2006. He also competed at Laguna Seca as late as 2008 in the Formula BMW Americas, winning the championship that season with EuroInternational. He finished 10th and second at Laguna Seca during that season.
Scott Dixon was the only one of the trio to drive an Indy car on the layout, having made starts in 2001 and '02 in CART. He finished fourth while driving for PacWest Racing in '01 and then sixth the following year for Chip Ganassi Racing.
Championship leader Josef Newgarden will get his first on-track look at the 2.258-mile layout during Thursday's open full-day test session for all NTT IndyCar Series competitors. The test will run from 9:15 a.m.-5:30 p.m. PT local.
"How Swede It Is"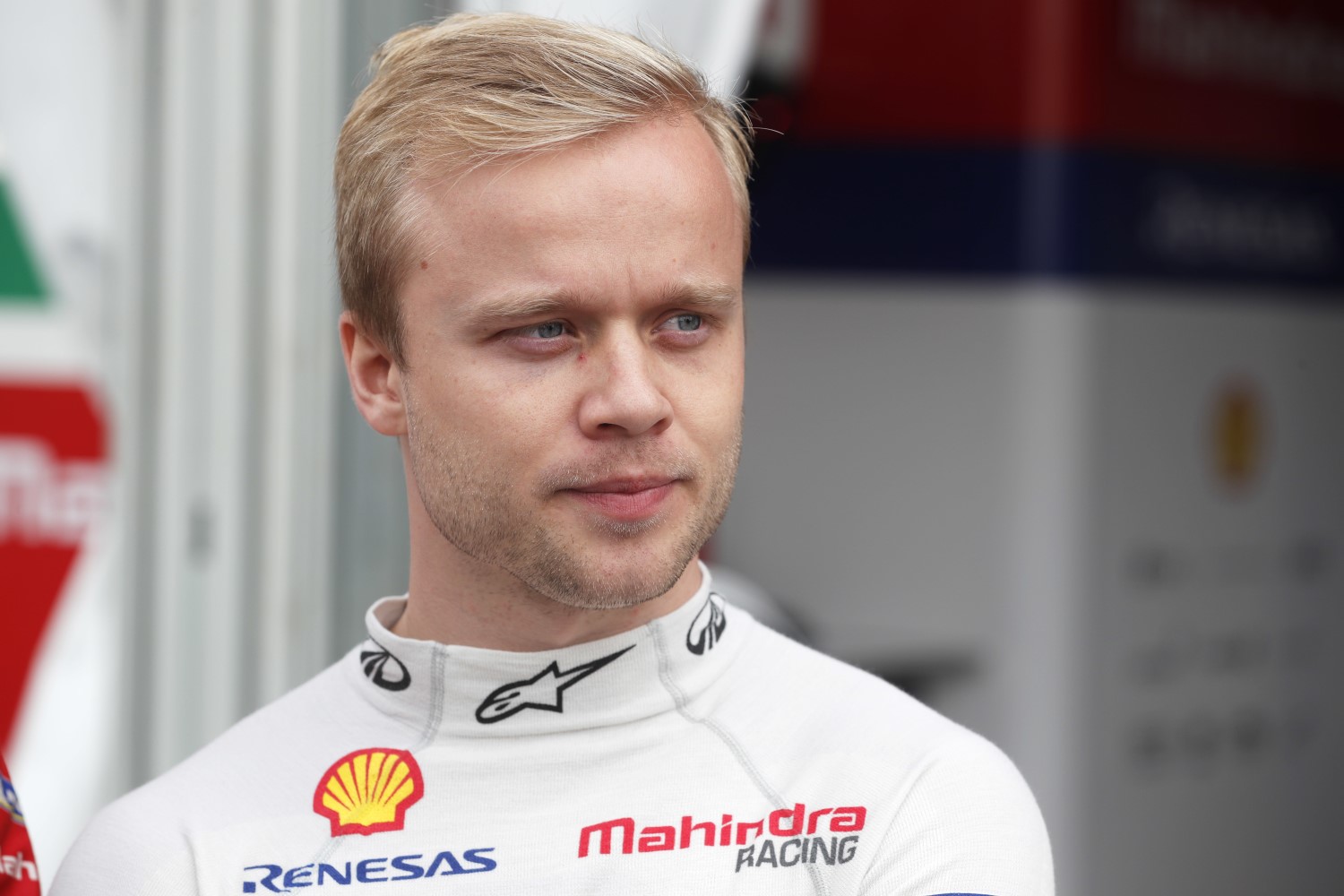 Rosenqvist looks to beat Herta for Rookie of the Year honors
Felix Rosenqvist (No. 10 NTT Data Honda) is looking to become just the fourth rookie-of-the-year recipient in the illustrious history of Chip Ganassi Racing and first for the organization since Juan Pablo Montoya in 1999.
Rosenqvist, a 27-year-old Swede, regained the lead for rookie-of-the-year honors heading into the Sunday's Firestone Grand Prix of Monterey season finale. He matched his season-best finish of second at Portland to move ahead of 21-year-old American Santino Ferrucci (No. 19 Cly-Del Manufacturing Honda) of Dale Coyne Racing by 26 points. He had trailed Ferrucci by two points coming into Portland.
"I think the rookies have definitely made a statement this year," Rosenqvist said. "Having raced all over the planet, I would say that INDYCAR is the toughest beast yet to master for me."
Colton Herta (No. 99 Capstone Turbine Honda), a 19-year-old American with Harding Steinbrenner Racing, finished fourth at Portland to close to 49 points of Rosenqvist and make it a three-driver race for the honor. It was Herta's best finish since becoming the youngest winner in Indy car history in March at the Circuit of The Americas.
"I think Colton and I have had similar years where it took off a bit too fast, and then the reality of INDYCAR struck us, and a change of approach was needed," Rosenqvist said. "I have definitely calmed down during the year, trying to take what's there every weekend instead of forcing myself into errors – trying go for the top spot at any cost. I also think that's why I'm the leading rookie right now. The speed has been there from the start, but it's just so much more needed to take the points every weekend. Speed alone will not give you success in this championship."
Rosenqvist, despite being winless this season, has earned the top spot in the rookie race by virtue of nine top-10 finishes, including five among the top five. He currently is eighth in the championship standings.
Rosenqvist is looking to join Montoya, Alex Zanardi (1996) and Eddie Cheever ('90) as rookie-of-the-year winners for Chip Ganassi Racing.
"Being with Chip Ganassi Racing for my rookie season has been more helpful than anything," Rosenqvist said. "The team has given me access to everything in order to become ready to win races. I think the field is so tight these days that literally anyone can be fast, but what CGR does differently is getting all the details right, and that's why they normally come out on top."
Heading into WeatherTech Raceway Laguna Seca, Rosenqvist has been strong on permanent road courses this season. After finishing 23rd at COTA, he has reeled off five consecutive top-10 finishes on those layouts, including runner-up performances in his last two (Mid-Ohio, Portland).
"It's cool that there is a battle going on between Santino, Colton and I for Laguna," he said. "I've been on quite a streak on the road courses lately and I feel hungry for that first win, and Laguna would be just the right place to get it done."
"Horsepower Showdown"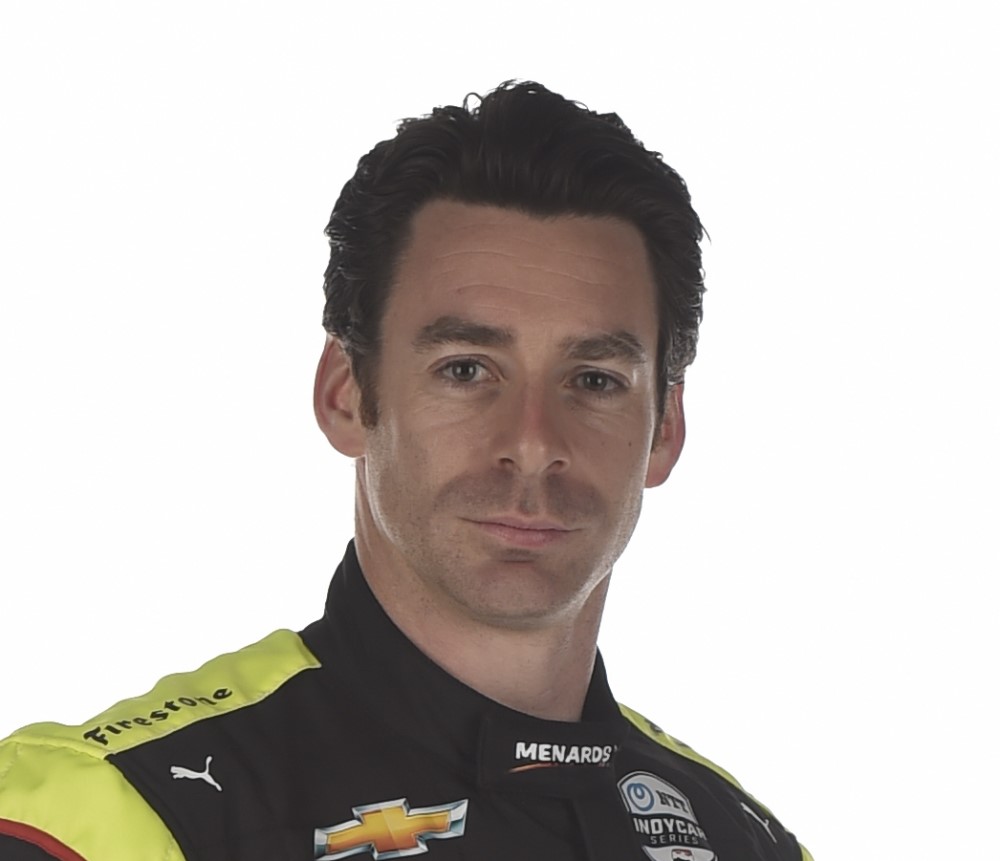 Can Indy 500 winner Simon Pagenaud help Chevy to the manufacturers title?
Honda is pursuing its second consecutive engine manufacturer championship, owning a 34-point advantage (1,351-1,317) over Chevrolet heading into Sunday's season-closing Firestone Grand Prix of Monterey.
Honda, buoyed by seven wins on the season, had a 73-point cushion going into the penultimate race at Portland, but a victory by Team Penske's Will Power (No. 12 Verizon Chevrolet) helped Chevrolet cut the deficit by more than half with one race to go. Chevrolet, which won six consecutive engine manufacturer crowns beginning with its return to the series in 2012 through 2017, has nine victories on the season, including four in the last six races.
The engine manufacturer championship points are awarded to the top two finishing full-season entrants for each manufacturer in a race using the same points structure as used for entrant and driver points (50 points for first, 40 for second, etc.). A car is not eligible to receive manufacturer points if it is using its fifth engine (or more) on the season. If that is the case, points are awarded based on the finish of the next highest eligible car for that manufacturer.
Those cars that already have exceeded that number heading into the season finale are the #2 (Josef Newgarden), #12 (Will Power) and #20 (Ed Jones, Ed Carpenter) for Chevrolet and #10 (Felix Rosenqvist), #18 (Sebastien Bourdais), #19 (Santino Ferrucci), #27 (Alexander Rossi), #30 (Takuma Sato) and #88 (Colton Herta) for Honda.
With this event being a double points race, it will be the same for the manufacturers on finishing positions. The engine manufacturers also are awarded an additional five points for a race win and one point for the pole.
"Challenge Accepted"
While the Astor Challenge Cup only began being awarded to the NTT IndyCar Series champion beginning in 2011, the trophy is deeply woven into the heritage of North American open-wheel racing.
The trophy was commissioned in 1915 by Vincent Astor for the purpose of being awarded to the winner of the Astor Cup Challenge, a 350-mile race held on a two-mile board track in Sheepshead Bay, N.Y. The inaugural 1915 race boasted a purse of $50,000, which at that time was identical to the one for the Indianapolis 500. Gil Andersen and the Stutz team outlasted the 20-car field to win the event in 3 hours, 24 minutes and 42 seconds with an average speed of 102.6 miles per hour.
The second and final Astor Cup Challenge race, which was shortened to 250 miles, was held in 1916 and won by Johnny Aitken in a Peugeot that was owned by the Indianapolis Speedway Team Company of Carl Fisher and Jim Allison. Aitken may be a familiar name to Indy car aficionados, as he owns the distinction of starting (41) and winning (15) more races at Indianapolis Motor Speedway than any other driver in history.
The Astor Challenge Cup is made of sterling silver and stands 27 & 15/16 inches tall. The three etched granite base plates the cup sits on carry the names of every Indy car national champion and governing body at that time, beginning with George Robertson winning the 1909 American Automobile Association crown. The cup and base plates weigh a combined 114 pounds.
The first NTT IndyCar Series champion to be presented the Astor Challenge Cup was Dario Franchitti after winning his third title in a row in the 2011 season
Schedule
The Firestone Grand Prix of Monterey will have a full-day test session Thursday (12:15 p.m.-8:30 p.m. ET / 9:15 a.m.-5:30 p.m. PT local) before settling into the traditional three-day race weekend.
Friday's action will have a pair of 45-minute practices (1:30 p.m. ET/10:30 a.m. PT and 5:10 p.m. ET/2:10 p.m. PT, NBC Gold). Saturday's on-track action will feature a morning practice (1 p.m. ET/10 a.m. PT, NBC Gold) and Firestone Fast Six Qualifying at 4:30 p.m. ET (1:30 p.m. PT) live on the NBC Sports Network.
Sunday's Firestone Grand Prix of Monterey, a 90-lap, 203.22-mile race, will be televised live on NBC beginning with the pre-race show at 2:30 p.m. ET (11:30 a.m. PT) and green flag scheduled for 3:15 p.m. (12:15 p.m. PT). The race also will be broadcast on the Advance Auto Parts INDYCAR Radio Network and SiriusXM Satellite Radio (XM 205, Sirius 98)