Harvick crushes field, Johnson misses Playoffs at Indy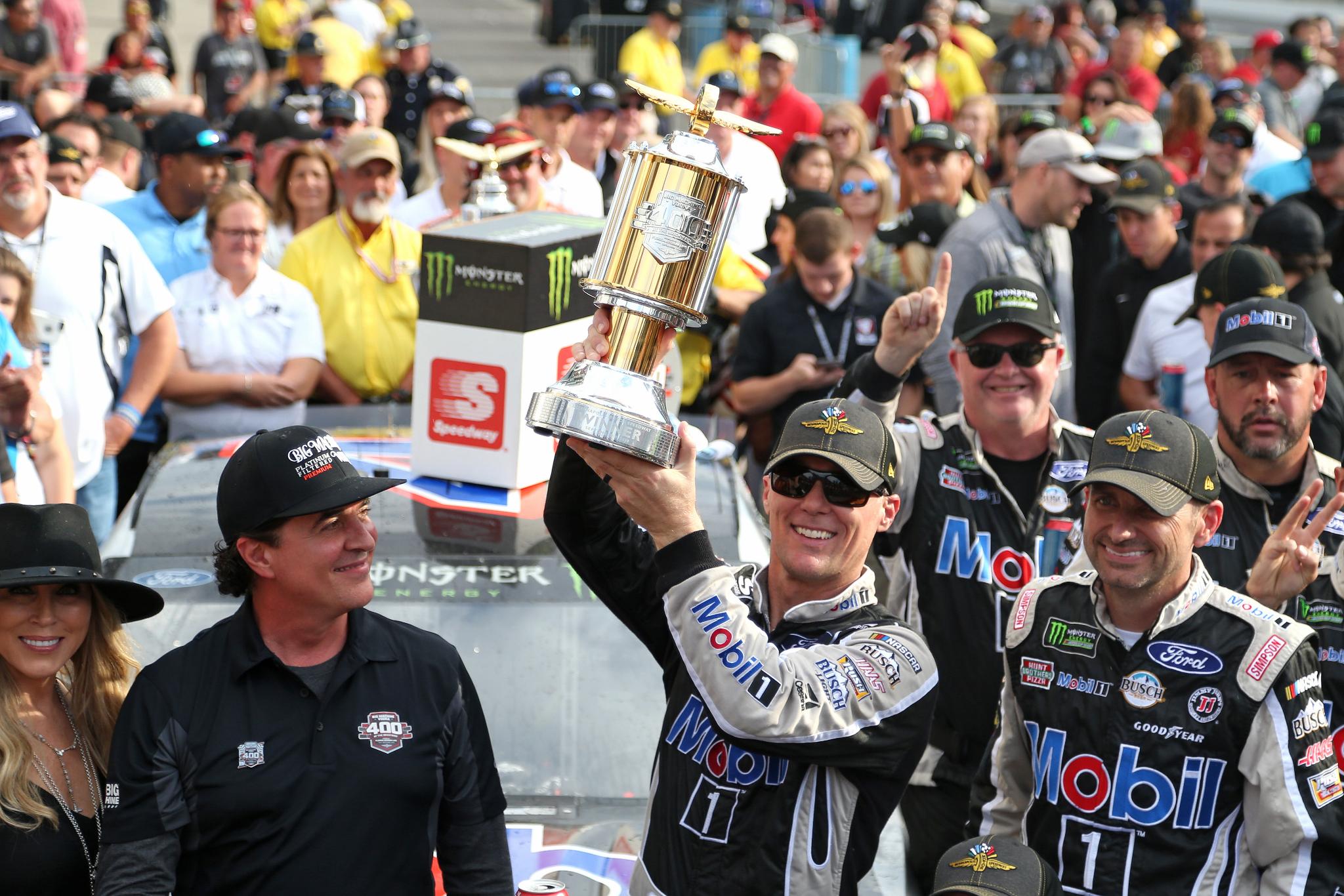 Kevin Harvick wins at Indy
Matt Sullivan/Getty Images
Kevin Harvick was the class of the field at the Brickyard.
Harvick drove away from the competition all day long, leading 118 of 160 laps en route to the win in Sunday's Brickyard 400 at the Indianapolis Motor Speedway.
Harvick went largely unchallenged all day, with the exception of on restarts, and by the end, drove away from Joey Logano by over five seconds to record his second Monster Energy NASCAR Cup Series win at the historic 2.5 mile raceway.
"Yeah, this is great. Got to say thanks to all the fans," Harvick said. "Can't tell you how much – yeah, that's great. How much coming to Indianapolis means to me, as a kid I watched Rick Mears win Indy 500s and got to be around him as a kid, and he was my hero, so coming here and winning here is pretty awesome."
Meanwhile, Clint Bowyer and Ryan Newman made the cut into the Playoffs, while Daniel Hemric and Jimmie Johnson failed to move past the Playoff cutoff.
After winning the second race segment, Harvick only lost the lead in the final segment when he changed lane position, allowing Ryan Blaney to restart on the outside line. On the following restart, Harvick would recapture the lead.
On the final restart, Logano tried to get around Harvick's Ford, but couldn't make the move stick as Harvick moved back to the point and drove away from all competition, with Logano following in second.
Afterwards, Harvick and his entire Stewart-Haas Racing team – including team owner Tony Stewart – celebrated by climbing the fence on the frontstretch.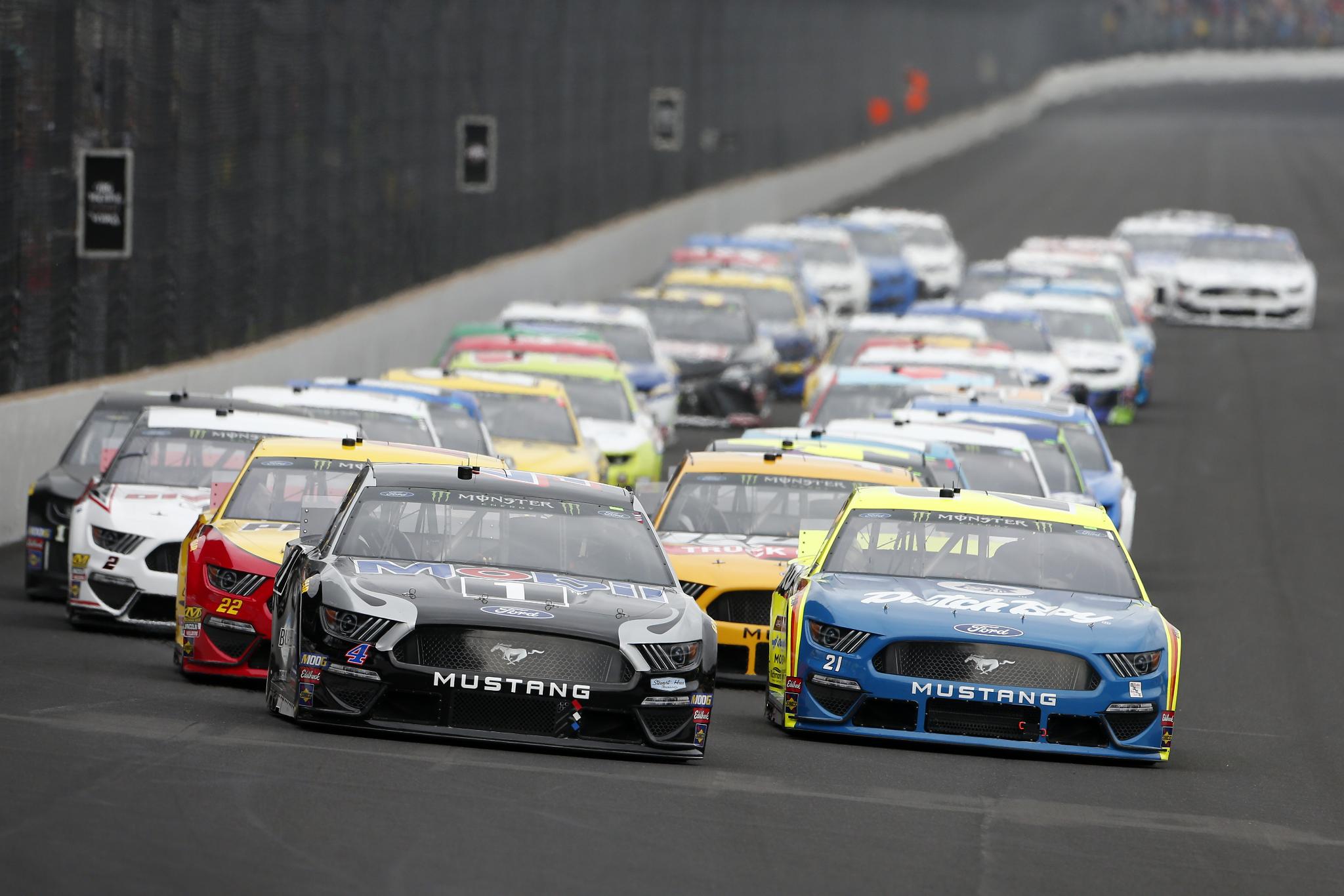 Kevin Harvick leads the field at Indy
Brian Lawdermilk/Getty Images
"Well, they built a great race car," Harvick said. "Just got to thank everybody from â€'â€' can't say enough about everybody on this Mobil 1 Ford Mustang. These guys on this race team, they built a heck of a race car. This is the same stuff that we took to Michigan and had a real good weekend there, obviously, and went to Victory Lane. So, to come here to the Brickyard, I know how much this means to Rodney and Dax and all these guys that work on this car because we've been so close to winning here before."
"We were the second-best car of the cars that were still running," said Logano, who won the race's first segment. "That may actually mean we were about a fourth place car in general. I am proud of our Shell Pennzoil team. We needed a solid day. We have had a rough month. It was nice to be able to finish where we should and have a shot at winning the race. I would like to do it again. I don't know if I had something for 'em. I was hoping for a caution and a green-white-checkered finish at the end. He was just too far up there to catch and I was waiting for it. It is a good momentum builder for the playoffs coming up. We will head into Vegas, a track we won at the last time we were there and coming off a solid finish here. We are ready to go."
Maybe the biggest surprise of the day was the third place finisher, as Darrell Wallace, Jr. moved his way forward late in the going. He held off challenges from Blaney and Denny Hamlin over the final laps to record his best finish of the season behind the wheel of the Richard Petty Motorsports No. 43 Chevrolet.
"Heck of a day. I don't know to say," said Wallace, who recorded his second best career MENCS finish. "We had speed all weekend in our Victory Junction Chevrolet. We never gave up all day no matter what happened on pit road. I still don't know what happened. We went from the lowest of lows, to the almost highest of highs. It was just a solid day for our team. Smaller organizations having big runs. It is very uncommon these days. Almost like David and Goliath. Everything kind of clicked today for us. These little teams aren't supposed to run with the big teams. It was a good day."
[adinserter name="GOOGLE AD"]William Byron finished in fourth, with Clint Bowyer locking up his Playoff spot with a fifth place finish.
"Well, winning would be better. There is nothing better than winning," Bowyer said. "Playoffs are obviously a good thing and you have to be in the playoffs to win a championship. I am looking forward to some of those tracks. I look back at Richmond and I should have won that race. I should have done what I needed to do and moved him that day and went on and won the race and drove off into the sunset. I didn't and I still think about that. You can understand how important is. You still think about that a race and how easy the rest of our season would have been had I done that. That being said, we are going back to some of those tracks that are really good race tracks for us and they are good opportunities for a win."
The final Playoff spot was captured by Ryan Newman, who finished eighth, three spots better than his competition for that spot, Daniel Suarez.
"That was a struggle at a lot of times," Newman said. "At the end of the first stage I had a lot of confidence and at the end of the second stage I didn't have a whole lot of confidence. We just stuck our nose to the grindstone and the 41 (Suarez) got himself in a pickle there and we were able to hold him off. That was part of the race. The other part of the race was we didn't have a fast enough race car to be able to go up there and lead and we need to be able to do that in the next three races."
Suarez had battled back from an early cut tire, but as the laps round down, could not close on the wily veteran Newman to battle for the Playoff berth.
"I made a little mistake there," said Suarez, who finished 11th. "I wasn't expecting how aero loose the car got when I got behind the 24 (Chase Elliott). The car actually was pretty good after that though. The guys were able to fix it. It was mostly cosmetic. The guys were able to fix it and the car was just as good as before. I feel like after that the day went smooth other than getting caught in the pit road cycle on the last stop. That made us lose all our track position and it was very difficult to overcome that. We fought hard. We made it all the way back to 11th and I feel like if we had 15 more laps I was going to get the 6 but that is racing. It just wasn't meant to be."
The driver in the spotlight most of the day in terms of the Playoffs was seven-time series champ Jimmie Johnson, who was in a must-win situation to make the cut.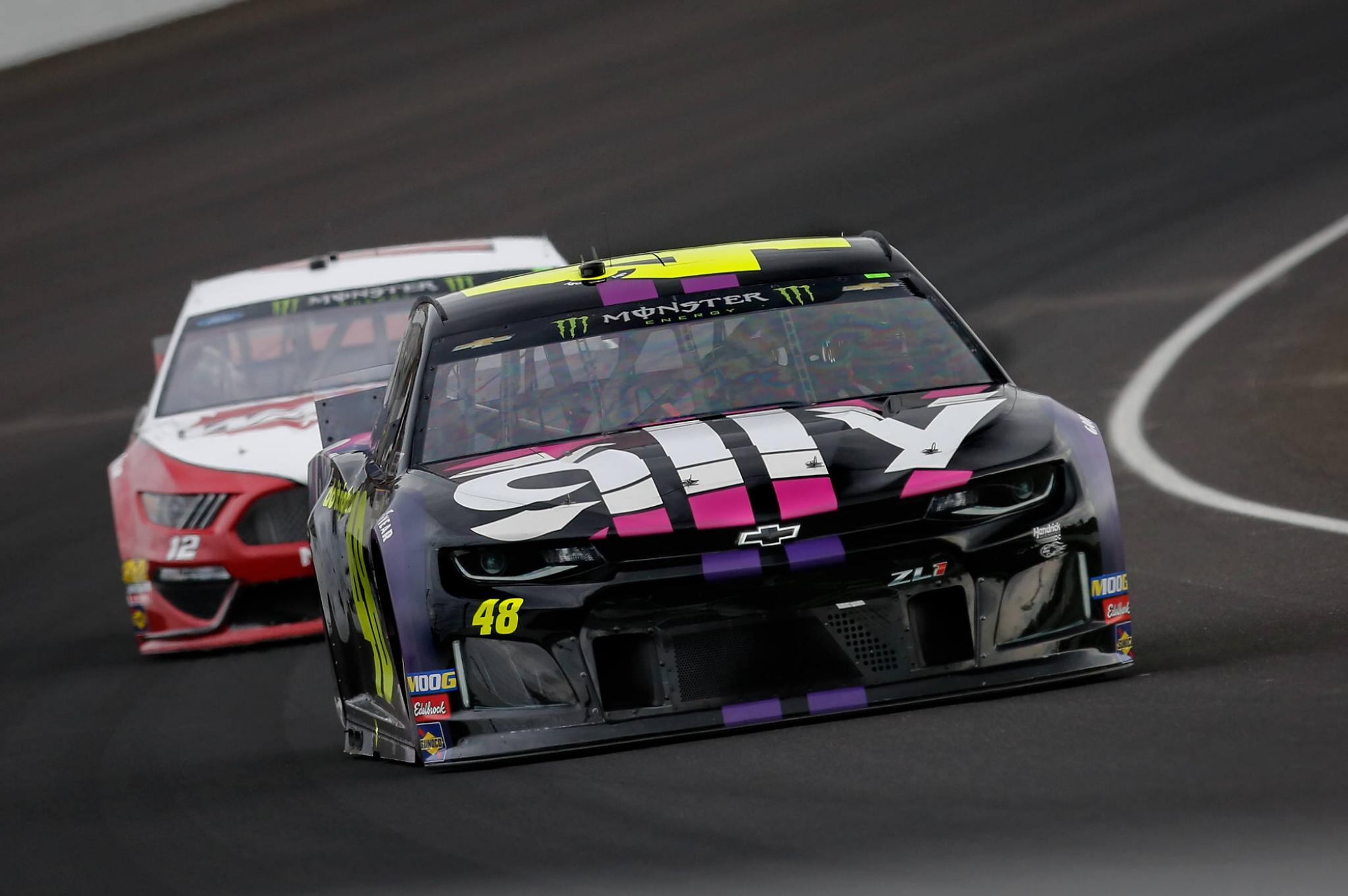 Seven-time champion Jimmie Johnson will miss the playoffs for the first time in his career after crashing out at Indy
Barry Cantrell/HHP for Chevy Racing
Johnson battled his way into the top ten, collecting points in the first two segments. But he saw his hopes go away as he raced three-wide with his teammate, William Byron and Kurt Busch on a lap 105 restart. As they raced into the corner, contact between Johnson and Byron sent Johnson's car spinning up the track. That triggered a multi-car crash that gathered up Kurt Busch, Daniel Hemric and Paul Menard.
Johnson's Chevrolet was heavily damaged, ending his day in the garage area with a 35th place finish. He had previously made all 15 Playoffs cut since the system was implemented.
"Yeah, it's really disappointing," Johnson said. "Unfortunately, we had a bad 25 races that led to the position we're in here today and we needed a stellar day. I think we were having a strong day. I'm really proud of my team with what's been going on. The No. 1 car (Kurt Busch) had a little trouble on the restart. I'm on the inside going into the corner and it was just super tight. It's unfortunate that happened. Certainly it's not what we needed on that restart. I couldn't go below the white line and kind of got snipped there and turned around; and around and round we go."
The day didn't go well for two other previous Brickyard 400 winners. Kyle Busch saw his race end when his engine detonated on lap 90, sending smoke and flames under the hood of his Toyota. He was credited with 37th.
"Everything was fine, there was no warning of it. It just happened all of the sudden," Busch said. "I was leaving pit road and blending back into traffic on the backstretch. When it blew up, for some reason it knocked the brakes out of it so I couldn't stop. All in all, just a bummer day for us – for this M&M's Hazelnut Camry."
The scariest moment of the day came on lap 48, when contact between Brad Keselowski and Erik Jones sent both spinning off turn two. Jones' Toyota suffered severe rear-end damage, while Keselowski's Ford made hard contact with the tire barrier on the inside wall. That left Keselowski's car sitting on top of the barrier. Both drivers climbed out uninjured, but the race was red flagged to allow track crews to clean up the scene and replace the tire barrier.
"We had new tires and we were racing some cars that didn't have new tires and wanted to make the pass there and got real tight to the 48 and lost the nose in the air," Keslowski said. I was trying to leave room and probably came down on Erik (Jones) more than I thought I did and he got real loose. No air on my car. I hit the wall there. There is this spot on the wall with just an atrocious angle. I don't know what that spot is for but it does not need to be there, but we found it. That is how racing goes. We find the things. This track really was part of the safety revolution about 15-20 years ago and I think it is time for another."
"I just got loose and made a mistake," Jones said. "I didn't think Brad (Keselowski) would be so tight on me and I just lost it. It's my fault. I feel bad for the 2 (Keselowski) and I feel bad for our team as well. It's a shame, we had a good Stanley Camry and I just hate seeing it come down like that. I just wasn't anticipating enough and I drove in too hard for it. It's all good. We'll move on. Wish we would have had a good day. Our car was really strong and we had a shot to probably win today. Just didn't work out."
Keselowski was credited with 38th, with Jones in 39th.
Hamlin, Blaney, Newman, Dawsonville, Georgia's Chase Elliott and Menard rounded out the top ten.
The 16-driver Playoff field is now set going to next weekend's race at Las Vegas Motor Speedway. Kyle Busch tops the field, followed, in order, by Hamlin, Martin Truex, Jr., Logano, Harvick, Keselowski, Elliott, Kurt Busch, Kyle Larson, Alex Bowman, Jones, Blaney, Byron, Aric Almirola, Bowyer and Newman.
RACE RESULTS
| | | | | | | | |
| --- | --- | --- | --- | --- | --- | --- | --- |
| Finish | Start | # | Driver | Sponsor/Make | Laps | Led | Status |
| 1 | 1 | 4 | Kevin Harvick | Mobil 1 Ford | 160 | 118 | Running |
| 2 | 4 | 22 | Joey Logano | Shell Pennzoil Ford | 160 | 11 | Running |
| 3 | 15 | 43 | Bubba Wallace | World Wide Technology Chevrolet | 160 | 0 | Running |
| 4 | 29 | 24 | William Byron | Liberty University Chevrolet | 160 | 1 | Running |
| 5 | 3 | 14 | Clint Bowyer | Rush/Cummins Ford | 160 | 0 | Running |
| 6 | 33 | 11 | Denny Hamlin | FedEx Express Toyota | 160 | 0 | Running |
| 7 | 9 | 12 | Ryan Blaney | Wabash National Ford | 160 | 19 | Running |
| 8 | 22 | 6 | Ryan Newman | Acorns Ford | 160 | 0 | Running |
| 9 | 24 | 9 | Chase Elliott | NAPA AUTO PARTS Chevrolet | 160 | 0 | Running |
| 10 | 2 | 21 | Paul Menard | Menards/Dutch Boy Ford | 160 | 1 | Running |
| 11 | 20 | 41 | Daniel Suarez | Haas Automation Ford | 160 | 0 | Running |
| 12 | 18 | 3 | Austin Dillon | Symbicort Chevrolet | 160 | 0 | Running |
| 13 | 25 | 13 | Ty Dillon | GEICO Chevrolet | 160 | 0 | Running |
| 14 | 10 | 10 | Aric Almirola | Smithfield/Meijer Ford | 160 | 0 | Running |
| 15 | 16 | 37 | Chris Buescher | Kroger Fast Lane to Flavor Chevrolet | 160 | 0 | Running |
| 16 | 23 | 47 | Ryan Preece # | Kroger Chevrolet | 160 | 0 | Running |
| 17 | 21 | 34 | Michael McDowell | Long John Silver's Ford | 160 | 0 | Running |
| 18 | 26 | 95 | Matt DiBenedetto | Horizon Transport Toyota | 160 | 0 | Running |
| 19 | 30 | 32 | Corey LaJoie | Ark.io Ford | 160 | 0 | Running |
| 20 | 17 | 38 | David Ragan | Mannington Commercial Ford | 160 | 0 | Running |
| 21 | 13 | 88 | Alex Bowman | Nationwide Chevrolet | 160 | 0 | Running |
| 22 | 34 | 15 | Ross Chastain(i) | Xchange of America Chevrolet | 160 | 1 | Running |
| 23 | 37 | 77 | Reed Sorenson | Go-Parts.com Chevrolet | 160 | 0 | Running |
| 24 | 36 | 27 | * Ryan Sieg(i) | SciAps Chevrolet | 157 | 0 | Running |
| 25 | 35 | 51 | BJ McLeod(i) | JACOB COMPANIES Ford | 157 | 0 | Running |
| 26 | 40 | 54 | * JJ Yeley(i) | MAXIMUM ELEVATION Chevrolet | 157 | 0 | Running |
| 27 | 27 | 19 | Martin Truex Jr | AOI Toyota | 156 | 0 | Running |
| 28 | 38 | 52 | Garrett Smithley(i) | Honest Abe Roofing Ford | 156 | 0 | Running |
| 29 | 39 | 53 | * Josh Bilicki(i) | AQRE.app Ford | 155 | 0 | Running |
| 30 | 8 | 1 | Kurt Busch | Monster Energy Chevrolet | 155 | 0 | Running |
| 31 | 12 | 17 | Ricky Stenhouse Jr | Fastenal Ford | 153 | 0 | Running |
| 32 | 28 | 36 | Matt Tifft # | Southeastern Equipment & Supply/Meijer Ford | 147 | 0 | Accident |
| 33 | 19 | 42 | Kyle Larson | McDonald's Chevrolet | 129 | 5 | Accident |
| 34 | 11 | 8 | Daniel Hemric # | Liberty National Chevrolet | 109 | 0 | Accident |
| 35 | 5 | 48 | Jimmie Johnson | Ally Chevrolet | 105 | 4 | Accident |
| 36 | 32 | 96 | * Parker Kligerman(i) | TRD 40th Anniversary Toyota | 104 | 0 | Accident |
| 37 | 7 | 18 | Kyle Busch | M&M's Toyota | 87 | 0 | Engine |
| 38 | 6 | 2 | Brad Keselowski | Discount Tire Ford | 48 | 0 | Accident |
| 39 | 14 | 20 | Erik Jones | STANLEY Wish For Our Heros Toyota | 48 | 0 | Accident |
| 40 | 31 | 0 | Landon Cassill(i) | SHERFICK COMPANIES Chevrolet | 40 | 0 | Accident |
[adinserter name="GOOGLE AD"]