IndyCar Portland GP postscript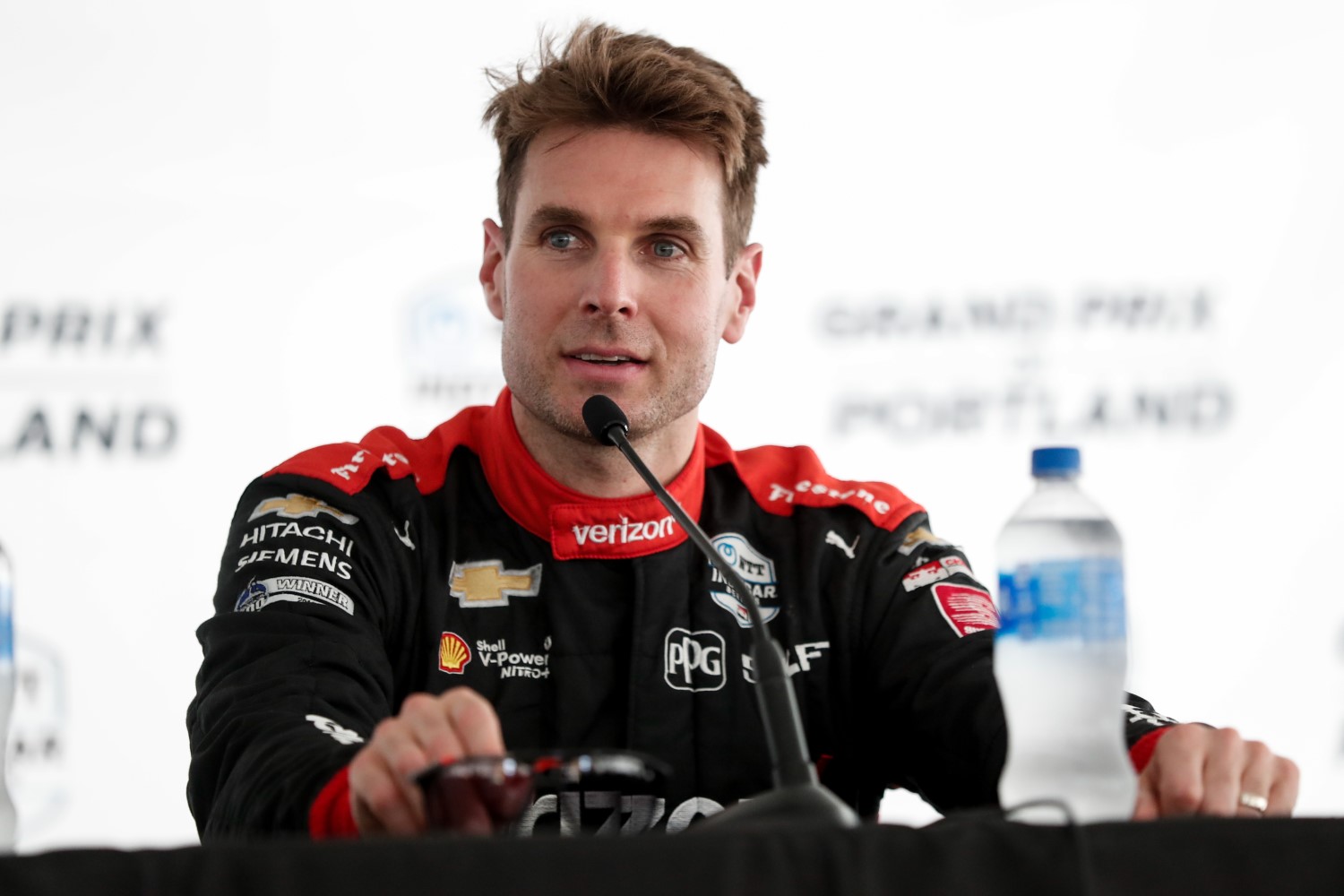 Will Power is back in form
Will Power is back in form, Scott Dixon and Chip Ganassi Racing get punched in the gut, and the NTT INDYCAR Series has another rough start.
We'll get to those stories and more in this week's AR1 Portland Postscript.
The start
[adinserter name="GOOGLE AD"]There are a numerous angles in which one can look at the start of Sunday's race at Portland.
Let's start by acknowledging the obvious: Graham Rahal did not shower himself in glory with his dive bomb stunt Sunday. While I suppose we can at least give Rahal credit for 'maning up' and taking the blame, the No. 15 Honda would not have made the corner even if the apex was 100-150 feet further down the track.
That said, Rahal's brain fade is only part of the story. Because even if Rahal enters the first turn under control, 22 other cars have to funnel from a high speed main straight that is five or six-wide before braking into an incredibly tight turn that can maybe handle cars racing two-wide.
In other words, the Festival Curves at Portland are an accident waiting to happen at the start of the race. And if IndyCar chooses to maintain the status quo they need to tell the team owners to budget a few hundred thousand dollars (or more) in write-offs. And that doesn't even begin to take into account everyone looking like a bunch of chumps when five cars get eliminated and they spend the next 12 laps circling under yellow (the extended yellows thing is a whole other discussion that probably needs its own article).
Anyway, if the series is going to race at Portland they must, in my opinion, address the very dodgy situation in the Festival Curves. I see a few potential solutions.
Solution 1: Allow cars to bypass turn 1 on opening lap
This method has worked with some success in other series as the first corner of the track becomes turn 4. The deceleration would be less, and the cars would not have to suddenly turn in different directions while all bunched up. The only question is could the necessary chicanes and tire runoffs be setup in the time it takes Indy cars to get back around the track?
Solution 2: Narrow the straightaway for the start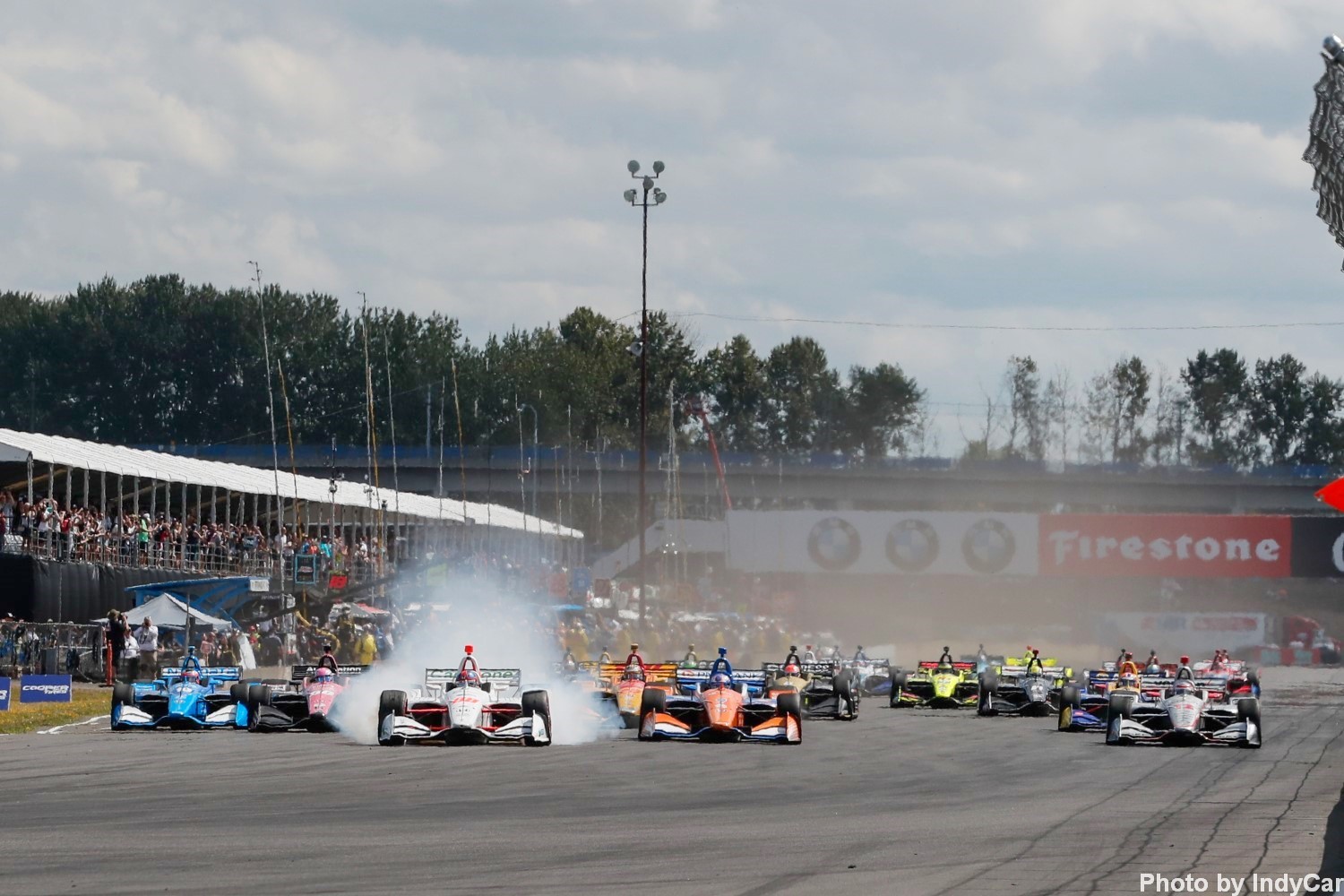 The wide front straight allows the cars to fan out wide, and then they have to funnel back down – a recipe for disaster
With the incredibly wide front stretch, the field essentially funnels into the very tight turn 1-2 complex and the results can't be disastrous. Would reducing the room that drivers had on the straightaway result in less chance of catastrophe in turn 1?
At the very least, a narrower straightway, which would take no more investment than a can of paint, would allow a more graduated apex into the first turn. This, theoretically at least, would decrease the chances of a pileup like was saw Sunday.
Solution 3: Standing starts
Standing starts are a bit of a lightning rod with some in the IndyCar paddock for reasons I've never entirely understood. However, Champ Car successfully pulled off a no-crash damage start at Portland in 2007 with standing starts.
AutoRacing1 has long advocated for standing starts on road and street courses as both a more exciting AND safer format. With Portland specifically, the standing starts would allow cars to approach the festival curves at a much lesser rate of speed than standing starts.
This obviously would take more work than the other two. However, the potential benefits in my opinion make it very worthwhile.
Dixon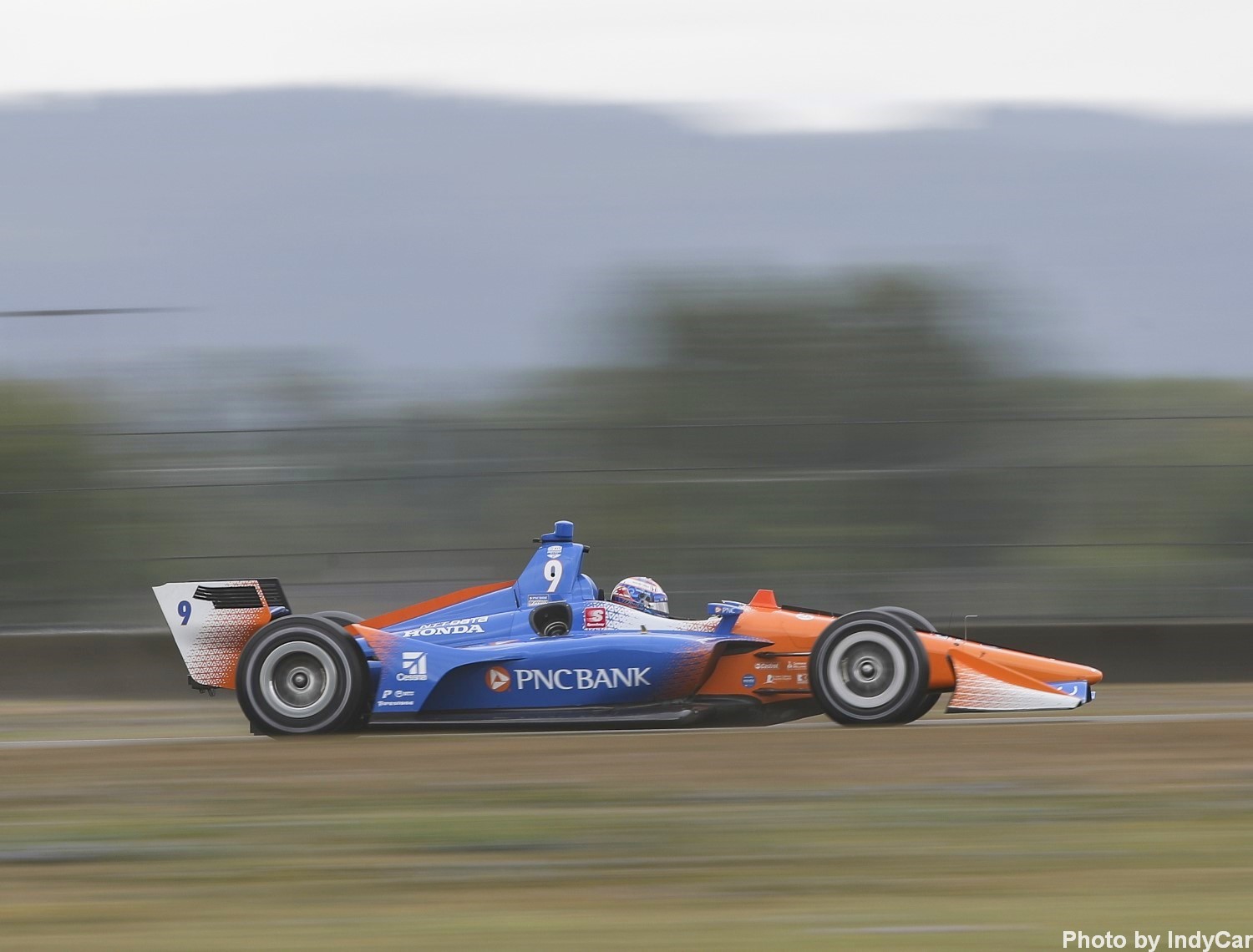 Scott Dixon was fast until his battery died
When the field did finally get to green flag racing, Colton Herta led with Scott Dixon in hot pursuit. Dixon's greatest strength behind the wheel, in my opinion, has long been his ability to run lap times competitive with the fastest cars on track, while simultaneously preserving resources (e.g. fuel and tires).
Sunday's first stint was classic Dixon, as he wore down the talented young Herta, and moved to the lead. Sadly, for Dixon it was not to be. The No. 9 PNC Bank Chip Ganassi Racing Honda had a battery failure on lap 52 and was forced to pit lane. While Dixon's crew changed the battery and restarted the car within three laps, the Kiwi's chance for a good day was ruined. Dixon finished 16th.
Given the rather uncharacteristic failure, I reached out to Chip Ganassi Racing to see if there was more to this very than the battery failure team Managing Director Mike Hull told NBC's Jon Beekhuis. Hull got back to me, and stated there was no more than what was said on TV. And with respect to the cause of the problem, the team seems as mystified as anyone.
The part that failed was "very low mileage, due to the championship," said Hull. Further, there was "absolutely no advance notice…It internally failed, so it wasn't an alternator or charging issue."
If anything, Hull noted that the team was lucky the problem happened in turn 10, allowing Dixon to get to pit lane. Furthermore, the fact Chip Ganassi Racing shut the car down, and changed the battery with Dixon only losing three laps is pretty impressive.
That said, the outcome was an absolute gut punch for Dixon and Team Ganassi. Let it be known: the five-time series champion was in position A to score the Portland win, and make the next three weeks VERY UNCOMFORTABLE for Josef Newgarden ahead of the finale at Laguna Seca.
Sadly, Dixon enters Laguna Seca 85 points behind Newgarden. While he remains mathematically alive, the odds for a 6th title in 2019 are pretty long.
Power
There were numerous beneficiaries of Dixon's misfortune, one being Will Power. I can't necessarily quantify this scientifically, but it seems Power does his best driving when the pressure is off, and the weight of a championship or some other externally is not weighing on him. And in 2019, Power has come alive in recent rounds, as his championship aspirations have waned.
Much was made of Power's win at Pocono last month extending his streak of winning at least one race to 13 seasons. However, this might be even more impressive: should Power win the finale at Laguna Seca, it will mark the 9th time in 10 seasons, he has won at least three races. As things stand now, he has already won multiple races in 9 of the last 10 seasons.
Very impressive.
Rossi, Newgarden, Pagenaud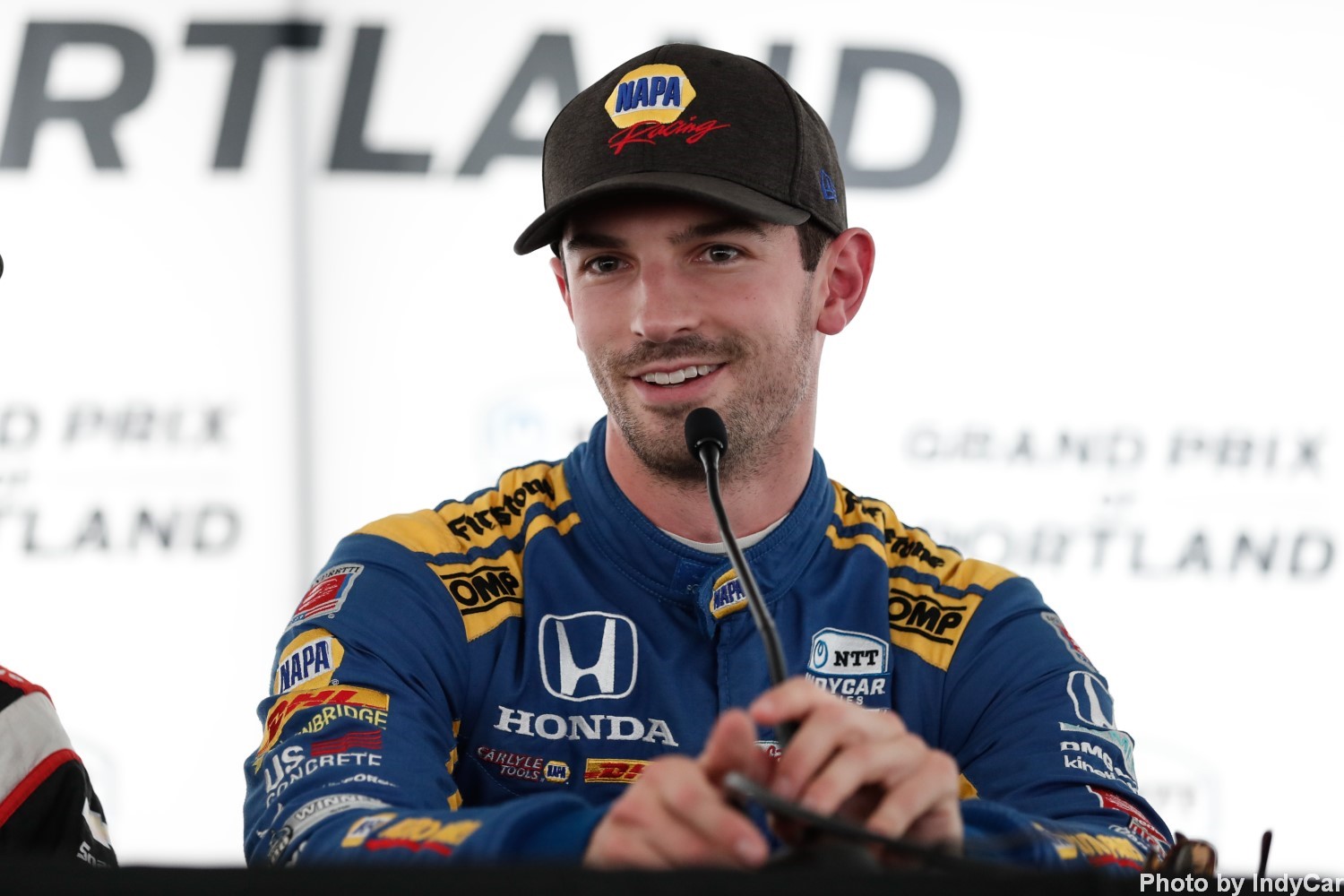 Rossi and Pagenaud would have no chance if not for double points for the season finale
With Dixon 85 points behind, Newgarden finishing 20th or better will eliminate the Kiwi from contention at Laguna Seca. That's not even taking into account what Dixon would have to beat Rossi and Pagenaud.
So, it is likely, that the title battle is down to Newgarden, Rossi and Pagenaud. Mathematically speaking, Newgarden will be the 2019 series champion if he finishes fourth or better at Laguna. Also, if Rossi and Pagenaud do not win, Newgarden needs to only finish 9th or better to take the championship.
And while I despise the double points finale, let the following be noted: the 2019 series championship is still a discussion because of double-points. If there were no double points for the finale, Newgarden would have to only finish 21st to win the title given current standings. Furthermore, Newgarden's gap would be even bigger, as Pagenaud and Rossi finished 1-2 in the other double-points race at Indy.
To be clear, I hope double-points is done away with forever, and the sooner the better. But given the world we live in, the network needs something to promote, and they have it for Laguna Seca because of the double points format.
Richmond
2009 IndyCar race at Richmond – note the empty grandstands. IndyCar has a 100% failure rate at ISC/NASCAR owned tracks. What will make Richmond different this time around?
Listen, I want next year's Richmond IndyCar race to be a smashing success. The series needs viable oval events, the series needs viable East Coast events, and selfishly speaking, I like races where I have the option of sleeping in my own bed (I live about 2 hours from Richmond Raceway).
However, it does concern me that there are no support races for the Richmond race. Without going into specifics, track president Dennis Bickmeier noted that his staff will be working to have a festival-type event around the race. And again, I hope they're successful.
I just know that certain oval events that have struggled to draw (Fontana, Pocono) have lacked content for ticket-buyer. We also noted last week that one of the reasons for Gateway's success has been a schedule of strong racing content. Can Richmond have a viable racing event with auxiliary content that is not racing?
I guess we're going to find out.
Brian Carroccio is a senior columnist for AutoRacing1. He can be contacted at BrianC@AutoRacing1.com.