William Byron fastest in Southern 500 qualifying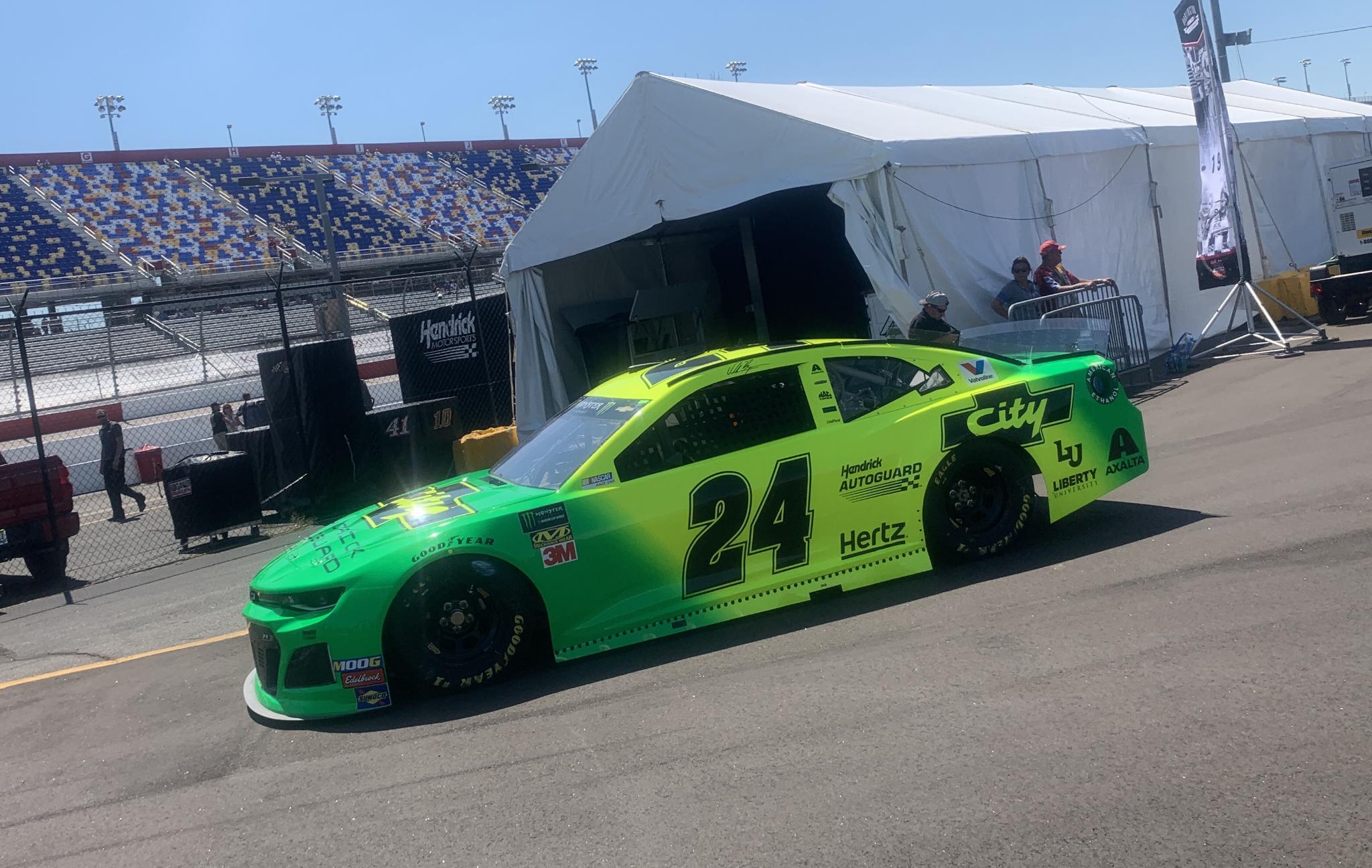 William Byron sporting a Days of Thunder throwback paint scheme this weekend at Darlington
Pete McCole/AR1
William Byron will lead the field to the green flag for Sunday's Southern 500 after clinching the pole position in Saturday's qualifying session at Darlington Raceway.
Byron turned a lap of 172.487 mph (28.510 seconds) around the famous 1.366-mile oval to beat out Brad Keselowski and Kyle Larson for his fourth career Monster Energy NASCAR Cup Series, including poles in three marquee events this season in the season-opening Daytona 500, the Coca-Cola 600 and now the Southern 500 – become just the third driver to win poles for all three events in the same season.
"It's awesome to get this City Chevrolet No. 24 on the pole and just see what we can do for 500 miles," said Byron, who joined Fireball Roberts and Bill Elliott in the exclusive club winning all three poles. "It seems we put effort into some of these qualifying efforts knowing how important track position is and we can have that No. 1 pit stall all day long and all night long, it's going to be a big deal."
Byron's No. 24 Chevrolet is sporting a throwback Days of Thunder paint scheme that honors Hendrick Motorsports involvement with the 1990 film starring Tom Cruise as the up-and-coming hotshoe Cole Trickle. Hendrick Motorsports provided the chassis and engineering support for many of the racecars used in the film. Randy Quaid's character Tim Deland was based in part on team owner Rick Hendrick.
In the film, Trickle famously uses Darlington's notorious high groove to score his first-career Cup Series victory. Could Bryon possible follow in Trickle's footsteps?
"I don't even know. I guess we shaved this one like a bullet. So, we'll see what happens," said Byron. "It's a really long race. I just got to run all 500 miles. We're in a good spot in points so I think we can be aggressive."
Keselowski was the defending pole winner of the event but came up short of making it two in a row, falling to second with a lap of 172.088 mph in the No. 2 Ford, featuring a Rusty Wallace throwback paintjob. Kyle Larson will start third after turning in a lap of 171.842. Kurt Busch (171.764) and Daniel Suarez (171.321) rounded out the top five.
Kyle Busch cut his qualifying lap short after suffering a suspected engine problem and will start 33rd on the grid.
RACE LINEUP
| | | | | | |
| --- | --- | --- | --- | --- | --- |
| Pos | # | Driver | Sponsor/Make | Lap | Speed |
| 1 | 24 | William Byron | HendrickAtgrd/CtyChvrltThrwbck Chev | 28.51 | 172.487 |
| 2 | 2 | Brad Keselowski | Miller Ford | 28.576 | 172.088 |
| 3 | 42 | Kyle Larson | Clover Chevrolet | 28.617 | 171.842 |
| 4 | 1 | Kurt Busch | Chevrolet Accessories Chevrolet | 28.63 | 171.764 |
| 5 | 41 | Daniel Suarez | Haas Automation Ford | 28.704 | 171.321 |
| 6 | 48 | Jimmie Johnson | Ally Throwback Chevrolet | 28.724 | 171.202 |
| 7 | 22 | Joey Logano | Shell Pennzoil Ford | 28.756 | 171.011 |
| 8 | 9 | Chase Elliott | NAPA Throwback Chevrolet | 28.766 | 170.952 |
| 9 | 11 | Denny Hamlin | FedEx Darlington Throwback Toyota | 28.787 | 170.827 |
| 10 | 12 | Ryan Blaney | Menards/Pennzoil Ford | 28.801 | 170.744 |
| 11 | 4 | Kevin Harvick | Busch Beer/Big Buck Hunter Ford | 28.812 | 170.679 |
| 12 | 37 | Chris Buescher | Kroger Fast Lane to Flavor Chevrolet | 28.829 | 170.578 |
| 13 | 14 | Clint Bowyer | Rush Truck Centers/Mobil 1 Ford | 28.831 | 170.566 |
| 14 | 3 | Austin Dillon | American Ethanol Chevrolet | 28.841 | 170.507 |
| 15 | 20 | Erik Jones | Sport Clips Throwback Toyota | 28.848 | 170.466 |
| 16 | 88 | Alex Bowman | Axalta Throwback Chevrolet | 28.855 | 170.425 |
| 17 | 21 | Paul Menard | Motorcraft/Quick Lane Tire & Auto Center Ford | 28.872 | 170.324 |
| 18 | 8 | Daniel Hemric # | Caterpillar Chevrolet | 28.892 | 170.206 |
| 19 | 95 | Matt DiBenedetto | No. 95 IMSA GTO Throwback Toyota | 28.905 | 170.13 |
| 20 | 47 | Ryan Preece # | Kroger Chevrolet | 28.91 | 170.1 |
| 21 | 17 | Ricky Stenhouse Jr. | Dog's Most Wanted Ford | 28.931 | 169.977 |
| 22 | 19 | Martin Truex Jr. | Bass Pro Shops Toyota | 28.956 | 169.83 |
| 23 | 34 | Michael McDowell | Dockside Logistics Ford | 29.017 | 169.473 |
| 24 | 6 | Ryan Newman | Oscar Mayer/Velveeta Ford | 29.019 | 169.461 |
| 25 | 0 | Landon Cassill(i) | StarCom Fiber Chevrolet | 29.087 | 169.065 |
| 26 | 38 | David Ragan | Shriners Hospital for Children Ford | 29.097 | 169.007 |
| 27 | 32 | Corey LaJoie | CorvetteParts.net Ford | 29.103 | 168.972 |
| 28 | 43 | Bubba Wallace | Victory Junction 15th Anniversary Chevrolet | 29.163 | 168.625 |
| 29 | 13 | Ty Dillon | GEICO Chevrolet | 29.173 | 168.567 |
| 30 | 10 | Aric Almirola | Smithfield Ford | 29.229 | 168.244 |
| 31 | 15 | Ross Chastain(i) | Chevrolet | 29.239 | 168.186 |
| 32 | 36 | Matt Tifft # | Hilliker Glass/Surface Ford | 29.272 | 167.997 |
| 33 | 18 | Kyle Busch | Snickers Throwback Toyota | 29.385 | 167.351 |
| 34 | 77 | Reed Sorenson | Motor Racing Network Chevrolet | 29.764 | 165.22 |
| 35 | 52 | JJ Yeley(i) | JACOB Companies Chevrolet | 29.796 | 165.042 |
| 36 | 51 | BJ McLeod(i) | JACOB Companies Chevrolet | 30.07 | 163.538 |
| 37 | 27 | Joe Nemechek(i) | Chevrolet | 30.26 | 162.512 |
| 38 | 54 | Garrett Smithley(i) | AQRE App Chevrolet | 30.568 | 160.874 |
| 39 | 66 | Joey Gase(i) | MBM Motorsports Toyota | 30.888 | 159.207 |
[adinserter name="GOOGLE AD"]