Askew wins Freedom 100 in thrilling finish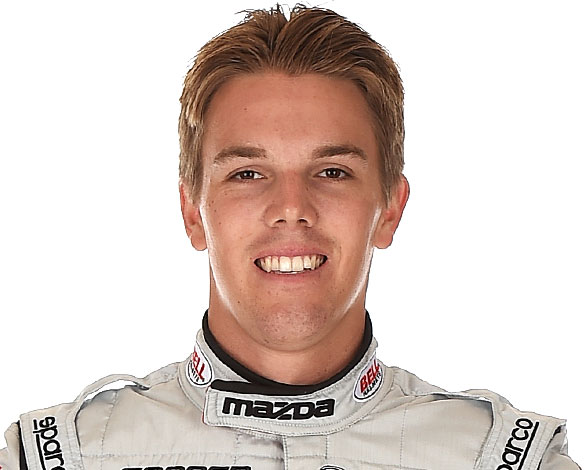 Oliver Askew wins Freedom 100
In a thrilling finish, Oliver Askew edged his Andretti Autosport teammate Ryan Norman by 0.0067 seconds to win the Freedom 100. It was the third win of 2019 for the driver of the No. 28 Index Invest Dallara. Juncos Racing driver Rinus Veekay was third with Toby Sowery and Dalton Kellett completing the top-five.
The race got off to something of a choppy start, as Jarrett Andretti spun before the green flag. Then, before the field completed a green flag lap, the No. 79 HMD Trucking entry of David Malukas spun in turn 4 collecting the No. 17 NOS Energy Drink entry of Chris Windom. Windom rode along the top of the SAFER Barrier over Malukas. Both drivers' days were done, and the race was red-flagged for about 15 minutes for wall repairs.
During that very brief opening green flag period, Ryan Norman was able to move the No. 48 EVO Dallara from the third starting position into the lead. From there, the race saw no shortage of excitement as the field ran nose to tail, two and sometimes three wide, for several laps, with Norman, Oliver Askew, Rinus Veekay, and Robert Megennis all taking turns at the point. Ultimately, Norman would lead a race-high 29 laps.
[adinserter name="GOOGLE AD"]The race went yellow shortly following a lap 30 incident between Toby Sowery and Robert Meginnis. Sowery moved up on Meginnis in the short chute causing the No. 27 Cybersecurity Dallara to spin. Meginnis, however, was able to catch his spin and continue. Sowery for his part, was sent to the back of the field for causing the collision.
The green flag waved again with seven laps to go, and the racing only intensified. Askew moved to the lead as the white flag fell before repassing Askew down the backstretch. While Norman exited turn with the lead, Askew made a late inside move and as able to nip Norman at the checkered flag.
Askew noted that he probably would not have won the race had Norman protected the low line exiting turn 4. In moving high, Norman left the inside open and Askew took advantage moving past. "It was the most disappointing podium finish I've ever had," said a dejected Norman.
The 22-year-old Jupiter, Florida native has a future in the Verizon IndyCar Series in his sights. I asked him following his press conference if any plans had been made for him to test an Indy Car. "Not yet," said Askew, before noting with a grin, "maybe this will help."
Results
| | | | | | | | | |
| --- | --- | --- | --- | --- | --- | --- | --- | --- |
| Pos | No | Name | Laps | Diff | Gap | Led | ST | Team |
| 1 | 28 | Oliver Askew | 40 | 0.0000s | 0.0000s | 3 | 8 | Andretti Autosport |
| 2 | 48 | Ryan Norman | 40 | 0.0067 | 0.0067 | 29 | 2 | Andretti Autosport |
| 3 | 21 | Rinus VeeKay | 40 | 0.3977 | 0.3910 | 6 | 7 | Juncos Racing |
| 4 | 2 | Toby Sowery | 40 | 0.4750 | 0.0773 | 00 | 9 | BN Racing/Team Pelfrey |
| 5 | 67 | Dalton Kellett | 40 | 0.5922 | 0.1172 | 0 | 4 | Juncos Racing |
| 6 | 18 | Jarett Andretti | 40 | 1.2218 | 0.6296 | 0 | 11 | Andretti Autosport |
| 7 | 5 | Lucas Kohl | 40 | 2.5740 | 1.3522 | 0 | 10 | Belardi Auto Racing |
| 8 | 27 | Robert Megennis | 40 | 2.6225 | 0.0485 | 2 | 1 | Andretti Autosport |
| 9 | 4 | Aaron Telitz | 35 | 5 LAPS | 4 LAPS | 0 | 3 | Belardi Auto Racing |
| 10 | 17 | Chris Windom | 1 | 0.2996 | 0.0591 | 0 | 5 | Belardi Auto Racing |
| 11 | 79 | David Malukas | 1 | 0.3519 | 0.0523 | 0 | 6 | BN Racing |