GP of Indianapolis postscript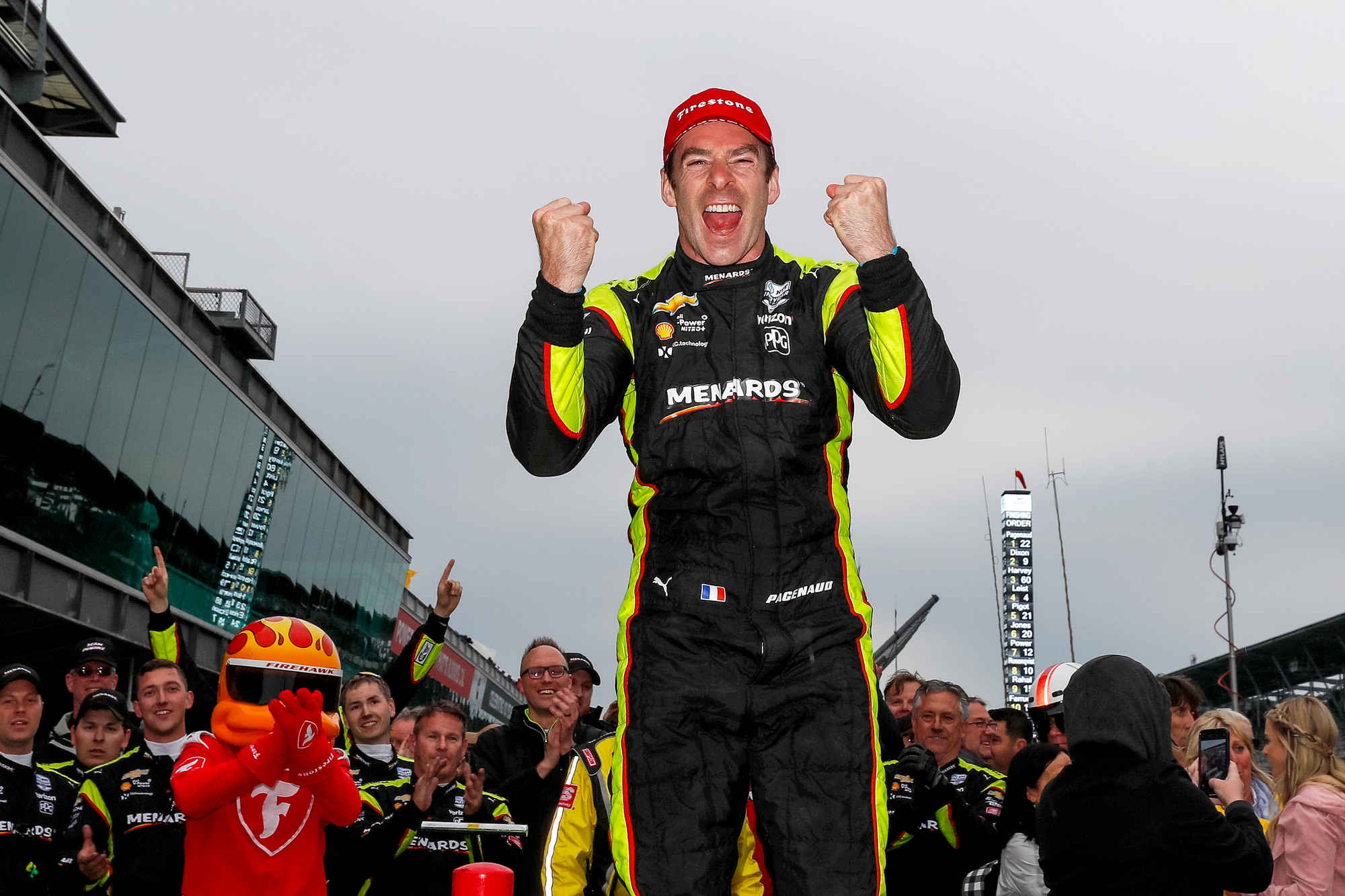 Pagenaud put in a career-defining drive
I'm just going to go ahead and say it: entering this weekend's INDYCAR Grand Prix of Indianapolis, Simon Pagenaud had not been very good over the past year-plus. That's not to say the likable Frenchman had been terrible. Pagenaud finished a respectable 6th in the series standings last season, and even when he doesn't run at the front, Pagenaud is not one to crash out and make silly mistakes.
However, with one pole position, four top-five finishes, two podiums and zero wins in his previous 21 races since winning the 2017 series finale at Sonoma, the 2016 series champion was not exactly setting the world on fire; and certainly not earning results one would associate with Team Penske. While Pagenaud openly admitted struggling to come to grips with the new car introduced in 2018, his teammates Will Power and Josef Newgarden seemed to transition just fine. Without a contract beyond 2019 combined with the potential pending free agency of one seemingly-designed-in-lab to be Penske driver Alexander Rossi, who is driving part-time in sports cars for Penske this season, questioning Pagenaud's status seemed more than fair. Penske, has after all, moved on from drivers not long after great successes before, as he did a few years ago with Juan Pablo Montoya, a mere one season after he won the Indianapolis 500, in making way for Newgarden.
And I suppose we still don't know what Penske plans to do following this season. However, anyone planning Pagenaud's ouster from Team Penske was given a little something to think about this past Saturday.
In what was, in my opinion, as good an IndyCar race as we've seen in years, Pagenaud turned in a career-defining drive. Think about this for a moment: with no yellow flag or pit stop, how often on a road course, do we see someone drive from sixth to first in 18 laps? How often do we see five-time series champion Scott Dixon hunted down the way Pagenaud hunted him down in the closing laps?
[adinserter name="GOOGLE AD"]Part of Pagenaud's epic drive that I think has been thus far overlooked was his patience. Yes, the No. 22 Menards Team Penske Chevrolet was clearly dialed in. Still, it wasn't as if, the Frenchman simply had the fastest car and was able to drive around others like they were standing still. Pagenaud spent five laps behind both Matheus Leist and Jack Harvey to move into third and second-place respectively, waiting for the opportunity to overtake rather than doing something rash and forcing his way by.
In short, Pagenaud's win had everything. Variable conditions, bold passes, and a wonderful balance of patience and aggression; a career-defining win, if there ever was one.
Very well done, Mr. Pagenaud.
Moving On
The Indy GP is something of a unique entity for a variety of reasons. For a writer it's a strange animal in the sense that the moment the checkered flag falls it sort of ceases to be a story, as the focus of the IndyCar world immediately shifts to the Greatest Spectacle in Racing.
Yesterday, practice for the 103rd Running of the Indianapolis 500 Presented by Gainbridge began, and storylines are already plenty. Whereas last year it came as something of a shock that popular Canadian James Hinchcliffe did not qualify for the race, this year the world of IndyCar is prepared for the fact three drivers will not make this year's field.
Obviously, it's early in the week, and more information as to how qualifying might play out will emerge as the week goes on. However, you can be sure there are some people in Gasoline Alley that aren't exactly resting easy at the moment. So, if you're interested in some early chat as to who may not earn one of the coveted 33 spots for the Indianapolis 500 you've come to the right place.
Jordan King – The Brit is a rookie at Indy this year after running the road and street races for Ed Carpenter Racing in 2018. However, his inexperience may not be his only liability. Get this: Rahal Letterman Lanigan Racing (and its previous incarnations) have not had a car qualify in the top-10 since Danica Patrick qualified 10th in 2006. Last year, in the first season of the new car, Takuma Sato and Graham Rahal struggled in qualifying, starting 29th and 30th respectively. We also all remember Michel Jourdain's ill-fated attempt to make the race a few years back, and King is an Indy-only entry for RLL a la Jourdain. In short, RLL has not had a handle on Indy qualifying in quite a while.
King was 28th in non-tow, and 33rd overall, putting the Brit on the early shortlist to not make the race.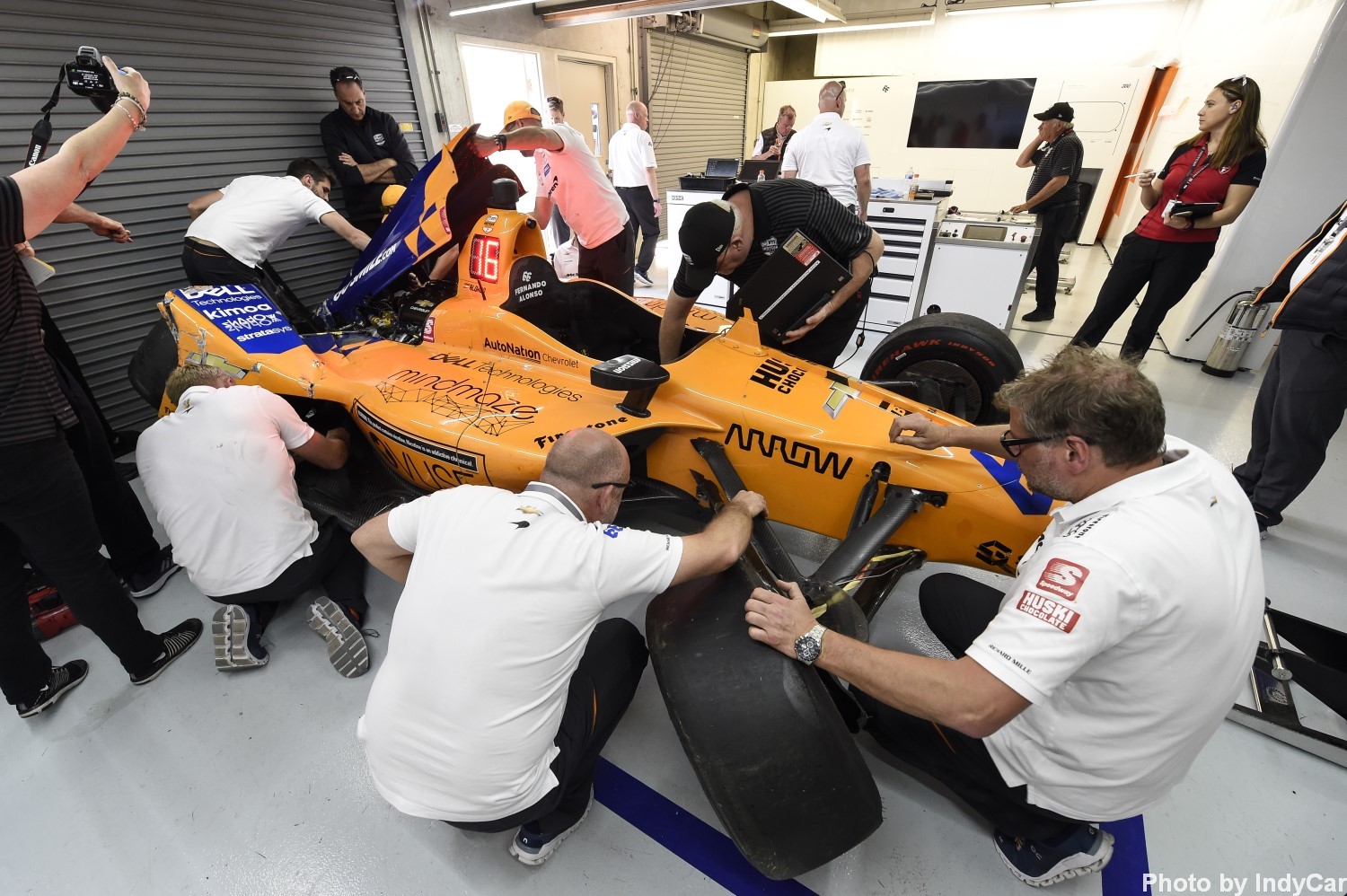 Alonso's team has to fix the car he crashed
Fernando Alonso – Alonso being the driver he is makes me think he will find a way to make the race. But keep in mind, this is far from the situation two years ago, in which Alonso ran at the front much of the race and won rookie of the year. That year, the two-time World Champion ran for the powerful Andretti Autosport, and the cars were equipped with much greater down force. McLaren has aligned with the much-less experienced Carlin outfit and the cars are more of a handful. Yesterday, Alonso posted the 34th-fastest non-tow speed and 32nd fastest overall.
(Note: The above was written before Alonso's Tuesday crash.)
Someone driving for Arrow Schmidt Peterson and/or associate – Yes, Oriol Servia posted the third fastest no-tow speed in Car 77. However, the balance of SPM floundered somewhat in the lows 221s with James Hinchcliffe posting only the 30th fastest no-tow speed.
Given experience and driver talent, I still like the team's chances of putting all four cars in. But given what happened last year and yesterday's less than inspiring speeds, I imagine there are some nervous folks at SPM.
Pippa Mann – Mann is a veteran of six Indy 500s, with a best qualifying effort of 22nd in 2014. Although her 18th no-tow speed yesterday is encouraging, no one knows what to expect from Indy-only Clauson-Marshall Racing.
Ben Hanley – The part-time rookie ran well in a test at Texas earlier this spring. However, the combination of a new team and rookie driver, certainly make Hanley and DragonSpeed a candidate to not qualify.
A little wagering advice
Late last week, the state of Indiana joined numerous states in legalizing sports betting. The state hopes to have digital and mobile platforms ready for this year's NFL season, which means that those attending the Indianapolis 500 in 2020 may be able to legally wager on the race on their phones. And depending on the details of the legislation and/or the development of wagering technology, bettors may have the option of wagering in-race.
Meanwhile, if you so happen to live in a state which allows sports betting (or even if you don't), and are looking for some 500 wagering advice for 2019 think about Ed Carpenter at 18/1. Now, let me be clear that I rate Carpenter's chances of winning behind Will Power (7/1), Josef Newgarden (7/1), Alexander Rossi (8/1), and Scott Dixon (8/1). In fact, if you gave me those 4 drivers versus the field, I would probably take the above quartet.
That said, I put Carpenter right behind those 4, and in my opinion the three-time 500 pole winner currently offers the best value on the board. Remember, Carpenter finished second last year in the current car, and has contended in numerous 500s. Furthermore, I doubt you'll get 18/1 odds this time next week post-qualifying, as we know Carpenter is a qualifying demon at IMS. So, if you like Ed's chances of winning his first 500 (I certainly like the 18/1 odds), my advice would be to get your ticket now.
Now, some people like to play longer shots. At the risk of sounding like I work for Ed Carpenter Racing, if you're looking for a shoot-the moon-play consider Carpenter's teammate Spencer Pigot at 60/1. Like Carpenter, part of the appeal with Pigot is that given the speed he's shown so far, I don't think 60/1 is going to be available this time next week. And ECR seems to have the package for Indy figured out at the moment. Brian Carroccio/AutoRacing1.com