Hamilton leads Mercedes 1-2 parade in Barcelona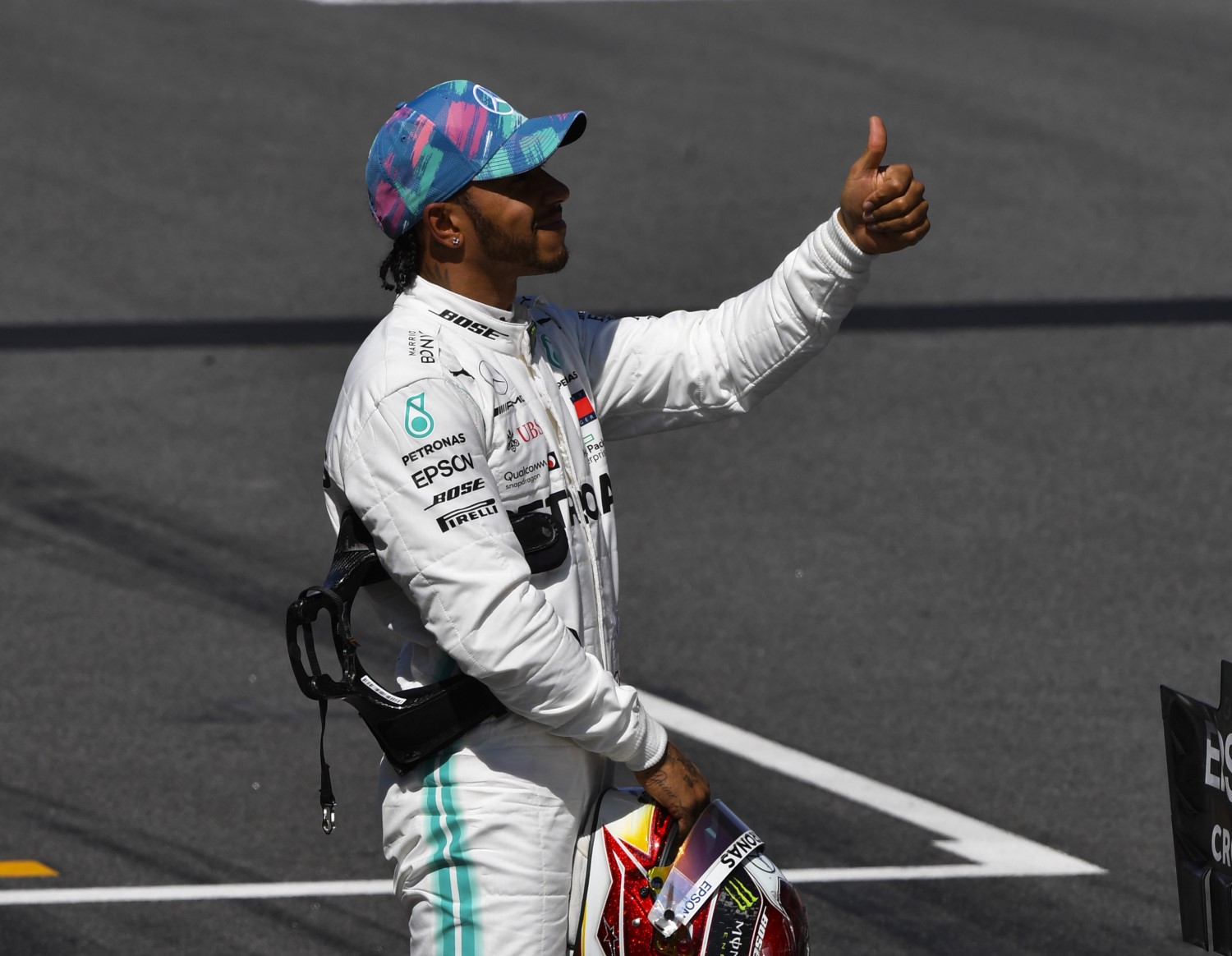 Lewis Hamilton
Lewis Hamilton grabbed the lead from polesitter Valtteri Bottas in Turn 1 and led every lap in another borefest Mercedes 1-2 in the Spanish GP. Mercedes has finished 1-2 in every GP this year.
Max Verstappen, courtesy of the mental midget Ferrari strategists, finished third, while Sebastian Vettel and Charles Leclerc rounded out the top-5 for Ferrari.
Vettel would have been third had they not told the slower Leclerc to move over 5 laps sooner.
The only caution and safety car happened when McLaren's Lando Norris and Williams' Lance Stroll collided resulting in Norris beached in the pea gravel.
Hamilton turned the fastest lap for the 1 point and now has a 7-point lead over his Mercedes teammate Bottas. It was Hamilton's third win of the season to go with victories in China and Bahrain.
The race was over in the first 200 yards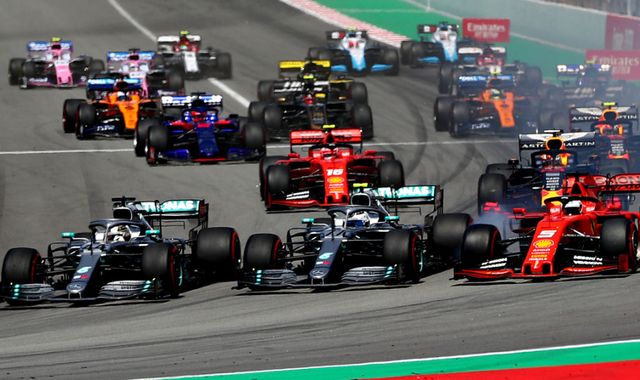 3-wide in Turn 1
Hamilton started second but got ahead of poleman Bottas by winning a three-way duel into the first corner that also featured Sebastian Vettel. Bottas later complained that his clutch kept slipping.
Hamilton and Vettel sandwiched Bottas on the run to Turn 1, with Hamilton moving to the inside of his teammate and Vettel almost edging ahead of both on the outside.
Vettel locked up his front right and ran deep into the corner (which flat spotted his tire and slowed his pace), while Bottas backed out of it in the middle and ceded the corner to Hamilton.
Bottas held second as Vettel rejoined the track having taken slightly to the run-off of Turn 1.
At that point the race was over.
Bottas blamed that poor start on "clutch" issues and "vibrations" which he says he's never experienced before.
"I mean it really is impressive what we're doing as a team," he said of their fifth consecutive 1-2 finish. "So, for that hats off to everyone at the factory and here.
"It's honestly very annoying today. I lost it at the start and, looking back I can say it's not my fault. I had some issues with the clutch, some vibrations, which I've never had before. That's why I got away slow. I'm keen to find out what happened."
"It's quite a lot easier in the front, you can control the pace and when you're behind you're trying to keep up, and dirty air at this kind of track you're sliding around.
"So, I was expecting the race to be kind of decided into the first corner. Even though you try for the opportunities, it was game over."
Quotes
Mercedes AMG Petronas Motorsport
Lewis Hamilton (1st): It's been an incredible day for the team. We've brought an upgrade here and everyone worked so hard to make that possible. I'm very proud of everyone back at the factory and thankful for all their hard work. The guys here at the track are all performing at an extremely high level as well, thank you all. When the lights went out, my initial getaway was quite good and we were very close all the way down into Turn 1. I think the Ferrari was alongside us at one point too, so it was a great battle and also a decisive moment in the race. After that I just had to keep my head down and focus on trying to deliver each lap. I want to dedicate this win to Harry, a young kid who sent me a message today. He was my inspiration out there. He could've chosen any other driver, so for him in the most difficult of days to send a message like that is really humbling and much appreciated. I'm sending you love, Harry. Five-year-old Harry Shaw was diagnosed with cancer in August 2018. His parents have set up the following fundraising page to inform about his case and raise money to fight children's cancer: https://www.justgiving.com/fundraising/harrysgiantpledge
Valtteri Bottas (2nd): I had an issue with my clutch at the start, it was vibrating and it seemed like it was biting and releasing at a very quick frequency, so my initial getaway was really poor. Unfortunately that meant that all the hard work of the weekend was lost at the start, but that's the way it goes sometimes. We're a strong team and will investigate the cause of the issue to make sure it doesn't happen again in the future. For me personally, it wasn't the best of days, but from a team's perspective it was a really good weekend. Congratulations to Lewis for the win, he had a strong race pace today. The team is performing at an incredible level at the moment; hats off to every single member of the team, both at Brackley and Brixworth but also here at the race track. I'm looking forward to the race in Monaco; it's such a unique track and a completely different challenge, so it's difficult to say who will be the strongest team around there.
Toto Wolff, Team Principal: We are trying to push the benchmark every single year and seeing this all come together after the struggles we had in winter testing is fantastic for the team. We saw a strong Lewis today and he was quick from the very beginning. Valtteri lost the lead at the start; he reported something strange with his clutch at the start and we need to investigate this. After the first corner it was a relatively straightforward race. This was Dr. Zetsche's last race as CEO of Daimler. Not many CEOs have empowered a group of people like he has done; he has trusted us to represent this fantastic brand and we do it with great pride. Dieter went through a storm in the first few years when we returned to the sport, but he stuck with F1. It was great to see him up there on the podium today, he completely deserves it as he laid the foundation for all of this. We know the next race will be a tremendous challenge for us. We need to take this season one step at a time and everybody is working flat-out ahead of Monaco.
Andrew Shovlin: To walk away with another 1-2 from Barcelona is amazing, especially when we consider how bleak our chances looked when we were here in winter testing. The team has done a great job developing and improving the car although I think the track suited us today, so we expect it will be more difficult in some of the races to come. The start was obviously a key point in the race, with Lewis jumping ahead of Valtteri. We'll look into understanding what happened with Valtteri but they both did a good job of defending against Vettel and avoiding contact into Turn 1. Our plan going into the race was to try and make the one-stop work so during the first stint both drivers were having to do a fair amount of management. The cars behind looked like they had moved towards two stops so we asked the drivers to pick up the pace to keep the stop gap open, but that started to increase our own degradation which eventually forced us in. By that point, it was just a case of getting the medium to the end so they were both taking it reasonably easy. When Verstappen came in on lap 44, a window appeared for us to move both to a two stop to reduce the risk that we would run out of tires at the end. We'd stopped Valtteri already and were in the process of bringing Lewis in when the safety car came out. From there it was quite straight forward. Both drivers had a go at fastest lap with Lewis getting it in the end and after that, we just managed the cars to the finish.
Scuderia Ferrari Mission Winnow
Sebastian Vettel (4th): Today we more or less maximized our result. It was obviously a disappointing race for us as we were hoping to be a lot faster. After the start, I had a go at the cars in front, but flat spotted a tire and compromised my own race. You don't win the race at the first corner, I know, but I thought at least we can mix things up with Mercedes and have a bit more of a fight with everybody. Charles and I tried not to interfere with each other and work together as much as we could. It's still very early in the season and we are taking it race by race, but I think we can only come back from where we are now as the whole team is working flat out.
Charles Leclerc (5th): It was a challenging race. The first stint was quite positive on my side, but then it became more difficult. We wanted to go to the end of the race on the hard compound, but when the Safety Car came out, we realized we would struggle at the restart and so I pitted for a set of mediums. I struggled with the balance on the second and third stints, and lost a bit of confidence with the car. We have a lot of work ahead of us and will push as hard as possible to close the gap to the front. We gathered a lot of data this weekend and will continue to do so at the test next week.
Mattia Binotto, Team Principal: This was yet another race that ended well below our expectations. It was a shame about the start, because Sebastian got off the line really well but then he locked up the wheels and lost some places. The decision to split the strategies was taken as the race evolved. Swapping the driver positions round is never easy and we thought we'd done it at the right moment, when we were sure that the one behind had a better pace than the one in front. The updates we brought here to Barcelona, both on the aero front and on the engine, worked well and we are more than pleased with them, but they proved to be insufficient. Now we have to analyze and think about what did not work. And when it comes to that, as of today I don't think we have a precise answer. We know we have a lot to do and that we must improve. That was made clear this weekend, but we are not losing heart. The mood in the team is still good and there's a strong desire to do better, so now we have to respond with our actions. Congratulations to Mercedes on what they have done so far.
Aston Martin Red Bull Racing
Max Verstappen (3rd): I'm trying to maximize everything I have and I'm happy with today's result. We're P3 again which is pretty representative of our pace at the moment, and it's great to score more good points. I knew we had a good chance in the race to fight with Ferrari and that's what we did. At the start it was quite hectic with three cars going into one corner, so I decided to back out of it, but actually in the end I had a good line out of Turn 2 into Turn 3. To take P3 in that corner was very crucial as from there on I could do my own pace and strategy, which worked out well. The Mercedes cars were out of reach, but we were very consistent and we're of course happy to be on the podium. Everybody is very motivated to close the gap and we will try a few things in the test next week that can give us a better direction in which way to work.
Pierre Gasly (6th): The first stint was ok but towards the end I started to struggle with grip and degradation. We had a lot of rubber debris in the front wing which meant I was sliding around so the pace just dropped from the second stint onwards. I tried to push as much as I could but I couldn't keep up with the Ferraris in front of me. At the Safety Car restart, I tried a move on Charles but I couldn't make it stick. It was a pretty good fight and I think at the start we actually touched in Turn 3. In the end, it's good to score some points. We have the test coming up on Tuesday so we can try some more things and keep pushing. Looking forwards, I think we have good potential on some of the upcoming tracks which should suit our car better.
Christian Horner, Sporting Director: It was a phenomenal first lap from Max as he managed to pass both Ferraris in Turns 2 and 3, and Pierre got a reasonable start too. We elected quite early on to be a little more aggressive and go on a two stop strategy. Max was very consistent today and he was able to get everything out of the car, maintaining third position and holding off Seb after the Safety Car at the end of the race. Pierre had another strong race, however he picked up some debris about half way through the race which got lodged in his front wing and cost him quite a bit of performance. All things considered, it was a very strong race again from him and he brought the Team more important points. It's great to get our second podium of the year and now there's obviously plenty to do before Monaco, where Mercedes will be the benchmark going into the weekend, but hopefully we can continue to close the gap.
Renault Sport Formula One Team
Daniel Ricciardo (7th): It was a frustrating race from my side this afternoon. In the first part, we had the pace on Sainz and at the end of that first stint I was able to take him. We then pitted and put the Hard tires on and he got me back quite quickly. It was difficult to close the gap back, we had good pace in the final sector but couldn't get the run on him out of the final corner. We were certainly quicker than twelfth today and, in the end, it wasn't a perfect Sunday. The midfield is so close and everything has to be executed to the maximum for a strong result. We'll regroup and look forward to the next one.
Nico Hulkenberg (13th): It was always going to be tricky today starting from the Pit Lane. It wasn't a great race as we didn't score any points, but it was nice to have a normal race and grow the confidence back up. Especially after a tough weekend, that's a positive. I couldn't quite fight for points in the end, we had 10-lap old Softs running against others who had pitted for fresh tires after the Safety Car. I felt good and comfortable out there, which is promising heading into Monaco. I'm back in the R.S.19 on Tuesday, so we'll be aiming for a productive day's running.
Cyril Abiteboul, Managing Director: Barcelona is always a good race weekend to assess the competitiveness of the car and the team after the first couple of fly away races that are not always representative. The midfield is very close and any deviation leads to spectacular variations. But the result today is clear, even without the Safety Car, a few points could have been possible. We are not in line with the targets we have set ourselves. The test next week comes at a good moment to assess particular areas of the car in depth and look at important development items as we define our short-term and medium-term action plan to recover from a poor season start that does not alter our determination and our long-term objectives.
Rich Energy Haas F1 Team
Kevin Magnussen (9th): It was good race in terms of pace, we had strong pace – especially towards the end. I didn't have that many problems with tires. It's been much better for us this time. We had a brilliant second pit stop from the team when the safety car came out to jump Kvyat. I had good temperature in my tires at the restart, I got past Romain, then attacked Gasly as well, but I couldn't quite hold on to him. It was a good race for us.
Romain Grosjean (12th): Yes, it's been a good weekend, we've had good pace. Before the safety car we were running on our own, doing a good race – I was happy that. The restart was a bit more complicated, it wasn't ideal for me as I lost a few positions in there. Overall, I'm happy with the way we've acted this weekend, happy we've shown that the car is fast. Now it's onto the next one.
Guenther Steiner, Team Principal: It's ended as being a little bit of a controversial weekend, but we've sorted it out – cleared the air between the drivers. That's the most important thing after their race. We maybe lost a couple of points, but we're all happy to move forward from here, everything is fine. It's been a good weekend points-wise, with getting two cars into the points. Hopefully we can learn a lot from the test here this week, so we can do the same in Monaco and Canada. At the moment it looks like they'll be a little bit more difficult for us, because of the track layouts, but I think we can still score points. The whole team did a very good job here this weekend and we come away with double points – happy.
McLaren F1 Team
Carlos Sainz (10th): Good result on home soil! Congratulations to everyone in the team for getting a points finish today because it was not an easy race for us. It was one of those well-fought points finishes. We struggled for half the race but executed a good strategy, great pit-stops and I managed to do some good overtaking at the right moment to take our chances and finish eighth. However, we need to analyze why the pace wasn't there today and why I was struggling so much in the last sector. But for the rest, it was one of those races that, thanks to the crowd and thanks to the help of the whole team, we managed to get into the points. Thank you to all the fans for the great support the whole weekend.
Lando Norris (18th): A disappointing race. I had a really good start but struggled around Turn Three, went wide and lost a lot of positions. That put me in a bad position for the whole race. It was unfortunate but I had good pace afterwards. Later I tried to get past Stroll. I was on the inside and I don't know if he just didn't see me as he turned in but there was contact and it put me out of the race. I didn't want to just sit there and do nothing. In the end, the team result wasn't bad with Carlos getting points.
Andreas Seidl, Team Principal: It was a great execution of the race today by the team because we have to acknowledge that Haas and Toro Rosso looked stronger than us in terms of pace. It was difficult for us in the race to move forwards in terms of positions, but thanks to great timing of the pit-stop when the Safety Car came out, we gained a position, and excellent strategy going onto Softs moved us into P8 in the end. Carlos did a great drive with good overtaking. Lando unfortunately had a difficult race when he lost positions in Turn Three after a good start, while the contact with Stroll, in my opinion, was a racing incident. Overall, in terms of performance, it was encouraging to see that we definitely got closer to the top cars in the midfield when we compare our pace this weekend with the pace we had on a track with similar characteristics like China. So, thanks also for the great work at the factory to bring the aero updates here.
Racing Point F1 Team
Sergio Perez (16th): It was a tough weekend, all in all. Considering where we qualified it was always going to be a difficult race because overtaking is tricky here and we have struggled for pace. It's a weekend to forget – but we are staying here for some testing next week, so hopefully we can analyze what we can do better for the coming races. Right now, I'm just looking forward to Monaco and a chance to put this one behind us.
Lance Stroll (20th): I haven't seen the replay of the incident with Lando yet, so I need to have a look at it in detail first. I braked on the inside while he was on the outside and then I had to turn in to make the left hand corner. Unfortunately there is not enough space for two cars and there was not much I could do. I felt contact on my rear and I was sent into the gravel. It was a tough weekend for the team so we just need to put it behind us and focus on bouncing back in Monaco.
Otmar Szafnauer, Chief Operating Officer: We've faced an uphill struggle this weekend and unfortunately points were out of reach today. It's one of those races where track position is especially important and it was difficult to make much progress in the early stages despite a solid opening lap from Sergio and Lance. Both cars were running line astern for a large part of the race until Lance was taken out of the race following an over-optimistic move by [Lando] Norris. Sergio was able to unlap himself under the safety car, but we simply didn't have the pace to challenge for points in the closing stages. We will take this one on the chin and focus on learning more about the car in the test next week so that we can come back stronger for Monaco and beyond.
Alfa Romeo Racing
Kimi Raikkonen (14th): What can I say? Good that we have two days of testing ahead. We need that and hopefully we can figure out what the problems are. Overall it was not an easy weekend for us – having said that, at the end of the race we had the same speed as the guys in front of us but there was only so much we could do with that. Me going wide in lap 1 didn't help, but after the start I desperately tried to gain a few positions but it was slippery and I went wide. Pretty disappointing, but as I said, the test will hopefully help to turn things around.
Antonio Giovinazzi (15th): Not an easy weekend for us. We started the race from P18 and went with a bit of different strategy to try and gain some positions, in the end it didn't work because the pace just was not there. We need to work hard to have a better package in Monaco and achieve a better result. The midfield battle is tight and we have shown in the past we can be in this fight.
Frederic Vasseur, Team Principal: It was a disappointing weekend where we never managed to express our potential. It is difficult to find some positives, as the first stint of the race was just a nightmare, but at least the last stint was the best part of the weekend. Circumstances didn't help and with Antonio's grid position and Kimi falling to the back in the opening lap, our race was effectively compromised. I would say that today's result belittles our real level: everything seemed to go against us this weekend, but it's important for the two days of testing ahead that we honestly assess our performance and get back to where we stood so far this season
Red Bull Toro Rosso Honda
Daniil Kvyat (8th): There were a few exciting moments today, but unfortunately, we lost our race in the pit lane as the tires weren't ready for me. It was a very last-minute call to pit, these things happen with such tricky situations, and I'm sure we will learn from this as a team. I think we could have finished in P7 as that's where we were running before the pit lane mishap. We still got a couple of points today which is always welcome. The car's performance is improving and I'm feeling always more comfortable with the car. I'm sure we have some good days ahead.
Alexander Albon (11th): It was disappointing to be so close to points and come away with nothing, but it was good fun racing with Romain. I had to back out of it because I thought I might have had an incident when we both decided to go right at the same time. I had to hit the brakes and lost the momentum into Turn 1, I think if it wasn't for that I would have got passed. The race was lost for us in the pit stop, so we need to review what happened because we should have had two cars in the top 10. It's a frustrating one, but I'm happy with my performance and I'm looking forward to fighting for points again in Monaco.
Franz Tost, Team Principal: The starting positions for the race were quite promising, Dany started from P9 with used options, and Alex started from P11 on the new option tires. This worked well and both drivers had a good start: Alex moved up a position while Dany maintained his. The car showed a strong performance and the drivers did a really good job until the safety car came out, when we lost everything because of a radio miscommunication between the pit wall and the mechanics. Dany pitted first, although the mechanics understood it was Alex, therefore we had troubles with the correct tires and lost a lot of time. As a result, we dropped a few positions on track. At the end of the race we finished with only one car in the points, which is very disappointing because we know we could have achieved more today.
Guillaume Dezoteux, Head of Vehicle Performance: The result is again not showing the full potential of our package. We had a strong first stint with both cars, being able to keep up with both Haas and opening a small gap to Carlos. On the second stint, Daniil was immediately able to pass Kimi and showed a strong performance on the prime tire, overtaking Magnussen. Alex was struggling a bit more with quite a lot of tire vibrations, but he was able to maintain the gap to the cars ahead. When the safety car came out, we were actually about to stop to fit our second set of prime tires and attack the cars in front. It was looking very good but issues in radio communications with our crew meant we lost quite a lot of time during the operations. At the safety car restart, Daniil lost position to Carlos but he was able to attack Grosjean, finishing P9 and bringing home two points. On the positive side, today we showed a strong race pace and good tire management, confirming our package is improving with the aero updates we brought here. We will keep pushing hard, the next races should also suit us quite well.
Toyoharu Tanabe, Honda F1 Technical Director: It was satisfying to get our second podium finish of the season in the race where teams brought updates. For a while it looked as though we might get all four of our cars into the points, but in the end, we just missed out on that, which was a shame, as Daniil and Alex had performed really well all weekend and the Toro Rosso car was again competitive in the mid field. Now we must simply carry on working as hard as possible with the aim of getting even better results in the coming races, maintaining the momentum we had here.
ROKiT Williams Racing
George Russell (17th): It was a standard Grand Prix for us. Our race pace was probably slower than the qualifying pace, so that is something for us to look at. It has been an intriguing weekend for us. We have brought some test items and got some decent information from those. I think we are going in the right direction.
Robert Kubica (19th): I started quite well but was squeezed a bit between both Racing Points, so I had to lift off in the middle of the straight and lost quite a lot of ground there. I then lost a position to George but regained it in turn four. My first stint wasn't looking too bad but, before he overtook me, I got called to change a few things on the steering wheel and I wasn't expecting him to be so close. I wasn't practically ready to defend and by the time I saw him in the mirror, it was too late. We changed the strategy during the race and I think it was good the Safety Car came out as it actually split our second stint, otherwise it would have been very difficult for us to manage the tires until the end.
Dave Robson, Senior Race Engineer: Another difficult race for us but both drivers did well to avoid trouble and bring both cars home. The tire compounds and conditions made numerous strategies viable with all three compounds being run at various times. The pitstop crew completed some very good stops and they continue to do a sterling job in difficult circumstances. Our attention now turns to the test where we will continue to develop the FW42.
Race Results
| | | | | | |
| --- | --- | --- | --- | --- | --- |
| POS | NO | DRIVER | CAR | LAPS | BEHIND |
| 1 | 44 | Lewis Hamilton | Mercedes | 66 | +0.000s |
| 2 | 77 | Valtteri Bottas | Mercedes | 66 | +4.074s |
| 3 | 33 | Max Verstappen | Red Bull Racing Honda | 66 | +7.679s |
| 4 | 5 | Sebastian Vettel | Ferrari | 66 | +9.167s |
| 5 | 16 | Charles Leclerc | Ferrari | 66 | +13.361s |
| 6 | 10 | Pierre Gasly | Red Bull Racing Honda | 66 | +19.576s |
| 7 | 20 | Kevin Magnussen | Haas Ferrari | 66 | +28.159s |
| 8 | 55 | Carlos Sainz | McLaren Renault | 66 | +32.342s |
| 9 | 26 | Daniil Kvyat | Scuderia Toro Rosso Honda | 66 | +33.056s |
| 10 | 8 | Romain Grosjean | Haas Ferrari | 66 | +34.641s |
| 11 | 23 | Alexander Albon | Scuderia Toro Rosso Honda | 66 | +35.445s |
| 12 | 3 | Daniel Ricciardo | Renault | 66 | +36.758s |
| 13 | 27 | Nico Hulkenberg | Renault | 66 | +39.241s |
| 14 | 7 | Kimi Raikkonen | Alfa Romeo Racing Ferrari | 66 | +41.803s |
| 15 | 11 | Sergio Perez | Racing Point BWT Mercedes | 66 | +46.877s |
| 16 | 99 | Antonio Giovinazzi | Alfa Romeo Racing Ferrari | 66 | +47.691s |
| 17 | 63 | George Russell | Williams Mercedes | 65 | +1 lap |
| 18 | 88 | Robert Kubica | Williams Mercedes | 65 | +1 lap |
| NC | 18 | Lance Stroll | Racing Point BWT Mercedes | 44 | DNF |
| NC | 4 | Lando Norris | McLaren Renault | 44 | DNF |
* Provisional results
[adinserter name="GOOGLE AD"]