GP of Indianapolis Post-Race Press Conference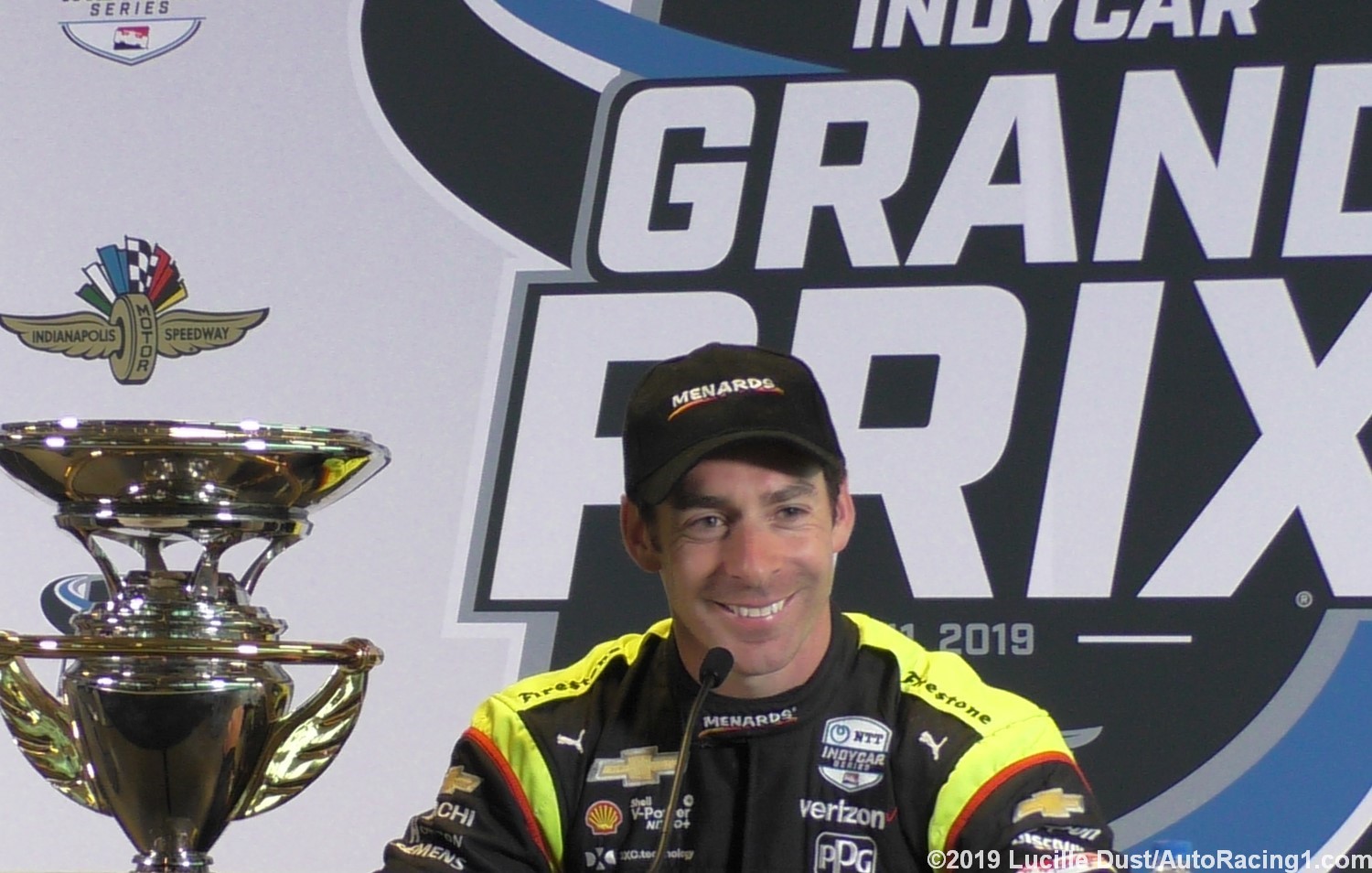 Race winner Simon Pagenaud
Drivers
1st Simon Pagenaud, Penske Chevy
2nd Scott Dixon, Ganassi Chevy
3rd Jack Harvey, MSR Chevy
THE MODERATOR: We'll continue with our INDYCAR Grand Prix press conference. Joined now by the winner of the race, Simon Pagenaud, his third INDYCAR Grand Prix race here at Indianapolis Motor Speedway. Simon, I was just saying that trophy and you go excellent together.
SIMON PAGENAUD: Yeah, number three.
THE MODERATOR: I think the first question we have to ask you, Simon, obviously is take us through those last few laps. You know that you have the pace to catch Scott, but again, you are chasing a five-time champion. Take us through that moment for you.
SIMON PAGENAUD: Yeah, just to backtrack a little bit, the car was just amazing all day. It was really weird, at times I thought people were saving fuel, and they weren't saving fuel, so I didn't understand why we had so much pace at times.
And then when it started raining, obviously had no knowledge of the track, no knowledge of our setup in the rain. I thought, okay, the sports cars have been racing a lot in the rain, a lot of racing in the rain, so I thought I'm just going to attack right away and see. And right away I noticed our car was much better now that it's on the braking, so I could really attack and get the tires hot quickly, and that's how I jumped a lot of people right away, and then I gained confidence.
[adinserter name="GOOGLE AD"]Then I noticed that other people were struggling with tire wear, and we didn't. So then I kept on pushing, but was still trying to keep the tires underneath me. But yeah, it was just incredible to see the pace we had in the rain conditions. I took a lot of risks for sure, maybe more than Dixon needed to take some risk because we were in a position where I can take some risks right now and the car was so good that I just gave it 100 percent, 100 percent every lap.
Honestly in the last two laps to go, I almost started out saving second, and then all of a sudden I realized, wait, I've got too much pace for this, and we caught Scott by a lot, and I guess you call it the penultimate lap, the one before the last, and when I realized that I had a shot, but I was out of Push-to-Pass, so my only chance was to get him on the infield. But quite frankly, none of the passes I made today I planned. I just drove with full instinct mode, and it worked out.
THE MODERATOR: You were very clear in Long Beach that, hey, guys, I haven't gone anywhere; I'm still here. How important was it to you to put an exclamation point on that and really show that you belong in victory circle?
SIMON PAGENAUD: Well, yeah, we've had amazing seasons, if you think about 2016, the domination we had, 2017, which was as good quite frankly. We actually scored more points that year. We had a really, really good season in '17, and then last year was about understanding this new car. I think we saw that my teammates and myself all struggled a little bit to understand it as well. But that's where Team Penske comes as a strong entity with my teammates, with also my crew and my engineers where we all gathered together to try to fix the issues in a very smart way, without being too smart. We went back to basics. We tried to figure it out, and the car is just getting better and better every race.
Now slowly I'm definitely gaining the confidence that I've had, been able to achieve in the past, and right now I'm driving better than I did in '16, so the results will come, but you've got to be patient.
Q. You said the car was amazing all the time, and people were struggling, your rivals. Nevertheless, when your car was so dominant in the wet, personally before the race, were you hoping that it was raining to get an advantage?
SIMON PAGENAUD: I honestly always hope for rain because I love driving in the rain. It's such a fun exercise. You can't calculate as much. You really have to balance the car with your feet, your hands and play with it, dance with it, and instinct driving comes out, where on a dry track it's very much repetitive. In the wet it's more like what I used to grow up on dirt racing. It reminds me of my childhood, and passion comes back out, and it's fun.
It's just a lot of fun in the rain. But I honestly didn't know if we were going to be good. It very much depends on your car, too, in the wet, but I felt like I had to seize my opportunity today, and I definitely had the right mix and used it.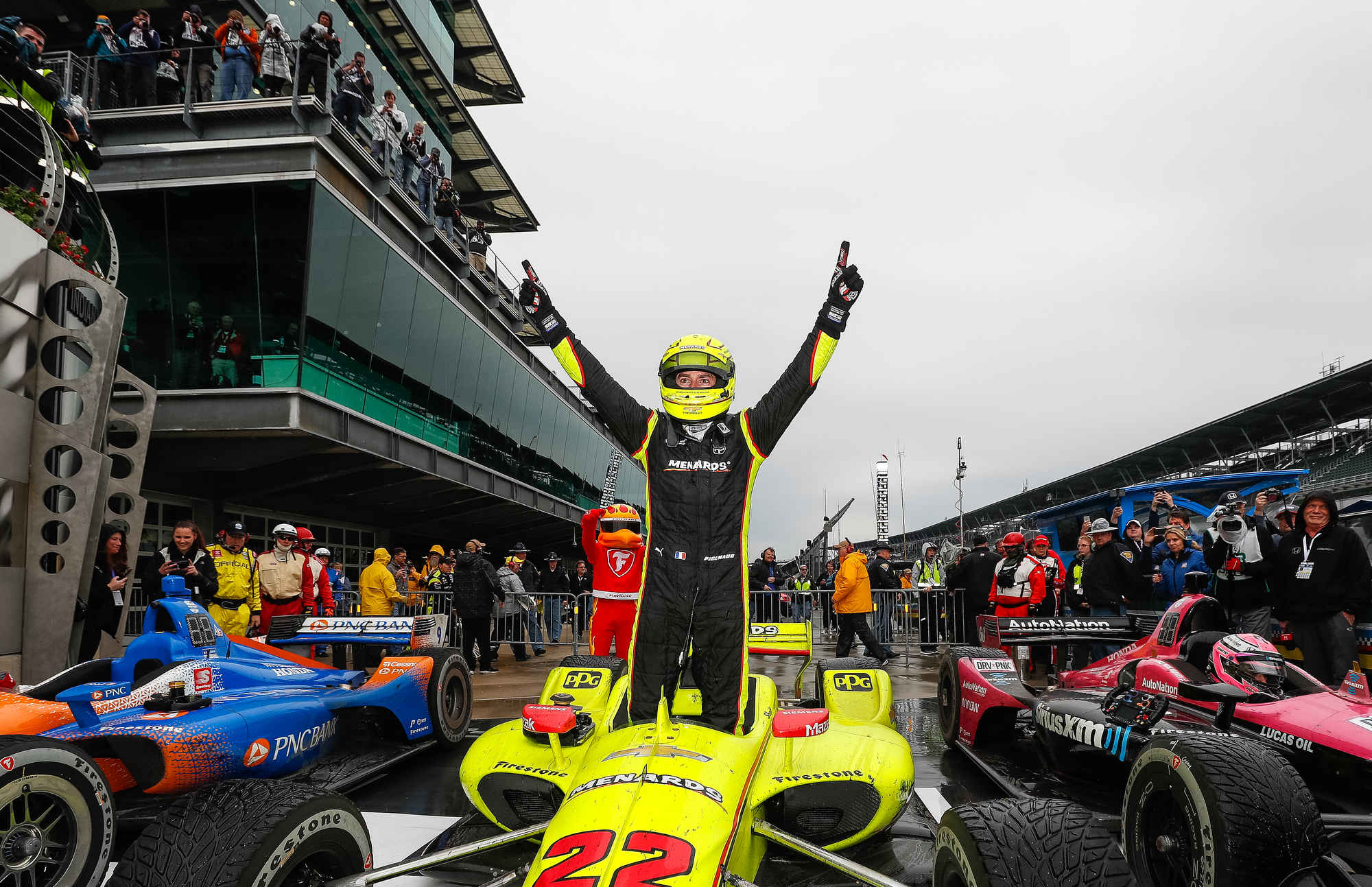 A happy Pagenaud
Q. During the broadcast they mentioned that when you were with Peugeot doing sports cars that they made you do six days a year, train to race in the rain. What exactly did they do to help you race in the rain?
SIMON PAGENAUD: Yeah, we had some great days with Sebastien Bourdais in the Peugeot days because it was a team that was getting ready for Le Mans and Le Mans was the only goal for the year. We did other races, but it was just preparation for the Le Mans. So we did days and days of reliability just going around the circle, and we would do days in the rain, days in the dry, days on soft tires, days on medium, days on hard. It was amazing the amount of testing we did and the laps. So I did drive a lot in the rain in my career, but quite frankly, in France it rains all the time, especially where I'm from. So I've done a lot of laps in the rain in my career. I always loved it. The first few laps I did in rain I crashed a lot, but I was fast, so I just had to figure out how to dial it back a little bit, and it's working.
Q. There are times out there where you were going like a second a lap not just faster than the people ahead of you but faster than anyone. Were you experimenting with different lines to get — because we saw you taking very different lines while you were stalking Harvey and Dixon. Was that finding the areas of more grip in the wet?
SIMON PAGENAUD: Yeah, I was trying to see — for each of the corners it was a bit different because obviously we have a new sealant on part of the track, and the sealant reacts very differently than — there's a patch in Turn 1, there's a patch in Turn 12 in the mid-corner, and I was trying to avoid those patches that were a bit slippery to carry that speed through, so I was trying a different line to see. But my car was just very, very good on the braking, so I could really experiment with that and fake some moves on people, and by doing that, they were thrown off their game, and I would gain time mid-corner and get them on the exit. So that's what I was playing with really, just figuring out that they were a bit — and the car is very bright, too, so when you're threatening someone, you get in their mirrors, they look in the mirror, so you know you can play with that.
Q. Jack Harvey just described when you passed him for second. He said it was like seeing a yellow dart just go by to the inside. Just describe that pass because that pass — you can't get to Dixon unless you get past Harvey first.
SIMON PAGENAUD: Yeah, I knew I had to — first there was Pigot. Leist was very important, Pigot was — was it Pigot or Jones? I don't remember, it was a black car. That was a very important pass to get to Harvey. I saw Harvey was struggling, but I didn't know, Dixon seemed to be quite far. So I didn't know if I was going to be able to get Dixon at the time. But I knew I had to jump those people to have a chance.
And Harvey was struggling with his front tires. I could see that from afar. I wasn't, so then obviously, like I said earlier, I was very confident in the braking, and with that Push-to-Pass, that was my only chance. So I guess he had a lot of downforce on his car, too, so at the end of the straightaway I was gaining and faked the outside, went to the inside, and quite frankly it was a bit of a — it was a late braking, and I avoided him basically bypassing him, so that's what happened.
Q. I think Ben Bretzman said that the five laps to go you were six seconds behind the leader and you ended winning the race, so that's a pretty healthy gap to make up in that short a period of time.
SIMON PAGENAUD: Yeah, it was a big gap, and then the first lap I passed Harvey, I saw Dixon locked up a bit in Turn 7, I gained a good two seconds, I think, and then I realized he was struggling. So then he started pushing a bit, and that was my chance because the more he was pushing, the more he was going to degrade his tires, and I think he had more to lose, too. But yeah, all of a sudden two laps to go, I'm like, I'm not going to get him. But then I pushed my braking zones again, found a little bit more pace in the car in the past two laps, and quite frankly I didn't plan on that pass in Turn 8. It just happened. Yeah, that was a cool pass. Outside of Turn 8, did not expect that to work. But he just didn't have a good drive out of 7, so I took it.
Q. Tomorrow is Mother's Day, and if I remember correctly is your mom's name Sophie?
SIMON PAGENAUD: Sylvie. But it's a different date in France.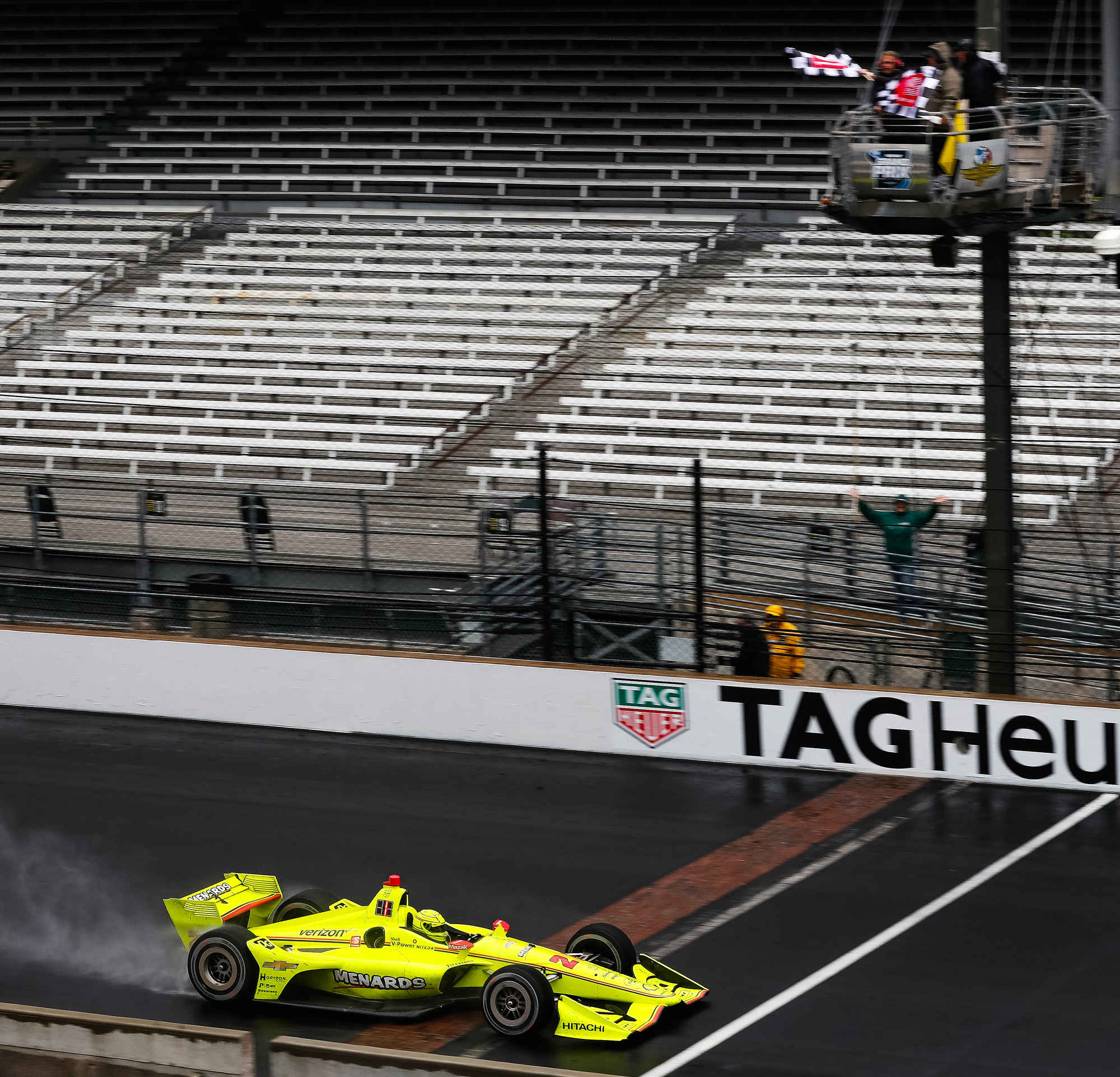 Pagenaud takes the checkers before a packed grandstand
Q. Does she know you won?
SIMON PAGENAUD: Oh, yeah, yeah, I'm sure she knows. My dad, my mom, everybody in the family follows racing. I mean, what I do. So yeah, they'll be the first one to text me and follow the race. She was upset yesterday, the app actually said I was 20th, so she was really upset. I said, mom, it's okay, I'm eighth, relax, I've got a good car.
Q. Your car was so good; is there a reason do you think why your two teammates wouldn't have been — didn't seem to show the speed that you had? Was it something that you just found? And then with Dixon, he said that he didn't have front grip, especially in the slower parts of the track, which I think is how you were able to pass him even though he had the Push-to-Pass. It was just amazing to watch you catch him and then pass him.
SIMON PAGENAUD: Thank you. Yeah, you know, obviously the car behavior comes out more in slippery conditions, especially in the rain situation. Like we said yesterday, our cars, the Team Penske cars were really, really good in qualifying, so I knew Ben said, my engineer — and by the way, it was his birthday today, so I was really happy we got a win. He said it probably is going to rain, and I said, whatever, the car is good in the dry, so it should be good in the rain.
I think the dis-balance you may have shows more in the rain, and we didn't have any, so the chassis was phenomenal and the engine did a good job, too, so yeah, interesting.
Q. You just said that a bad setup is kind of reflected more in the rain?
SIMON PAGENAUD: Yeah, I think so.
Q. Do you think a good setup is reflected more in the rain? Were you surprised when the rain came and you were quicker?
SIMON PAGENAUD: Well, think when you have no weakness on your chassis in the rain, it's going to show more because you have less grip. If you have less grip, the bad cars are going to — there aren't many bad cars around here anymore, but a car that has a weakness is going to show more that weakness, and you can look — if you looked at all three cars in Victory Lane, all tire wear on the wet tires were different on all three cars, and that's quite interesting to see. Dixon's rear were gone, Harvey's front were gone. That's very interesting to see that because that means we run very different setups. You know, that means that in the dry, those cars behave differently. Well, I think I had the best balanced car today, that's all.
Q. It seems as though throughout the month of May, most of the attention is put on the 500. Certainly an eventful and exciting race today. For the fans, what makes the Grand Prix special, and what makes it stand out, especially today's race?
SIMON PAGENAUD: Well, I think the Grand Prix has really taken its position within the month. I think obviously to me, it really starts with the Rev event that was last week, which is a great party, a great way to show the speedway to the fans and a great way to interact between the drivers, the fans and have a good time. Obviously during that day, none of the drivers are stressed out about their car and they can just be normal and have a good time with the fans.
Then after that, you get the Indy Grand Prix, which is obviously some of what INDYCAR — a lot of what INDYCAR is. We have a championship, we race 18 races a year. There's a champion crowned at the end. It's fantastic that we get to showcase what our Indy cars can do on the road course, and quite frankly this road course is pretty awesome. Doug Boles and everybody at IMS putting a great effort in making that racetrack what it is, and it's an exciting racetrack because you can pass people. They've done a great job, and it show cases what INDYCAR is all about. You can start eighth and win a race. That's what — a racetrack is very important for the racing. We've got a long straightaway that really helps drafting, then another long straightaway also for drafting, and then tight corners, so you can really have an opportunity for passing.
Then obviously after that it's the Legend week. We go into the Indy 500 and we have two weeks of running, a lot of people showing in the evening to see us run in the pack, and it builds up. There's a lot of energy that builds up during those two weeks, and qualifying day is an amazing weekend, another weekend that's full of adrenaline, and then you get into the big one, and the big one obviously is always going to be special. There's never going to be anything like it. People come to it, it's our Super Bowl, and it's just phenomenal to be part of it.
Q. I want to come back to your surprising answer for me that racing in the rain is fun. Is it not tricky following cars in open wheel racing with all the heavy spray? You can't see nothing or nearly nothing?
SIMON PAGENAUD: Yeah, it's true. It was tough at times. I was trying to cool down my tires but everybody was trying to do that, so the spray was huge, and quite frankly I couldn't really see Harvey when I passed him. But that's part of it. You've got to — you've got to be aware of what's around you, and that's part of racing. It's really an awareness and concentration state that you get in. You can really — you have to trust yourself that you know where people is around you. Yeah, uncomfortable situation to be comfortable in.
Scott Dixon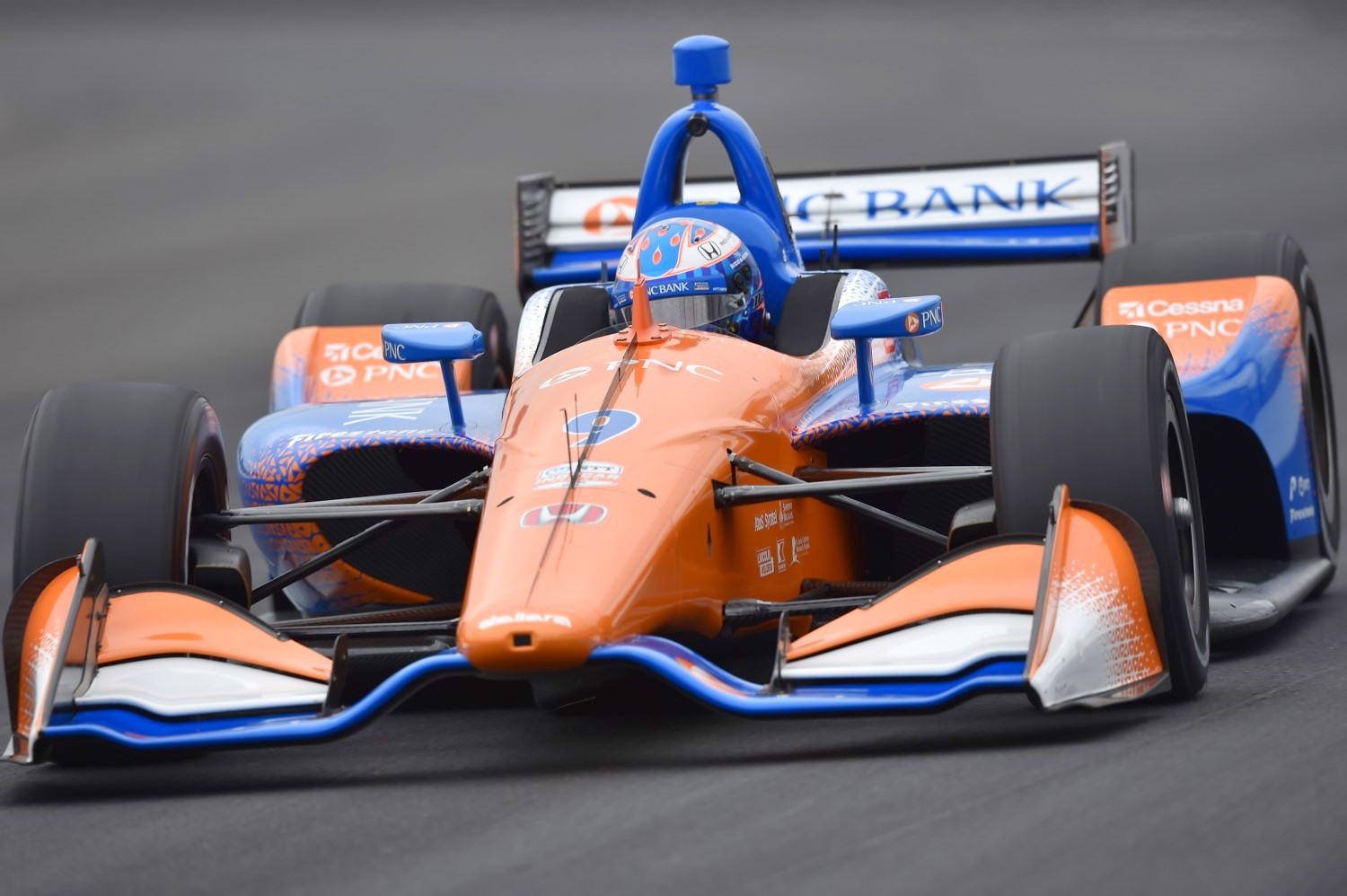 Scott Dixon
THE MODERATOR: We'll get started with our INDYCAR Grand Prix post-race press conference. Joined now by Scott Dixon, driver of the No. 9 PNC Bank Honda for Chip Ganassi Racing, finishing second in today's race. I know ultimately you led a lot of laps and were hoping for that top spot on the podium, but a great effort for the team overall. Take us through your race.
SCOTT DIXON: Yeah, it was generally a pretty good day. We had some good pace. The start was a little tricky, kind of misjudged it with Felix, and actually the 60 car had a great start. So kind of just fought in line there and was seeing how it was going to play out. The restart we got that really good jump, got both the 60 and the 10, kind of set us out. Conditions were really tricky all day, but a lot of fun actually. I think it's always hard to tell with a circuit like this, especially after the kind of sealant they put on some of the portions of the oval, how tough it's going to be once you start to get some moisture on there. But all in all, the Firestone red tires, I never got to the blacks, had a ton of grip and it was a lot of fun. The second or third stint there I think, where we ran our double set of run reds, kind of fell off a bit of a cliff with those, and then once we got to our sticker set we kind of set sail again.
Yeah, then the rain with about 10 laps to go, I'm like, we're going to get hosed here. The front tires we just didn't have — I don't know if we changed the front wing or whatever we did in that pit stop, but we just had no front grip and had to stop the car too much to really keep time, and we were hoping — we were talking a lot about whether it was going to be a time race or it was going to run the full distance, and obviously it went the full distance. A lap or two shorter would have helped.
But congrats to Pagenaud. It's great to see him back in victory circle, and they did a great job today and had great speed at the end of the race. Yeah, bummer leading that many laps and coming up second.
THE MODERATOR: With the changing weather conditions and also the changing track surfaces between most of the road course but then also the sealant on the oval, how tricky was this race compared to some of the other INDYCAR Grand Prixes we've seen so far?
SCOTT DIXON: Yeah, I think we had kind of right around the right around of moisture to be honest. I think at the end of the last stint there, we were probably hoping that it rained a lot harder just for being selfish for ourselves to help the front tires.
But yeah, I think this track actually doesn't puddle, which is fantastic, and a lot of the street circuits that we go to, that's kind of one of our biggest concerns, to get aquaplaning and have that be a factor. I think today definitely the people that came out saw the conditions that we can race in and how fun it can be to watch if you stick through it. But yeah, it's always hard. I think Bourdais when we tested here with the Honda manufacturer day had mentioned how slick the new portion of the track was, but to be honest, the grip was very high even with a lot of rain that we had in running the slick tires. I was kind of surprised how quick the cars still were. It was tough to judge, but all in all, it was a lot of fun.
Q. Scott, you said you had no front grip. Was this the main reason you couldn't hold off Simon?
SCOTT DIXON: Yeah, I just couldn't turn. Even in the first gear corners I was almost having to stop the car to get it to rotate. I think it felt like I needed probably another four or five tenths of front wing. Sometimes it kind of goes like that, depending on how your mechanical balance is, and a lot of the cars I think are very different. Some may have switched to a semi-wet setup I think for predictions going later on into the race. But yeah, whatever the balance was, man, we just couldn't get the car to turn. Had fantastic traction, but as you saw in all the slow speed corners, I just couldn't turn the car.
Q. Talking to Chris Simmons, he was confident that the gap was big enough that you might be able to hold him off. Did you feel that way in the cockpit or did you just feel it was a matter of time?
SCOTT DIXON: You know, I think you always doubt it, so I think from — as I said, with 10 laps to go, I kind of knew I was in trouble. And then the gap actually started to get a bit bigger. I think Harvey was having a similar issue with his balance and struggling, and that was kind of holding Pagenaud back. But they were giving me lap times, and you could see that the 22 just had some pretty immense pace. Once I knew he got some clear track and once he got past Harvey, I think it only took two laps before he was on top of us.
In a situation like that, we had it in the second stint or third stint on reds, too, where you start to fall off and it falls off really fast here. It's a momentum track, and it comes far. So I knew pretty early that we were going to be struggling.
Q. Scott, you had quite a lead, number-of-seconds lead, maybe as much as six or so with Simon after he passed Harvey. You had a lot more Push-to-Pass than he did. Even though you had that, I think Simon was out with maybe three, four laps to go at least, and yet he was catching you. Is it that you couldn't really use your Push-to-Pass to your advantage because of the front wing grip issue?
SCOTT DIXON: No, it was, but again, the slow speed corners is where all the speed is, right. When you're doing a 40-mile-an-hour corner and if he's rolling five miles an hour faster, the time gets chewed up really fast. It's five miles an hour when you're doing 160 on the straights, nowhere near the same amount. I was trying to use it sporadically in spots to try and lessen the pain, but you knew it was coming.
It was one of those scenarios where you're either hoping for a yellow or it was going to be a timed race and come up short by a couple laps.
Q. It was certainly exciting and with Simon, were you surprised how racy he was? You were both on the black tires. Do you think there was a difference in the engine performance that came into effect? Even if you used the Push-to-Pass he seemed to be right there.
SCOTT DIXON: The wet setup, I think we had a pretty big advantage on the slick tires, over the 22 for sure. The stint we got caught was when we ran the double run reds. We started with nine laps on those. Once we got to those sticker reds and that portion right before it rained, we kind of stretched out pretty easily and didn't really have to push.
When it comes to the rain, you know, you're kind of in the window or you're not, and they were. It can be a multitude of different setup options that make that possible. Ultimately it just didn't play out.
Q. Other than the momentum that is involved, this race doesn't translate to the next race much at all, other than the fact that it's the same facility. How much does this race translate into the next road course race in Detroit? Oftentimes that's a rain race, too.
SCOTT DIXON: Yeah, not so much really. It's totally different. It's very low grip. It's a street course. You know, your ride heights are probably double what you run here.
I think in the IndyCar Series right now, you need to be good in all areas and try and maximize on it, which I think we've done a pretty good job this year. I think we're the only car actually to be in the Firestone Fast Six every race. But days like this are the days you need to try to capitalize and get the win, and we didn't. So it's nice to have the performance and nice to run fast, but we're here to win, and with our team, if we don't win, then it sucks. But we'll use this as motivation and hopefully performance wise we're strong the next couple weeks and then can have a good shot into the 500.
Q. This is your third straight runner-up in this race. The last two was kind of one of those typical Penske-dominant performances. This one Simon only led five laps. Is this one tough to chew on, the one that kind of got away?
SCOTT DIXON: I've been part of many of these, so you've got to take them. There's days where you get a win and you never really knew it was coming. So you've got to take the highs with the lows, but I think still finishing second and having a fairly dominant day is something to be proud of. But yeah, again, these wins are harder and harder to get, so you can see even the expression with Simon after getting that victory, it's hard to get them here right now, and it's good to see him back in Victory Lane.
But yeah, it's — I don't know, you just roll with it, man. You kind of roll on both sides, and if you keep knocking on the door, eventually it's going to open.
Q. You mentioned how what the fans saw today, they should have had some fun with what they witnessed. The last four races prior to today, the driver in pole position has come away with the win. Can you just comment on — just going into more detail on how what the fans saw today was something special?
SCOTT DIXON: Yeah, it was definitely a mix. I think you got every condition possible. I think you got cars on many different strategies. I think you — this track always plays well, I think, to great overtaking just with the long straights, big braking zones, but also I think you've got to give a lot of credit to Firestone, too, with the tire that they bring, the different performance levels between the primary and the alternate. They kind of cover all the bases.
With an INDYCAR race, you really never know who's going to win. That's fun for the fans, it's fun for the drivers. Obviously you would like a season where you could dominate and run away with it, but that's just not possible. The competition is so tight right now and with the strategy and the way they play it over here, some days are a bit frustrating, but many others it's a lot of fun, too. I think that's why our fan base is getting bigger and the numbers are going the right direction, and we should be proud of what we've done here in the sport.
Q. You were talking about how great it is to see a veteran like Simon get back into Victory Lane, but how great is it for the series to see a new driver like Jack Harvey and other young drivers like that who went out there and put on a hell of a show?
SCOTT DIXON: Yes, it's important. I think it's very important for the future of the sport. Jack has done a fantastic job, I think, bringing different sponsors to the series, as well, and even his owner with Shank. He's a great person, very successful in many other forms of racing, and it's good to see them come over here. But it shows you the ability of any team with the parts and pieces that everybody has, you can come here and run strong, and if you've got a good driver, you can make it happen. I think that's why we're seeing such a big influx from Europe and great drivers that have come through the ranks here in America, too. But yeah, it's definitely a bright future.
THE MODERATOR: Scott, congratulations. We'll see you in a few days.
Jack Harvey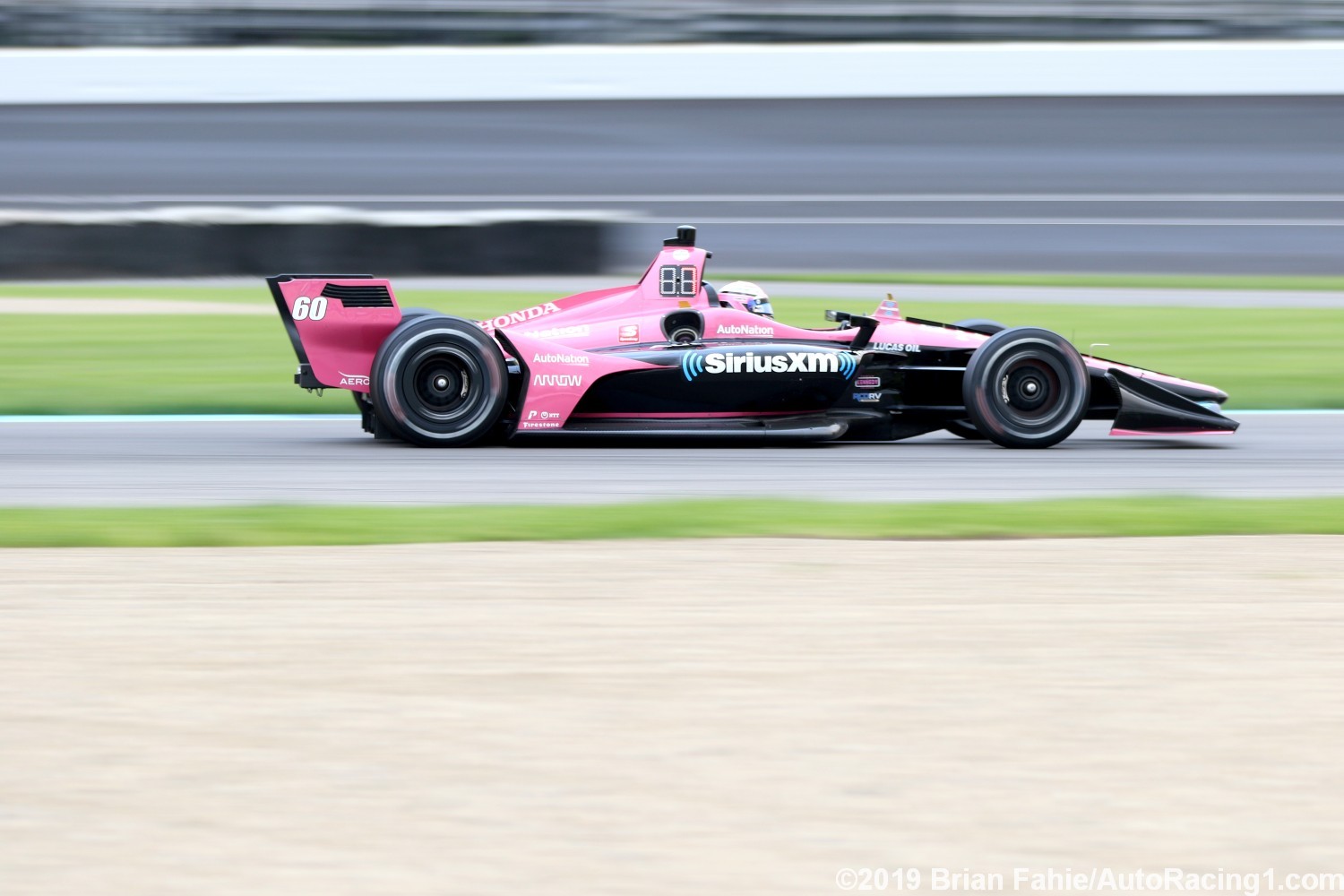 Jack Harvey
THE MODERATOR: We'll welcome in our third-place finisher, Jack Harvey, driving the No. 60 Sirius XM Auto Nation Honda for Meyer Shank Racing. Jack, obviously a great result for you today. Also, I believe, correct me if I'm wrong, your first INDYCAR race in the wet. How did you like it?
JACK HARVEY: It was a bit more of a handful than I probably would have hoped for. It looked like we were running pretty good in the dry. I mean, I thought it was the best start I've had in INDYCAR, too; to be able to split Felix and Scott at the start was pretty solid. And then I think we ran on pace, top 3 in the dry. Car was great.
I think Scott was a little quicker than us at the start of the stints. Felt like he came back to us at the end. And then all race you could see a few spots of rain always around, and it's just difficult in that moment, and I'm sure Scott has been in this situation many times because you don't become a five-time series champion without going through a thing or two, and maybe he was a little bit more ready for it than I was because I was always trying to push as hard as I could without jeopardizing the good result I felt like we were on the cusp of getting, and then it really rained and came down, and again, I think when the track was really wet, I think we lacked a little bit of raw pace. He blew past us, blew in front of us by about a second a lap.
That being said, at the end of the game when the track started to dry out, it came back to us. I think it was very much a race of ebb and flow. To qualify third, to finish third I think was a result that if you'd have offered it to us before the weekend started we would have taken it, and hopefully this is just that springboard for us, for first off of May. Hopefully it gives us some good momentum throughout the rest of this month, but also looking forward to the future, to the end of 2019 and looking forward to 2020.
I think everybody at Meyer Shank Racing has done an absolutely fantastic job. Our entire team and Arrow Schmidt Peterson Motorsport, I think this weekend our car has been good all the time and it's great to put on this level of performance to all stations to Sirius XM, so pretty happy.
THE MODERATOR: You're also there's no question a very experienced driver, but as you gain more and more experience within the NTT IndyCar Series, how helpful is it to you and how cool is it to you to be mixing it up for wins with series champions like Simon Pagenaud and Scott Dixon?
JACK HARVEY: Well, I mean, it's a balance for us because we're excited to be here. You're trying to take as much risk as you can without jeopardizing anything because you're doing 10 races, but at the same time in the same breath, we don't just want to be one of the cars. I think we showed that today. Yes, we're happy to finish third, but we're going to push, and if second is available, we're going to go for it. I think this was a really exciting result for us today because if we could do a full-season drive in 2020, to mix it with Simon and Scott would be great. If you could do it more weekends than you don't, then good things will happen at the end of the year.
But to share the podium with both of those guys I think is pretty special. Our first podium in INDYCAR today, and hopefully it's the first of a few, and we're just going to keep using it to keep learning, get more experience, and hopefully it won't be as much of a shock when we get in here again.
Q. Even in the dark you could see Simon's car because of how bright it is —
JACK HARVEY: Yeah.
Q. But when he was closing in on you, did you feel like you might be able to hold him off, or did you just realize that he's got the setup right now?
JACK HARVEY: There was a few laps where I thought we could hold him off, and then you talk about a bright car, into Turn 1 I saw this yellow dart suddenly just like arrive straight at the apex and thought, man, that was pretty brave, and thank God his car is so bright. Clearly Simon had a very quick car today. We were racing together in the dry, we were racing together in the wet. He had a bit more pace than we did at the end there, and I thought his move was pretty good on Scott, too. I was a little bit behind it, but around the outside in Turn 8 and then on the inside through 9, it was a pretty stout day and I think I heard Scott mention, you see how much it means to win just a race, because it's so difficult all the time.
I think we've been on the edge of a good result like this for a while, but actually trying to gel those pieces, put it all together have been tricky, so that's why I think you have to enjoy every podium, every win that comes, especially in this place because I feel like the Indianapolis Motor Speedway is a racing driver's Neverland. It's where we come to try and not get old.
Did I think we could hold him off? Yeah, I certainly hoped we could, but in the end, we couldn't quite.
Q. We had some of your pit crew chatter on the NBC broadcast and they were talking a lot about a plan, stick to the plan. But surely with how complicated this race was that went out the window, so how did you stay up running and maybe how much did that plan go out the window?
JACK HARVEY: Well, they said stick to the plan, but before the race we had about four plans, and I was like, Which plan are we sticking to. You know, and in the end, there was multiple scenarios that we had chatted about that could happen. Indiana weather really played its part today, and I think the day, they timed it perfect because as I was coming out of the pit lane is when I think there was a yellow flag, and at that point the rain kept coming, and I thought, we must be in good position now. I think sticking to the plan is more about not panicking and just — we've chatted about it, here's what we're going to do if this situation comes up, stay calm, stay composed and lets get to the end of the race.
Q. Jack, I have a more business-related question. Do you think with this good result in your home country, in England, you can pick up additional sponsorship despite the confusing Brexit situation?
JACK HARVEY: I mean, I don't know if anyone really knows what's going on with Brexit, do they? As a starting point. I mean, internationally I think INDYCAR's fan base is growing, as well. It's very cool that everybody can watch INDYCAR races on SKY this year, SKY Sports F1. So the fact that it's even on TV and the fact people are watching it I think is a great thing for the series in general, and hopefully if the right person is watching on the right day and they see us getting a result, if we can just get in contact with them somehow, then certainly we're always pushing to have support from home.
You know, I think it's just going to be a case of how do we find them, are they interested, and in the end the approach is no different than when we're trying to look for sponsors anywhere in the world. It's are you interested, can we work together, what can we do together.
I think just the business-related answer, I think hopefully results like this will help catapult us into a full-time drive.
Q. (Question about Brexit).
JACK HARVEY: Yeah, I don't know, Brexit has gotten so complicated that I've stopped following it. Yeah, if someone knows what's going on, then you can feel free to bring me up to speed on it because I think that's more confusing than how the race played out.
Q. Jack, talk about the difference between trying to run four or five races spaced out by four or five or six months and what you've been able to do this year and consistency and just getting into a groove.
JACK HARVEY: Yeah, I mean, from last year at Sonoma to exactly today, we haven't missed any testing. We've not missed any practicing. We've not missed anything. Our schedule slows down a little bit after the 500, but for me the momentum that I would have been able to gain, the confidence just by being in the car, at least as often as everybody else, has been great because things feel normal to me, then the next weekend I can go out and start immediately working on techniques and issues and this is how I'm going to find speed, be a bit smoother here, think about this braking shape or whatever it is. That being said, I think it's really helpful for the team, as well. I thought our pit stops looked pretty solid today, just the way that we operationally are working. The whole team really are gelling and are in sync, and just unfortunately it takes time.
I think this year, I look at the season so far, and without my drive-through penalty in Barber, which was just a self-inflicted error, I think we would have had four top 10s in five races, which that would have been pretty awesome at the start of the year, if you said, hey, you're going to achieve that, would you take it now, and we absolutely would have all taken it now.
So I don't think it's exclusive just to the driver on building a rhythm, feeling comfortable, gaining more confidence. I think that applies to the team, as well, and I see Mike in the background, maybe he could speak to that, as well. This team is gelling, and I think we all feel like we've been right on the edge of this result, and I think the difference is today instead of talking about it we showed it.
Q. Jack, you drive for Mike Shank Racing, and you talked about how great the team was today with their stops, but can you talk about how important the collaboration is with Arrow Schmidt Peterson?
JACK HARVEY: Yeah, it's a total team effort. You know, and the way that me and Mike even got together is an interesting story, but ultimately I think we believed in each other enough to embark on this adventure together. It was always a two-year deal, six races last year, 10 races this year, and we hope it might build into something bigger again in 2020.
I think trying to do it with Arrow Schmidt Peterson Motorsports has been great. I raced Indy Lights with Sam, so I know a lot of people there. I did two races in '17 with them, as well. So I think, again, it's just partnering with good people, and clearly the car has been good, so being able to have that technical relationship with them I think has proved to be quite a big help.
You know, we're just going to keep refining it and keep improving on every aspect that we can, and our relationship with them, what we're doing, as well, and like always, just trying to build as nice a jigsaw puzzle as we can with the pieces that we have.
Q. Jack, is there any way to compare the emotion you feel today to what you felt at St. Petersburg after you got your first top-10 finish?
JACK HARVEY: Oh, this is way cooler. Yeah, I'm going to remember this for a while. These kind of days are what we work so hard for, from all the off-season, bad result at Long Beach, which frankly wasn't anything to do with — wasn't our mistake, but it happens, that's racing. But the thing is, as well, these results are what really can carry you through a bad time, especially coming into May. We are hopeful that it is the springboard for a good month. We all said it before the weekend started, that a good result here really sets us on the right path. It's as special a day as I can remember, but as Scott said earlier, it's so difficult to come and compete at this level. You're racing against the best drivers in the world in what was difficult conditions today, so I was absolutely thrilled that we got that result, and selfishly, I think it's nice that we can go back to everyone at Meyer Shank Racing, back to everyone at Arrow Schmidt Peterson Motorsports, Auto Nation, Sirius XM and say, I can do this, I can compete at that level, I can get the results; thank you for your trust in me, let's do it more often. You know, and it's that result for me anyway, it's nice to be able to go and hang your hat on nicely and take confidence from it and say, right, let's do it more often because how we feel tonight and how we're going to feel in about two hours' time is going to be pretty awesome.
Q. Piggy-backing on what you just said, putting you on the spot when your boss is in the room, this team has some sort of magic skill to add races after a partial season program, most notably on the sports car side of things. Is that totally out of the question with your program?
JACK HARVEY: I mean, I'll give you my personal stance on it. Me and Michael have chatted about it. I think — I'm available every weekend that INDYCAR is going to race if need be, so for as much as I try and focus on just my driving aspect, we do have those conversations. We'll see what shimmies and shakes out. But I think for all of us collectively, I think we're 2020 focused, but if the right opportunity came up to add another one in 2019, then certainly I'm game for it.
THE MODERATOR: Just to make this super official so Jack can have it in writing later, for the transcript, that was a yes, it could happen.
JACK HARVEY: Yeah, I said that.
Q. It seems that every driver that drives for Mike Shank, whether it be the late Justin Wilson or AJ Allmendinger or yourself, they all come away thinking, man, he's a great guy to race for. What is it about Mike Shank that makes him — not only do you guys race for him, you end up becoming friends with him.
JACK HARVEY: Certainly. Stayed at his house before — it's hard to say because he's still right in the room. (Laughter.) I don't want to be accused of having some brown on my nose if I say too nice a things.
Michael is a great guy, and what he instills in himself funnels through the team. I remember one of the first tests we went to, he was up in the top of the roof of the trailer trying to help the guys load the car in, and I think when people say you get out what you put in, Mike is a great leader, he leads by example, he sets the tone. I think he holds us all accountable in the right way. That being said, he encourages us when we need it. Before the weekend started, he's like, we can do it this weekend, I just know we can. I'm like, yeah, I think so, too. He's like, no, I really think we can.
The thing that I have appreciated about Mike from the very first phone call we had way back in must have been April 2017, we have a very open and honest relationship. I tell him when things are bothering me, he tells me when things are bothering him, and together we find a great solution.
I actually love everybody at his racing team. Everybody at Meyer Shank Racing has really embraced me as what feels like a small team and feel like I'm a part of that. I love to come and support the team at the IMSA races, too. There's no one else on the grid I'd rather be racing for, and certainly the goal for all of us is just to expand our current program into 2020. What I said about Mike when I was told that's who we were going to be racing with in the 500 in 2017 is he's a winner. He wins at pretty much everything he does, and he's competitive, and that's contagious, and you want to be around it, and apparently you want to win for him.
I'm happy to contribute a trophy to his cabinet and hope it's the first one of a few.
Q. You finished second in the Indy Lights championship two years in a row and then the next year you don't have a ride. How much of a comeback is this for you knowing where you came from and where you are now?
JACK HARVEY: It's a big one, bigger one than I would have admitted before I got a podium. It's not easy coming to the track and watching everybody else race when you're sitting on the sidelines. That being said, I am extremely lucky, especially I have a lot to — two people in particular, my manager Bob Corona, Marc Cannon from Auto Nation, I think those two guys really saved my career. They both stuck with us at a time when I desperately needed somebody, and we worked really hard to try and put the 500 together in 2017, and we did, along with what was then still Michael Shank Racing and Andretti Autosport.
You know, you look back at that moment as a real pivotal step and one that I needed. And this personally gives me a lot of confidence because it's been a little while since we were competing week in, week out, a lot of — I haven't gone short of opportunities, which I'm grateful for, but being thrown in the deep end all the time is tricky and you don't always get the results and you lose a little bit of confidence and whatnot, where this weekend I knew we were going to be good coming into it. We delivered on that, and I think just for me alone, I feel like this is a big confidence boost, not arrogantly but just in a humble way. I talk about showing it to ourselves, but I just showed myself that I can come and compete at this level, and I'm very lucky with the people I surround myself with at the track and at home. They haven't let me ever lose sight of that and my talent.
But sometimes you've got to prove it to yourself, and sat next to a piece of trophy is a nice thing. Third is great, but first obviously is even greater, so I think everyone saw how happy we were and how happy we are to finish third, but to win is still the goal, so a little bit of work left to do.
Q. You said that earlier your team alliance or incorporation with Schmidt Peterson. Nevertheless, Michael Shank Racing is a one-car team. Is it difficult just to be yourself and not compare any experience or notes with a second driver?
JACK HARVEY: I think that's what makes a good team is that when we get in the engineering room that we operate — two teams as a three-car effort. James and Marcus are both great teammates to have. They both have a lot of experience in multiple different racing forms. James is a long-term INDYCAR race winner and seasoned veteran, and Marcus has been in Formula 1 for several years. They bring a lot of experience to the team, a lot of good ideas, and we push and bounce around different ideas. We push each other to be better. Some weekends each of us have just a little bit of edge, but I can tell you that we all work extremely hard to try and be the one who's got the edge. I think what makes a successful team is being competitive with each other, being fair with each other, but also to a larger degree being open with each other, what was good, what was bad, what worked, what didn't work, and how collectively we get the best possible results.
I think the perfect day for the whole team is if we lock out the podium just with the 5 the 7 and the 60 car, so that's what we're going to keep working hard to try and do.