Pagenaud outduels Dixon to win GP of Indianapolis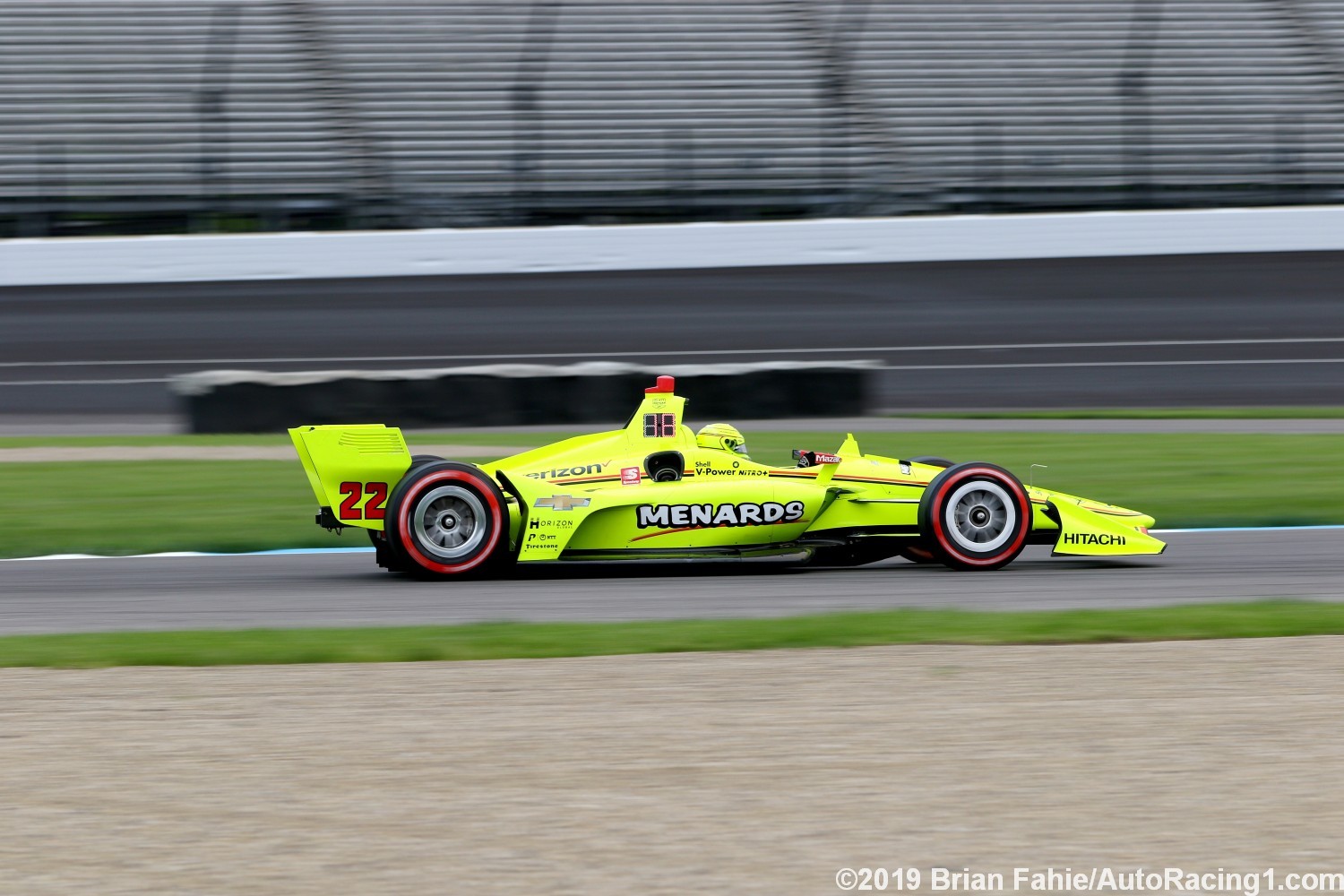 Simon Pagenaud gets spectacular win
Penske Chevy driver Simon Pagenaud hunted down Ganassi Honda driver Scott Dixon from 7-seconds back in the rain and passed him with under 2-laps to go to win the Grand Prix of Indianapolis in spectacular style.
Jack Harvey finished 1.7-sec behind Dixon for the final podium position.
Matheus Leist was 4th for AJ Foyt Racing while Spencer Pigot rounded out the top-5.
**********
Maybe it's a urban legend, but the word has it that Bernie Ecclestone wanted to install sprinklers around the tracks to spice up otherwise boring races. I rather doubt this story — after all, Bernie probably had God on his speed dial and wouldn't have needed help making it rain — but I do agree with the idea. Rain is God's way of having an entertaining race, and today is no exception.
The weather was typical Indy-in-May strange. The cars were gridded on pit row, for instance, in case the rain really showed up as the radar predicted. However, for most of the race, the drops only came in the occasional pit, not enough to wet the track. So much so that a couple of teams took longshot bets that there would be no rain until we were done (which is what the weather forecast said).
[adinserter name="GOOGLE AD"]The race did start on schedule, under grey skies, with everyone running non-wet tires. On the first lap, Pato O'Ward punted Alexander Rossi into the pit wall, causing Rossi rear suspension damage and causing Pato to do a drive-through penalty. Rossi fell 4 laps down, finished 22nd, and was part of a miserable Andretti day. O'Ward soldiered on, ending up last on the lead lap (19th), and was quite unhappy with some mistake of his team.
There was no yellow however, so Felix Rosenqvist set sail in the lead. The caution did fly on lap 11 when Marcus Ericsson spun off thru the grass and found the Turn 14 (Turn 1 in oval terms) wall. Ericsson finished last on the day. "I just had a moment in the slipstream of Power and I lost it" he explained later.
No sooner than the green flag flew on lap 16 and there was a pileup in turn 1 when Jack Harvey nudged Colton Herta. Herta went around, facing the wrong direction, dead on the track. Unfortunately, James Hinchcliffe caught Ryan Hunter-Reay, who then piled into a sitting Herta. Herta finished 23rd, and Ryan Hunter-Reay managed a 17th to finish a miserable weekend for him. Jack managed better (you already know that, but more on that later), and James Hinchcliffe finished 16th.
A word about Hinchcliffe… James had a miserable weekend. Starting 18th, he collected 2 penalties during the race. Having said that, his team used pit strategy to move him towards the front. My records show him in third place around lap 57, and since he'd used his black tires for the day (they were considerably slower) he looked to be a good candidate for a win IF… IF… the rain stayed away. Because with the rain, the tire rules go out the window. And of course, the rain didn't stay away, and Hinch finished 16th. James made himself unavailable for a comment, which is a shame — he ran hard and ran well to overcome mistakes and be in position for a good finish.
The green flew again on lap 19, and the race settled down for that middle part where folks sort things out. Scott Dixon lead for a few laps he pitted, when the lead was assumed by Graham Rahal. Felix Rosenqvist, Jack Harvey and Ed Jones were all in the mix. The rain kept spitting, but not enough for anyone to try rain tires until Helio tried it on lap 57. Sadly, a remarkable bit of driving by Takuma Sata was lost to TV commercials, as he pulled one of his remarkable go-for-broke passes around lap 44.
The main excitement was provided by pole sitter Felix Rosenqvist. On his pit stop on lap 45 his car left the pits on fire, caused by a leaky fuel connector. And again on lap 58, the fuel leaked, and again, there was lots of flames. No one was hurt, and team members couldn't (or wouldn't, since "Truth is the first casualty of motor sports") explain what happened after the race. Rosenqvist finished 8th.
By lap 57, lap speeds were some 5 seconds off of the dry speeds, so Penske decided to put Helio on a set of wet tires. Unfortunately, Helio quickly spun the car off of the track, and stalled it before he could get it back onto the track. Caution was called on lap 60 to move Helio, and by that time we could see rooster tails of water as the cars ran down the front stretch. When the pits opened, the remaining cars running on dry tires changed over to wet times.
For your bit of IndyCar rule trivia here — A new rule states that if 3 or more cars from 3 or more different teams throw on wet tires, then the "tire rule" (mandating both red and black tires be run) goes out the window. This is the bit that would've put Hinch into victory lane if the rain hadn't fallen, As it was, he was one of those who had to pit late for wet tires, and his fate was sealed. Oh, and tires were a non-story, as was the new track sealant, meaning that both Firestone and IMS did a great job.
When the green fell again on lap 68, Scott Dixon took off, and for many laps, seemed to be in his own ZIP code, leading Jack Harvey by some 5-6 seconds at time. It was at this point that Simon Pagenaud started his march, and by lap 80 he moved into second. This put Harvey third, and Matheus Leist fourth.
Let us pause to ponder Leist's day. Starting 21st on the day, the AJ Foyt Racing team was having a miserable weekend in a miserable year. Team members commented to me that "we have a long way to go" and they had to work hard to keep up morale, especially when you have a young gifted driver like Leist. But Leist used smart pit strategy to move up the field all day, and seemed to thrive on a slippery track. Perhaps all of that F3 racing in the UK paid off, as for most of the last stint he looked to be a podium winner. He was finally relegated to 4th as Pagenaud paraded through the field, but it still had to feel good in the Foyt garage.
Simon Pagenaud took the lead with 2 laps left, as Dixon's tires gave up the ghost on the last 10 laps. It's no secret that Pagenaud struggled last year, and to put on a show of strength (as his team mates finished 7th, 15th and 21st) had to feel good heading into the 500. This is Pagenaud's third win in the Indy GP, and continues a Penske lock on the event. Scott Dixon finished second, and Jack Harvey used is Brit rain advantage ("This is just a summer day to us!") to come in third.
*********
Another team having difficulties this week as Andretti Autosport. The four cars were showed up badly when their 19 year old quasi-teammate Herta qualified 4th. The race went even worse, with the cars finishing 12th, 13th, 17th, and 22nd. And Herta of course finished 23rd.
*****************
Pagenaud Pass of Dixon Photos
Simon Pagenaud passes Scott Dixon on next-to-last lap in the wet

Photos by Brian Fahie/AutoRacing1.com
Quotes
JOSEF NEWGARDEN (No. 2 Fitzgerald Team Penske Chevrolet): "I knew we were sitting pretty good. I thought we pitted right at the right point. We had at a great car. I could get through traffic. Everything was clicking and we were just kind of cruising there until that final pit stop. I think what really put a knife in us was the caution that came out. We still had another four or five laps of fuel, so we could have dictated when we pitted. When we did pit for the caution, it wasn't time – the track wasn't quite there. We probably needed two or three laps on the dry (tires). When I came in I was screaming to stay on red (Firestone alternate) tires. I really thought (the track) wasn't ready yet, and I didn't want to go to rain tires and that was probably a mistake. I should have said, 'Go to rains.' If we would have gone to rains, we would have been in the catbird seat still coming out first. Just a calamity of errors there at the end put a couple nails in our coffin."
HELIO CASTRONEVES (No. 3 Pennzoil Team Penske Chevrolet): "Man, it was fun to get back out there in the Pennzoil Chevrolet. Like all of our teammates, we struggled with the speed in the dry conditions, so we were hoping for some rain to see if that could jumble the strategies up. Our Pennzoil Chevy was better, for sure, and we were able to avoid some trouble and make up some track position. Unfortunately, we just had some issues coming out of the pits on the wets (Firestone rain tires) and stalled the car. But we got some laps in – some reps – and we are ready for the big race in a couple of weeks. That is what we are here for. And congrats to Simon (Pagenaud). What a drive there at the end and what a win. Great to see him back in Victory Lane."
MATHEUS LEIST (No. 4 ABC Supply AJ Foyt Racing Chevrolet): "Just finished our best result here in (the NTT IndyCar Series). It's an awesome place to have my best finish and if you go back to 2017, here is where I had my first best finish in Indy Lights too, so I think this place likes me at the same time that I like it, so let's try to keep the momentum going now for the Indianapolis 500. And about the race, it was just another tough one. We started from 21st and it had been a pretty tough weekend here until the race. But the good thing about this team is that we never gave up and we always kept going, we always kept working hard and trying to improve as much as we could. Today before the race I was like 'Man, today I want the rain to come so we might have a shot here.' I was probably the only one on the team who wanted it to rain, and when it started raining and I was restarting the race in P4 I knew we had a shot. I knew we could stay there and finish up there and that's exactly what happened. Just so glad for the team, for all the ABC Supply No. 4 Chevrolet crew – they did an amazing job in the pits and they all deserve it, and also for A.J. We've been together a year and a half now pretty much and I am always looking forward for these kind of results. That's where we belong and where we want to be. So let's try to keep the momentum going and have a good one in the 500 too."
JAMES HINCHCLIFFE (No. 5 Arrow Schmidt Peterson Motorsports Honda): "Such a rollercoaster of a day with getting that (drive-through) penalty, making our way back up to the top five and settling into a good strategy to keep us in the top 10, to making a mistake which lost us three positions on the last lap. I'm really frustrated with myself and for the Arrow guys. Our finish certainly doesn't paint the best picture of what we could have done today. We have to swallow this one and move on, because next week is a whole other ball game. Happy for (teammate) Jack (Harvey) and those guys on their first podium."
MARCUS ERICSSON (No. 7 Arrow Schmidt Peterson Motorsports Honda): "We were struggling a bit to get close on the straights, so we were trying to get as close as possible through (Turn) 14, and I think I just got a bit too close and lost a bit of front downforce, understeer then snapped into oversteer and I just couldn't catch it. I think yesterday was a very positive day for the Arrow crew, and obviously, we need to put this behind us, but we'll take those positives from yesterday with us for next week. Very happy for (teammate) Jack (Harvey) on his first podium; great work by the entire MSR/Arrow SPM crews and hopefully, we can see a bit more of that for the entire team this month."
SCOTT DIXON (No. 9 PNC Bank Chip Ganassi Racing Honda): "It was tough. I knew kind of from the get-go that I was going to be struggling with the front end, and I don't know why it was balanced that way, but it just felt like I needed about six turns of front wing. I thought we could maybe hold the gap, but the harder I pushed the worse it got and just blistered the front tires off the car. You know, all in all, a solid effort. It was a tricky race. It sucks to obviously lead that many laps and come up short, but again, congrats to Simon (Pagenaud), he drove a hell of a race and it's nice to see him back in Victory Lane."

FELIX ROSENQVIST (No. 10 NTT DATA Chip Ganassi Racing Honda) : "It was a tough race, with a lot of things happening. It was kind of bad timing on some things, we had some bad luck and we had some errors here and there. I think the main point for us was we were still having issues with degradation in the front on red (Firestone alternate) tires mainly. We just dropped massively and we had to go short on the second stint on reds. That just set us up badly for the rest of the race. I don't know why it's happening, but it's something we are looking into. I feel like we should have been up in the front and somehow we couldn't do that today. I did everything I could, but it didn't work out in the No. 10 car. We came out toward the back on the wet tires, and I think we managed to get four or five guys in the end and ended up P8. It was a good salvage of points and we managed to recover a lot. At the end of the day, we can be happy with that, but overall I'm very disappointed and I felt like we gave away something, which was likely a podium today for the NTT DATA car."
WILL POWER (No. 12 Verizon 5G Team Penske Chevrolet): "I don't really know what our biggest issues were today. The strategy call the guys made was the right one to get us the track position that we lost. We were reasonable in the wet, but in the dry we just weren't good, then I made a mistake. It was just a rough day, but great for Simon (Pagenaud). It's funny that only me and Simon have won this race. He won again. I was stoked when I saw him win the race. Congrats to him, he really needed that. But it was a great day for us. I'm really happy with seventh considering how much we struggled in the dry."
TONY KANAAN (No. 14 ABC Supply AJ Foyt Racing Chevrolet): "We decided we were going to split strategy between the No. 4 and the No. 14 car, and the No. 4 car got it right. We got our first top-five finish of the year and I'm extremely happy for Matheus (Leist). Our day after that we just started to try different things as far as strategy to see if we could go back to the front, but it didn't work. I'm happy for the team."
GRAHAM RAHAL (No. 15 Mi-Jack Honda): "We got lucky a little bit with that strategy, we should have pitted with everyone; we didn't. That kind of worked out because then everybody had to pit again to go to rain tires. To be honest, it seemed like in the rain I couldn't get the front tires to work at all. The car was extremely pushy and that's why I couldn't hold those guys off (at the end). The left front tire was completely grained. I think we did the best that we could all things considered. Do we want better? Yeah. But it's kind of what we had today."
SEBASTIEN BOURDAIS (No. 18 GEICO Honda): "The GEICO crew did a great job in the pits and I think we should have finished in the top five, but we ended up 11th. It was a really tough race. Most of it under a light drizzle, which was tricky. Then, it really started to rain. I made a couple of mistakes and I benefitted from a couple of mistakes from the other guys. The car still had too much understeer and it ultimately wasn't the fastest car, but toward the end of the stints, I felt we were better than most. We were on the right strategy…red (Firestone alternate tires), red, red…then we went with the blacks (Firestone primary tires), which turned out to be the wrong decision. So now it's on to the Indy 500."
SANTINO FERRUCCI (No. 19 Cly-Del Manufacturing Honda): "I can't complain with a 10th-place finish today. Our engineers did a solid job. We had a heck of a race car. We were so fast on the Firestone reds (alternate tires), especially the sticker reds right before it started to rain. We had the grip, we were hooked up. Then the heavier rain came and we put the rain tires on. I don't have any experience in this car in the rain, so it took me a little while to figure out how to drive it. By that point, it was a little too late, but we held off our teammate. He gave us a good run for our money and I'm happy to bring our No. 19 Cly-Del Manufacturing Honda home in tenth."
ED JONES (No. 20 Preferred Freezer Services Scuderia Corsa Chevrolet): "We didn't know when to expect the rain, so we didn't want to pit at the wrong time. It wasn't too bad when the rain was lighter as the cars on track help to dry it. The yellow at the end made it interesting, but everyone was already on the same strategy. It was quite a good weekend as it was the first solid race we've had this year. It feels good to have this result going into the Indy 500. Now we get to focus on the oval. I'm excited to see the red and white car on track."

SPENCER PIGOT (No. 21 Ed Carpenter Racing Chevrolet): "It was a really tricky race that threw everything at us. I had a lot of fun as I was able to pass a lot of guys in the dry and I thought our pace was really strong. The rain was teasing us the whole race. The team made a great call to go on the wets (tires) when we did as we were able to jump a handful of cars. I'm happy with fifth and it was a good, strong finish for me. Ed Carpenter Racing has done a great job and I want to thank ECR, Autogeek and Chevy for all their hard work."

SIMON PAGENAUD (No. 22 Menards Team Penske Chevrolet): (About how he chased down Scott Dixon for the win): "Just to backtrack a little bit, the car was just amazing all day. It was really weird, at times I thought people were saving fuel and they weren't saving fuel, so I didn't understand why we had so much pace at times. And then when it started raining, obviously, had no knowledge of the track, no knowledge of our setup in the rain. I thought, 'OK, the sports cars have been racing a lot in the rain.' A lot of racing in the rain, so I thought, 'I'm just going to attack right away and see,' and right away I noticed our car was much better now that it's on the braking, so I could really attack and get the tires hot quickly and that's how I jumped a lot of people right away, and then I gained confidence. Then, I noticed that other people were struggling with tire wear and we didn't. So then I kept on pushing, but was still trying to keep the tires underneath me. It was just incredible to see the pace we had in the rain conditions. I took a lot of risks for sure, maybe more than (Scott) Dixon needed to take some risk because we were in a position where I can take some risks right now, and the car was so good that I just gave it 100 percent, 100 percent every lap. Honestly, in the last two laps to go, I almost started out saving second, and then all of a sudden I realized, 'Wait, I've got too much pace for this.' We caught Scott by a lot – and I guess you call it the penultimate lap, the one before the last – and I realized that I had a shot, but I was out of push-to-pass, so my only chance was to get him on the infield. But quite frankly, none of the passes I made today I planned. I just drove with full instinct mode, and it worked out."
ZACH VEACH (No. 26 Gainbridge Honda): "It was a bit of a hard-earned 12th to be honest. The whole team suffered in qualifying, so starting 20th didn't help us. We got hit on the start and fell back to 24th, and from that point on it was just trying to get every car in front of us that we could. We took a gamble once the rain started to come and I chose to go out with reds (Firestone alternate tires) instead of wets, and that was a mistake. If we would have asked for the (Firestone rain tires), everyone that did come in for wets at that point ended up in the top five. I feel like that was a missed opportunity, but I think we were one of the fastest cars in the wet conditions. So that is a positive to take from today and it's nice to have some sort of good momentum to head into the Indy 500."
ALEXANDER ROSSI (No. 27 NAPA AUTO PARTS Honda): "The race was over before it began – we got hit from behind before the green flag even flew. We went four laps down to fix the suspension, and from there, we were just hoping that cars would fall out, and unfortunately, no one really did and we ended up 22nd. I guess one consolation we can take is we finally had a fast car. I think we were top three to four in the dry and the quickest car in the wet. Today was just a day of 'what could have been.'"
RYAN HUNTER-REAY (No. 28 DHL Honda): "We started on a tire strategy that was counting on it not raining and that ended up backfiring a bit. We were OK to start, put on Firestone reds (alternate tires) and then got taken out by (James) Hinchcliffe in Turn 1 of the restart. From there it was a long, lonely day of grasping for straws and trying to make the most of it. We fought our way back to the lead lap – moved from 20th to 17th in the end, but it was a day to forget and a day to move on from."
TAKUMA SATO (No. 30 Mi-Jack/Panasonic Honda): "Obviously, it was tough conditions for everyone, but I don't think we did a great job today. We missed a lot of opportunities, but with that it was so tough to keep it on the track. It's a shame. It was just a disappointing finish today."
PATRICIO O'WARD (No. 31 Carlin Chevrolet): "This has just been a really tough weekend. We had issues yesterday and again this morning, but I feel like we ultimately ran a really good race up until the rain started coming down. We made a mistake on (which) tire to be on and it was like driving on ice. We lost all of the track position that we had made up during the race coming up from 19th to consistently run in the top five. Considering where we started and a mishap on the start, we had made up a ton of ground. Regardless of how the race ended, I think we should be very pleased with how we ran and our overall pace. In the end, we just made a mistake."
MAX CHILTON (No. 59 Gallagher Carlin Chevrolet): "These types of races are always such a toss-up, and honestly, we were a few small calls away from having a very good day today. We had a pit stop issue at one point getting the No. 59 Gallagher Carlin Chevrolet into gear and a couple of little electrical issues we were trying to work through, but I know we were quicker than (Matheus) Leist all race and he came away with a fourth-place finish. It really was just one of those races that could've gone either way and unfortunately it didn't go our way today."
JACK HARVEY (No. 60 AutoNation/Sirius XM Honda): "I will remember this day for a long time. It was just so awesome that we finally got this podium. I feel like we've been right on the edge of having something like this for a while. I absolutely love this place. It was kind to me in the past. Great race today in the wet and the dry. Hopefully, it's just the first of many for this Meyer Shank Racing team. I think we had great pace in the dry. When it really was raining, we struggled a bit, but then when it dried up, it seemed liked Scott (Dixon) came back to us there. It's such a great day for the whole team. People forget, we are a part-time program, so podiums like this are massive."
COLTON HERTA (No. 88 Harding Steinbrenner Racing Honda): "Today was another disappointing day on the racetrack. The No. 88 GESS International guys can keep their heads up high because it wasn't anyone's fault. The guys worked flawlessly all weekend again and provided me a great car for the INDYCAR Grand Prix. I'm tired of not finishing a race, so hopefully, we get a good finish for the Indianapolis 500 at the end of the month."
MARCO ANDRETTI (No. 98 U.S. Concrete / Curb Honda): "It was just one of those 'hang in there' type of races. The U.S. Concrete / Curb guys did a good job in the pits. We seemed to be on the right tires at the right time for the conditions and maximized what we were dealt. We can't keep qualifying where we've been. We advanced 10 positions, but that is still not a great result in the end."
Results
| | | | | | | | | | | |
| --- | --- | --- | --- | --- | --- | --- | --- | --- | --- | --- |
| Pos | No | Name | Laps | Diff | Gap | Led | ST | Engine | Points | Team |
| 1 | 22 | Simon Pagenaud | 85 | 0.0000 | 0.0000 | 5 | 8 | Chevy | 138 | Team Penske |
| 2 | 9 | Scott Dixon | 85 | 2.0469 | 2.0469 | 39 | 2 | Honda | 176 | Chip Ganassi Racing Teams |
| 3 | 60 | Jack Harvey | 85 | 3.7683 | 1.7214 | 0 | 3 | Honda | 100 | Meyer Shank Racing with Arrow SPM |
| 4 | 4 | Matheus Leist | 85 | 5.4378 | 1.6695 | 0 | 21 | Chevy | 78 | AJ Foyt Enterprises |
| 5 | 21 | Spencer Pigot | 85 | 6.0938 | 0.6560 | 0 | 12 | Chevy | 93 | Ed Carpenter Racing |
| 6 | 20 | Ed Jones | 85 | 7.1027 | 1.0089 | 0 | 5 | Chevy | 78 | Ed Carpenter Racing |
| 7 | 12 | Will Power | 85 | 7.5853 | 0.4826 | 0 | 6 | Chevy | 119 | Team Penske |
| 8 | 10 | Felix Rosenqvist | 85 | 8.7080 | 1.1227 | 15 | 1 | Honda | 106 | Chip Ganassi Racing Teams |
| 9 | 15 | Graham Rahal | 85 | 9.1802 | 0.4722 | 4 | 7 | Honda | 113 | Rahal Letterman Lanigan Racing |
| 10 | 19 | Santino Ferrucci | 85 | 12.7201 | 3.5399 | 0 | 14 | Honda | 76 | Dale Coyne Racing |
| 11 | 18 | Sebastien Bourdais | 85 | 16.6131 | 3.8930 | 2 | 10 | Honda | 111 | Dale Coyne Racing w/Vasser-Sullivan |
| 12 | 26 | Zach Veach | 85 | 19.6145 | 3.0014 | 0 | 20 | Honda | 73 | Andretti Autosport |
| 13 | 98 | Marco Andretti | 85 | 26.9994 | 7.3849 | 0 | 23 | Honda | 95 | Andretti Herta Autosport w/Curb-Agaj |
| 14 | 30 | Takuma Sato | 85 | 28.0345 | 1.0351 | 0 | 11 | Honda | 132 | Rahal Letterman Lanigan Racing |
| 15 | 2 | Josef Newgarden | 85 | 28.4598 | 0.4253 | 20 | 13 | Chevy | 182 | Team Penske |
| 16 | 5 | James Hinchcliffe | 85 | 28.6403 | 0.1805 | 0 | 18 | Honda | 107 | Arrow Schmidt Peterson Motorsports |
| 17 | 28 | Ryan Hunter-Reay | 85 | 29.1217 | 0.4814 | 0 | 16 | Honda | 109 | Andretti Autosport |
| 18 | 59 | Max Chilton | 85 | 32.0458 | 2.9241 | 0 | 22 | Chevy | 59 | Carlin |
| 19 | 31 | Patricio O'Ward | 85 | 72.0400 | 39.9942 | 0 | 19 | Chevy | 67 | Carlin |
| 20 | 14 | Tony Kanaan | 83 | 2 LAPS | 1 LAPS | 0 | 24 | Chevy | 66 | AJ Foyt Enterprises |
| 21 | 3 | Helio Castroneves | 83 | 2 LAPS | 3.8936 | 0 | 15 | Chevy | 9 | Team Penske |
| 22 | 27 | Alexander Rossi | 81 | 4 LAPS | 1 LAPS | 0 | 17 | Honda | 146 | Andretti Autosport |
| 23 | 88 | Colton Herta | 15 | 61 LAPS | 56 LAPS | 0 | 4 | Honda | 95 | Harding Steinbrenner Racing |
| 24 | 7 | Marcus Ericsson | 11 | 65 LAPS | 4 LAPS | 0 | 9 | Honda | 67 | Arrow Schmidt Peterson Motorsport |
Winner's average speed: 103.254 mph
Time of Race: 2:00:28.1166
Margin of victory: 2.0469 seconds
Cautions: 3 for 15 laps
Lead changes: 10 among 6 drivers
Lap Leaders:
Rosenqvist, Felix 1 – 15
Dixon, Scott 16 – 26
Rahal, Graham 27
Newgarden, Josef 28 – 39
Dixon, Scott 40 – 46
Rahal, Graham 47 – 49
Bourdais, Sebastien 50 – 51
Newgarden, Josef 52 – 59
Pagenaud, Simon 60 – 62
Dixon, Scott 63 – 83
Pagenaud, Simon 84 – 85
NTT IndyCar Series point standings: Newgarden 182, Dixon 176, Rossi 146, Pagenaud 138, Sato 132, Power 119, Rahal 113, Bourdais 111, Hunter-Reay 109, Hinchcliffe 107.