Weekend TV Schedule (Update)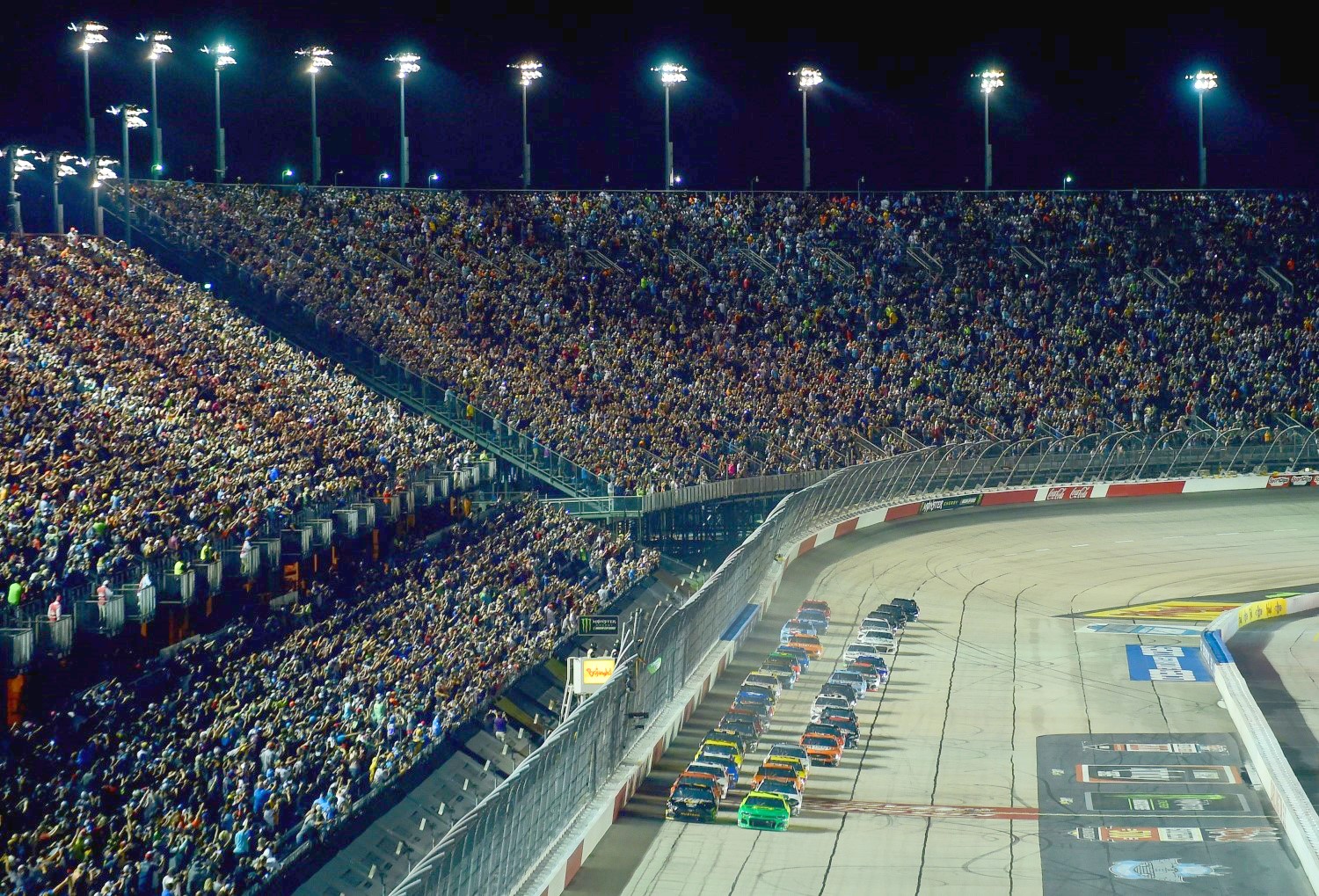 Will Wednesday nights race rain out?
UPDATE NASCAR has moved the start time for Wednesday's Cup race at Darlington Raceway to 6 p.m. ET because of forecasted rain.
The race was to have started at 8 p.m. ET. The race will air on FS1.
The forecast for the start of Wednesday's race calls for thunderstorms with a high of 72 degrees and a 90% chance of rain.
05/19/20 All times Eastern
| | | | |
| --- | --- | --- | --- |
| Wednesday, May 20, 2020 | Location | TV Times | Network |
| NASCAR XFINITY Series | Darlington | 1:30pm – 3:30pm | FS2 |
| NASCAR:1994: Coca-Cola 600 | Charlotte | 4:00pm – 4:30pm | FS1 |
| NASCAR XFINITY Series | Darlington | 4:30pm – 6:30pm | FS1 |
| Dale Jr. Download | Studio | 4:00pm – 5:00pm | NBCSN |
| NASCAR Race Hub | Studio | 5:00pm – 6:00pm | FS1 |
| NASCAR Cup Series | Darlington | 6:00pm – 9:00pm (Live) | FS1 |
| NASCAR Cup Series | Darlington | 9:00pm – 12:00am | FS1 |
| Thursday, May 21, 2020 | Location | TV Times | Network |
| NASCAR Cup Series | Darlington | 10:00am – 1:00pm | FS2 |
| The Story of Formula E | Studio | 5:30pm – 6:00pm | FS2 |
| NASCAR Race Hub | Studio | 6:00pm – 7:00pm | FS1 |
| NASCAR:1994: Coca-Cola 600 | Charlotte | 7:00pm – 7:30pm | FS1 |
| Friday, May 22, 2020 | Location | TV Times | Network |
| NASCAR XFINITY Series | Darlington | 5:30pm – 7:00pm | FS2 |
| NASCAR Cup Series | Darlington | 7:30pm – 10:30pm | FS2 |
| NASCAR:2012 | Darlington | 10:30pm – 1:30am | FS2 |
| Saturday, May 23, 2020 | Location | TV Times | Network |
| NASCAR:1994: Coca-Cola 600 | Charlotte | 7:30am – 8:00am | FS1 |
| NASCAR Cup Series | Darlington | 8:00am – 11:00am | FS1 |
| Formula E Race at Home Series | | 11:00am – 12:00pm | FS1 |
| Motoamerica Superbike Season Preview | Studio | 7:00pm – 8:00pm (New) | FS2 |
| Formula E Race at Home Series | | 8:00pm – 9:00pm | FS2 |
| The Story of Formula E | Studio | 9:00pm – 10:00 | FS2 |
| NHRA Arizona Nationals | Las Vegas | 10:00pm – 11:00pm | FS2 |
| Sunday, May 24, 2020 | Location | TV Times | Network |
| 2018 Monaco Grand Prix | Monaco | 6:00 a.m. – 8:00am | ESPN2 |
| NASCAR:2005: Charlotte | Charlotte | 8:00am – 11:00am | FS1 |
| 2019 Monaco Grand Prix | Monaco | 8:30 a.m. – 10:30 am | ESPN2 |
| F2 Virtual Racing – Monaco (Live) | Monaco | 11:00 a.m. – Noon | ESPN2 |
| NASCAR:2011: Charlotte | Charlotte | 11:00am – 2:00pm | FS1 |
| F1 Esports Monaco Pro Exhibition (Live) | Monaco | Noon – 1:00pm | ESPN2 |
| F1 Esports Virtual Monaco GP (Live) | Monaco | 1:00 p.m. – 2:00 pm | ESPN2 |
| 2019 Indianapolis 500 Back Home Again | Indianapolis | 2:00pm – 5:30pm | NBC |
| NASCAR Cup Series:Charlotte Qualifying | Charlotte | 2:00pm – 3:00pm (Live) | FS1 |
| F1 Esports Virtual Spanish GP (encore) | Barcelona | 2:30 p.m. – 3:30 pm | ESPN2 |
| 100,000 Cameras: The Return of NASCAR | Studio | 3:00pm – 3:30pm (New) | FS1 |
| 2006 Indianapolis 500 | Indianapolis | 3 p.m. – 5:00pm | ESPN2 |
| Formula E Race at Home Series | | 3:30pm – 4:30pm | FS2 |
| 2011 Indianapolis 500 | Indianapolis | 5:00p.m. – 7:00 pm | ESPN2 |
| NASCAR Cup Coca Cola 600 | Charlotte | 6:00pm – 10:30pm (Live) | FOX |
| 2014 Indianapolis 500 | Indianapolis | 7:00p.m. – 9:00 pm | ESPN2 |