Perfect one-two virtual finish for Repsol Honda Team in Misano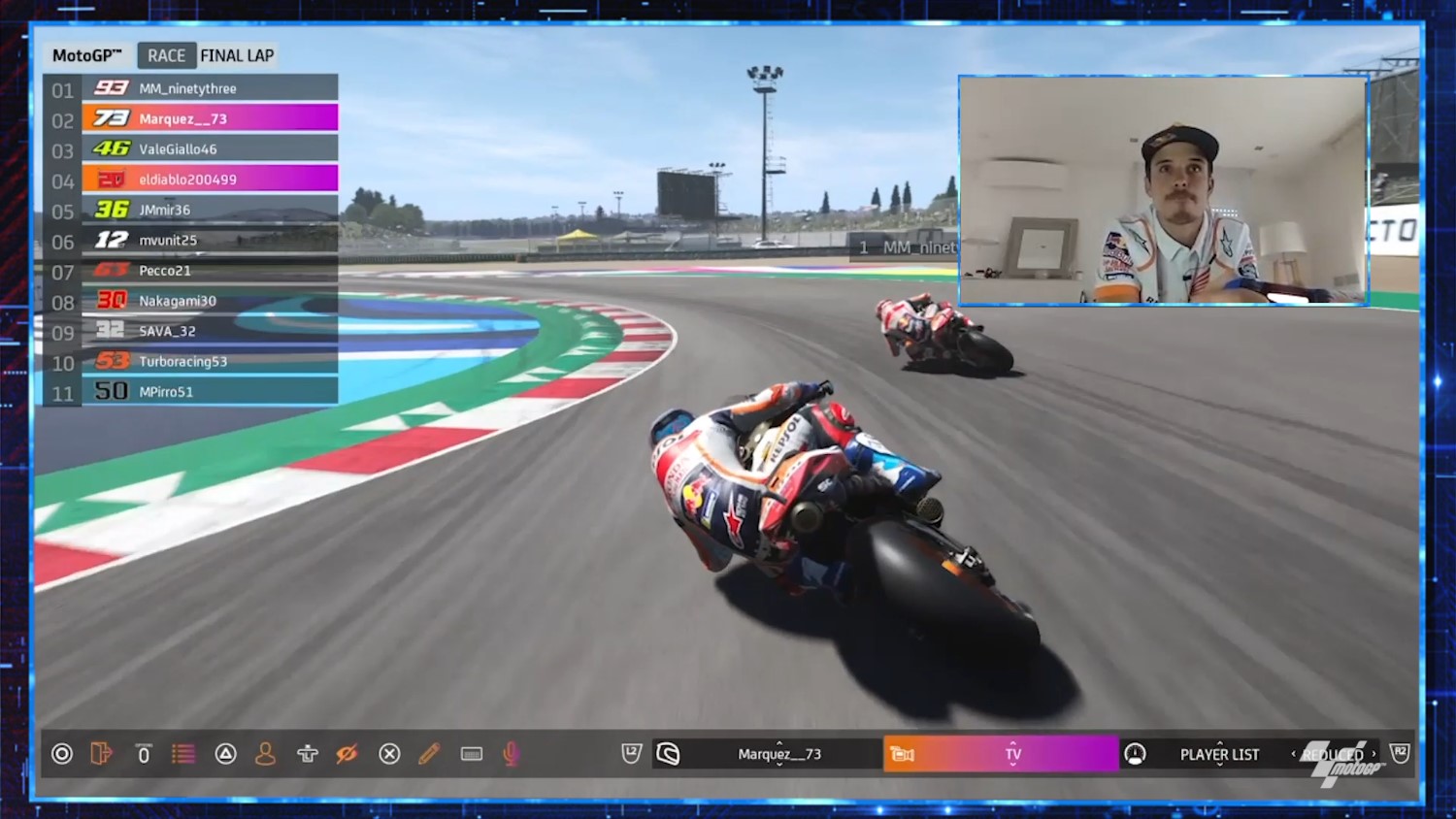 Marc chases brother Alex Marquez
Alex Marquez returned to winning ways with a masterful display in San Marino as Marc Marquez scored his first virtual podium with a scintillating second.
With the times in Qualifying as close as ever, the fourth virtual race of 2020 looked set to be another closer fought affair with many of the regulars back at the front. As the lights went out, it was Alex Marquez who got the jump into Turn One from second on the grid aboard his Repsol Honda Team RC213V with World Champion Marc Marquez close behind.
The early laps saw Alex fighting with Quartararo and briefly Bagnaia, two of Alex's consistent rivals for the podium. Bagnaia's challenge faded early and soon the 2019 Moto2 World Champion was left with just Quartararo to battle him. Expert defending kept the French rider behind until the closing moments when the pair collided and handed the lead to Marc on the second Repsol Honda Team machine. A hard fight erupted over the final lap between Alex and Marc, but it would be Alex Marquez who took the win in a thrilling last corner battle, earning his second victory of the virtual season in fine style. 25 points for the win moves him to the head of the championship table with a total of 86 points.
Marc Marquez got off to a similarly strong start on the RC213V and remained just off the back of the riders fighting for victory. Saving his tires, the eight-time World Champion attacked in the closing stages to fight with his new team-mate after a crash between the riders fighting for victory. Making his move on the brakes, Marc seemed to have the advantage but narrowly missed out in the drag to the line. The second-place finish is Marc's first virtual podium and sees the Repsol Honda Team become the first team to finish one-two in the virtual series.
Quotes
Alex Marquez 73 1ST
"I'm so happy with this win. It wasn't easy as all race I was watching for Fabio behind, we crashed and then when Marc came at the end, I really had to push. I knew a little bit from playing with him in the past what he would try so I focused on the corner exit, I knew he'd be strong on the brakes. It has been great to put on another show for the fans and I think this was one of the best races yet. Thanks everyone for watching!"
Marc Marquez 93 2ND
"Finally we finished on the podium! It was a really good race and the Misano circuit suited my virtual style a little more. I pushed very hard in the last laps to try and beat Alex but he was just able to get a small advantage. Congratulations to him, it was nice to battle on track. Now we'll have a big party! First and second is a great result for us and the team."
Misano Virtual GP
| | | | | | | | |
| --- | --- | --- | --- | --- | --- | --- | --- |
| Pos. | Rider | Num | Nat | Pts | Team | Make | Time/Gap |
| 1 | MARQUEZ Alex | 73 | SPA | 25 | Repsol Honda Team | Honda | 13'30.548 |
| 2 | MARQUEZ Marc | 93 | SPA | 20 | Repsol Honda Team | Honda | 0.725s |
| 3 | ROSSI Valentino | 46 | ITA | 16 | Monster Energy Yamaha MotoGP | Yamaha | 4.687 |
| 4 | QUARTARARO Fabio | 20 | FRA | 13 | Petronas Yamaha SRT | Yamaha | 4.950 |
| 5 | MIR Joan | 36 | SPA | 11 | Team Suzuki Ecstar | Suzuki | 13.747 |
| 6 | VINALES Maverick | 12 | SPA | 10 | Monster Energy Yamaha MotoGP | Yamaha | 14.313 |
| 7 | BAGNAIA Francesco | 63 | ITA | 9 | Pramac Racing | Ducati | 19.335 |
| 8 | NAKAGAMI Takaaki | 30 | JPN | 8 | LCR Honda | Honda | 23.514 |
| 9 | SAVADORI Lorenzo | 32 | ITA | 7 | Aprilia Racing Team Gresini | Aprilia | 25.417 |
| 10 | RABAT Tito | 53 | SPA | 6 | Reale Avintia Racing | Ducati | 31.909 |
| 11 | PIRRO Michele | 51 | ITA | 5 | Ducati Team | Ducati | 48.450 |
Rider Standings
| | | | | | | |
| --- | --- | --- | --- | --- | --- | --- |
| Pos. | Rider | Num | Nat | Pts | Team | Make |
| 1 | MARQUEZ Alex | 73 | SPA | 86 | Repsol Honda Team | Honda |
| 2 | VINALES Maverick | 12 | SPA | 71 | Monster Energy Yamaha MotoGP | Yamaha |
| 3 | BAGNAIA Francesco | 63 | ITA | 70 | Pramac Racing | Ducati |
| 4 | MARQUEZ Marc | 93 | SPA | 57 | Repsol Honda Team | Honda |
| 5 | QUARTARARO Fabio | 20 | FRA | 45 | Petronas Yamaha SRT | Yamaha |
| 6 | ROSSI Valentino | 46 | ITA | 25 | Monster Energy Yamaha MotoGP | Yamaha |
| 7 | RINS Alex | 42 | SPA | 21 | Team Suzuki Ecstar | Suzuki |
| 8 | MIR Joan | 36 | SPA | 20 | Team Suzuki Ecstar | Suzuki |
| 9 | PETRUCCI Danilo | 9 | ITA | 20 | Ducati Team | Ducati |
| 10 | OLIVEIRA Miguel | 88 | POR | 17 | Red Bull KTM Tech 3 | KTM |
| 11 | RABAT Tito | 53 | SPA | 17 | Reale Avintia Racing | Ducati |
| 12 | NAKAGAMI Takaaki | 30 | JPN | 16 | LCR Honda | Honda |
| 13 | LECOUNA Iker | 27 | SPA | 14 | Red Bull KTM Tech 3 | KTM |
| 14 | SAVADORI Lorenzo | 32 | ITA | 13 | Aprilia Racing Team Gresini | Aprilia |
| 15 | PIRRO Michele | 51 | ITA | 12 | Ducati Team | Ducati |
| 16 | ESPARGARO Aleix | 41 | SPA | 6 | Aprilia Racing Team Gresini | Aprilia |