Nick Tandy scores victory for Porsche at the virtual Road America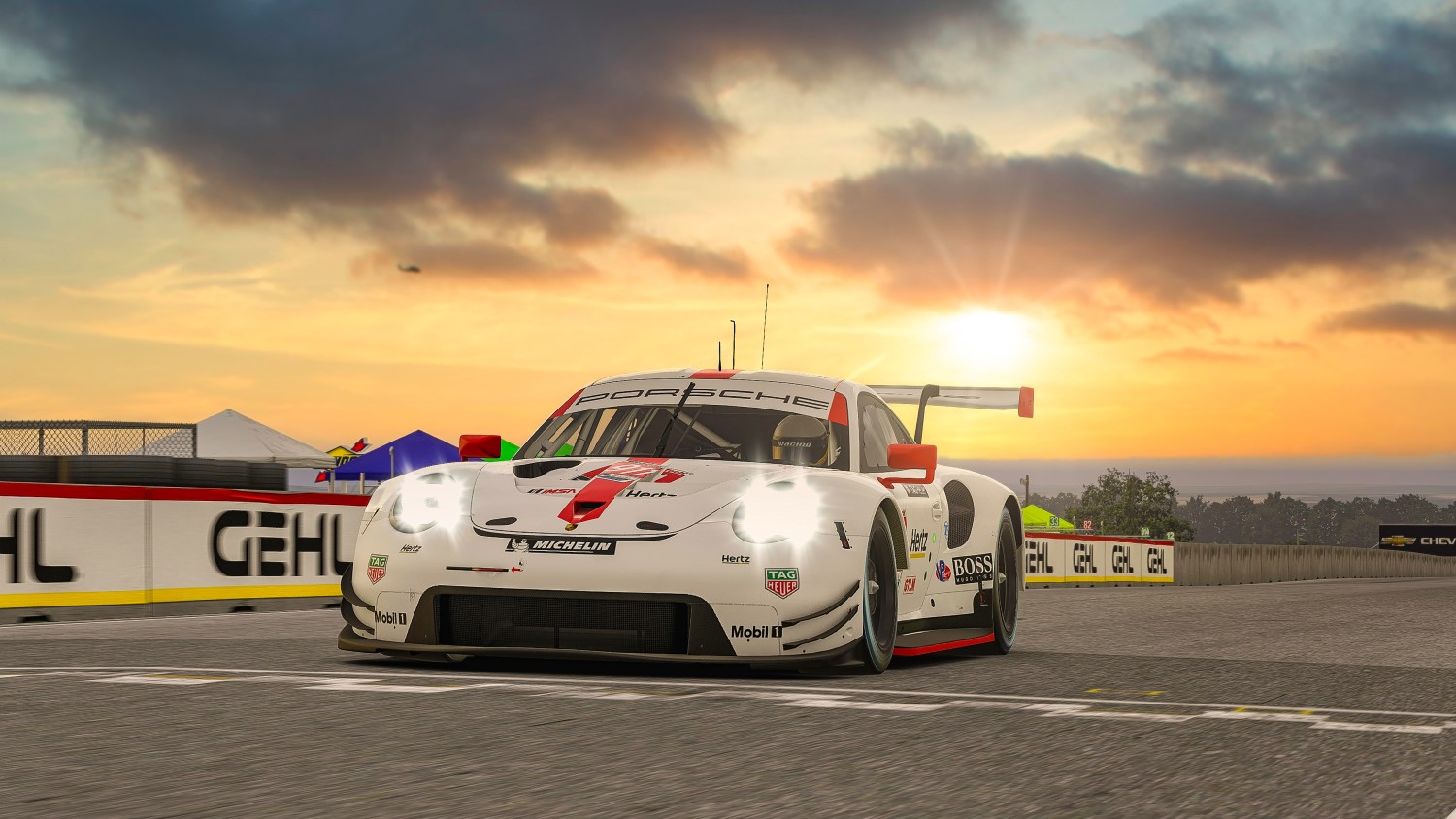 Nick Tandy
Porsche works driver Nick Tandy has won round four of the IMSA iRacing Pro Series in Elkhart Lake (USA).
The experienced British racing driver put in an inspired performance at the wheel of his virtual No. 911 Porsche 911 RSR to cross the finish line at Road America with a lead of 2.845 seconds. During the 90-minute race on the iRacing online racing simulation platform, Tandy kept out of trouble in the tight and at times turbulent race to notch up the maiden victory for Porsche in the digital IMSA racing series. In the lead-up to the race, Tandy had garnered valuable tips from Joshua Rogers (Australia), the reigning champion of the Porsche TAG Heuer Esports Supercup.
Porsche Junior Ayhancan Güven, however, was struck by major misfortune. After putting in a strong drive, the young junior driver from Turkey was running second behind his Porsche colleague Tandy. With around 19 minutes on the clock, his No. 913 Porsche 911 RSR sustained significant damages after making contact with a backmarker. Guven, who underlined his great skill as a sim racer by turning the fastest race lap by a convincing margin, was unable to continue.
One of the most impressive performances came from the American Shinya Michimi. The seasoned online driver from Ohio concluded the race in the Porsche 911 RSR entered by Meyer Shank Racing in fourth place.
The reigning IMSA champions Laurens Vanthoor (Belgium) and Earl Bamber (New Zealand) crossed the finish line in positions 21 and 24. Canada's Robert Wickens celebrated a strong debut at the wheel of the virtual Porsche 911 RSR fielded by Pfaff Motorsports. The former DTM driver, who is fighting his way back into racing after a serious IndyCar accident, finished on 27th place.
QUOTES
Nick Tandy (Porsche 911 RSR #911): "That was great fun! If you're competitive and win, that always puts you in a good mood, of course. I'll go to bed tonight feeling very happy. I got a bit nervous during the last laps because I had a few glitches with my computer. The screen kept going blank, but it all turned out ok in the end. A huge thank you to Joshua Rogers. Our reigning champion of the Porsche TAG Heuer Esports Supercup gave me a lot of very helpful tips over the past few days. It paid off."
Results
| | | | | | | | | |
| --- | --- | --- | --- | --- | --- | --- | --- | --- |
| Pos | St | Car | Driver | Team | Vehicle | Laps | Gap | Status |
| 1 | 2 | 911 | Nick Tandy | Porsche GT Team | Porsche 911 RSR | 42 | -00.000 | Running |
| 2 | 10 | 7 | Bruno Spengler | BMW IMSA Team Red | BMW M8 GTE | 42 | -02.845 | Running |
| 3 | 11 | 26 | Philipp Eng | Team Austria | BMW M8 GTE | 42 | -13.658 | Running |
| 4 | 14 | 86 | Shinya Michimi | Meyer Shank Racing | Porsche 911 RSR | 42 | -16.892 | Running |
| 5 | 12 | 23 | John Edwards | BMW IMSA Team Black | BMW M8 GTE | 42 | -18.169 | Running |
| 6 | 4 | 80 | Kenton Koch | Kenton Koch Racing | Ford GT – 2017 | 42 | -21.942 | Running |
| 7 | 8 | 96 | Robby Foley | Turner Motorsport | BMW M8 GTE | 42 | -22.188 | Running |
| 8 | 6 | 25 | Connor De Phillippi | BMW IMSA Team Red | BMW M8 GTE | 42 | -23.067 | Running |
| 9 | 9 | 10 | Nicky Catsburg | BMW IMSA Team Black | BMW M8 GTE | 42 | -23.427 | Running |
| 10 | 30 | 60 | AJ Allmendinger | Meyer Shank Racing | Porsche 911 RSR | 42 | -24.456 | Running |
| 11 | 17 | 38 | Kyle Masson | Performance Tech | BMW M8 GTE | 42 | -27.234 | Running |
| 12 | 27 | 97 | Shane van Gisbergen | AIM Vasser Sullivan | BMW M8 GTE | 42 | -31.451 | Running |
| 13 | 16 | 55 | Harry Tincknell | Mazda Motorsports | Ford GT – 2017 | 42 | -34.701 | Running |
| 14 | 1 | 47 | Rodrigo Pflucker | Precision Performance | Ford GT – 2017 | 42 | -34.818 | Running |
| 15 | 13 | 67 | Richard Westbrook | Chip Ganassi Racing | Ford GT – 2017 | 42 | -36.946 | Running |
| 16 | 26 | 85 | Tristan Vautier | JDC-Miller MotorSports | BMW M8 GTE | 42 | -37.785 | Running |
| 17 | 25 | 70 | Daniel Morad | WRT Speedstar | Ford GT – 2017 | 42 | -38.827 | Running |
| 18 | 37 | 48 | Corey Lewis | Paul Miller Racing | BMW M8 GTE | 42 | -45.019 | Running |
| 19 | 7 | 24 | Jesse Krohn | BMW IMSA Team Black | BMW M8 GTE | 42 | -48.848 | Running |
| 20 | 5 | 11 | Richard Heistand | GRT Grasser | Ford GT – 2017 | 42 | -49.473 | Running |
| 21 | 21 | 912 | Laurens Vanthoor | Porsche GT Team | Porsche 911 RSR | 42 | -52.529 | Running |
| 22 | 41 | 79 | Roman De Angelis | Heart of Racing Team | BMW M8 GTE | 42 | -59.162 | Running |
| 23 | 36 | 57 | Misha Goikhberg | Meyer Shank Racing | Porsche 911 RSR | 42 | -1:09.491 | Running |
| 24 | 19 | 91 | Earl Bamber | Porsche GT Team | Porsche 911 RSR | 42 | -1:14.008 | Running |
| 25 | 45 | 82 | Joel Miller | Risi Competizione | Ferrari 488 GTE | 42 | -1:15.526 | Running |
| 26 | 48 | 12 | Townsend Bell | AIM Vasser Sullivan | BMW M8 GTE | 42 | -1:19.216 | Running |
| 27 | 40 | 9 | Robert Wickens | PFAFF Motorsports | Porsche 911 RSR | 42 | -1:22.785 | Running |
| 28 | 33 | 64 | Jeffrey Segal | Scuderia Corsa | Ferrari 488 GTE | 42 | -1:47.629 | Running |
| 29 | 15 | 66 | Agustin Canapino | Juncos Racing | Ferrari 488 GTE | 41 | -1 L | Running |
| 30 | 43 | 19 | Parker Chase | Vertical Bridge | Porsche 911 RSR | 41 | -1 L | Running |
| 31 | 38 | 62 | Matt Griffin | Risi Competizione | Ferrari 488 GTE | 37 | -5 L | Running |
| 32 | 39 | 53 | Riley Dickinson | Moorespeed | Porsche 911 RSR | 35 | -7 L | Running |
| 33 | 24 | 71 | Matt Bell | Rebel Rock Racing | BMW M8 GTE | 34 | -8 L | Running |
| 34 | 3 | 913 | Ayhancan Güven | Porsche Junior | Porsche 911 RSR | 33 | -9 L | Running |
| 35 | 44 | 33 | Ben Keating | Riley Motorsports | Porsche 911 RSR | 33 | -9 L | Running |
| 36 | 22 | 77 | Tristan Nunez | Mazda Motorsports | Ford GT – 2017 | 28 | -14 L | Disconnected |
| 37 | 20 | 111 | Sebastian Priaulx | Multimatic Ford | Ford GT – 2017 | 28 | -14 L | Disconnected |
| 38 | 32 | 14 | Jack Hawksworth | AIM Vasser Sullivan | BMW M8 GTE | 27 | -15 L | Running |
| 39 | 34 | 54 | Colin Braun | Era Motorsports | Ford GT – 2017 | 26 | -16 L | Disconnected |
| 40 | 29 | 888 | Mirko Bortolotti | WRT Speedstar | Ford GT – 2017 | 25 | -17 L | Disconnected |
| 41 | 35 | 31 | Felipe Nasr | Action Express Racing | BMW M8 GTE | 25 | -17 L | Disconnected |
| 42 | 23 | 3 | Jonathan Bomarito | Mazda Motorsports | Ford GT – 2017 | 23 | -19 L | Disqualified |
| 43 | 47 | 014 | Michael De Quesada | AIM Vasser Sullivan | BMW M8 GTE | 17 | -25 L | Disconnected |
| 44 | 46 | 35 | Dylan Murry | Riley Motorsports | Porsche 911 RSR | 14 | -28 L | Disqualified |
| 45 | 28 | 63 | Alessandro Balzan | Scuderia Corsa | Ferrari 488 GTE | 13 | -29 L | Disconnected |
| 46 | 18 | 22 | Filipe Albuquerque | Whelen Action Express | Ford GT – 2017 | 11 | -31 L | Disconnected |
| 47 | 31 | 140 | Aaron Telitz | AIM Vasser Sullivan | BMW M8 GTE | 2 | -40 L | Disconnected |
| 48 | 42 | 41 | Will Hardeman | Will Hardeman Racing | Ford GT – 2017 | 0 | -42 L | Disconnected |