Ferrari should enter Indycar – Andretti (2nd Update)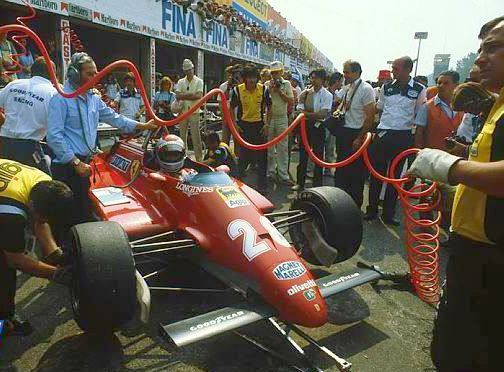 Andretti put the Ferrari on pole at Monza in 1982. The Italians cheered so loud the grandstands shook
UPDATE Mario Andretti has been successful in getting Ferrari to seriously consider IndyCar – see related rumor.
05/11/20 Bringing Formula One's Ferrari team into the IndyCar picture could be more than just fanciful pondering from Andretti with Ferrari resisting new FIA budget caps that could result in the loss of hundreds of jobs at the Maranello based operation.
Formula One teams have agreed verbally to lower the 2021 budget cap from the $175 million set in the regulations to $145 million but some are pushing for further cuts to reflect the global financial crisis caused by the COVID-19 pandemic.
Some other teams are keen on a figure closer to $100 million but Ferrari, the sport's oldest and most successful team, oppose further reductions.
Ferrari, which makes its own car and engines, has said hundreds of jobs would be at risk under a lower cap.
One possible solution could see Ferrari expanding its motor racing footprint by deploying staff elsewhere into other series such as IndyCar, Le Mans or sportscars. Steve Keating/Reuters

Andretti's first F1 win was with Ferrari in 1971 at Kyalami, South Africa
05/11/20 (GMM) Ferrari should consider entering the Indycar championship.
That is the view of Mario Andretti, a legend of both the top category of American open wheeler racing as well as Formula 1.
Recently, as talk about reducing the F1 budget cap for 2021 intensified, Ferrari boss Mattia Binotto suggested the Italian marque could consider racing elsewhere.
"Having Ferrari would be incredible," 80-year-old Andretti, whose son Michael has an Indycar team, told La Gazzetta dello Sport.
"It is clear that the rules should be changed, but I would like an all-Italian Dallara vs Ferrari battle," the 1978 world champion added. "Ferrari would increase interest in the championship, but there is an obstacle in the rules.
"I suggest Binotto comes and proposes an idea to (series owner) Roger Penske."