At least 3 more drivers to enter Indy 500 (4th Update)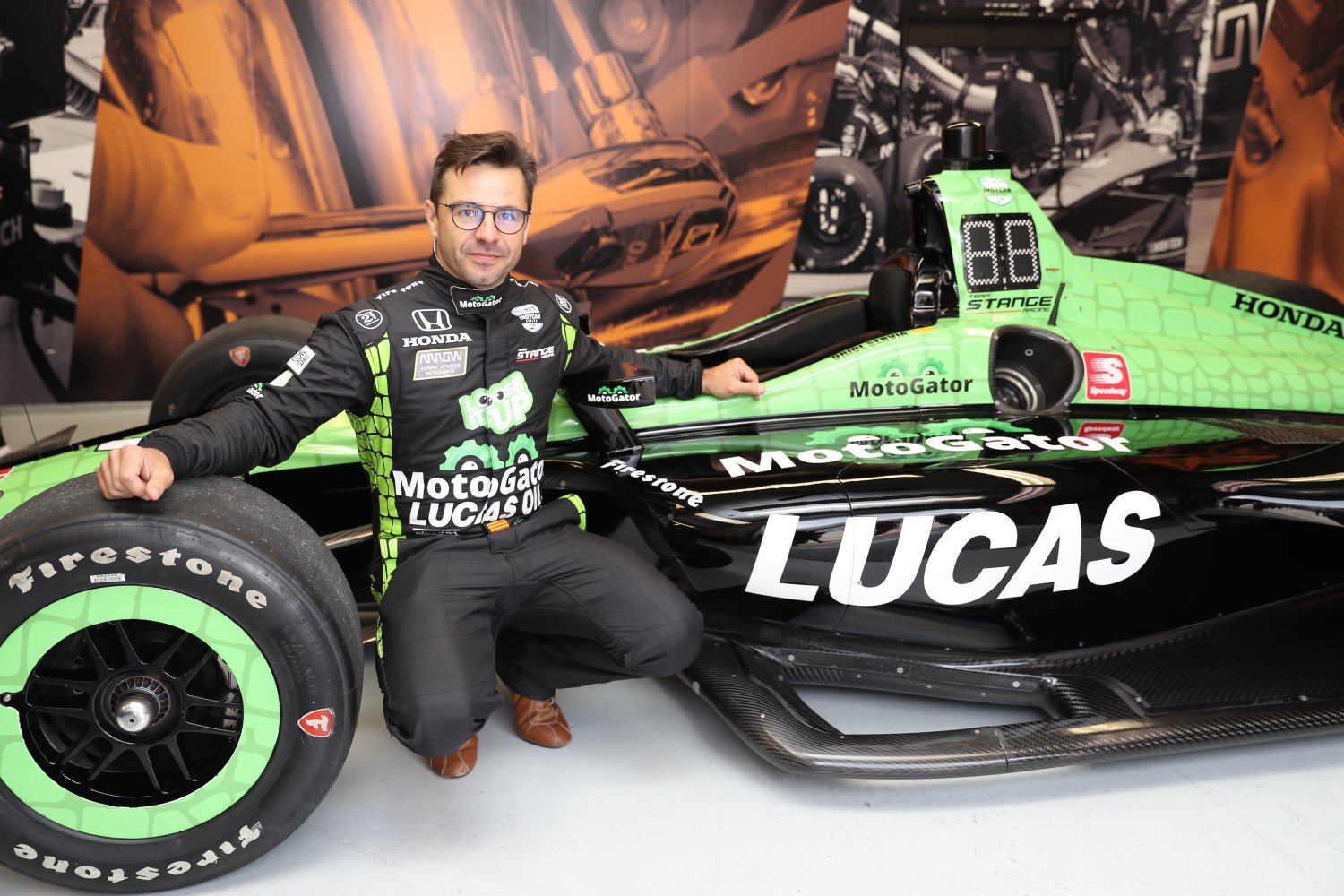 Oriol Servia finally confirmed
UPDATE We already had this rumor as 'fact' for Oriol Servia. Today it was confirmed.
Chicago-based Team Stange Racing, LLC (TSR) announces today a partnership with Arrow Schmidt Peterson Motorsports to field the No. 77 MotoGator Team Stange Racing with Arrow SPM Honda in the 103rd Running of the Indianapolis 500 with primary partner MotoGator and co-primary partner Lucas Oil. The entry will be driven by Indy 500 veteran Oriol Servia.
"I am so pleased to announce this great partnership with Arrow SPM today as Team Stange Racing makes its entry into IndyCar racing," stated John Stange, Jr., Co-Owner, Team Stange Racing, LLC. "We are so blessed to partner with a company like MotoGator who is committed to building a winning IndyCar program with TSR.
"Once we developed our plan, we knew that we wanted to launch at the world's greatest race with so much history and it being so special to me personally. The second thing to do was to partner with a quality team that we could align and grow with as we build our team to compete in the NTT IndyCar Series eventually full time in 2021/22".
Arrow Schmidt Peterson Motorsports President Jon Flack echoes Stange's excitement saying, "We couldn't be more excited about adding a pilot of Oriol's caliber to our driver lineup for the Indy 500, and it is equally satisfying to partner with TSR and welcome MotoGator to the program. This is a really big step for Team Stange Racing and MotoGator, and Arrow SPM will give it everything it has to make them proud and leave a lasting impression on the motorsport community."
Servia, a Spaniard with 10 Indianapolis 500 starts under his belt, has been competing in INDYCAR for over 15 years. The 1999 Indy Lights Champion has a best Indy 500 start of third (2011) and a best finish of fourth (2012).
"I work and prepare all year for this race, so it's kind of ironic that we are actually announcing a program this late," Servia commented. "I am proud to represent Lucas Oil again, and couldn't be more excited to introduce the world to MotoGator and Team Stange, which you will hear a lot more very soon. At last year's 500, I did perhaps the best driving I've ever done and came really close. I'm here to finish that job, and I know for a fact that everyone on this program has worked really hard preparing this event with the same aim. It may look like we are arriving almost late to the game, but we are arriving READY!"
First practice for this year's Indianapolis 500 kicks off tomorrow, May 14 with the 500-mile race being broadcast on NBC at 11:00 a.m. ET on May 26.
Oriol Servia to be confirmed soon
04/23/19 It looks like just 3 additional drivers to those previously announced as we predicted., bringing the total to 36
Oriol Servia with Schmidt Peterson In
Jay Howard with Harding Steinbrenner Out
JR Hildebrand with Dreyer Reinbold In
Carlos Munoz with Harding Steinbrenner Out
Kyle Kaiser with Juncos In
AJ Foyt Racing (Chevrolet): Tony Kanaan (17), Matheus Leist (1)
Clauson – Marshall with AJ Foyt Racing: Pippa Mann
Andretti Autosport (Honda): Conor Daly (5), Ryan Hunter-Reay (11), Alexander Rossi (3), Zach Veach (2)
Andretti Herta Autosport with Marco Andretti & Curb-Agajanian (Honda): Marco Andretti (13)
Arrow Schmidt Peterson Motorsports (Honda): Marcus Ericsson (0), James Hinchcliffe (6), Oriol Servia (10)
Carlin Motorsports (Chevrolet): Max Chilton (3), Charlie Kimball (8) Patricio O'Ward (0)
Chip Ganassi Racing (Honda): Scott Dixon (16), Felix Rosenqvist (0)
DragonSpeed: Ben Hanley (0)
Dale Coyne Racing (Honda): Santino Ferrucci (0)
Dale Coyne Racing with Vasser-Sullivan (Honda): Sebastien Bourdais (7)
Dreyer & Reinbold Racing (Chevrolet): JR Hildebrand (8) Sage Karam
Ed Carpenter Racing (Chevrolet): Ed Carpenter (15), Ed Jones (2), Spencer Pigot (3)
Harding Steinbrenner Racing (Honda): Colton Herta (0)
Dale Coyne Racing with Belardi and Byrd: James Davison
Juncos Racing: Kyle Kaiser (1)
Meyer Shank Racing with Arrow SPM (Honda): Jack Harvey (2)
McLaren Racing (Chevrolet): Fernando Alonso (1)
Rahal Letterman Lanigan Racing (Honda): Graham Rahal (11), Takuma Sato (9) Jordan King (0)
Team Penske (Chevrolet): Helio Castroneves (18), Josef Newgarden (7), Simon Pagenaud (7), Will Power (11).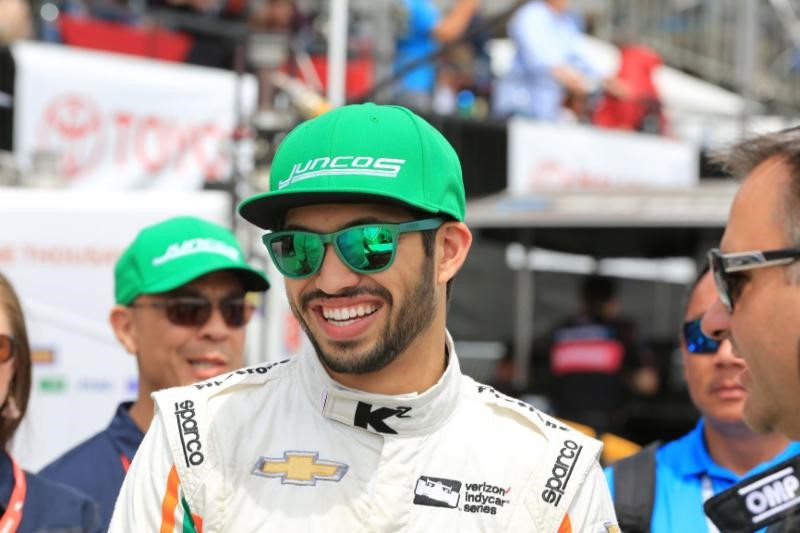 Kyle Kaiser
04/19/19 As we have projected all along, Juncos will only run one car in the Indy 500, rumored to be for Kyle Kaiser.
Juncos told Racer that IMSA is their priority. They will run only a couple of IndyCar races this year but the entire IMSA schedule.
Why? The team makes more money running in IMSA.
04/17/19 An update from what we gathered at Long Beach:
Oriol Servia with Schmidt Peterson [Very Very Strong. BTW, did you know that Servia's baby girl is now 15 months old?]
Jay Howard with Harding Steinbrenner [Unlikely, not enough money]
JR Hildebrand with Dreyer Reinbold [Strong]
Carlos Munoz with Harding Steinbrenner [Pure Speculation. George Steinbrenner IV did tell us the team would like to add a 2nd car, but time running short. The Andretti Autosport assistance to this team makes it a very valuable seat to land]
Kyle Kaiser with Juncos [Strong]
04/06/19 With the entry list stalled at 33 drivers for the 2019 Indy 500, the following drivers are rumored to soon be announced.
Oriol Servia with Schmidt Peterson [Strong]
Jay Howard with Harding Steinbrenner [Fairly Strong]
JR Hildebrand with Dreyer Reinbold [Strong]
Carlos Munoz with Harding Steinbrenner [Speculation]