If Supercars neuters Mustangs, Penske team will just unleash more power (Update)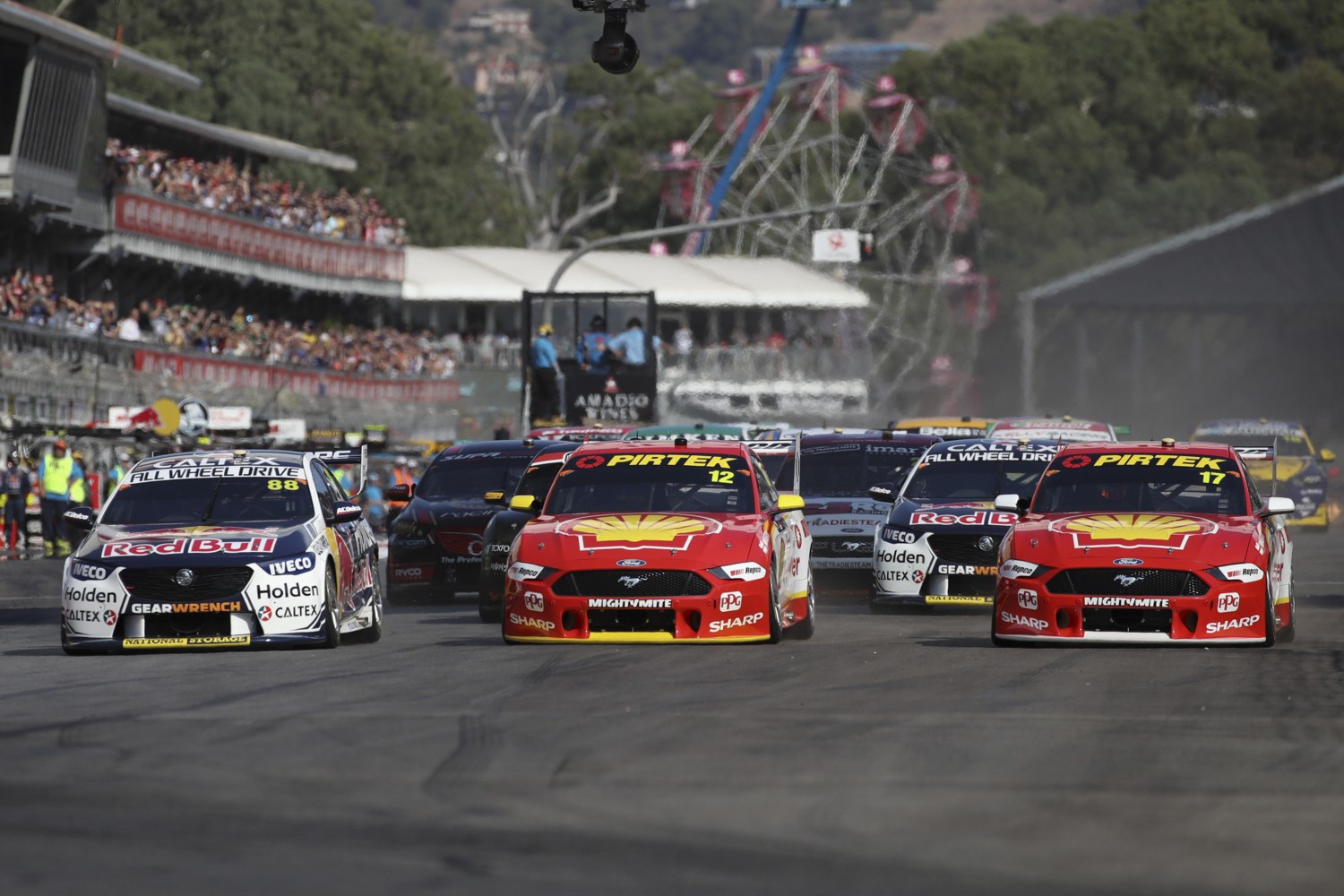 The Penske Mustangs are believed to have power to spare
UPDATE This article explains that Supercars has decided to neuter the Penske Fords. Now we will see how much spare power they have to overcome the slap on the wrist.
04/22/19 Paul Morris expects Shell V-Power Racing to have more pace up its sleeve even if the Ford Mustang Supercar's aerodynamics are hobbled somewhat.
Despite Ford teams being made to move ballast to the rooves of their cars as a center of gravity adjustment, to which Holden teams were also subject to a lesser extent, DJR Team Penske won three of the four subsequent races across the Symmons Plains and Phillip Island events.
Shane van Gisbergen's win on the Sunday in Tasmania was not unexpected given that the track is regarded as suiting the Red Bull Holden Racing Team, but DJRTP went one-two in all but Practice 1 at the highly aero-dependent Phillip Island Grand Prix Circuit.
Supercars is continuing to look at aerodynamics and could even send cars to an overseas wind tunnel after abandoning plans to conduct tests in the Monash University wind tunnel in Melbourne.
Morris, speaking in the first episode of the Enforcer & The Dude – Bench Racing video series, believes that DJRTP already has a plan in the event that the Mustang's aerodynamic advantages are reined in.
The car was homologated in a collaborative effort between DJRTP, Ford Performance, Tickford Racing, and the Ford Asia Pacific Design Studio, and while Morris notes that the car met the regulations as they stood at the time, he believes that the American-Australian team anticipated that its ambitious work would be pared back.
"The organisation that built that car, in Ford and Penske, they had to be knowing they were really, really pushing the limits of the car, and I just think that's the way they operate," he surmised.
"They go, 'I'm going to make this thing and see how long we can get away with it for and if they trim us back a bit, we've got a plan for that as well.'
"I reckon they're three or four steps ahead, it's nothing that they wouldn't have come across before, given the opportunity to build a car.
"(They would have thought) 'Let's go for everything, let's see what we can push through,' (and) the guy in charge of the (Supercars) technical department was obviously asleep at the wheel and let that come through."
Morris maintains that the Mustang's speed is in part down to the at-track engineering strength of DJRTP as well as its lead driver, Scott McLaughlin, who has won seven of the 10 races to date.
However, he also believes that the car will be found to have some inherent advantage that Supercars will seek to adjust for.
"There's no doubt there's a Scott McLaughlin factor, for sure," he argued.
"If you look at any team he's been in, from Garry Rogers in the Volvo and even in the Commodore, to wherever he's gone, he's worth three or four tenths, in qualifying maybe even a bit more, so there's a bit of that for sure.
"We don't have sporting parity in Supercars so there's no lead in the saddlebags, it's not the Melbourne Cup, they're not going to handicap him, but I can guarantee you they'll be doing some aero testing and analysis or CFD on that car and I reckon it'll get its wings clipped."
The Virgin Australia Supercars Championship continues with the Pirtek Perth SuperNight at Barbagallo Wanneroo Raceway on May 2-4. Speedcafe