Overheard in Long Beach Saturday (Update)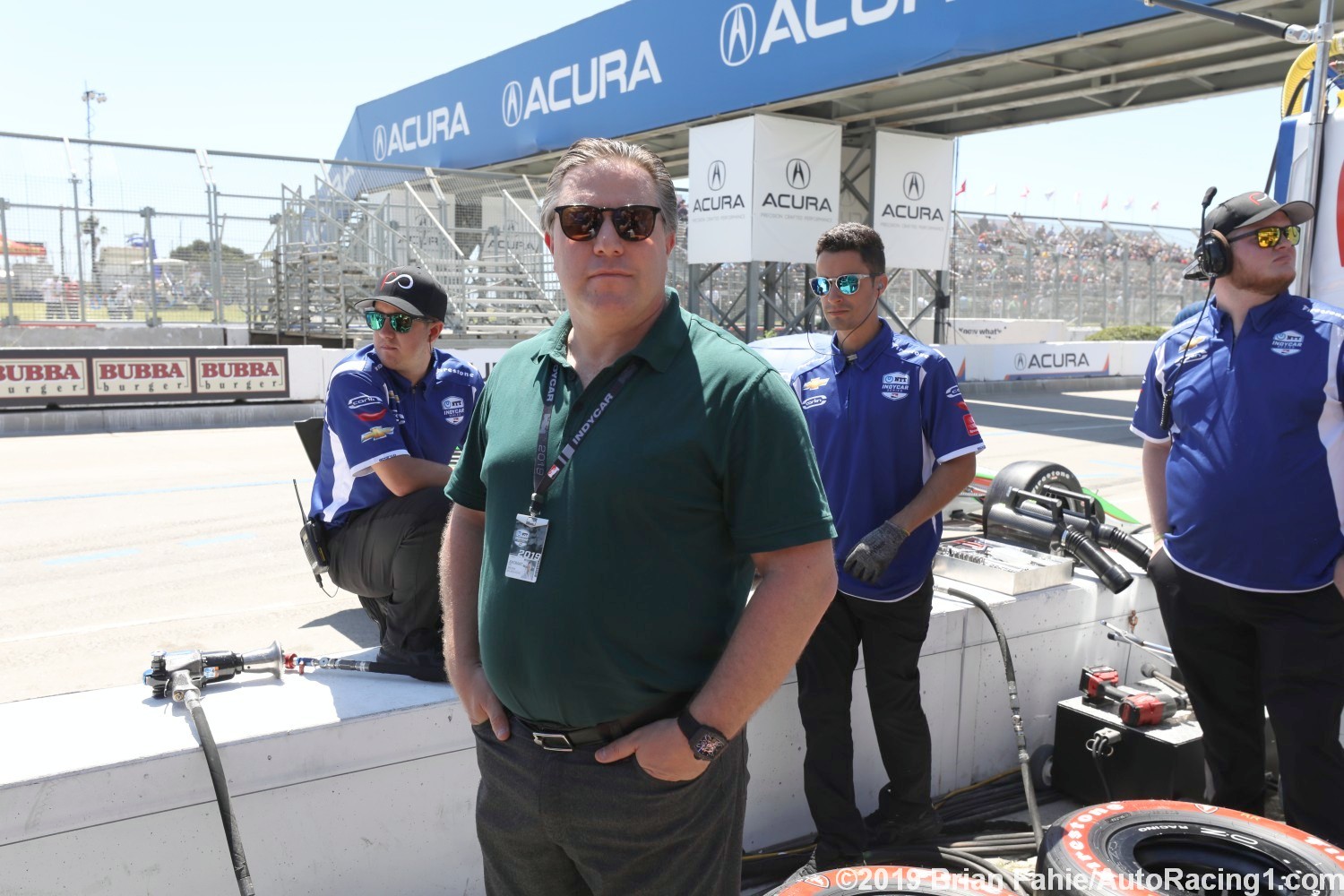 Zak Brown in the IndyCar pits at Long Beach
UPDATE This article has been updated below as promised.
04/13/19 Herta to McLaren?
We forgot to mention that at Thursday night's RDDC dinner Thursday night at the Hilton where David Hobbs was honored, we spotted McLaren boss Zak Brown talking very privately to Colton Herta. While we did not want to butt in on the conversation we certainly can speculate on the possible topics:
McLaren needs drivers for its full-time IndyCar program next year
Is he interested in doing some sportscar racing for his United Autosport Team
Zak wants to be his manager
Will McLaren swipe Newgarden from Penske or Rossi from Andretti?
Zak Brown was also seen in deep conversation with Josef Newgarden in the pits Saturday morning.
If McLaren comes to IndyCar full-time they will need two new drivers unless Fernando Alonso fills one of the seats.
Would McLaren want to invest in the development of a young driver in IndyCar, or hire a big-name star?
"We may want to do both," Brown told AutoWeek. "Ultimately, if we come into IndyCar, it's got to be a two-car team. We will go for the best two drivers we can get. You wouldn't want to get two young drivers; the ideal combination would be one very experienced and one young driver."
Drivers like Alexander Rossi who's contract with Andretti Autosport runs through the end of this season is another big-name Brown has his eye on.
"I think Rossi is definitely one of the stars of IndyCar," Brown told AutoWeek. "You go down the list and there is some great talent here, like Alexander Rossi and Josef Newgarden. These guys all have various situations they are in, but putting that aside, the guys that are winning IndyCar races are outstanding talents.
"Then, look at the ones coming up like Patricio O'Ward and Colton Herta, these guys are also excellent drivers.
"O'Ward has certainly done a very good job. He was very fast in Austin and quick at Long Beach."
For more on our thoughts of Rossi making the switch – see this rumor.
Effort to Resurrect Denver Grand Prix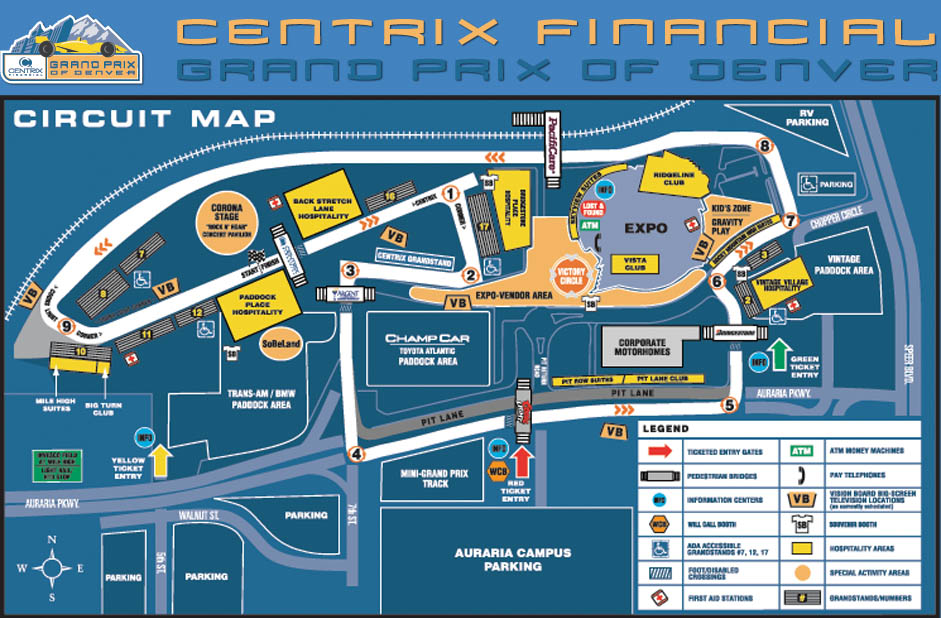 Last Denver GP Circuit Map – too short at 1.657-miles
We heard from three different sources that IndyCar race promoters Savoree-Green are working with potential Denver sponsors and Denver government officials to possibly resurrect the Denver Grand Prix.
CART raced there in 1990 and 1991 (both won by Al Unser Jr.) and then the race returned from 2002 thru 2006 (Bruno Junqueira – 2 wins, Sebastien Bourdais – 2 wins, and AJ Allmendinger – 1 win) and had some big name sponsors:
Texaco/Havoline Grand Prix of Denver (1990–1991)
Shell Grand Prix of Denver (2002)
Centrix Financial Grand Prix of Denver (2003–2006)
McLaren Fulltime in IndyCar
Responding to our questions in a press conference, McLaren CEO Zak Brown stated McLaren's aspirations to enter IndyCar full time in the future and shed some light on when that may occur.
"We're a big fan of the racing series. I think Mark Miles and team have done an excellent job. The racing is outstanding. Great teams, great drivers, great venues. So it's a place that McLaren would like to race. We've been very focused on Formula 1, and we remain very focused on Formula 1, but I've now completed the hiring of the balance of the leadership for the Formula 1 team now that James Key has started as technical director and Andreas Seidl is the managing director of the Formula 1 team. He'll join next month, and so we really needed to get that completed. And so going ahead and getting the equipment, making the investment in doing Indianapolis this year in the way we are is another step in that direction.
"There is no doubt that the shareholders at McLaren would like to be in INDYCAR. I think it's more of a when than an if, and if we were to do it for 2020, I think you'd need to make that decision in the summer in order to be properly prepared. So it's nothing that we've ruled out for 2020, and that decision will come sometime in the summer, and if not then, then we'll look towards 2021."
What would a full-time INDYCAR program bring for McLaren's stakeholders?
"So we've got a variety of different stakeholders, so to start with the shareholders, they would like to see McLaren Racing built, and that's my job is to build the McLaren Racing brand. Obviously, McLaren Formula 1 is first and foremost priority. You see in sports cars, we've got a great GT program with GT3s, GT4s, and Le Mans and their new rules around Hypercar is something that is under review and makes a lot of sense for our automotive business, and then if you look at Formula 1, it doesn't deliver yet in North America the exposure that we all hope that it will in time, and INDYCAR does that very well.
"And so our automotive business in North America is very important. It's one of the biggest markets. Our technology business, North America is one of the biggest markets, and then if you look at our other stakeholders, which would be our sponsoring partners, I'd say seven or eight out of ten companies, North America is if not the most important market, one of their most important markets, and because Formula 1 doesn't yet really penetrate North America in a way that we hope it will, INDYCAR is very complementary. So when the Dell Technologies of the world or the BATs or these global entities would like a racing relationship that touches on all various parts of the globe, INDYCAR delivers in spades. So if you look at the partners that we have on our Indy 500 effort, it's a great mix of some of our Formula 1 partners, Dell Technologies and BAT, we've brought in some new partners to McLaren Racing such as MindMaze, and then we've got companies like Auto Nation who are already great supporters of the (NTT) IndyCar Series that have joined.
"So I think that's been a good proof point that there's a lot of commercial support for McLaren in INDYCAR."
Zak Brown's commitment to being in Long Beach this weekend, instead of in Shanghai for the Chinese GP – the 1,000th F1 race, underscores McLaren's interest in IndyCar.
Between staying involved with McLaren's F1 team this weekend at the Chinese Grand Prix via a "triple double secret laptop that allows me to be essentially on the pit wall in China," and driving in the historics race this weekend Brown confirmed that he has been getting very little sleep. However, he did say that Long Beach was on his calendar from much earlier in the winter, and he hopes to have the McLaren Indy 500 entry as prepared as possible when the month of May rolls around.
Brown's enthusiasm for IndyCar and the growth of McLaren racing could lead to a full season IndyCar entry sooner rather than later…..maybe.
"Fulltime in IndyCar remains under review as we start to turn the corner in Formula 1," Brown told Autoweek. "A good month of May at Indianapolis will help. A not good month of May won't help. Having a successful month of May is important.
"The board at McLaren is in agreement that IndyCar is a great platform and a great platform for McLaren," Brown said. "It's really more of a function of when and how is the right opportunity to enter IndyCar as opposed to, 'if?'"
Mid-Engine Corvette for IMSA and LeMans, and will it be by Cosworth?
A little birdie tells us that with the rollout of mid-engine Chevy C8 Corvette this coming July, that in IMSA and at LeMans Chevy will race the Mid-Engine Corvette next year and abandon the front-engine C7 platform.
Already the rumor mills are spinning that legendary Cosworth will be providing one of the more powerful engine versions for the next Corvette produced in a new plant they built for it.
In a story about Cosworth's new offices and factory in Shelby Township north of Detroit, Forbes reported that the company's first product from that new facility will be cylinder heads for the 4.2-liter twin-turbo V8 that will debut in the 2019 Cadillac CTS V-Sport.
Forbes says no one from Cosworth would comment about upcoming products, but AR1.com hears that at least one derivative of the Cadillac V8 will be a more powerful version for use in the mid-engine Corvette.
We do know that Cosworth does have more products in the pipeline. "By the end of 2019, the plant will add more equipment to expand capacity for this and other derivatives," said manufacturing engineer Ken Bowers, which would certainly fit in with the rumored timeline of Chevy eventually offering more powerful mid-engine Corvette versions as it's done with previous generations.
Cosworth, which was founded in England 60 years ago by Mike Costin and Keith Duckworth (and now owned by Kevin Kalkhoven and Gerald Forsythe), has a long history with General Motors, including the 2.0-liter twin-cam four-cylinder engine in the mid-1970s for the Chevrolet Cosworth Vega.
More recently, the company has been producing its AliveDrive system available in the Chevrolet Corvette and Camaro where it is, of course, known as the Performance Data Recorder.
Kevin Kalkhoven was in deep conversation with Zak Brown in our hotel lobby last night as we headed up to call it a night. We would have loved to have been a little birdie at that table. One can only imagine the possibilities with that relationship.
Of course McLaren technologies supplies all the ECUs for the IndyCar engines and Cosworth all the chassis sensors and electronics, including the steering wheel electronics.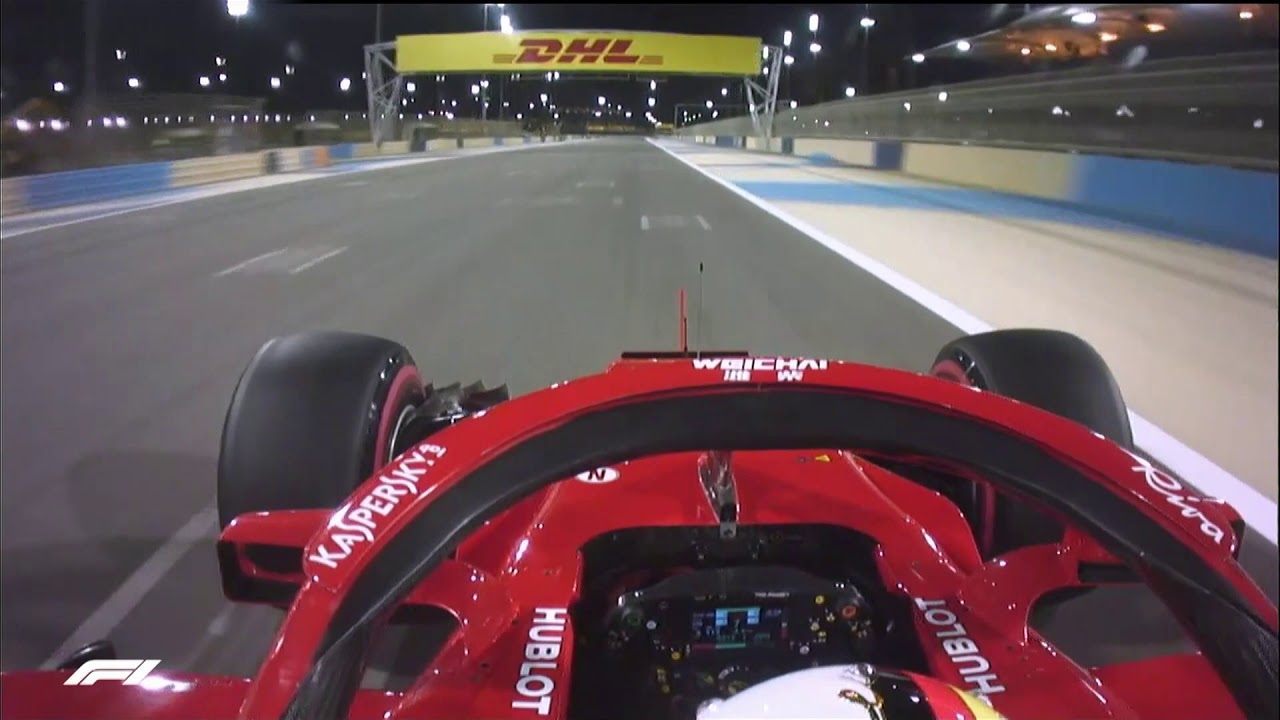 Advertising on the Ferrari F1 Halo
Halo ads
There is another key reason why IndyCar wants to now implement the Halo on its next generation car due in 2021 – money.
As it now turns out, putting ads on the Halo for the in-car camera shots during race broadcasts is becoming the #1 best spot from an advertisers standpoint. You can see them clearly and sponsors want viewers to see them.
Will IndyCar implement the Halo for sure? When in doubt, follow the money……and this case the safety. The Halo is great for driver safety and it is not a matter of 'if it will be implemented', but when.
But will IndyCar have many viewers?
As we have stated many times, putting IndyCar races on NBCSN has led to the IndyCar series being largely invisible. For 10 years the majority of IndyCar races have been on NBCSN and 99.999999% of the people in the USA have no clue IndyCar even exists because the TV ratings are so low.
NBCSN is not a go-to channel and hence hardly anyone watches it. And to make matters worse, most hotels do not even carry the Channel. We watched the F1 race from Shanghai on ESPN2, but our hotel channel guide does not even list NBCSN.
And to make matters even worse for the Long Beach GP today, Tiger Woods is in contention to win the Masters Golf tournament. Coming off record infomercial TV ratings for COTA and Barber, NBCSN is sure to deliver another body-punch to IndyCar with ratings for this race.
And to think ABC offered 11 of 17 races on network TV and IndyCar could have easily bought the air-time for the other 6 races and we would have had 100% of the races on network TV with 1 million TV viewers per race and sponsors begging to come into the series.
Instead we continue with infomercial ratings for 9 of the 17 races with only 8 of 17 on network channel NBC. NBC should generate decent ratings, but for less than half the broadcasts. As good as a job that the broadcast crew does for NBCSN, what good is it if no one sees the races?
And with some fans now watching on NBC Gold the TV ratings are going even lower, which will make sponsors question their participation in the series.
Will 'Rio' be the next Andretti Superstar?
They call him 'Rio' for short, but make no mistake about it, Michael Andretti's adorable youngest son Mario (and his equally adorable twin sister Mia) reminds us so much of his legendary grandfather Mario Andretti when he was a kid.
Mario Sr. of course was also a twin (recall brother Aldo) and there is a definite resemblance between when Mario – 1 was a kid and now Mario – 2
Might we see history repeating itself?
We asked father Michael when he would put Rio behind the wheel of a go-kart.
"God, I don't know. Hopefully never (laughter). Can't handle another one," said Michael.
"We'll have to wait and see. Still hasn't really shown it yet, that he wants to do it. If he does, I'm not going to hold him back. But I'm definitely not going to influence either."
Rahal much Happier
We ran into Graham Rahal with his wife Courtney and his mother and step-father at dinner Saturday night while waiting for our table.
Rahal tells us his team is much more competitive this year and "we're definitely more competitive this year, but the field is so tight if you're off by a couple of tenths your're back in 5th or lower."
Coming off a big win at Barber last weekend (Sato), the team is pumped. Starting from 6th, keep your eyes on Graham Rahal today. He's a definite threat for victory.
BTW, father John Force is now driving Coutney's Funny Car in NHRA now that she has decided to step out of the car.
Graham did stop by to talk to Helio Castroneves during dinner for quite some time. Helio of course drives in IMSA for Team Penske and the Indy 500. With Takuma Sato getting up there in age, could Helio someday drive IndyCars full-time for the Rahal team. Hmm……
A different feel, but only slightly
This year race weekend looks a little different with Acura replacing Toyota as the title sponsor.
"We're delighted to have Acura come on board," President and CEO of the Grand Prix Association of Long Beach Jim Michaelian said. "The beauty of the arrangement is that it's multiyear, so we'll have time to develop the relationship."
Acura has also sponsored events like golf tournaments and the Sundance Film Festival.
"They're a young, energetic company that's looking to make a name for themselves, and we're anxious to align ourselves with those kinds of companies," Michaelian said. "It's a perfect marriage."
Honda, which owns Acura, and Long Beach have already had a fruitful relationship, with a record 13 Grand Prix wins.
"Honda is the preferred engine to have," Rossi said. "It's the correct brand representing the race. It didn't really make sense Toyota was doing it, considering they don't have any skin in the game anymore."
Rossi was the fastest in qualifying and led a career-high 71 of the 85 laps last year on the 11-turn, 1.986-mile temporary street course to finish 1.2 seconds ahead of Power.
He is favored to win again on Sunday but he has some really fast drivers in the way of Scott Dixon, Will Power, Josef Newgarden, Simon Pagenaud, Graham Rahal, Ryan Hunter-Reay and more breathing down his back.
It should be fun.
Mark C. reporting live from Long Beach