Overheard in Austin Friday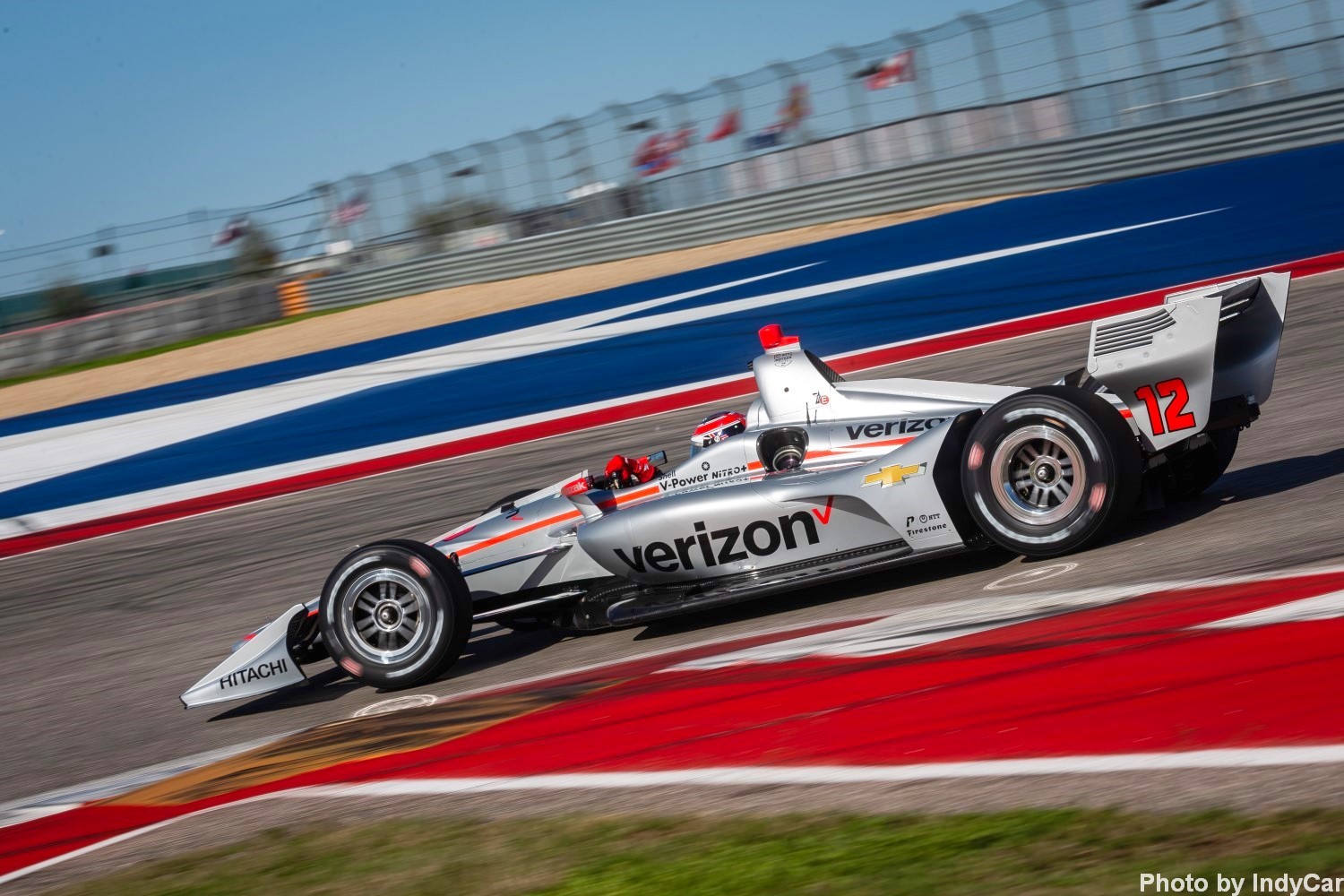 Friday fast man – Will Power
Friday turned out to be a beautiful day here in Austin as the IndyCars ran their usual two Friday practice sessions – sunny skies, temperatures in the 70s with low humidity. You could not ask for a more perfect day for racing.
It was my first visit to the Circuit of the Americas (COTA) and my first impression was the massiveness of the facility. I heard many comments from folks saying that too bad all the IndyCar tracks were not this nice. Definitely built to F1 standards.
One thing you cannot help but notice as you drive into the circuit is how much the ground in this entire area is settling, and the race track could eventually be affected by this. The roads coming into the track are undulating, and we don't mean in a good way. So bad is the settlement that you see patches of new asphalt where they have had to repair the road where it has settled. The track itself is smooth enough so far, but you do see the undulations in a few areas on the track, but nothing like St. Petersburg, for example.
Will Power said the undulations are tolerable. "Yeah, there's undulations. It's not terrible, though. It's okay. It's a very nice track. That's the beauty of IndyCar, we race on some of the most brutal tracks, smooth tracks. It's such a mixed series. It's pretty cool. Nothing like it in the world. You get so good at so many disciplines."
Felix Rosenqvist agreed, "Yeah, I mean, I agree. We cannot complain about the bumps here coming from St. Pete. It feels like a massage going around here compared to that.
"It's very smooth. It's probably one of the smoothest tracks we run, except like Indy, oval, something like that. Yeah, no complaints. It's just on the straights really [the undulations]. You don't really feel it in a corner. Like it doesn't give you a massive compression or something like that. It's really just in turn one, you go up the hill. When you're in the car, you don't really think about it."
Tire Degradation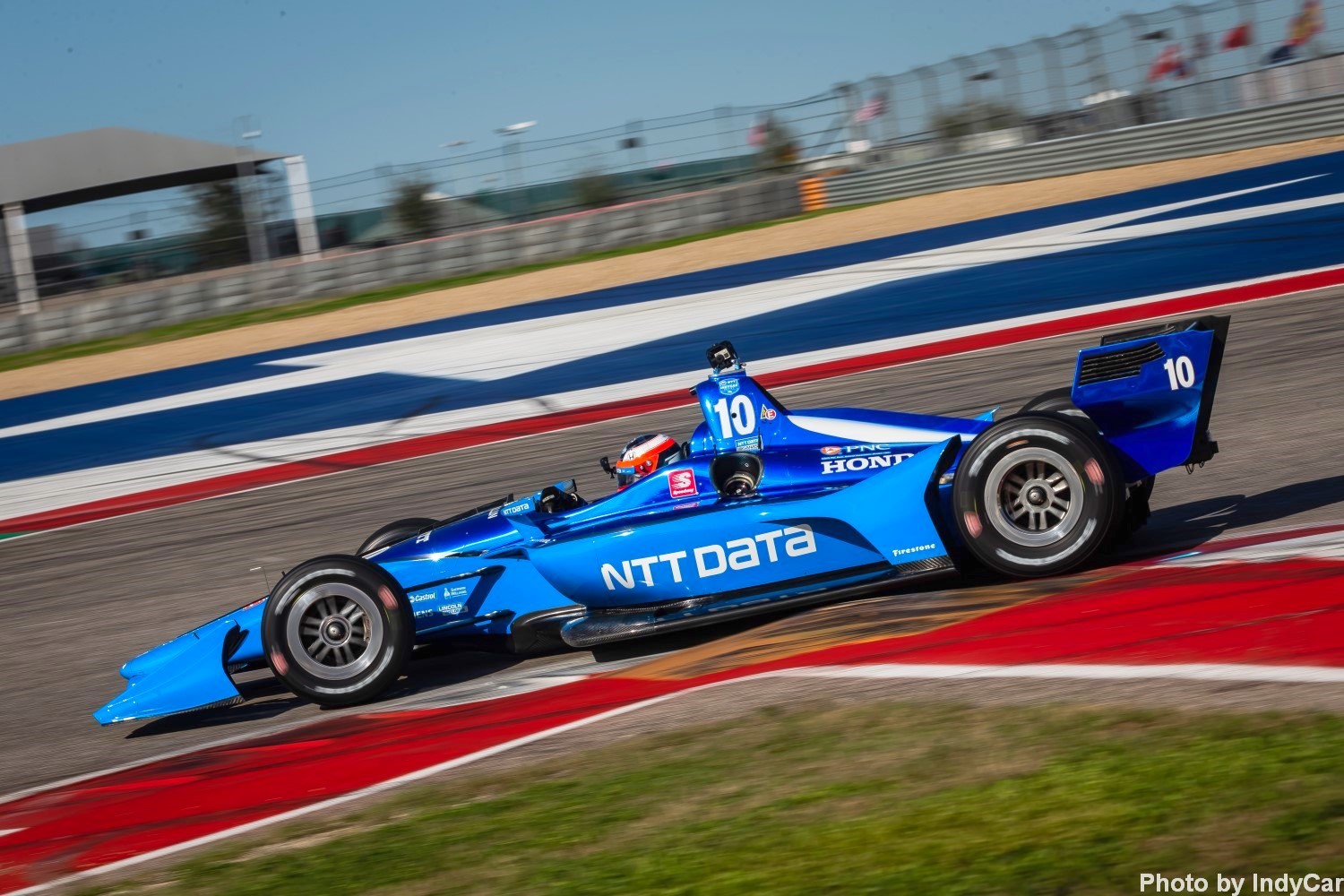 2nd quick, Felix Rosenqvist
Drivers are saying the tires really degradate here which makes for more passing.
"The tires degrade so much, I think it will create some racing," said Power. "I think there will be some mistakes. It's always hard to say. You see what happens in these series, they get so competitive, so tight, basically everyone almost runs the same speed. That's what makes it difficult to pass.
"IndyCar is at that point. Being a new track, no one knows what to expect for the race, so we'll see."
And because of the tire degradation, none of the drivers are going to want to go long on the tires to save fuel because they will lose too much time on the track.
Everyone seems to think it will be a 3-stop race. You can try a 4-stopper, but the time gained on the newer tires is not enough to offset the time lost for a 4th pitstop.
No Track Limits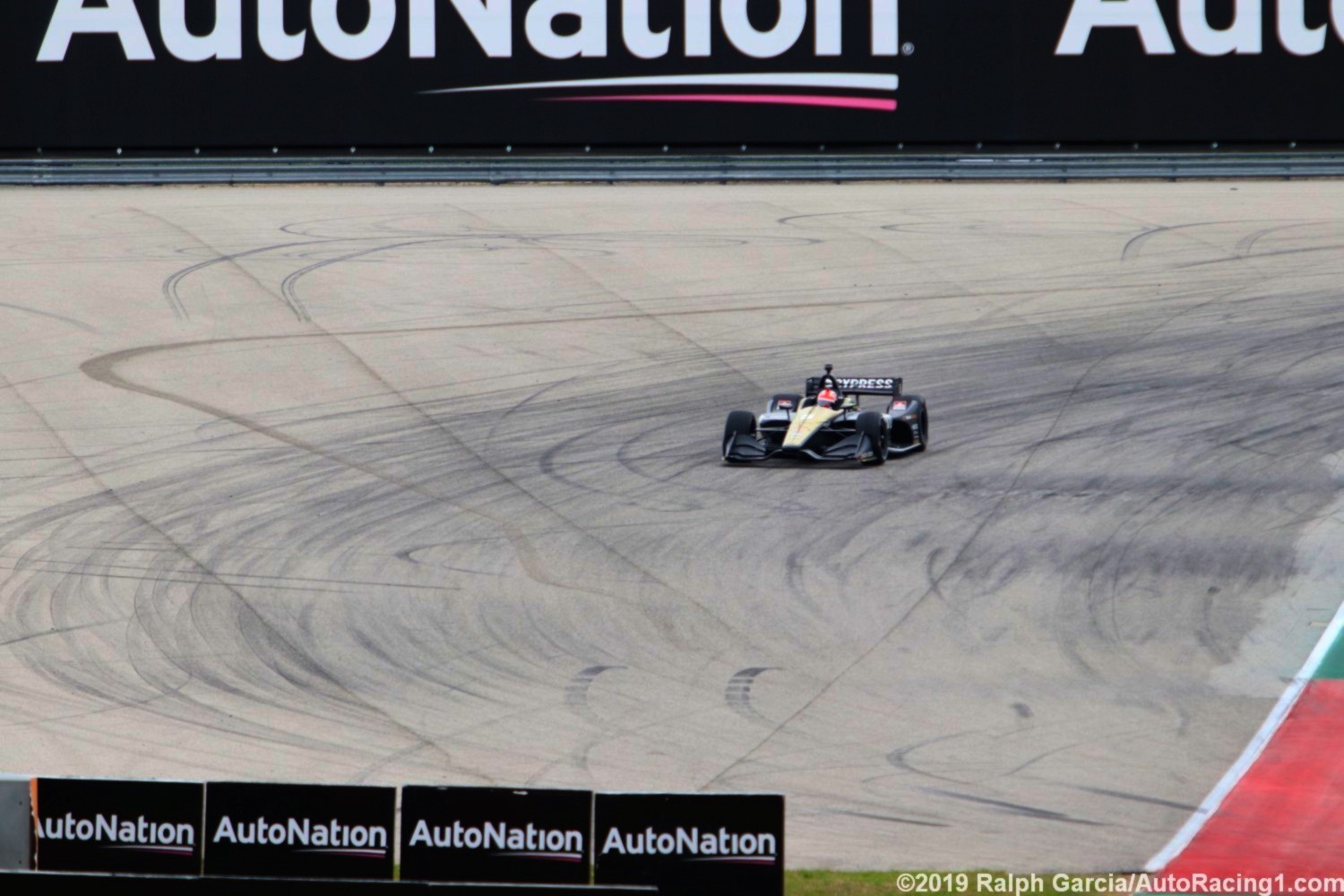 You can see the rubber marks just how far off the tracks drivers are going in Turn 19
One thing that fans are going to find very exciting on Sunday is watching the drivers race in the runoff areas, especially Turn 19 where they run exceptionally wide and then back onto the track..
But Will Power is not a fan.
"Personally, I think it would be better to mandate drivers stay on the track limits because it's harder then<" said Power. "I mean, you still got to get the corner right, but I just think track limit would be better."
But Rosenqvist loves the idea of using all of the road, and then some.
"I mean, I don't know. I'm not a fan of track limits. That's why I like racing in America, because you don't really have track limits. You go off in this grass, gravel or wall.
"I'm kind of a fan for opening it up. You know it's going to be the same for everyone. They're not going to look at this guy was one millimeter over the line or not, which is a bit ridiculous.
"It looks pretty weird [the cars racing off the track and back on], but it is what it is. They said it's like that for the weekend. That's the way we're going to run. Same for everyone."
Honda Blowups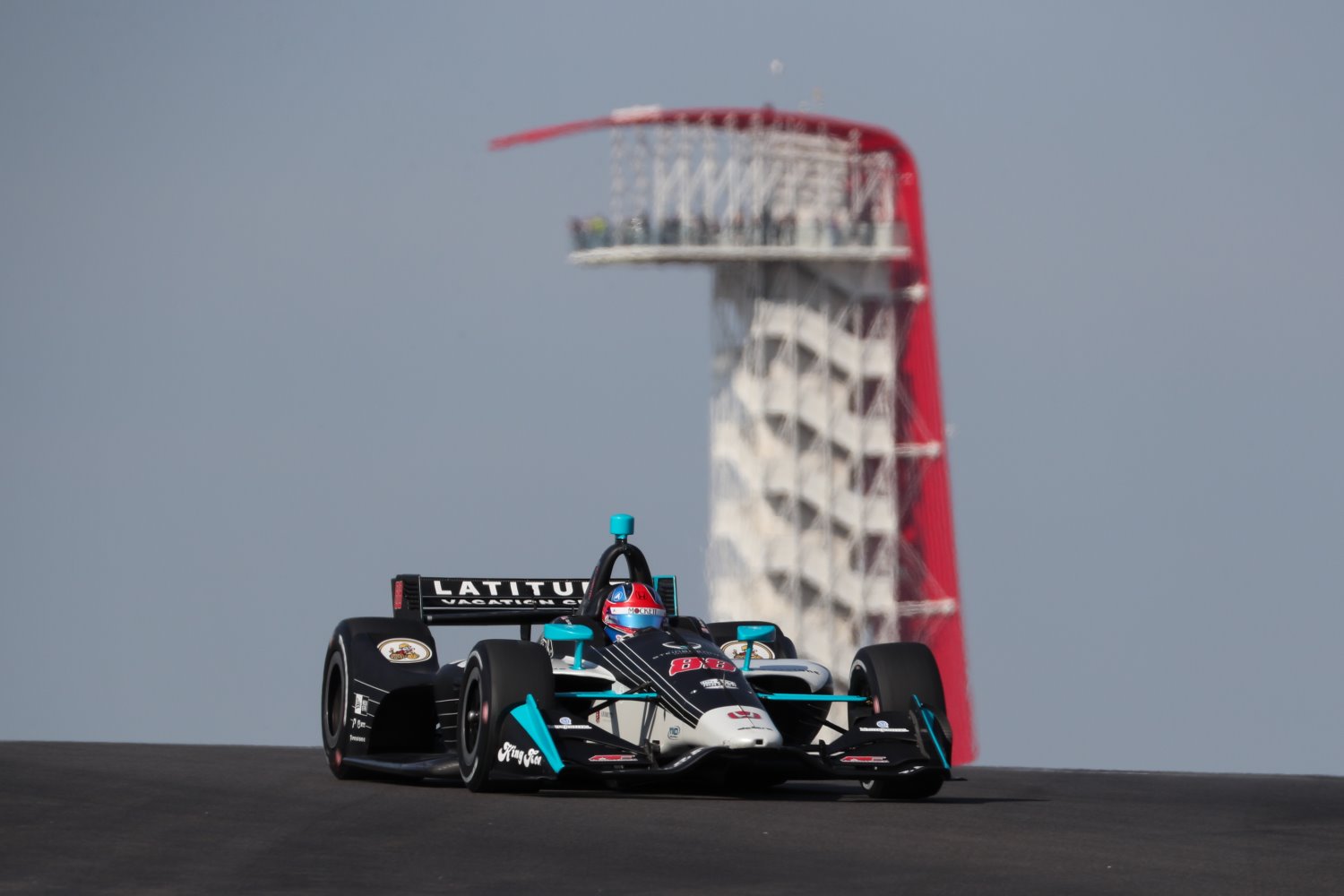 Colton Herta
Honda lost their third engine in two races this morning when Colton Herta blew up in a big way and that has a lot of people in the Honda camp worried. Honda is still not saying where the problem is but we here it is in the lower part of the engine and it may be a material manufacturing issue.
Depending on what it is, IndyCar could decide to let Honda replace those defective parts, or not – it's totally their call. If not, their teams will begin to get penalties if they go over their engine allotment for the year as the engines detonate
The Rookie Crop
What a sensational crop of rookies IndyCar has this year. Between Colton Herta, Felix Rosenqvist and Patricio O'Ward I think we are going to be in for many surprises this year from these youngsters. And to tell you the truth, we are not sure which one is better.
Herta is the quiet sleeper, and has really surprised everyone, even himself if you listen to our interview with him.
Rosenqvist is the Swedish Rocket who looks to give veteran teammate Scott Dixon a real run for his money already.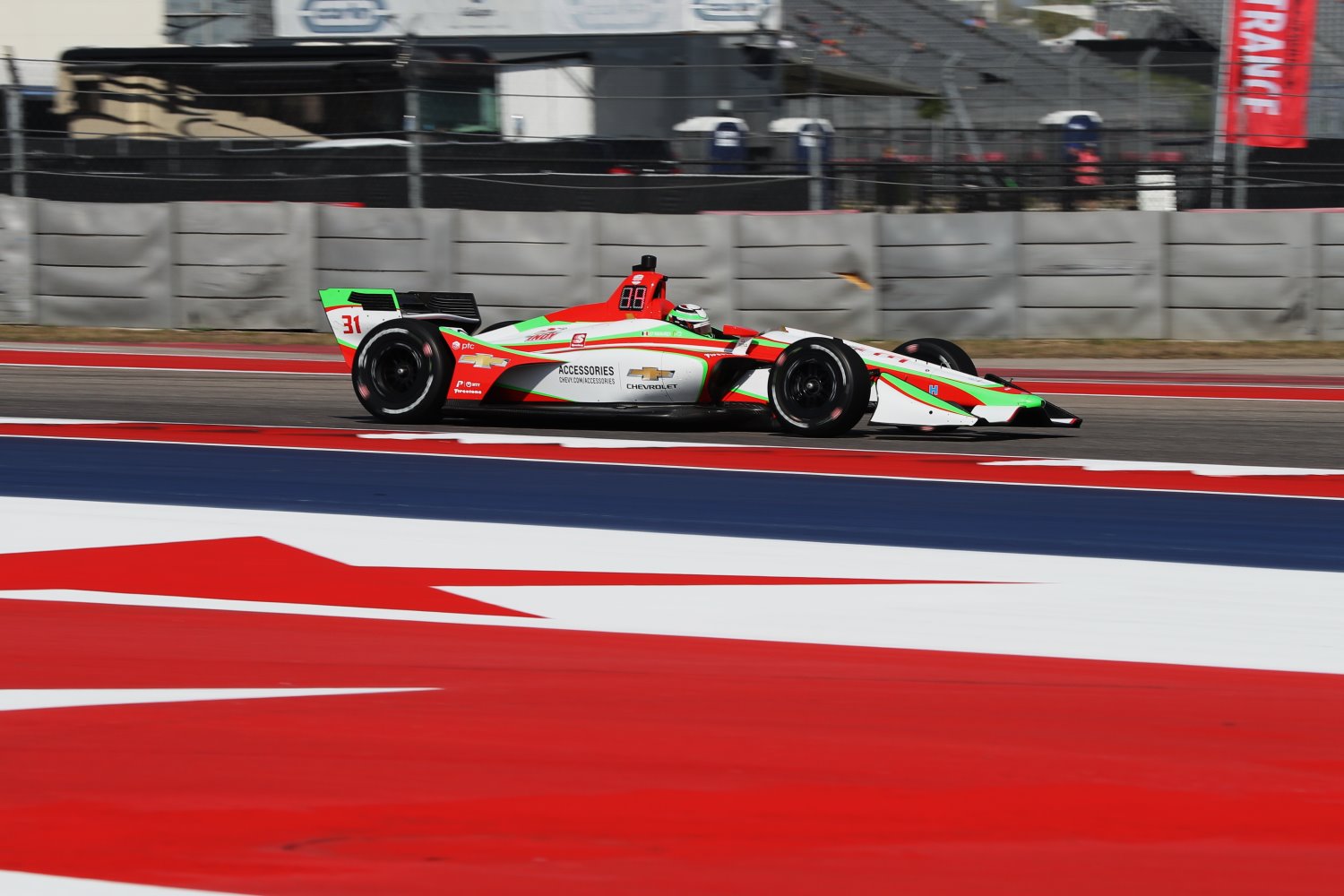 Patricio O'Ward
Patricio O'Ward is very confident. When you are around him you almost get the feeling he knows he can beat these IndyCar veterans.
An American, a Swede and a Mexican. Keep your eye on them.
As for Marcus Ericsson, the jury is still out. He's shown a few flashes of brilliance, but so far he has not put it all together to show us he's the real deal.
Attendance Update
Circuit of the Americas is expecting attendance of at least 30,000 for Sunday's inaugural NTT IndyCar Series race there, track Chair Bobby Epstein told THE DAILY. COTA this year is hosting IndyCar for the first time, and Epstein said that sales are about on pace for where the track was expecting to be for the event. On top of its grandstand seating, the track has retrofitted part of its infield paddock that F1 typically uses and turned it into 80 infield camping spots. Epstein said of sales for Sunday: "It's got to be over 30,000, but it'll depend on the walkup. We're right about where we expected to be.
Over three to five years, it'll grow like MotoGP has." The circuit will also hold a concert Saturday with English rock band Muse. As far as the race itself, there has been some social media chatter about how much faster F1 cars are at COTA than IndyCar — but Epstein says he is expecting IndyCar to put on as good, if not better, of a show than F1 does there. He said: "You're going to have more cars here in this race, and I think they're going to be much closer together. With F1, you have six cars that tend to crush the competition."
15 seconds
IndyCar isn't trying to match Formula One for speed this weekend, even if the cars look similar on the outside. The fastest times Friday were about 15 seconds slower than the F1 lap record of 1:32.237 set by Lewis Hamilton during qualifying last fall.
The times were remarkably similar to the first two F1 practice sessions in wet conditions at the 2018 U.S. Grand Prix. Hamilton led both in 1:47.52 and 1:48.71.
But faster cars that cost 20 times as much do NOT make better racing and this is after all, a sport of human physical talent, and should not be a 99% engineering exercise as in F1.
Mark C. reporting from Austin