Overheard at St. Petersburg GP – Saturday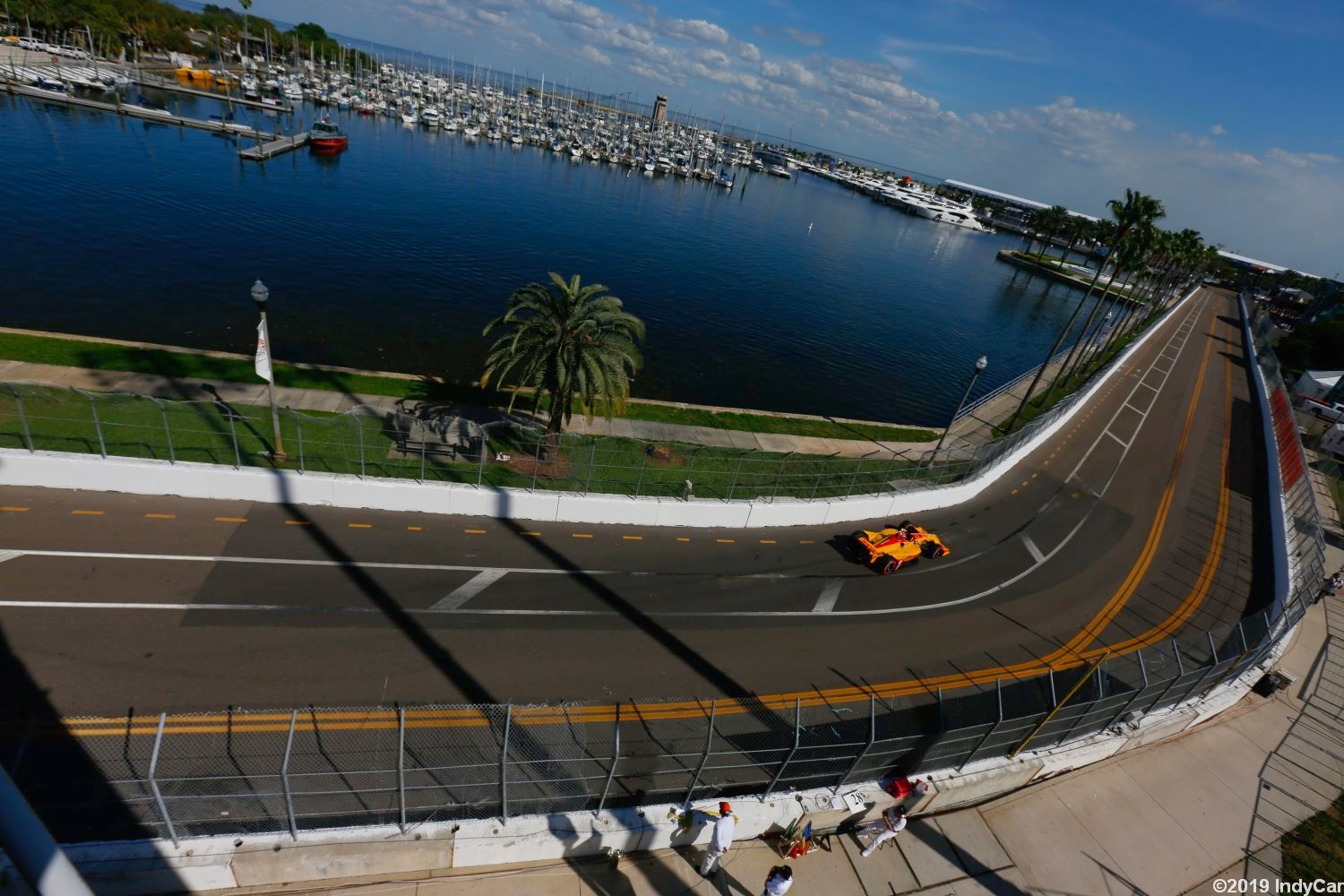 Beautiful Chamber of Commerce weather has graced St. Petersburg this year.
Attendance was definitely up this year on Saturday with beautiful 80-degree sunshine. The expectation is that Sunday could see the biggest crowd in recent memory.
We hear that Honda, after getting beat by Chevy at Indy last year, has put a lot of work into their Indy 500 engine for this year, although the rules do not allow that much to be developed on the 2019 and 2020 engines – the last two years before the new, larger engine in 2021. We hear the main focus was on combustion chamber modeling to improve the burn of the air fuel mixture with the goal of gaining HP.
While winning the IndyCar Championship is important to Honda, winning the Indy 500 is their #1 goal each year.
With the new engine less than two years from its first race, both Chevy and Honda plan to start on-track testing with select teams around March of 2020 – a year from now.
Extensive testing is required to see if the engine has any design flaws. If so, they must be fixed and retested by late summer. Once next fall rolls around the manufacturers must produce enough new engines for all its teams and deliver them starting in December of next year.
Winter testing will then commence with all the teams with the first race using the new engine in February or March of 2021.
As a follow-up to what we wrote yesterday, the 2021 engine will not have any form of electrification such as KERS. However, IndyCar and the manufacturers are talking about adding such a feature in the not too distant future.
The 2021 engine will have a greater push-to-pass HP delta than the current engine. We hear the boost pressure will be 5kpa higher than the current engine, which is right at its max today.
Chevy and Honda still have not signed a contract with IndyCar for the 2021 engine, but that is in the works. They are still hoping a third manufacturer will come aboard. If a third manufacturer does sign, there will be a reshuffling of teams, with Honda and Chevy losing a team or two each.
Once the manufacturers sign their deal with IndyCar, then the manufacturers can sign their new deals with the teams.
On another topic, we hear that Oriol Servia will soon have a deal with Schmidt Peterson Motorsports to drive in this year's Indy 500. Look for that announcement soon we hear.
Touching the Firestone Red tires today – they felt much much stickier than we can ever remember. Did Firestone bring an extra soft red tire this year, and will we see a big drop-off in the race tomorrow for drivers on them? The problem is that no one has run them enough consecutive laps to know whether the reds will hold on after their initial drop-off or continue to worsen with each lap. If they get too bad, drivers will be begging to get them off the car early on Sunday.
Asked about involvement beyond the Indianapolis 500, Bob Fernley, McLaren IndyCar Team Manager said; "Success begets success, so it's important to deliver a good result.
"The focus for me is simply doing a good job at the Indy 500. Once we do that, the shareholders will see everything and decide where they want to go. "
McLaren Sporting Director Gil de Ferran also wouldn't rule out anything beyond the Indy 500, although he confirmed McLaren would only run one car in the 500.
"It's no secret that we continue to evaluate a deeper involvement as McLaren in IndyCar racing," de Ferran stated. "It's too early to speculate what lies beyond the Indianapolis 500."
"All of our efforts are just to do the best job we can for the 500."
Gil de Ferran, IndyCar Team advisor for McLaren, addressed the media regarding the relationship between McLaren and Carlin for their Indy 500 program this May. " I think they (Carlin) were always in the cards. Obviously, as McLaren has known Carlin for many years, in different ways a lot of actual individual personal relationships across the two teams, I think it was a good fit."
"I think 'humility' is the word. We don't know what we don't know. Having that little bit of experience, somebody that has been running in the series full-time, it's always welcome."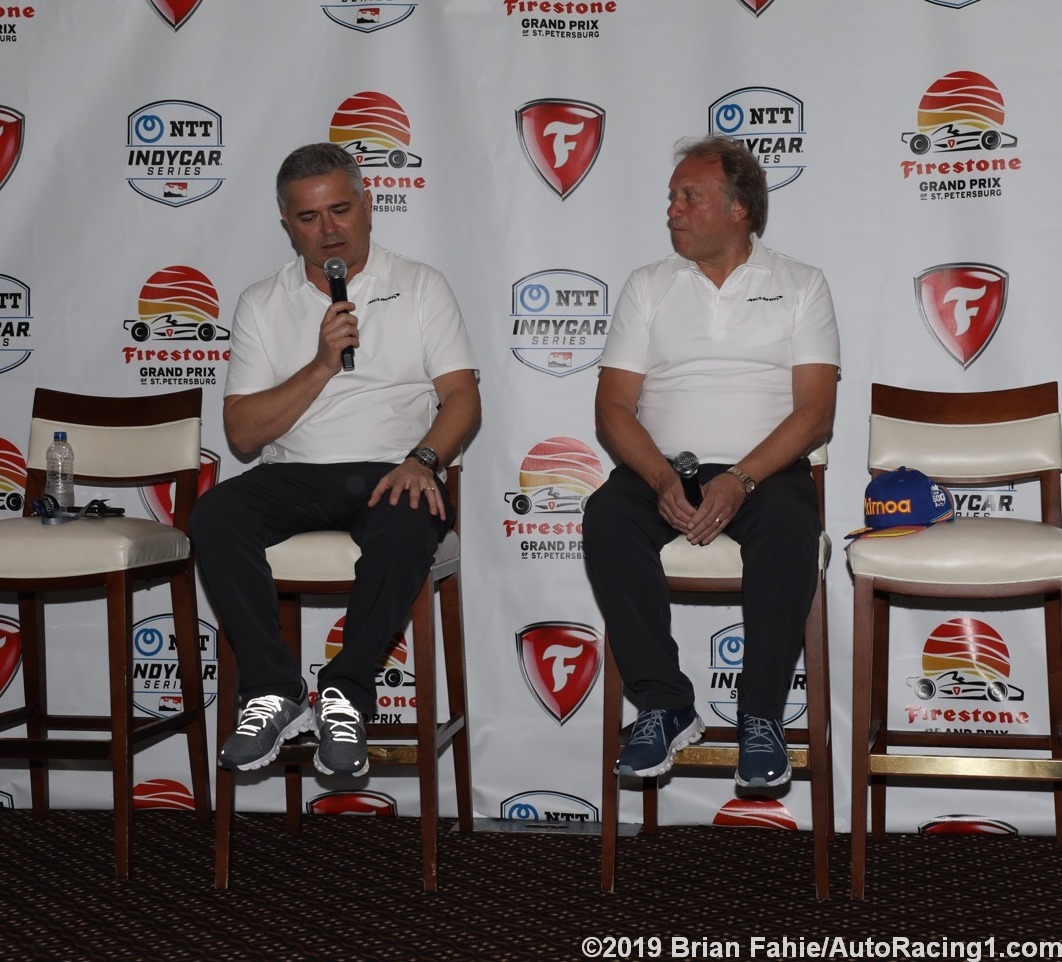 De Ferran and Fernley
Fernley added his thoughts, "For us, it's worked really, really well. As Gil says, we have a history with Carlin. It makes it very easy for us to work with them. Our systems are very similar in the way we operate. Again, we can integrate the programs much easier. It was a good fit for us."
"We need that little bit of safety blanket. When you come in as a new team, there's always bits and pieces you have forgotten, haven't got on top of, you need the guidance. The good thing with Carlin is they've gone through it the year before. It gives us a good platform to work with."
Dale Coyne Racing's Santino Ferrucci didn't have the qualifying session he would have liked on Saturday in St. Petersburg and will be starting the season opening race in 23rd place after causing a red flag in the Round 1 10-minute qualifying session.
Ferrucci, who went out in Group 1 in his #19 David Yurman car, was on a fast lap when a first red flag came out for a car stopped in pit lane two and a half minutes into the session. Due to the stoppage, the rookie was unable to register a lap time.
When the session resumed, Ferrucci was pushing to get the maximum out of the car in the little time left in the session but he would end up sliding into the tire barrier after locking up the brakes heading into Turn 12.
"That's definitely not how I wanted to start off the season in qualifying here at St Petersburg aboard my #19 David Yurman Honda," expressed Ferrucci. "I made a rookie mistake going into Turn 12 and ended up in the tire barrier. I feel bad because it not only ruined my qualifying but also Sebastien's (Bourdais). It's a long race and we'll do our best to make our way forward. Sebastien has won from the back here before, so we'll see what we can do tomorrow."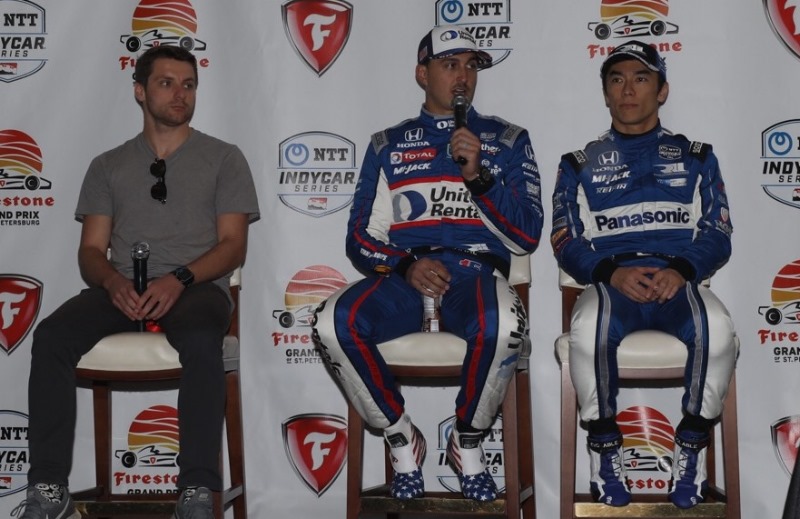 Team Rahal drivers
Graham Rahal is looking for better results from the RLL team this year. "Through the offseason, we had some really good tests," said Rahal.
"We really kind of worked on separate paths in order to kind of build up our toolbox, so to speak.
"I feel like the off-season tests went really well. You saw this morning I think Taku was pretty quick. Yesterday we were both competitive. We in our car didn't really get a new tire run there this morning. Up until everybody did that, we were in the top four.
"I feel like we're starting to see signs of positive progress. But it's been good to kind of evolve, to bring on Allen, to get Tom into his new role as technical director. Allen and Eddie are very close friends, worked together for a long time. They're like an old married couple. I joke about that with them. Those two are always in sync, which is really good. I think that helps as we go forward here.
"I think we'll see the fruits of our labor over the next few weeks. It's not like it's going to click immediately, but I do think through all the development we've done and through the growth that we've seen, there's no reason this team can't win a handful or multiple races combined for this year. I feel like we're headed down the right path.
Mark C. reporting from St. Petersburg