IndyCar ABC Supply Pocono 500 postscript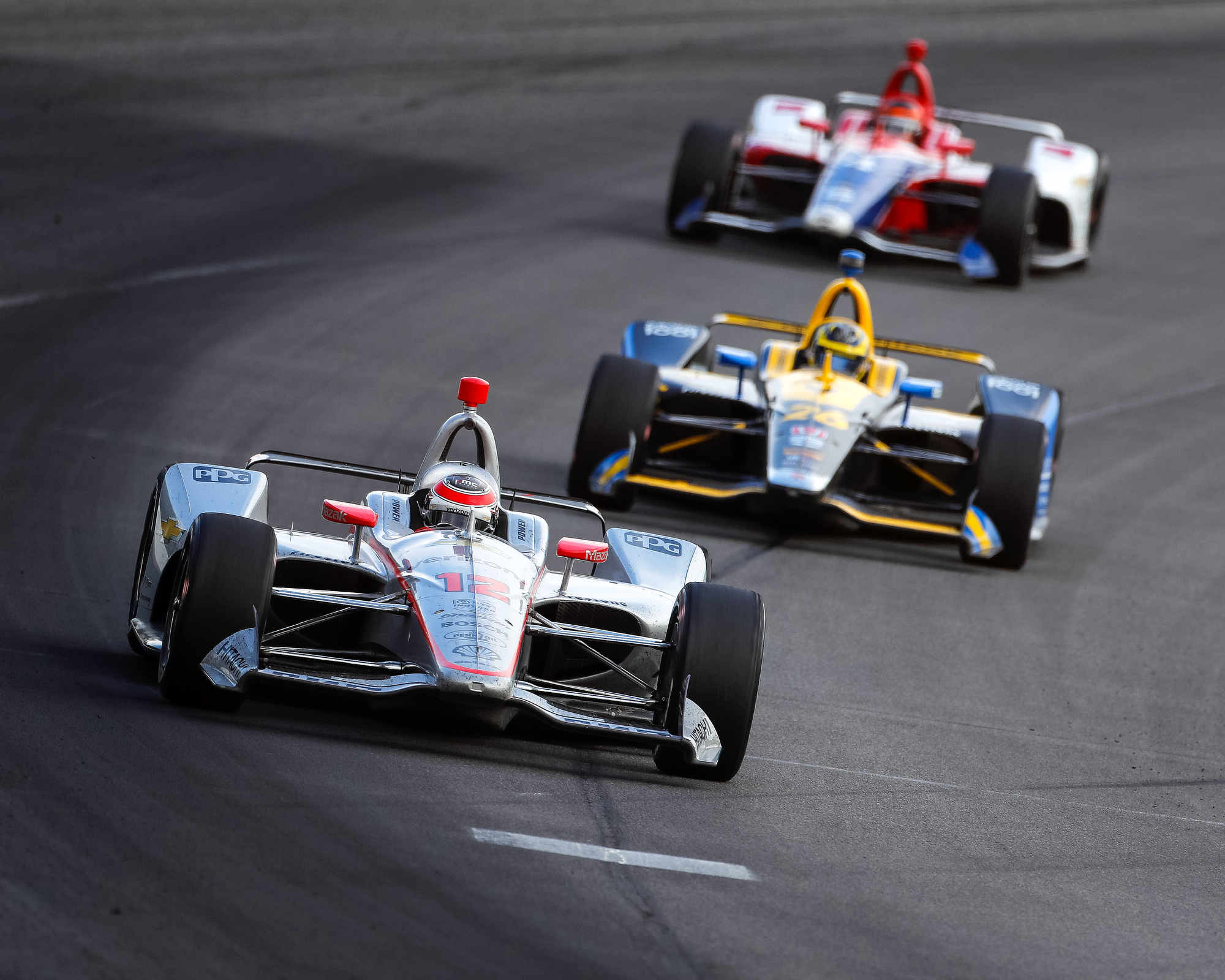 Will Power, the man of the hour at Pocono
By now you know, Will Power drove the No. 12 Verizon Team Penske Chevrolet to victory lane in Sunday's ABC Supply 500 at Pocono Raceway. After going off strategy early in the race by pitting on lap 5, Power was able to move through the field and run longer on fuel than his opponents. At race's end, he found himself right behind leader Scott Dixon.
The defending series champion had made a front-wing adjustment on his final stop that seemingly backfired. Power, who had been improving his car throughout the day took advantage, passing the Kiwi on lap 115. The race would be red-flagged due to weather on lap 118, and never resumed, leaving Power with his third win in the last 4 races at The Tricky Triangle. Furthermore, 6 of Power's last 8 wins have come on oval tracks, marking something of an about-face for a driver who scored 19 of his first 20 career wins on road and street courses.
Of course, as always is in the world of IndyCar, there is usually news aplenty beyond who won the actual race. And this weekend at Pocono was no different.
The Race's Future
Mark Miles was pretty busy Sunday before the race, yet he took a few minutes to speak with me. I quoted him in our rumor thread about Pocono's future, and if you haven't seen it, I think you find his comments interesting.
The Accident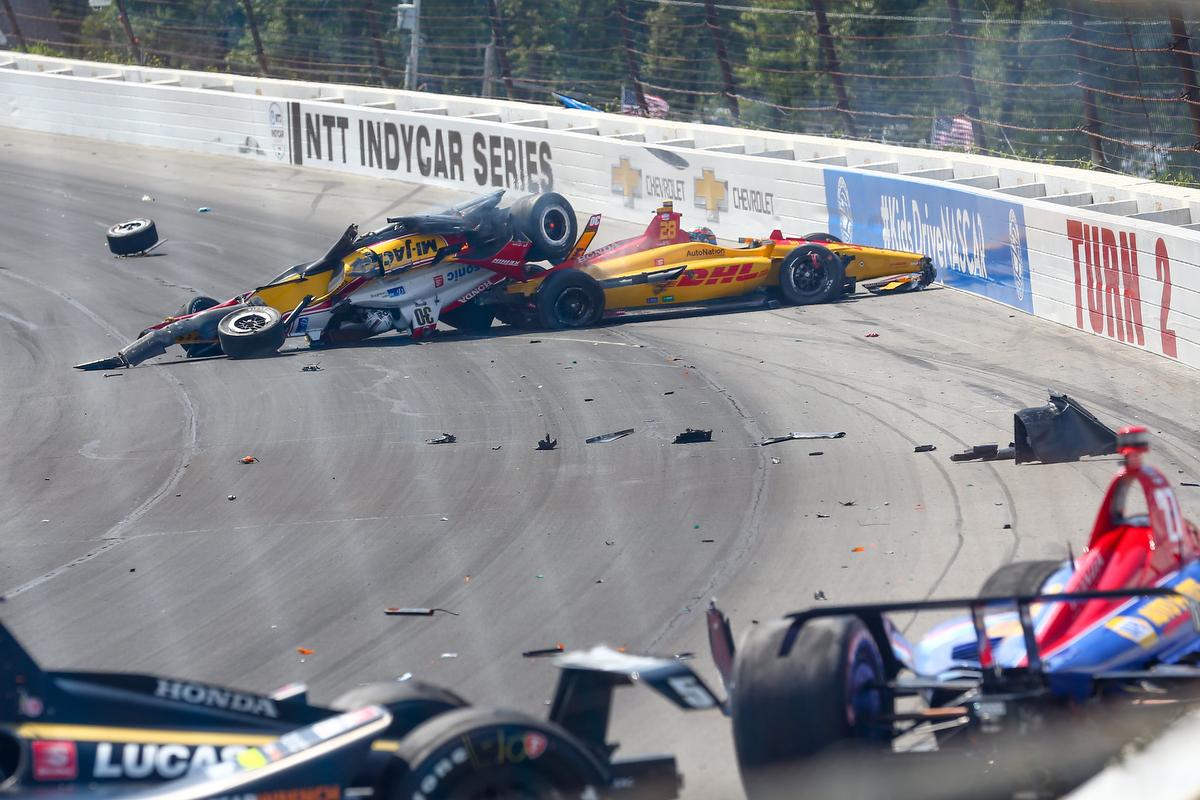 Crash aftermath
Getty Images
You've seen the replay and know what happened, so I won't waste time rehashing. But I'll start with this: there was apprehension in the paddock prior to the drop of the green flag. While we can and will discuss the merits and dangers of Pocono relative to other venues, the simple fact is and was that there had been two very serious accidents at the track in recent seasons. Throw into the mix four rookies, who had incredibly limited track time Saturday before the race and I'm not going out on a limb in saying many were holding their breath and hoping to get through Sunday without incident.
Well, without incident, managed to occur for about a half lap.
Luckily, the net result (and I know those who were collected will not necessarily agree) was actually not that bad. Think about it: if I had told you there will be a first lap crash in turn 2 at Pocono involving five cars with one ending up on its head, three going from the inside wall all the way back across the track into oncoming traffic, and another nearly getting airborne in almost the exact same spot Robert Wickens did last year, you would have reasonably feared the worst.
Yes, there were some pissed off drivers following the wreck. But the fact that only Felix Rosenqvist required extended medical attention and that all drivers were cleared and released by race's end, is a testimony to the safety systems on the car and probably a bit of good fortune.
The Reaction
[adinserter name="GOOGLE AD"]The apprehension prior to the race, likely goes a long way in explaining the immediate reaction following the crash. Of course, NBC Sports commentator Paul Tracy called for Takuma Sato to be suspended following the accident. And while I love Tracy and suppose one could say Sato going three-wide in that spot that early in the race was optimistic, I really have no time for any safe-driving sermons from PT.
Furthermore, if you ask me, Sato was essentially guilty of racing. In other words, he saw a gap, went to the high side and tried to make up positions, in a race where we knew track position would be precious.
Does that suck for Alexander Rossi, Ryan Hunter-Reay, who was involved in the Wickens accident last year, and the others collected? You're damn right it does!
Again, I know this won't be popular, and I agree with 499 miles to go, patience probably should have won out over valor. But what I saw Sunday at Pocono after reviewing all the data was racing. Sadly, sometimes racing goes horribly wrong.
A side note on Taku
After three podiums in the first 7 races, it has been a miserable run for Sato. In the last 7 races, he has a best finish of 10th a Road America.
Pocono
While Sato seemed to be the first target of people's frustration over the crash, a very-close second was Pocono Raceway itself. Of course, the afore-mentioned recent accidents at Pocono were understandably weighing heavily on people's minds. And following the first lap crash, Twitter nearly broke with outrage.
One person who took to Twitter, who has clearly earned the right to have his opinion weighed seriously was Wickens.
@robertwickens How many times do we have to go through the same situation before we can all accept that an IndyCar should not race at Pocono. It's just a toxic relationship and maybe it's time to consider a divorce. I'm very relieved (to my knowledge) that everyone is okay from that scary crash
As is often the case with tweets, I would very much like to 'follow up'. What about Pocono does Wickens believe to be toxic? Why should IndyCar not race at Pocono? Is Pocono that much different from say Texas? If so, why?
Yes, I agree the results of Pocono in recent years have not been good. But could these results happen elsewhere?
Perhaps. However, I do know this: at the moment people seem more focused on the outcomes, rather than asking the why. Let's take a look at recent Pocono incidents and examine why they happened, and what concerns they raise.
Wilson
Justin Wilson
To begin, I think it's fair to put the Wilson accident aside for the overall discussion. In my opinion at least, the Wilson accident was a function of a part detaching from the car of Sage Karam. Yes, the high speeds of a track like Pocono certainly were a contributing factor. However, Wilson's accident could have just as easily occurred at Indianapolis, Texas, or Auto Club Speedway where the series also raced in 2015.
From all indications, with updates to the technical package, the concern over large parts of the car detaching has been addressed by the series.
Perhaps, one could raise the issue of spotting at Pocono, but generally speaking, Wilson's passing was function of parts coming off the car, not anything inherent about Pocono Raceway.
Wickens
The Wickens situation is perhaps different, although I want to be clear that there is context, and I am not taking the track to task. Safety materials cost money, and Pocono Raceway has made business decisions in the best interests of their facility.
However, as I outlined a year ago in this article following Wickens' crash, the debris fence at Pocono was designed with heavy, boxy stock cars in mind. More specifically, the debris fencing has relatively large holes. These large holes increase the potential for angular Indy cars to penetrate more deeply into the mesh, elevating their likelihood of hitting the poles. Indianapolis for example, has smaller mesh holes in the fence, which are more optimal for Indy cars.
Simply put: if a car is to get airborne at Pocono, the Wickens' situation is probably not an exception. Remember, Wickens at least scrubbed off some speed before he contacted the catch fence. A scenario in which a driver scrubs less speed, has the potential to be worse.
Conclusion: If modern Indy cars are going to run Pocono Raceway at speeds in excess of 215 miles per hour, the catch fence (as currently constructed) is a concern. I go into this in more detail in the article linked above.
Other concerns
A Handford Device, perhaps smaller than the one CART raced in 2000, would solve the passing difficulties created by the current aero package on Superspeedways. Result – drivers won't feel the need to take so many risks on restarts and starts
Aside from simply running race cars in excess of 200 miles per hour on a track with incredibly limited run-off, one concern I believe Sunday's accident illuminated was Sato, Hunter-Reay, and Rossi coming back onto the track following their contact with the inside SAFER Wall. I had not noticed this before but there is very little room between the inside wall and the track, leaving the possibility of a side-impact collision at very high speeds possible.
Another consideration could be the current aero package. Whereas, the previous package made passing easier, the current package has made overtaking more of a premium at tracks like Pocono and Indy. Does the series consider some aerodynamic changes?
One potential idea that AR1 President Mark Cipolloni advocates is the Handford Device used in the CART days. According to Mark, the Handford Device would allow the cars to slingshot but at the same time not create the dreaded pack racing.
To be clear
None of what I mention (the catch fence, the aero package, the close proximity of the inside wall) mean the series cannot or should not run Pocono Raceway. We all know racing is a risk/reward proposition, and certain tracks pose certain challenges. The point of this exercise is to differentiate between actual concerns and simply lashing out at any one driver, or the race track itself.
Another smaller concern (again, in my opinion) is the cleanup time after such wrecks. While a red flag can occur anywhere the likelihood of a high speed oval is more significant. And I hate to be the one to say this: but the series and track look like a bunch of chumps when they race a half lap before needing a 45-minute delay, so dudes in blue jeans and t-shirts can fix the fence with tie-wraps.
Ovals
Of course, a broader subtext here is the notion of Indy cars running high speed ovals (aside from IMS) altogether. We know that ovals have had more trouble drawing in recent years, and with the inherent dangers and relative lack of interest from the free market, does that make the series reconsider oval races?
I remain of the opinion that IndyCar becoming a series of 14 road/street races and the Indy 500 renders the series F1.5 (Formula 1.5) with the Indy 500. The oval/road/street mix creates a unique champion that no other form of racing can crown. Efforts should be made to keep oval races in the mix.
Overall, I'd argue that Pocono offers no more tangible risk than other venues the series runs such at such speeds. Remember, it was just two years ago that Scott Dixon flew through the air at Indianapolis, and we are a mere four years removed from three cars getting airborne in one week of practice for the 500. While drivers walked away in each of those instances, the outcome of those crashes could have been much, much worse. Sebastien Bourdais and James Hinchcliffe also had very serious injuries at the track in recent years.
Now, Indianapolis offers greater fortune and fame than Pocono. Power, for example banked $30,000 for winning this weekend, whereas Pagenaud earned $2.6 million for winning Indy.
Therefore, the question seems to me more financial than anything. Because, let's face it: things that can be done to make this track, or that corner a little safer, but there will always be danger in running race cars in excess of 200 miles per hour on tracks with little run-off.
In short, the conversation should probably be an examination of the current danger relative to the current rewards. But crushing Pocono Raceway, a certain corner, or Sato, really misses the point.
Ferrucci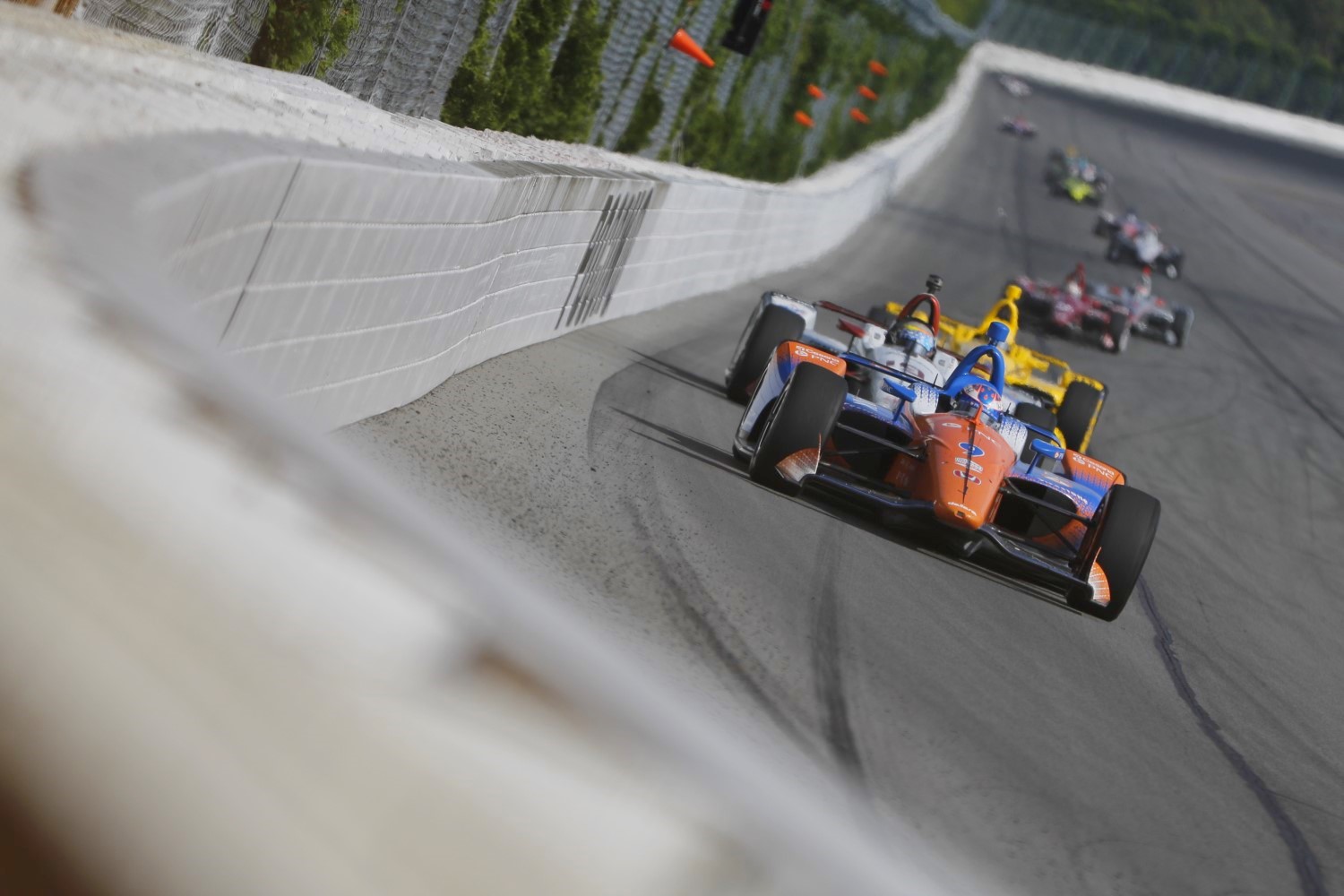 Ferrucci hounds Dixon
I know people are sick of the slobbering adulation coming from the NBCSN booth about rookie Santino Ferrucci. However, let the record show Ferrucci had one practice session at Pocono Saturday before running with Power, Dixon, Newgarden, and Pagenaud nearly THE ENTIRE RACE in the top-5 Sunday. We know Pocono is a big-boy track, and Ferrucci was certainly a big boy Sunday.
Brian Carroccio is a senior columnist for AutoRacing1. He can be contacted at BrianC@AutoRacing1.com.