Kyle Larson Wins First Pole of the Season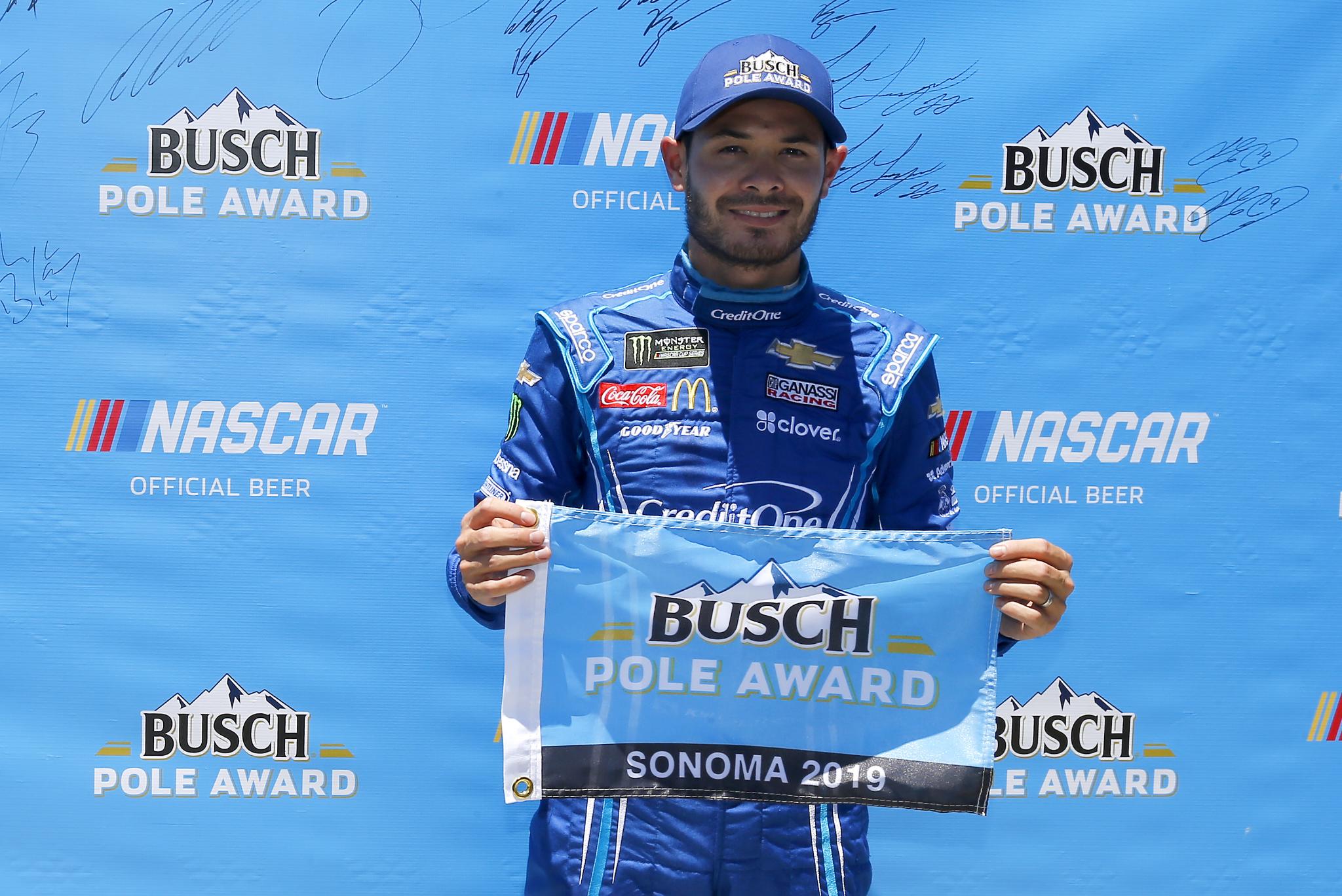 Kyle Larson scored his third-straight Sonoma pole
Jonathan Ferrey/Getty Images
Winning poles at Sonoma Raceway is nothing new for Kyle Larson, who proved that definitively on Saturday, powering his No. 42 Chip Ganassi Racing Chevrolet to his third straight top starting spot at the 2.52-mile road course, which features the addition of the carousel this year.
What has been far less predictable is Larson's finishing position in the Toyota/Save Mart 350, a statistic Larson hopes to rectify on Sunday. Larson has finished 26th and 14th in his last two outings at Sonoma and has never run better than 12th in five Monster Energy NASCAR Cup Series starts at the track.
"I guess the trend with my three poles is winning a pole and then struggling in the race," said the 26-year-old from Elk Grove, Calif., who claimed his first Busch Pole Award of the season and the eighth of his career and tied Ricky Rudd for most consecutive poles at the track. "Hopefully, we'll have something different for tomorrow. I feel good."
"We did a mock (qualifying) run yesterday in practice and ran a good lap. I kind of over-drove the first session and then the next session I said, 'I'm going to calm down and not make any mistakes, and I probably under-drove just a little. In the carousel, I think I gave up a little speed, but I feel like I made up some time in other areas, too. It's cool to get a third pole in a row here at my home track."
[adinserter name="GOOGLE AD"]Larson toured the 12-turn circuit in 94.784 seconds (95.712 mph), edging fellow Chevrolet driver William Byron (95.669 mph) by .043 seconds. Joey Logano qualified third at 95.618 mph in his No. 22 Team Penske Ford.
"I feel like my lap was pretty good," said Logano, who was .094 seconds off the pole speed. "I was just a little loose. I feel like I got through it mainly pretty decent. I got a little loose off of (Turn) 10. If I could find one spot, I got too loose off 10 trying to throttle up too aggressively and stuck half my left sides up in the dirt and got loose and knocked a few mile an hour off on the exit, compared to what I would have been.
"Maybe that's a tenth (of a second), maybe a half a tenth. I don't know. I have to go back and look. All I needed was nine-hundredths, so that's probably the spot I'm looking at."
Chase Elliott qualified fourth ahead of Daniel Suarez. Sixth-place Denny Hamlin had the fastest Toyota, edging Joe Gibbs Racing teammates Kyle Busch and Martin Truex Jr., the defending race winner. Ryan Blaney, Chris Buescher, Jimmie Johnson and Alex Bowman also advanced to the second round of time trials and will start ninth through 12th, respectively.
POST-QUALIFYING PRESS CONFERENCE TRANSCRIPT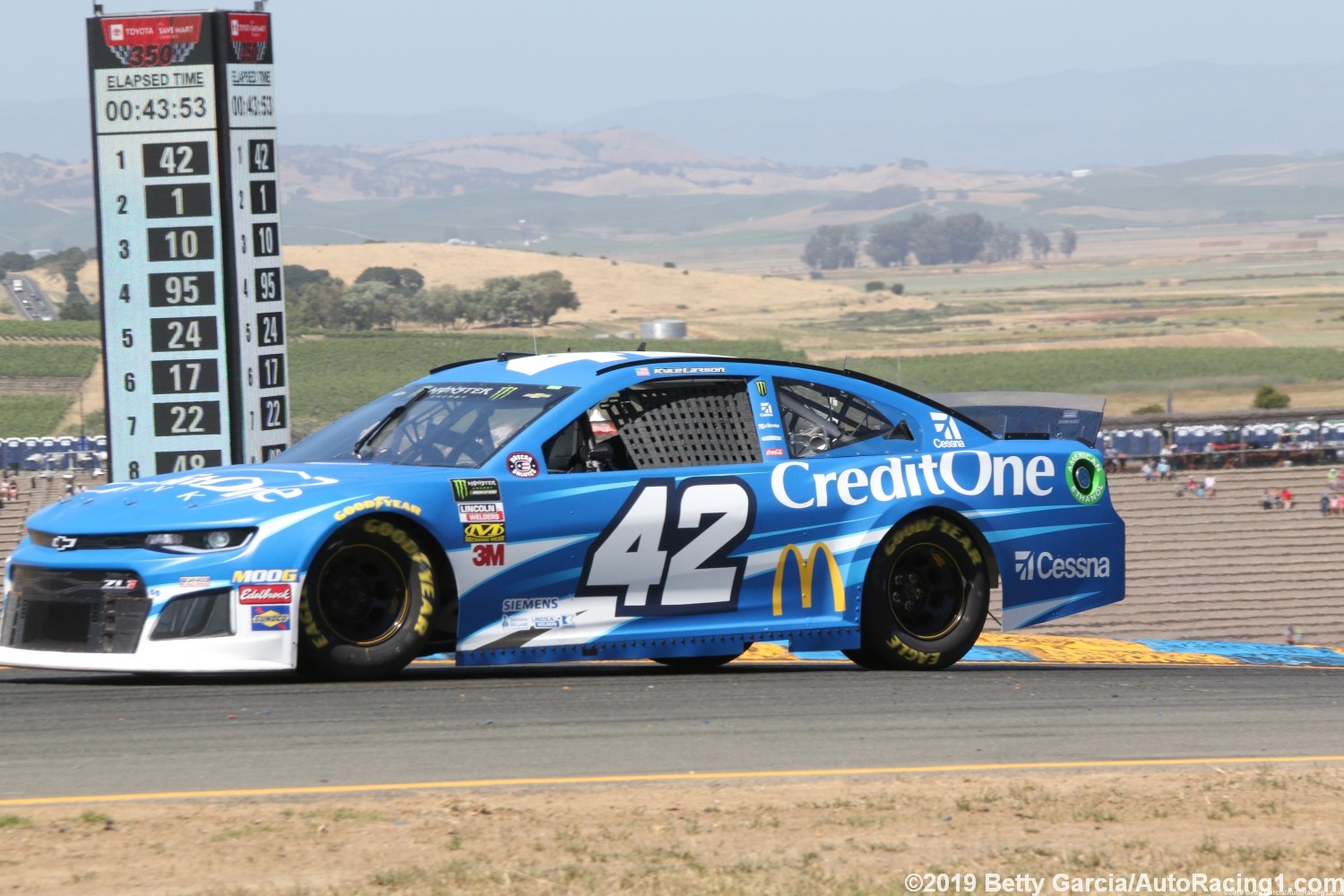 Kyle Larson
KYLE LARSON, NO. 42 CREDIT ONE BANK CAMARO ZL1 – POLE WINNER
TELL ME ABOUT WHAT YOU SAW OUT THERE AND HOW IT FELT.
"It was obviously good. We were quickest in the first one and then again in the next session. In the first one, I saw Ryan (Blaney) run a similar lap time to what I did in practice. You never really know what you're tracking while you're out there, so I was just going really hard the first session. I felt like I over-drove some and slipped my tires maybe a little too much, but ran a really fast lap. I was a little worried for the next session that maybe I used up the good in the tires. The next session, I probably under-drove a little bit a couple of corners. I felt like I over-drove the Carousel the first time and under-drove it the second time. I slightly over-drove Turn 7 the first session and slightly under-drove it the next, but I felt like I got through the last corner a little better. I went a little bit slower the next round, but I was able to get the Pole. It was pretty close. I don't know what William (Byron) ran, but I think the gap between me and Joey (Logano) was pretty close, so for William (Byron) to sneak in there, it had to be pretty tight. It's just cool to get another Pole here at my home track, but really we just need to focus on the race and hopefully we do good tomorrow."
WHAT DO YOU THINK ACCOUNTS FOR YOUR ABILITY TO QUALIFY SO WELL HERE?
"I don't know. I think our cars have always qualified really well here. Kurt (Busch) seemed to struggle today, but Jamie (McMurray) and I have been in the Top 5 every year since I've been in the Cup Series and when he was around racing. I think our cars are just quick for short run stuff. It just fits my driving style a little bit; you can be really aggressive for a lap in qualifying, but you still have to hit your marks. I feel like each year I've qualified here, I went really well, but made a lot of mistakes and knew there were a lot of opportunities for me to clean up my mistakes and get Poles. Now, I feel like the last three years, my mistakes have been smaller and I think that's why I've been able to get the Pole here the last three years."
THE POLESITTER HAS ONLY WON HERE FIVE OR SIX TIMES, THAT I RECALL, AND YOU WERE 14TH AND 26TH HERE THE LAST TWO YEARS. WHAT DO YOU THINK IS GOING TO BE DIFFERENT FOR YOU THIS TIME AROUND?
"I don't know. The trend was similar yesterday where in race trim, I was not very good on long runs. We'll see, I hope it's different, but we don't know until we start tomorrow's race."
HOW ARE YOU GUYS LOOKING AT THIS AS FAR AS WHAT IT'S GOING TO TAKE TO WIN THIS TIME?
"I don't know. I think we all know what it takes to be really good here. I think Clint (Bowyer) has kind of proven that, where you don't have to be fast in qualifying to win. You need to have a good long run car and that has been an area where I've struggled. Maybe I don't have the best long run car, but I probably also don't do the best job behind the wheel and abuse the tires. That's somewhere that I've tried to get better at with tracks like this and Martinsville. Tomorrow, I'll just work hard to be smooth on everything and try some things out during the race in different runs to see if I can make myself go better on long runs."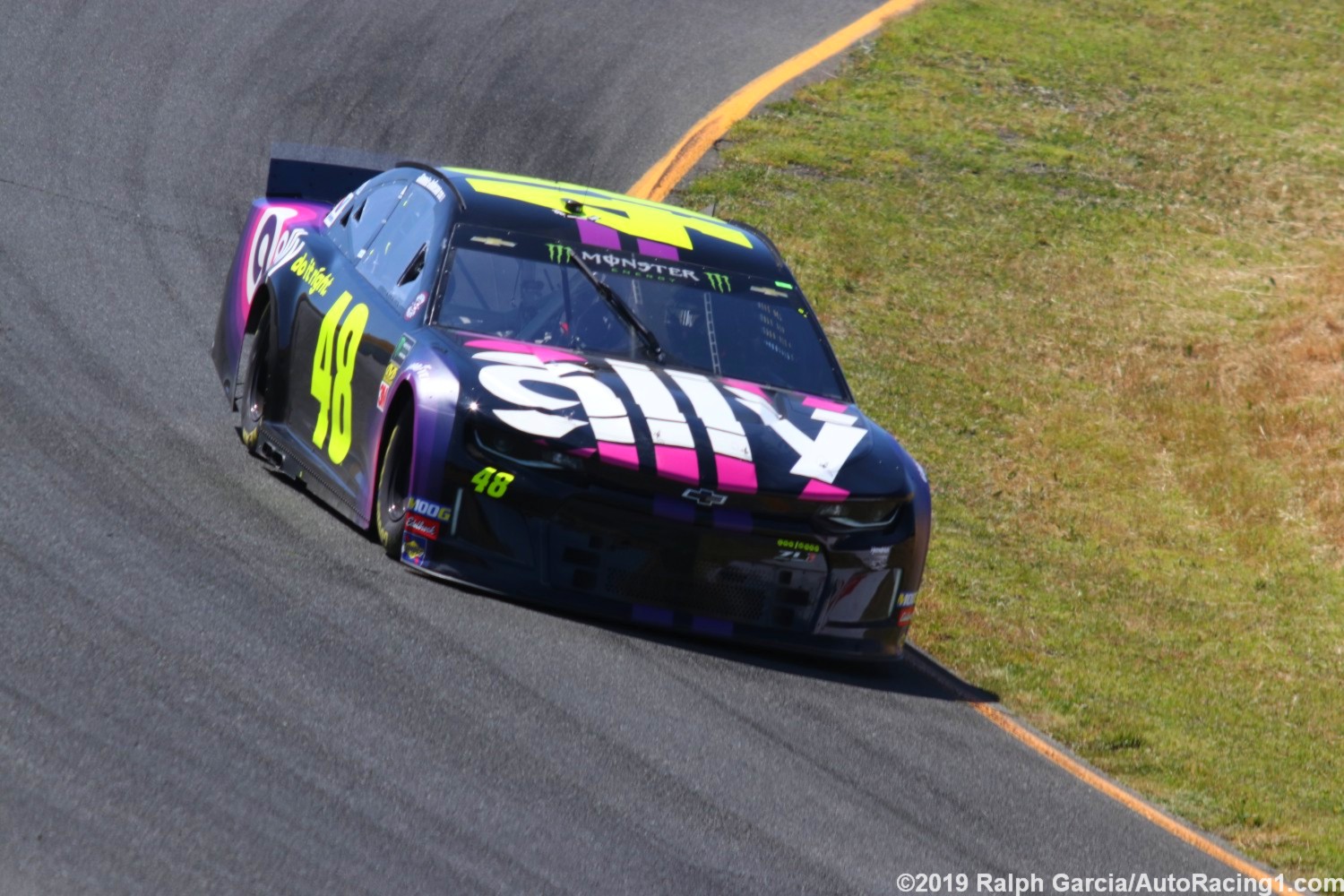 Jimmie Johnson
THERE ARE SHORT AND LONG STAGES IN THIS RACE. DO YOU DRIVE DIFFERENTLY AT DIFFERENT PARTS OF THE RACE?
"It doesn't matter if it's a road course or an oval, every run is a little different in where you restart and what's going on in the race. As the leader, I usually just try to run the first lap pretty hard and then try to take care of my tires. It will be similar tomorrow I think; just trying to get out front and take care of my stuff. Hopefully the strategy works out where we can be up front and not have to race super hard and risk damage. We'll see, it could be a different race with the new corners."
WITH THE NEW LAYOUT, DOES IT FAVOR AGGRESSION OR WILL AGGRESSION BITE YOU?
"I don't think it really favors anything different than the other circuit, at least as far as how practice felt. If anything, I feel like there are a few extra corners, but I feel like it made it a little easier on me just because Turn 4 was the tricky corner and it was really aggressive on your car and body. Turn 7 was always a tough corner to hit right, getting the car on the curb. It's a little bit different, but I think it will still be the same race. The same guys are going to be up front. I don't know, maybe you'll see more accidents, I'm not sure. So far, it doesn't seem like it's going to race much differently."
SOME OF THE DRIVERS WERE SAYING YESTERDAY THAT THEY THOUGHT THERE WAS SOME DIRT ON THE TRACK. WHAT WAS YOUR EXPERIENCE TODAY WITH THE CONDITION OF THE TRACK?
"The only area where you could see that it was dirty was Turn 5 and they seemed to have fixed that with adding the curb. That was nice they did that because that would have been bad during the race if someone clips the dirt in front of you and the guy behind you gets in it and you lose all grip. I thought that was nice that they added that curb in there. It's a pretty big curb, so you're not going to really get on it. It's going to eliminate us getting off into the dirt and dragging dirt onto the track."
WERE YOU MADE AWARE OF THE CURB BEFOREHAND?
"I saw Kyle (Busch) on camera walking with track crew yesterday. I knew kind of what he was trying to convince them to do, but I didn't know that they actually did it until probably ten minutes before I got in the car for qualifying. I was happy that they did it. My first time out on the track on the warm-up lap, I kind of drove my car up on it just to see how big it felt and if we were going to be able to use it. It felt pretty big, so I knew I needed to stay off of it or at least try to not use much of it. The first round, I clipped it and it kind of got me loose. The next round, I made sure to stay off of it. I'm happy that they did that."
RACE LINEUP
| | | | | | |
| --- | --- | --- | --- | --- | --- |
| Pos | # | Driver | Sponsor/Make | Lap | Speed |
| 1 | 42 | Kyle Larson | Credit One Bank Chevrolet | 94.784 | 95.712 |
| 2 | 24 | William Byron | Hertz Chevrolet | 94.827 | 95.669 |
| 3 | 22 | Joey Logano | Shell Pennzoil Ford | 94.878 | 95.618 |
| 4 | 9 | Chase Elliott | NAPA Auto Parts Chevrolet | 94.898 | 95.597 |
| 5 | 41 | Daniel Suarez | Ruckus Ford | 95.26 | 95.234 |
| 6 | 11 | Denny Hamlin | FedEx Ground Toyota | 95.287 | 95.207 |
| 7 | 18 | Kyle Busch | M&M's Hazelnut Toyota | 95.367 | 95.127 |
| 8 | 19 | Martin Truex Jr. | Bass Pro Shops Toyota | 95.399 | 95.095 |
| 9 | 12 | Ryan Blaney | PPG Ford | 95.507 | 94.988 |
| 10 | 37 | Chris Buescher | Hellmann's Chevrolet | 95.668 | 94.828 |
| 11 | 48 | Jimmie Johnson | Ally Chevrolet | 96.156 | 94.347 |
| 12 | 88 | Alex Bowman | Axalta Chevrolet | 96.374 | 94.133 |
| 13 | 34 | Michael McDowell | Love's Travel Stops Ford | 95.449 | 95.046 |
| 14 | 14 | Clint Bowyer | Rush Truck Centers Ford | 95.485 | 95.01 |
| 15 | 10 | Aric Almirola | Smithfield Ford | 95.624 | 94.872 |
| 16 | 1 | Kurt Busch | Monster Energy Chevrolet | 95.746 | 94.751 |
| 17 | 17 | Ricky Stenhouse Jr. | Roush Performance/ThanksDW Ford | 95.749 | 94.748 |
| 18 | 38 | David Ragan | #ThanksDW Ford | 95.821 | 94.677 |
| 19 | 95 | Matt DiBenedetto | Procore Thanks DW Throwback Toyota | 95.926 | 94.573 |
| 20 | 47 | Ryan Preece # | Kroger Chevrolet | 96.07 | 94.431 |
| 21 | 6 | Ryan Newman | Wyndham Rewards Ford | 96.106 | 94.396 |
| 22 | 2 | Brad Keselowski | America's Tire Ford | 96.118 | 94.384 |
| 23 | 4 | Kevin Harvick | Mobil 1 Ford | 96.13 | 94.372 |
| 24 | 21 | Paul Menard | Menards/Richmond Ford | 96.281 | 94.224 |
| 25 | 8 | Daniel Hemric | Poppy Bank Chevrolet | 96.294 | 94.211 |
| 26 | 3 | Austin Dillon | Dow Coatings Chevrolet | 96.457 | 94.052 |
| 27 | 32 | Corey LaJoie | GMN Ford | 96.484 | 94.026 |
| 28 | 36 | Matt Tifft # | Acquire Investments Ford | 96.781 | 93.737 |
| 29 | 96 | Parker Kligerman(i) | TRD 40th Anniversary Toyota | 97.006 | 93.52 |
| 30 | 43 | Bubba Wallace | World Wide Technology Chevrolet | 97.02 | 93.506 |
| 31 | 13 | Ty Dillon | GEICO Military Chevrolet | 97.04 | 93.487 |
| 32 | 20 | Erik Jones | Craftsman Toyota | 97.53 | 93.018 |
| 33 | 77 | Justin Haley(i) | Formula One Imports Chevrolet | 97.911 | 92.656 |
| 34 | 52 | Cody Ware(i) | SBC Contractors Chevrolet | 98.432 | 92.165 |
| 35 | 0 | Landon Cassill(i) | SHARE Chevrolet | 98.719 | 91.897 |
| 36 | 51 | JJ Yeley | Jacob Companies Chevrolet | 99.161 | 91.488 |
| 37 | 15 | Kyle Weatherman(i) | Low T Centers Chevrolet | 102.283 | 88.695 |
| 38 | 27 | Reed Sorenson | VIPRacingExperience.com Chevrolet | 0 | 0 |