Hamlin holds off Elliott to win in Kansas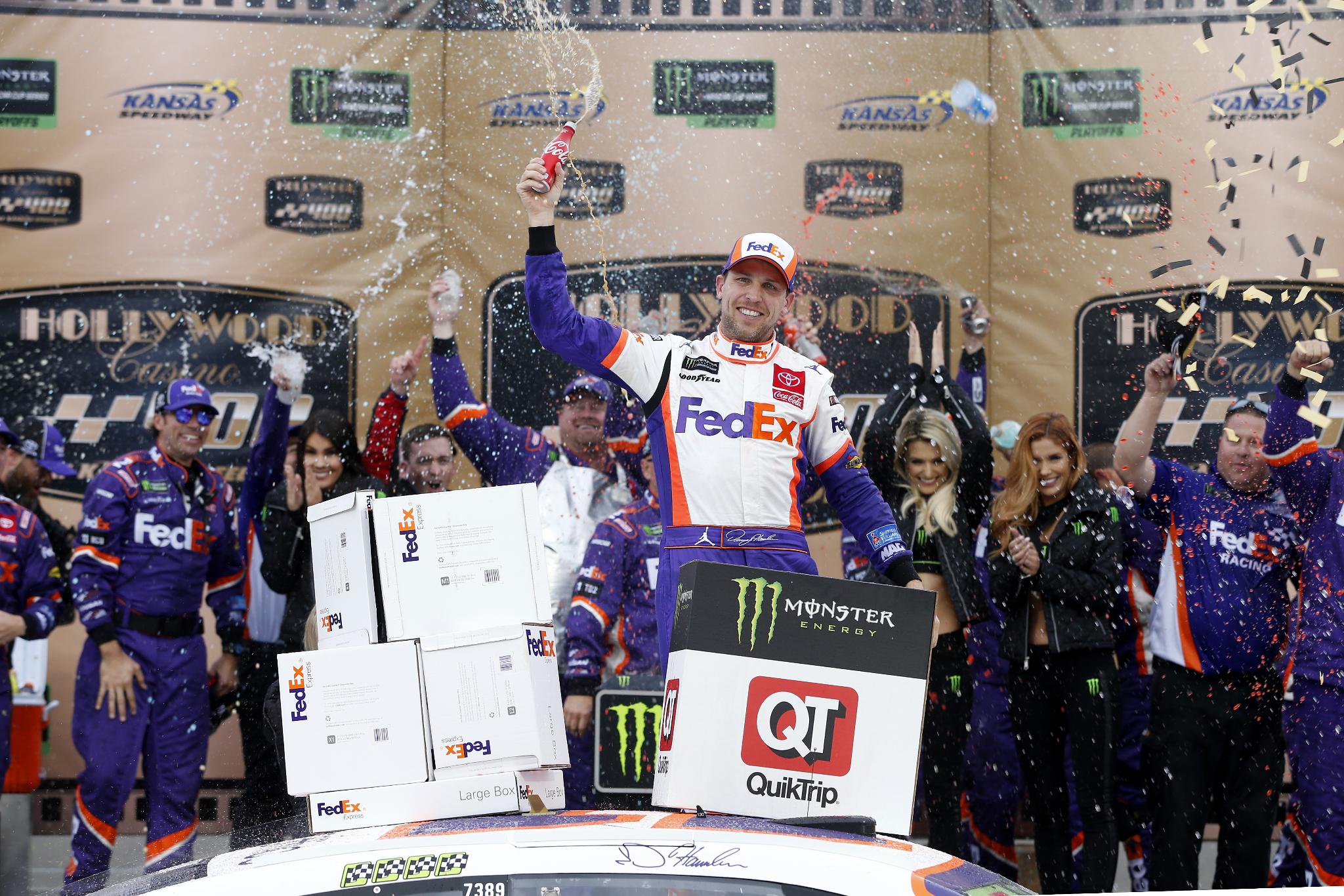 Denny Hamlin wins at Kansas Speedway
Brian Lawdermilk/Getty Images
As Denny Hamlin was finishing off a dominating day in Sunday's Hollywood Casino 400 at Kansas Speedway, Chase Elliott stole perhaps an even bigger prize—a spot in the Round of 8 in the Monster Energy NASCAR Cup Series Playoffs.
Hamlin, who led 153 of 277 laps, crossed the finish line .128 seconds ahead of Elliott in a second overtime to secure his fifth victory of the season, his second at Kansas Speedway and the 36th of his career.
But the real suspense in the second overtime featured a three-way battle between Elliott, Brad Keselowski and Joey Logano for the final two spots in the Round of 8. Logano restarted 20th in a damaged No. 22 Ford and finished 17th to secure one of the Playoff positions.
Keselowski, who entered the race with a 20-point margin over Elliott, was bottled up on the final restart, fell from 13th to 19th in the running order and lost the final Playoff berth to Elliott by three points.
Fittingly, there were two celebrations on pit road—one for the winner and one for the runner-up.
[adinserter name="GOOGLE AD"]"This is a great feeling," said Hamlin, who led Joe Gibbs Racing teammates Kyle Busch (third) and Martin Truex Jr. (sixth) into the penultimate round of the Playoffs. "That car was awesome to dominate that whole second half.
"I have to thank everybody who pushed me on the restarts, Kyle (Busch), the 9 (Elliott) at the end. Good to see him make it by points anyway. But, hey, I'm just really happy for this whole FedEx team. It's been great. Been running really good. Cannot wait to get to Martinsville (next Sunday's Round of 8 opener)."
Elliott is the only Hendrick Motorsports driver to transfer into the Round of 8. Teammate William Byron was fifth on Sunday but missed the next round by 16 points. Alex Bowman suffered early damage and rallied to run 11th, but he finished the race 20 points behind Elliott for the last spot.
Clint Bowyer came home eighth and was eliminated from the Playoffs in 12th place, 21 points below the cut line.
"The good news was the bottom lane rolled good enough on the last restart to at least get back to second," Elliott said. "So I appreciate the effort. We were really struggling there at one point in the race. You have to stay fighting in these things, especially with these late race restarts.
"Just proud of the effort today. Just excited we get to fight another race. Back up against the wall, to come out here and battle for a win, that's what you have to do when you're in the position that we were in.
"If you ever get to Homestead (in the Championship 4 race), you're going to have to fight for a win down there. Proud of the effort. Learned a lot. To be able to come out here and, like I said, in our minds have to win, come and fight for one, to finish second, I think is a step in the right direction for us. So excited to move on."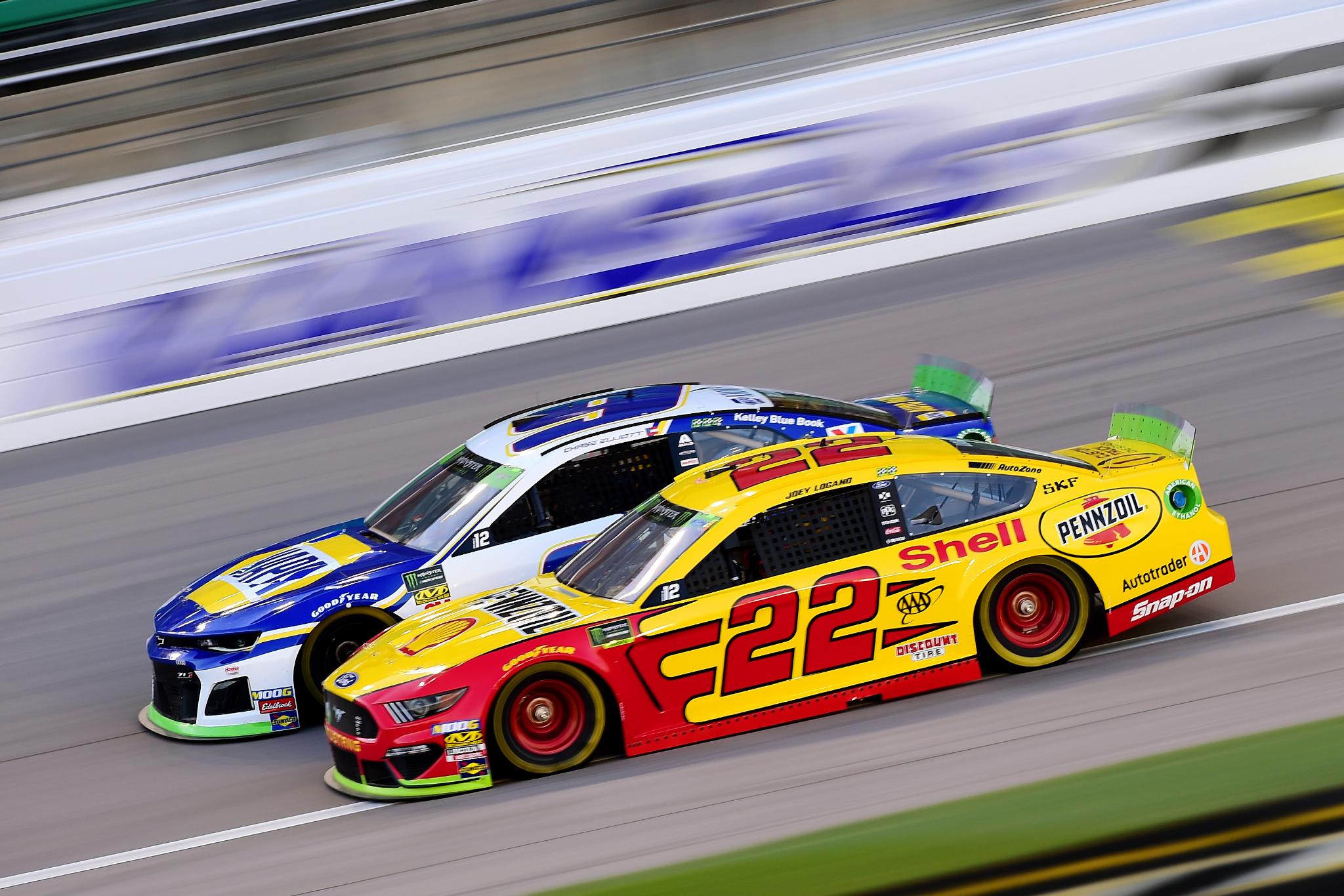 Joey Logano finished nine points ahead of Keselowski to advance to the next round
Jared C. Tilton/Getty Images
Logano won the first 80-lap stage and added four points with a seventh-place finish in the second stage to give himself the buffer he needed at the end, after spinning through the infield grass on the next-to-last lap in the first overtime, the result of a collision with the Chevrolet of Ty Dillon.
Logano, the defending series champion, finished the Round of 12 nine points ahead of Keselowski, his Team Penske teammate.
An effective charge toward the end of the race netted Kurt Busch a fourth-place finish. Truex, Erik Jones, Bowyer, Kevin Harvick and Jimmie Johnson completed the top 10.
Despite an off day, Harvick cruised into the next round of the Playoffs. Kyle Larson and Ryan Blaney already were locked into the Round of 8, thanks to their respective victories at Dover and Talladega.
DENNY HAMLIN, No. 11 FedEx Office Toyota Camry, Joe Gibbs Racing
FInishing Position: 1st
Let's talk about those last two restarts and being able to hold off your teammates.
"Yeah, I just had to hold the bottom and get a good push. It was all about the push that I got from the 9 (Chase Elliott) and really the 18 (Kyle Busch) those last couple of restarts. That was the most important thing for us – to get a good restart. Once we got out front, we could hold it wide open. Our car was built for downforce, so it worked out that it was just fast enough to win."
Talk about that last pit call – taking two tires instead of four.
"I knew track position was the biggest factor for us. As long as we could keep our car out front, it was the most important thing beyond tires. We made the right call and took two lefts there and that turned out to be the best call there."
We talk about momentum. You came from 23rd to win and now you head to one of your best tracks.
"Yeah, I love where we are at, no doubt about it. I cannot wait to get to Martinsville. This week was just supposed to be a fun week for us, kind of check things out and make sure that we are good once we get down the road as we get to other tracks and I'm pretty happy about where we are at."
Talk about the celebration with FedEx and your team.
"Fred Smith (CEO, FedEx) and his whole team have been so great to support me and this race team for 14 years of my career and I could not be happier to be with this company and all the associates that work there. I want to thank FedEx, Toyota, the Jordan Brand, Little Big Burger, all of this crew. The pit crew did an amazing job. Chris (Gabehart, crew chief) made the right call every time and we just had a race winning car. The second half of the race showed that. I'm glad we could pull it off."
Denny, you are going into the next round now.
"It's step-by-step, week-by-week. We are not getting too far ahead of ourselves. We concentrate every week as if it's the most important one, and this win here shows that."
KYLE BUSCH, No. 18 M&M's Halloween Toyota Camry, Joe Gibbs Racing
Finishing Position: 3rd
Any idea what happened with the throttle during today's race?
"I had a teammate that had the same problem a few weeks back and obviously we thought we had the issue resolved."
Do you feel like you made strides in today's race?
"No, it's about how we're supposed to run. I guess if you're not in control on the last restart then you don't have a chance to win."
Did you work together with your teammates to ensure a Joe Gibbs Racing Camry won the race today?
"I think we proved that point when there were three Gibbs cars on the bottom row and all we did was basically push each other and stay in line with one another all the way down into the corner."
Race Results
| | | | | | |
| --- | --- | --- | --- | --- | --- |
| POS | CAR | DRIVER | MANUF | LAPS | BEHIND |
| 1 | 11 | Denny Hamlin (P) | Toyota | 277 | 0.000s |
| 2 | 9 | Chase Elliott (P) | Chevy | 277 | 0.128 |
| 3 | 18 | Kyle Busch (P) | Toyota | 277 | 0.266 |
| 4 | 1 | Kurt Busch | Chevy | 277 | 0.493 |
| 5 | 24 | William Byron (P) | Chevy | 277 | 0.543 |
| 6 | 19 | Martin Truex Jr. (P) | Toyota | 277 | 0.796 |
| 7 | 20 | Erik Jones | Toyota | 277 | 1.005 |
| 8 | 14 | Clint Bowyer (P) | Ford | 277 | 1.125 |
| 9 | 4 | Kevin Harvick (P) | Ford | 277 | 1.405 |
| 10 | 48 | Jimmie Johnson | Chevy | 277 | 1.407 |
| 11 | 88 | Alex Bowman (P) | Chevy | 277 | 1.537 |
| 12 | 47 | Ryan Preece # | Chevy | 277 | 1.786 |
| 13 | 37 | Chris Buescher | Chevy | 277 | 1.948 |
| 14 | 42 | Kyle Larson (P) | Chevy | 277 | 2.233 |
| 15 | 95 | Matt DiBenedetto | Toyota | 277 | 2.246 |
| 16 | 17 | Ricky Stenhouse Jr. | Ford | 277 | 2.589 |
| 17 | 22 | Joey Logano (P) | Ford | 277 | 2.604 |
| 18 | 21 | Paul Menard | Ford | 277 | 2.858 |
| 19 | 2 | Brad Keselowski (P) | Ford | 277 | 3.003 |
| 20 | 3 | Austin Dillon | Chevy | 277 | 3.032 |
| 21 | 12 | Ryan Blaney (P) | Ford | 277 | 4.090 |
| 22 | 13 | Ty Dillon | Chevy | 276 | -1L |
| 23 | 10 | Aric Almirola | Ford | 274 | -3 |
| 24 | 34 | Michael McDowell | Ford | 274 | -3 |
| 25 | 36 | Matt Tifft # | Ford | 273 | -4 |
| 26 | 38 | David Ragan | Ford | 273 | -4 |
| 27 | 15 | Ross Chastain(i) | Chevy | 272 | -5 |
| 28 | 32 | Corey LaJoie | Ford | 272 | -5 |
| 29 | 96 | * Parker Kligerman(i) | Toyota | 271 | -6 |
| 30 | 51 | JJ Yeley(i) | Ford | 271 | -6 |
| 31 | 8 | Daniel Hemric # | Chevy | 270 | -7 |
| 32 | 41 | Daniel Suarez | Chevy | 270 | -7 |
| 33 | 27 | * Reed Sorenson | Chevy | 267 | -10 |
| 34 | 52 | Garrett Smithley(i) | Ford | 267 | -10 |
| 35 | 43 | Bubba Wallace | Chevy | 263 | -14 |
| 36 | 53 | * Josh Bilicki(i) | Ford | 262 | -15 |
| 37 | 00 | Landon Cassill(i) | Chevy | 203 | -74 |
| 38 | 66 | * Joey Gase | Toyota | 107 | -170 |
| 39 | 77 | Timmy Hill(i) | Chevy | 95 | -182 |
| 40 | 6 | Ryan Newman | Ford | 72 | -205 |
# Denotes Rookie
(I) Not Eligible For Points
(*) Required To Qualify On Time
P=Playoff Driver