Tyler Reddick Beats The Heat To Win At Charlotte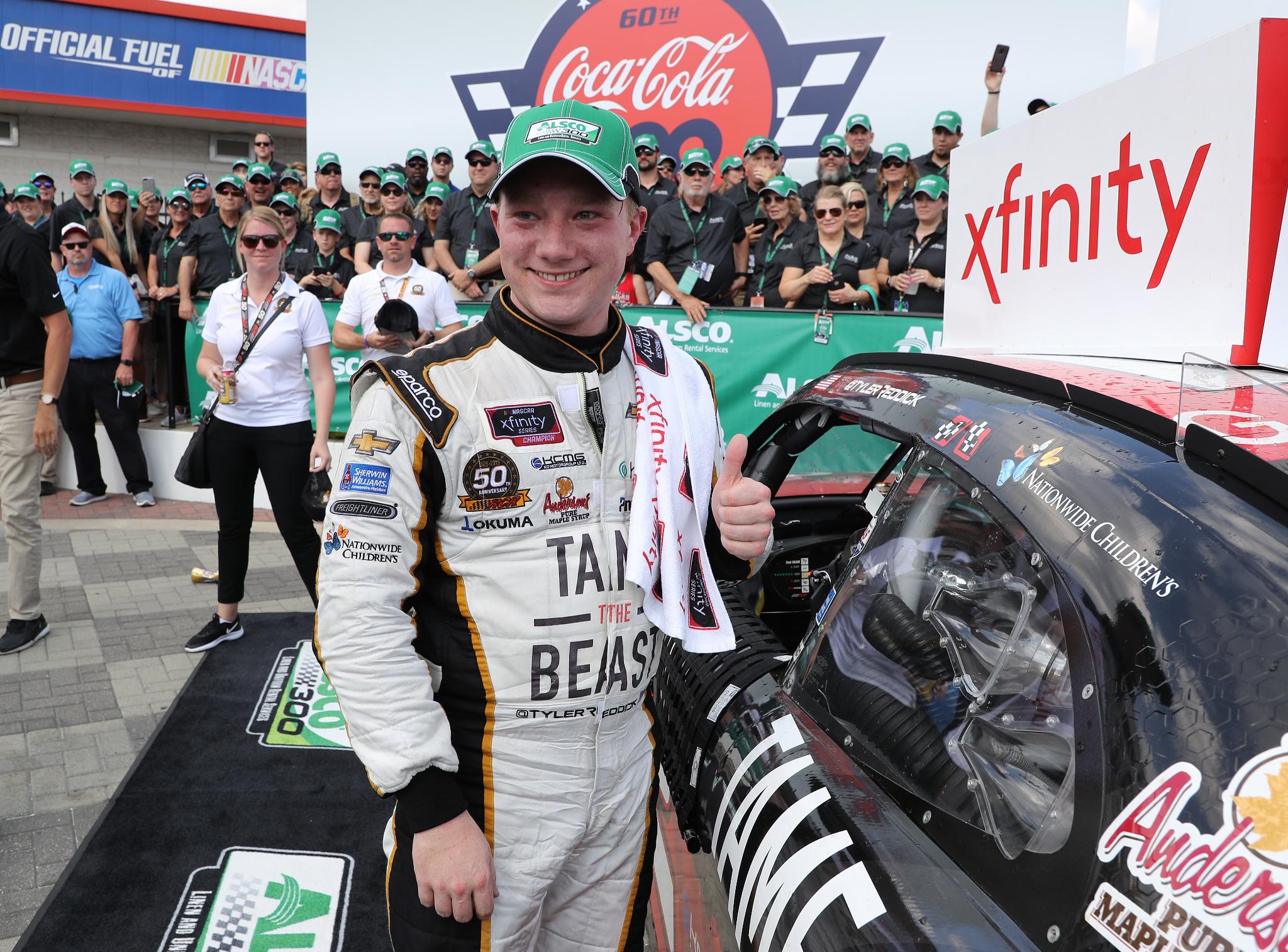 Tyler Reddick wins his second races of the season
Streeter Lecka/Getty Images
The only thing hotter than the weather in Charlotte on Saturday was Tyler Reddick.
With temperatures hovering in the mid 90s, Reddick powered his Richard Childress Racing Chevy to the lead for the first time on a lap 71 restart, and was the dominant car from there on en route to the win in Saturday's NASCAR Xfinity Series Alsco 300 at Charlotte Motor Speedway.
It marks the second victory of the season for the 23-year-old, and the fifth of his NXS career. It also gives him nine top five finishes in 11 races this season.
"I haven't run this consistent in a very, very long time," Reddick said. "It's really awesome to be part of a group like this – to go out every single race and know we're a top-5 team, even on bad days. It's been an unbelievable ride so far this year."
The Corning, California native led 110 of the 200 lap event that saw 10 cautions on the day. It also allows Reddick to pad his series points lead by 65 over Christopher Bell.
"Charlotte has kind of been the point in my season where things past Charlotte haven't really gone good, so it's been really nice to come into Charlotte and practice good, run the race good, and come away with a win," Reddick said. "Hopefully that means the next couple are going to keep rolling this way."
As to the heat, it wasn't that big of a deal for the race winner.
"These guys may do too good of a job at keeping the A/C units in our cars running really, really good – I felt great all race long," said Reddick.
Justin Allgaier raced inside the top ten most of the day, but changed his fortunes by taking on fresh tires under caution with less than 25 laps to go. Cole Custer surged to the lead on the restart when Reddick spun his tires, but another caution for a spin by Josh Williams set up the final restart.
When Custer spun his tires on the restart, Reddick surged back to the lead Allgaier in tow.
Allgaier tried to surge past Reddick, but to no avail. He would come home in second.
"The starts and restarts were miserable. Spinning the tires was crazy," Allgaier said. "Any time you can get a big run on somebody you gotta pass them because clean air was so important today.
"(Reddick's) car was so good today. I knew my only shot was to make hay while the sun was shining and try to get by him early in the run. I just didn't get it done. That's disappointing, but hat's off to Tyler (Reddick) – he drove a great race and didn't make any mistakes. It was still a good day for us, to rally back and get a good finish, so I'm happy with that."
Jeffery Earnhardt continued to impress in a limited schedule for Joe Gibbs Racing. After spinning on lap 140 with a cut tire, the fourth generation racer recovered for his best career finish in third.
After the race, Earnhardt was taken to the infield care center due to heat related issues. He was treated and released.
Earnhardt wasn't the only one dealing with the oppressive North Carolina heat. Austin Dillon's car made contact with the wall early on, knocking the crash panels out, which allowed heat and fumes into the cockpit of his No. 10 Chevrolet. He would soldier on as long as he could, but late in the going his teammate, Daniel Hemric, took over as the relief driver for Dillon. After returning briefly to the track, the car was retired early, with Dillon being credited with a 28th place finish.
Two drivers that led early and looked strong both had problems at the same time. Christopher Bell led 33 laps after starting on the pole, winning the first segment of the race. He was running second behind Reddick when his No. 20 Joe Gibbs Racing Toyota got into the wall with an apparent cut tire just before the end of the second segment of the race.
Bell stayed on the track as the caution came out, but the car suffered more damage as the tire shredded. The right front hub would catch fire on pit road, and Bell's day was over. He would be credited with a 33rd place finish.
"I felt like my balance was really good," Bell said. "My car was running good there. I had no warning of blowing a right front. I was actually a little bit loose that entire run. I guess we ran something over. I pile drove the fence and then rolling down the back straightaway I saw my teammate do it there too. Bummer, but we had a really fast Rheem Supra today."
Bell's JGR teammate, Brandon Jones, hit the wall just after Bell did while running third right behind Bell. Jones, with an apparent cut tire as well, headed for pit road to get the tire replaced, and incurred a penalty for stopping while pit road was closed. He would rally to finish in 10th.
"This was not ideal temperatures to be fighting the car like that," the Atlanta, Georgia racer said. "I think a top 10 was great. I tried again that last little bit to use the outside (lane). I know a lot of guys were doing that and I was just too tight there with the damage that I had to do it. I hit the wall again. All in all, I think 10th was pretty good considering what we had today."
Noah Gragson finished in fourth, with Justin Haley in fifth.
Michael Annett, Jeb Burton, Ryan Sieg, Austin Cindric and Jones rounded out the top ten.