Kyle Larson Wins Million Dollar Payday In All Star race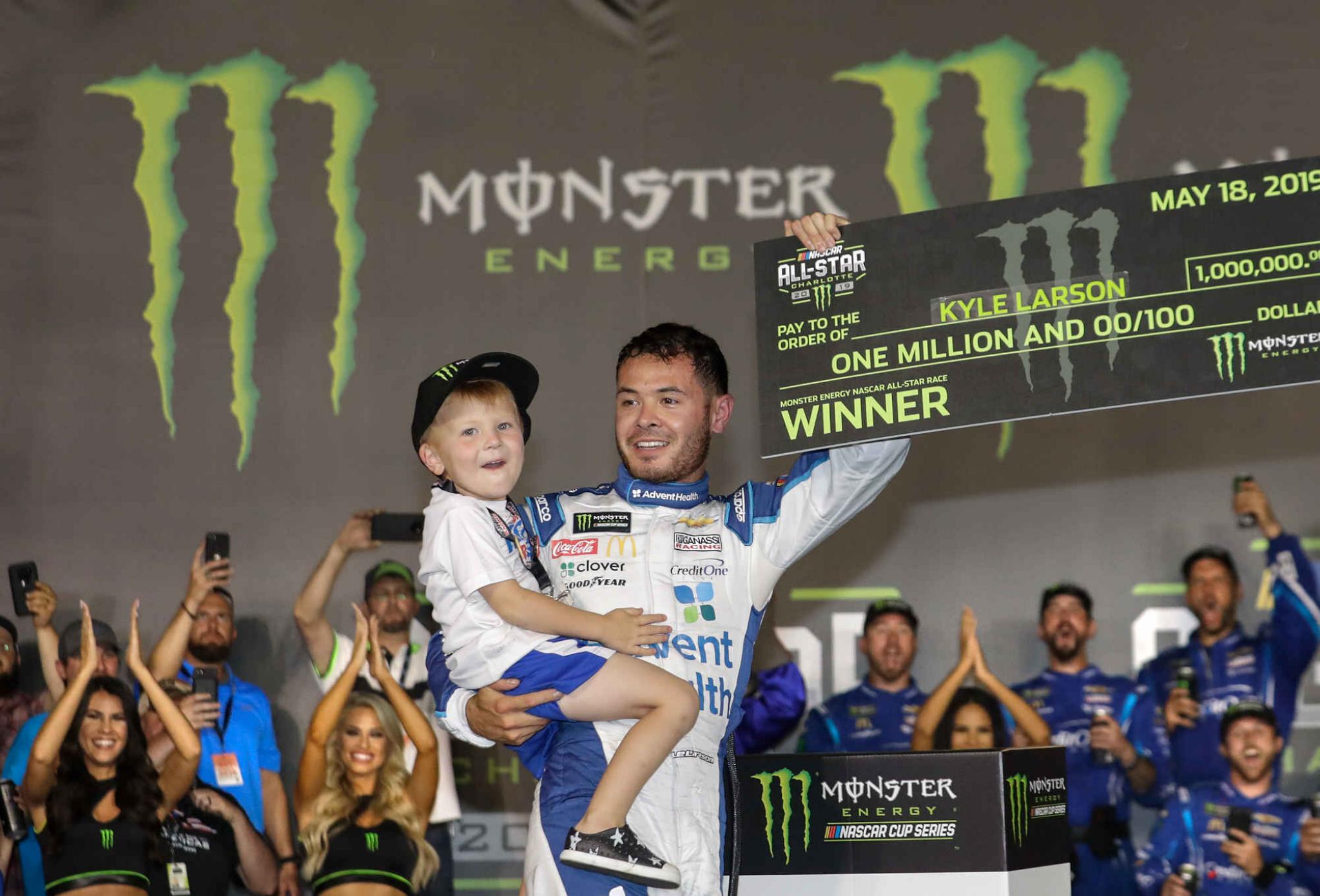 Kyle Larson celebrates in Victory Lane at Charlotte with his son, Owen
Harold Hinson/HHP for Chevy Racing
All Kyle Larson had to do to win Saturday night's Monster Energy NASCAR All Star Race and collect a million dollar payday was pick up a victory in a 50-lap qualifying race, survive an 85-lap slugfest and beat out the two previous two All Star Race winners in a final 12-lap shootout to the finish.
Sounds easy enough, right?
With a final push from Kevin Harvick, Larson rocketed from sixth to first on a restart on lap 76 and then managed to hold off Kyle Busch and Harvick over the remaining laps to score his first-career win in NASCAR's all-star event and take home a check for a cool million dollars.
And yes, he made it look easy.
Larson raced his way into the all-star field with a win in the final stage of the Monster Energy Open that was run prior to the All Star Race, joining fellow stage winners William Byron, Darrell "Bubba" Wallace, Jr. and Fan Vote winner Alex Bowman.
"This is unbelievable," said Larson. "This whole day was up and down from the (Monster Energy Open) we were into getting a little bit of damage, having to repair the car, had some great restarts there the last few, and Harvick gave me a heck of a push to get to the lead from the third row, and that was huge."
With his victory, Larson becomes just the fourth driver to advance from the Open and win the All Star Race – joining Michael Waltrip, Ryan Newman and Kasey Kahne.
Larson's win was also redemption for his last two appearences in this event – including the 2016 race where he crash out after leading 18 laps, and for 2017 where he finished runner-up to Kyle Busch.
"I feel like every time I've been in the All Star Race I've been close to winning, so it's neat to finally close it out," said Larson. "I think it was the year before (2016) actually that was more of a bigger loss to me. That's the one where I feel like this race feels like I got some redemption back because I felt like I was in an amazing spot to win this race then and just didn't get the job done."
Larson started 18th in the 19-car field and wasted no time moving up through the field, climbing to seventh by the end of the first stage then coming home fifth at the end of stage two.
Up front, the night had belonged to Harvick and Kyle Busch, as the two combined to lead 48 of the first 53 laps of the race.
Joey Logano came alive in the third stage and led all but one lap of the 20-lap segment, setting up the final round of pit stops for the final stage.
While Harvick and Larson were among those who opted to take four tires, Logano and Kyle Busch elected to stay out, with Logano restarting alongside Chase Elliott with 15 to go.
After a brief side-by-side battle, Kyle Busch bumped Elliott past Logano for the lead, then took the lead himself just before the caution waved for Denny Hamlin's spin.
Elliott lead the field to the green flag as the leader while Larson restarted seventh just ahead of Harvick.
Coming through the backstretch, Larson came up the middle three-wide with a push from Harvick – splitting Logano and Kyle Busch before slipping in front of Elliott to take the lead.
Just one lap later, Erik Jones pounded the wall to bring out the final caution –putting Larson out front with Elliott, Kyle Busch, Harvick and Logano lined up right behind him.
No pressure, right?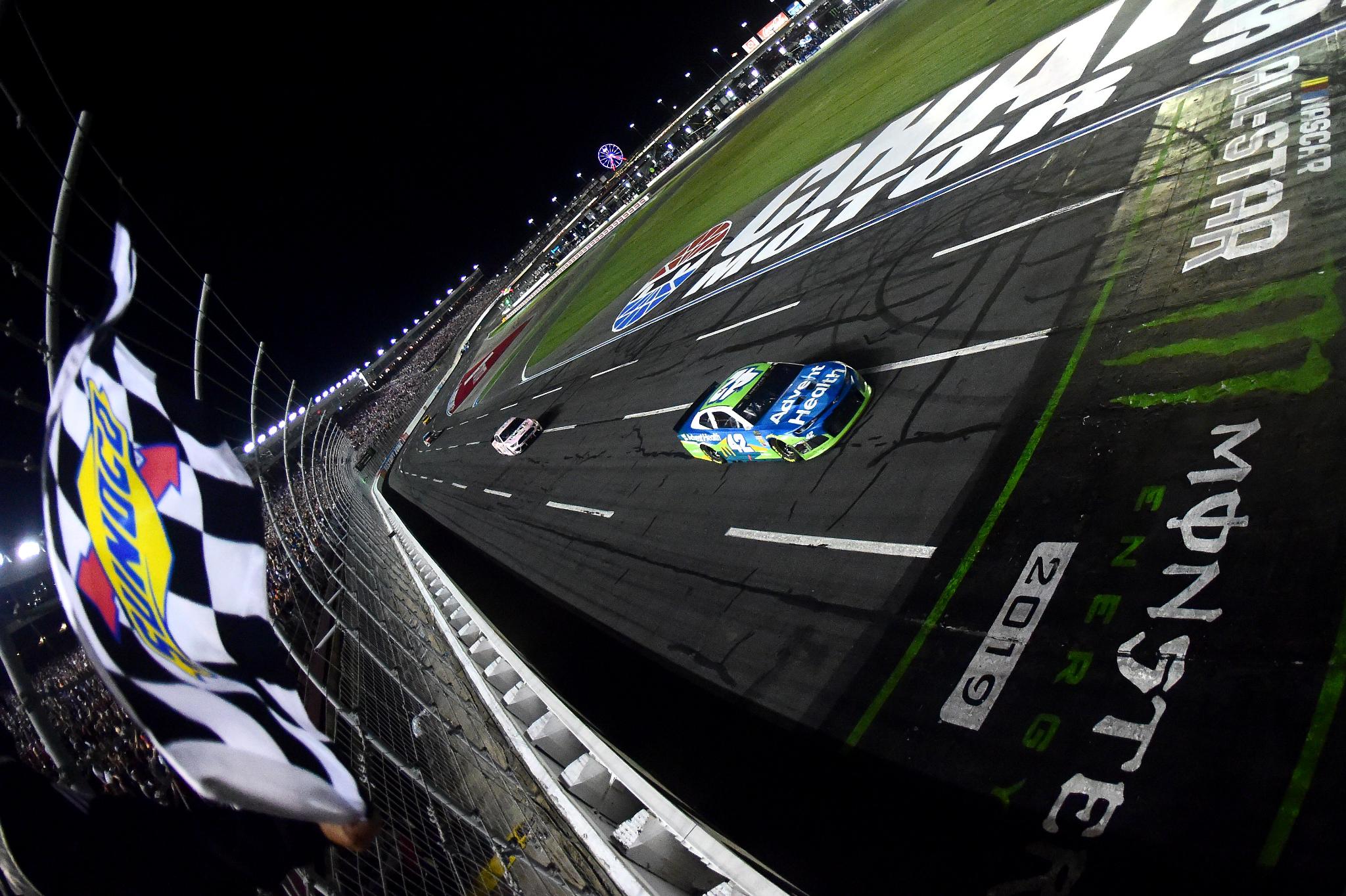 Kyle Larson beats Kevin Harvick to the checkered flag
Jared C. Tilton/Getty Images
Larson held the top spot on the restart while Kyle Busch challenged Harvick for second, finally getting past Harvick with eight laps to go, but just two laps later, Busch bounced his Toyota Camry off the wall in the front stretch, allowing Harvick to slip by to take second.
Harvick managed to close the distance on Larson over the final lap, but came up five car-lengths short at the end.
"(This was) a letdown," said Harvick. "That's how you take the fastest car and don't win the race with it. All these guys on the team just did a great job, and it was just unfortunate the way that pit road went tonight because it wasn't even close to anybody having a good car like we had tonight. So it was just a great night for performance, just a bad night on pit road."
Despite hitting the wall, Kyle Busch still rallied to finish third, but was bitterly disappointed with the outcome.
"This M&M'S Hazelnut Spread Camry was fast but just not fast enough by itself on restarts," said Busch. "Probably was the only guy to pass for the lead after a given set of laps. On restarts, we couldn't go anywhere, we just weren't fast enough, but we had long run speed."
Logano came home fourth, followed by Wallace. Aric Almirola, Austin Dillon, Alex Bowman, William Byron and Martin Truex, Jr. rounded out the top ten.
RACE RESULTS

| | | | | | | | |
| --- | --- | --- | --- | --- | --- | --- | --- |
| Finish | Start | # | Driver | Sponsor/Make | Laps | Led | Status |
| 1 | 18 | 42 | Kyle Larson | Advent Health Chevrolet | 88 | 13 | Running |
| 2 | 3 | 4 | Kevin Harvick | Busch Beer Millenial Car Ford | 88 | 33 | Running |
| 3 | 2 | 18 | Kyle Busch | M&M's Hazelnut Toyota | 88 | 15 | Running |
| 4 | 10 | 22 | Joey Logano | Shell Pennzoil Ford | 88 | 19 | Running |
| 5 | 17 | 43 | Bubba Wallace | World Wide Technology Chevrolet | 88 | 0 | Running |
| 6 | 13 | 10 | Aric Almirola | Smithfield Ford | 88 | 0 | Running |
| 7 | 4 | 3 | Austin Dillon | Dow Chevrolet | 88 | 0 | Running |
| 8 | 19 | 88 | Alex Bowman | Axalta Chevrolet | 88 | 0 | Running |
| 9 | 16 | 24 | William Byron | Hendrick Autoguard Chevrolet | 88 | 0 | Running |
| 10 | 5 | 19 | Martin Truex Jr. | Bass Pro Shops/TRACKER /USO Toyota | 88 | 0 | Running |
| 11 | 14 | 2 | Brad Keselowski | Discount Tire Ford | 88 | 4 | Running |
| 12 | 1 | 14 | Clint Bowyer | Toco Warranty Ford | 88 | 2 | Running |
| 13 | 6 | 6 | Ryan Newman | Acorns Ford | 88 | 0 | Running |
| 14 | 11 | 9 | Chase Elliott | NAPA Brakes Chevrolet | 88 | 2 | Running |
| 15 | 8 | 48 | Jimmie Johnson | Ally Chevrolet | 88 | 0 | Running |
| 16 | 9 | 12 | Ryan Blaney | BodyArmor Ford | 88 | 0 | Running |
| 17 | 15 | 1 | Kurt Busch | GEARWRENCH/Monster Chevrolet | 83 | 0 | Accident |
| 18 | 12 | 11 | Denny Hamlin | FedEx Express Toyota | 79 | 0 | Accident |
| 19 | 7 | 20 | Erik Jones | Craftsman Toyota | 77 | 0 | Accident |