Kyle Busch Beats Up The Truck Series Guys Yet Again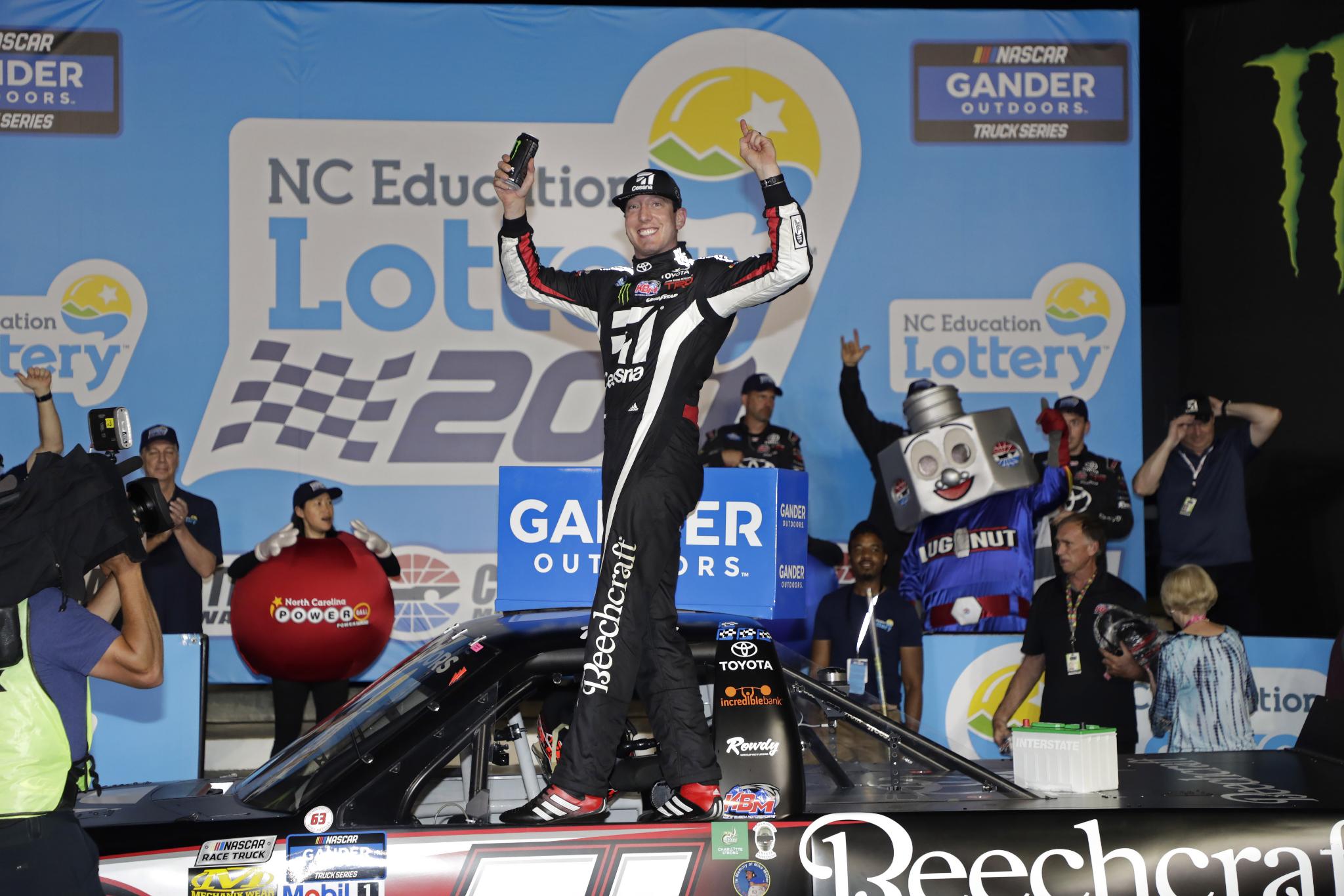 Kyle Busch wins his fifth-straight truck race of the season
Harold Hinson/CMS
The NASCAR rulebook says Kyle Busch can only run five truck races this season, so why not win them all?
Busch laid yet another beatdown on the rest of the truck series contenders and put his Toyota Tundra into Victory Lane for the fifth time this season, earning a perfect five-up-and-five-down for the year.
Busch led 102 of the 134 laps to win Friday night's North Carolina Education Lottery 200 at Charlotte Motor Speedway for his 56th-career truck series win – still the most all-time – holding off Brennan Poole on a final restart with three laps to go.
Busch also won earlier this year at Texas, Martinsville, Las Vegas and Atlanta.
"Our truck was really, really good. These guys did a great job preparing such a fast Tundra for me," said Busch. "It was flying and it was fast. We worked on it a lot in practice. We were a little off when we unloaded, and we tried to make it better and better and better.
"I wish I could do more (truck races). It's frustrating that you're limited because you're too good at what you do."
After qualifying eighth, Busch wasted little time getting to the front, powering past teammate Todd Gilliland on lap five. Busch look a four-second lead into the waning laps of the opening stage when the caution waved for Natalie Decker's crash. Busch elected to pit while several drivers stayed out, eventually handing the lead back to Gilliland. Gilliland would hold the lead until the final lap of the opening stage, when pole-sitter Matt Crafton got past him to win the first 30-lap stage.
[adinserter name="GOOGLE AD"]Busch came back with a vengeance in the second stage, restarting fifth and rocketing to the front in just three laps. Busch then led the final 22 laps of the stage to take the green-checkered flag.
Busch re-asserted himself again in the final, 74-lap segment, but again got caught out of position during a caution flag with 49 laps to go, with several drivers electing to stay out.
When racing resumed, the battle for the top spot turned into a four-way battle for the top spot, with Johnny Sauter coming out on top with a three-wide pass.
Sauter was quickly overhauled by Ben Rhodes, who then became Kyle Busch's latest victim as Busch easily powered around on the outside to re-gain the top spot and pulled out to a nearly six-second lead.
The only hope for the rest of the field came when the caution flag waved with six laps to go, giving the field one last shot at Busch, but Busch rose the challenge – getting a good jump on the start to grab the lead going into turn one. Sauter was unable to get going, allowing Poole to jump into the second spot to challenge Busch.
After pulling up to within a few feet of Busch's bumper, Poole began to fall away as Busch led the final two laps to take the checkered flag by 1.1 seconds.
The runner-up finish was a career-best for Poole in the his first season in the truck series – despite running much the race with a broken sway bar.
"My truck was all over the place, man," Poole said. "I just gave it everything I had. I found something running the top lane there on the restarts, and it worked out really good.
"We just ran second to Kyle Busch tonight with a broken sway bar. I'm pretty proud of the effort. I know we've got a lot more chances like this coming up in our future to get this Toyota Tundra to Victory Lane. But I'm excited tonight, and I think I may even go get myself a beer when I get home."
Stewart Friesen came home third, followed by Rhodes and Crafton.
KYLE BUSCH, No. 51 Cessna Toyota Tundra, Kyle Busch Motorsports
Finishing Position: 1st
How would you describe the night?
"I mean our truck was really, really good. These guys did a great job preparing such a fast Tundra for me. I want to thank Cessna, Beechcraft, of course Toyota, TRD, Rowdy Manufacturing. It takes a whole group effort and Rudy (Fugle, crew chief) and these guys are awesome at what they do and give me great pieces each and every time we come out here. We don't unload – we have not ever this year, we haven't unloaded great but we've really worked on our stuff and improved it through practice and even into the race. There at the end that last restart – I didn't want to have that last restart there. I knew being on older tires was going to be a handful for me. It looked like it was for a couple of the other guys. I just didn't get a very good restart, but then I was still able to hold them off thankfully."
You went five for five this year in truck races. Have you ever had that good of a streak?
"No. I don't think so. A couple of years ago I shot for it, wanted to have it and I think we only got two or three. Overall just wish I could do more. It's frustrating that you're limited because your too good at what you do. I'd love to be able to go out here some more and win with my team and all my guys at Kyle Busch Motorsports and for our partners here with Toyota and Cessna, Beechcraft and anybody else."
Are there things about the track tonight that can translate into tomorrow's Cup Series race?
"Yes. These trucks they drive so much different than the cars, but you can learn a little bit about it. The tires had weird give-up tonight. For some reason it was like the air pressure built and then the rubber wearing off just made the tires feel harsher as you went along, so I don't know if that's going to be the same thing for tomorrow. We'll see."
Talk about your win here tonight.
"We had a really fast Tundra tonight. Rudy (Fugle, crew chief) and the boys tuned her up all through practice. We worked on a lot of different things to try to get the thing to where it was tonight, to where I wanted it. Obviously there with some long runs, a lot of guys were kind of falling off, but our truck kept going and it had speed in it all night long. It was cool to race around some of those guys. We got to the front through traffic pretty well and kind of just set sail. Overall, had decent pit stops tonight to keep ourselves in contention. Fortunately, unlike last year's debacle, tonight was much better. It's good to be here where we should be and being able to get five for five this year."
Was the PJ1 a factor tonight?
"I thought there was definitely way more grip in the middle groove than there was on the bottom groove. I ran the bottom for much of the night but I definitely could run faster lap times when I moved up to the middle and ran around the middle so that was just kind of a protective tool for me when I needed it. I didn't really need it a whole lot though. I felt like the – for some reason, I'm not sure why the upper groove never came in though. Last year I think I remember we were up against the wall for a little bit of the race just rim riding and it never seemed to widen out very much tonight. I don't know if that was just attributed to the dirty race track up there. At the start of the race, the track just kind of had this sandy fuzz to it. It just didn't look like it was safe to go up there so I don't think anybody ventured up there to get it rolling. We didn't have Tyler Reddick in the race tonight to burn it in for us. Or Kyle Larson. Overall, I thought it was more grip."
Five for five for you. Is that a personal achievement? Something you can brag about?
"Sure. All of those things. I wouldn't say necessarily brag about it, but it's something we set out to do a couple of years ago. We just haven't been able to accomplish it, but with Rudy (Fugle, crew chief) here this year, we had some really fast Tundras and we tuned on them really well in order to get ourselves in position each time. Again, we had fast pit stops. Everything had to come together and everything had to align to be able to do what we did here this year with going five for five. It feels good. We won the last race I guess I was in last year too, so it's six-in-a-row, right? It'd be nice to have more opportunities to run more races I guess. For me anyways. But probably not for anybody else. That's why I'm only allowed five."
How tough is it to be able to sustain this level of excellence over a long period of time and having to be in and out of the truck?
"It could be difficult just based off me being in the truck when I am in the truck. We continue to build a good program and it seems like we can elevate it and continue to elevate it and then when I get out of the trucks, say now in May through the rest of the year, it might taper off just a little bit because sometimes the other drivers just aren't as experienced as me and so they tend to kind of lead us in a different direction sometimes and our setups change and then when I get in the trucks, it's like I have to reset everything and put it back to the way it should be where the balance of everything should be and then they all screw it up again. It's just an ongoing battle and challenge with the other drivers. Again, they're inexperienced, but overall that's why I continue to do this is to continue to kind of baseline and evaluate where our stuff is at and how good it is and go out there and win."
What's the next meeting at Kyle Busch Motorsports going to be like after you won the race and the next truck finished seventh?
"I can't beat on them any harder. It's tough. It's certainly frustrating. I don't know what else to do because every week we've got other guys that jump in our stuff and they can't get the potential out of it at all. We were out front by three and half, four seconds at times tonight. I mean heck, I could have made it eight or 10. My ability to be able to unload and dissect and work on the truck and make it better for me to be able to get it to where I need it because I know where I feel like I want it and the other kids, they just get in it and drive it and expect it to be perfect and they tune on it, but they kind of sometimes don't exactly know what they're tuning on and that's why I kept talking about how they lead us in the wrong direction sometimes. I don't know. It's frustrating. I don't know what else to do."
How do you think Greg Biffle will do in the truck in a few weeks?
"If he doesn't win, he's fired (laughter). I don't know. I think he'll do okay. He just needs to show up with some confidence. To be able to go out there and watch the film from the spring race and what we did and review it with Rudy and go over the notes and the feel and everything that I talked about. We made some really good notes about all of that stuff. If he takes the time to be able to focus on that, to be able to just give some effort to it, then I think he'll be successful and he should have a chance to win."
RUDY FUGLE, crew chief of No. 51 Cessna Toyota Tundra, Kyle Busch Motorsports
What have these five races been like this year working with Kyle Busch again?
"Obviously you're excited to have Kyle Busch in your truck. You know you have a really good shot to win. It really was a chance to get our trucks, like he said, tuned up. The five races – the hardest part is there's not that many he can choose. Five of 23? No. It's really only five of maybe nine races that he's allowed to run. Being able to spread it out so that you can work on the trucks as the rules develop through the year and help the other guys is what we don't get anymore that we used to get. Like he said, with the inexperienced drivers, it's just trying to get them rolling and help like we had with (Christopher) Bell and (William) Byron and (Erik) Jones is trying to get those guys at the level where they can help get our trucks where they're superior enough. Just trying to get there."
BRENNAN POOLE, No. 30 Madvapes Toyota Tundra, Kyle Busch Motorsports
Finishing Position: 2nd
Summarize this night for you and your team.
"It was a freaking battle. The sway bar broke before the end of the first stage on the left front, so the frontend was really moving around a lot and the truck was unsettled and it really hurt me with lateral grip, so I was struggling when I got beside a truck so I had to run the top. I just found something there towards the end of the race that helped me on the restarts and (Steven) "Bones" (Lane), my crew chief, made good adjustments and man I just ripped the top. I had a shot at Kyle (Busch). I was pushing him down the backstretch. I probably could have pushed him off into 3 a little bit farther and maybe shot him up the track and got a little bit better run off of 4. When I knew I didn't quite do that right, when I slid up, I tried to tag him at least like get some side draft or touch him or slow him down and I just couldn't quite get there and it was just enough for him to break away from me. I'm just so proud of my Madvapes guys. Everybody from MyBlu that supported us this weekend. It's a bummer we missed Kansas, but the stuff that this team does, extremely underfunded is just ridiculous. To run second tonight with a broken sway bar, I don't really have much other to say than that. Just incredible effort and we're going to Texas in a couple of weeks, so I'm looking forward to going back and doing this again."
RACE RESULTS
| | | | | | | | | |
| --- | --- | --- | --- | --- | --- | --- | --- | --- |
| Pos | Start | # | Driver | Sponsor/Make | Laps | Led | Points | Status |
| 1 | 8 | 51 | Kyle Busch(i) | Cessna Toyota | 134 | 102 | 0 | Running |
| 2 | 17 | 30 | Brennan Poole | Madvapes Toyota | 134 | 0 | 35 | Running |
| 3 | 2 | 52 | Stewart Friesen | Halmar International Chevrolet | 134 | 0 | 44 | Running |
| 4 | 5 | 99 | Ben Rhodes | Carolina Nut Ford | 134 | 6 | 43 | Running |
| 5 | 1 | 88 | Matt Crafton | Ideal Door/Menards Ford | 134 | 7 | 49 | Running |
| 6 | 20 | 16 | Austin Hill | United Rentals Toyota | 134 | 1 | 31 | Running |
| 7 | 3 | 4 | Todd Gilliland | Mobil 1 Toyota | 134 | 7 | 40 | Running |
| 8 | 15 | 15 | Anthony Alfredo # | STEELSMITH/Friends of Jacelyn Toyota | 134 | 0 | 29 | Running |
| 9 | 9 | 98 | Grant Enfinger | Protect the Harvest/Curb Records Ford | 134 | 2 | 44 | Running |
| 10 | 13 | 45 | Ross Chastain(i) | TruNorth/Paul Jr. Designs Chevrolet | 134 | 7 | 0 | Running |
| 11 | 4 | 18 | Harrison Burton # | Safelite AutoGlass Toyota | 134 | 0 | 30 | Running |
| 12 | 10 | 2 | Sheldon Creed # | Chevrolet Accessories Chevrolet | 134 | 0 | 32 | Running |
| 13 | 25 | 2 | Tyler Dippel # | Jersey Filmmaker Chevrolet | 134 | 0 | 24 | Running |
| 14 | 22 | 97 | Jesse Little | JJL Motorsports Ford | 134 | 0 | 23 | Running |
| 15 | 28 | 3 | Jordan Anderson | Bommarito Automotive Group Chevrolet | 134 | 0 | 22 | Running |
| 16 | 23 | 56 | Timmy Hill(i) | Southern Freight Services Chevrolet | 134 | 0 | 0 | Running |
| 17 | 12 | 13 | Johnny Sauter | Tenda Heal Ford | 134 | 1 | 21 | Running |
| 18 | 18 | 42 | Chad Finley | Strutmasters.com/Air Lift Chevrolet | 134 | 0 | 19 | Running |
| 19 | 6 | 24 | Brett Moffitt | JuniorJohnsonMidnightMoonMoonshine Chev | 133 | 0 | 24 | Running |
| 20 | 7 | 4 | Cory Roper | Preferred industrial Contractors Inc Ford | 133 | 0 | 17 | Running |
| 21 | 29 | 22 | Austin Wayne Self | GO TEXAN/AM Technical Solutions Chevrolet | 133 | 0 | 16 | Running |
| 22 | 30 | 20 | Spencer Boyd | 1A Auto Chevrolet | 133 | 0 | 15 | Running |
| 23 | 31 | 44 | Angela Ruch | FOX Nation/The Ruch Life Chevrolet | 132 | 0 | 14 | Running |
| 24 | 16 | 49 | Stefan Parsons | Charlotte Strong Chevrolet | 132 | 1 | 13 | Running |
| 25 | 27 | 7 | Korbin Forrister | All Out Toyota | 129 | 0 | 12 | Running |
| 26 | 19 | 12 | Gus Dean # | LG Air Conditioning Technologies Chevrolet | 123 | 0 | 11 | Running |
| 27 | 11 | 17 | Tyler Ankrum # | May's Hawaii Toyota | 111 | 0 | 10 | Vibration |
| 28 | 32 | 33 | Josh Reaume | HertzKompressoren/P&BCompressor Chev | 98 | 0 | 9 | Running |
| 29 | 14 | 9 | Codie Rohrbaugh | Grant County Mulch Chevrolet | 72 | 0 | 8 | Accident |
| 30 | 26 | 8 | Camden Murphy | Chevrolet | 40 | 0 | 7 | Suspension |
| 31 | 21 | 54 | Natalie Decker # | N29 Technologies LLC Toyota | 32 | 0 | 6 | Accident |
| 32 | 24 | 87 | Joe Nemechek | ROMCO/TMS Titanium Chevrolet | 19 | 0 | 5 | Rear Gear |