Clint Bowyer On Pole For NASCAR All Star Race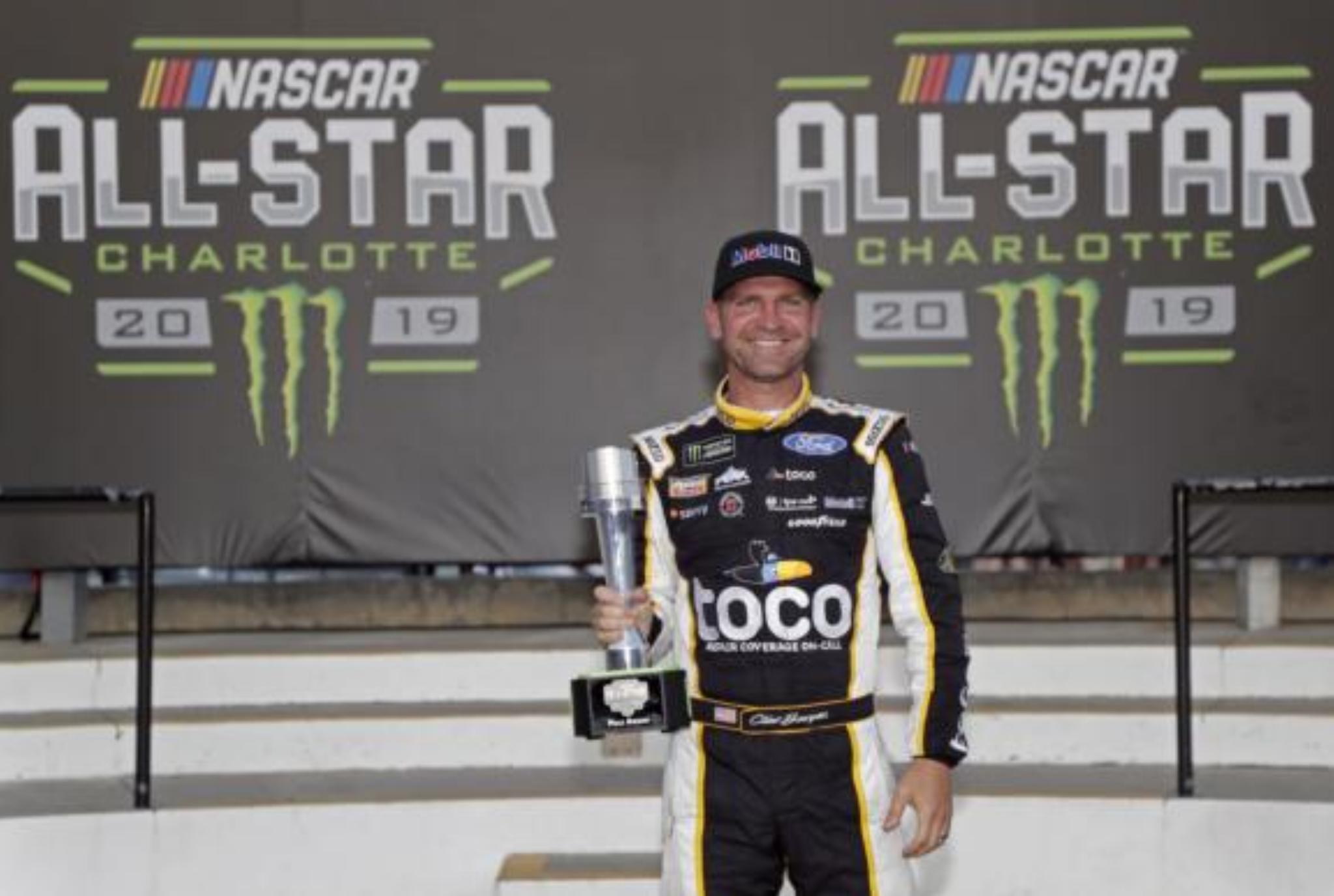 Clint Bowyer
HHP/Harold Hinson
Clint Bowyer claimed the pole for Saturday night's 35th-annual Monster Energy NASCAR All Star Race at Charlotte Motor Speedway, beating out Kyle Busch with a near-perfect lap to score his first-career pole in the all-star event.
Bowyer clocked in at 118.794 seconds during his run, which consisted of three laps and a four-tire pit stop in the unique qualifying setup. Bowyer's crew pulled off the pit stop in 14.8 seconds, giving him just enough of edge to top Kyle Busch for the pole.
"Hell has frozen over," Bowyer said. "It's so easy to make mistakes in that (format), because it's so out of the ordinary of what we usually do. I actually didn't get on pit road near as good as I wanted to.
"I had my dead-set line that I was going to get to and would lift (off the gas) at, and when I didn't get on pit road like I needed to, I drove past that and I was like, 'Oh no, I'm going to get stuck.' and my eyes were getting bigger."
Kyle Busch was the third driver to take to the track in the qualifying session, and pulled off lap of 118.971 with the help of a 14.6-second stop by his crew to climb over Joey Logano for the pole.
Busch's time atop the scoreboard didn't last long, as Bowyer was on the clock as the eighth qualifier and took the top spot away. Busch and Bowyer ended up as the only two drivers to qualify under the 118-second mark.
"I thought everything about the lap actually was pretty good," said Busch. "I'm not sure how fast the lap itself was – how fast our car was on the lap.
"I felt like my progressiveness onto pit road and pit road speed was relatively good, and then the braking point and being able to just chatter the tires all the way into the box was really close. Really on the money there. I thought we got all we could get out of it."
Kevin Harvick was third fastest at 119.058 seconds. Austin Dillon (119.314)and Martin Truex, Jr. (120.334) made up the rest of the top five.
Brad Keselowski and Kurt Busch were both hit with five-second penalties for loose lug nuts following their qualifying runs. Both wound up 14th and 15th, respectively.
The final four spots in the 19-car all-star field will be made up of the three stage winners from the Monster Open, and the winner of the Fan Vote will take the 19th position.
RACE LINEUP

| | | | | | |
| --- | --- | --- | --- | --- | --- |
| Pos | # | Driver | Sponsor/Make | Lap | Speed |
| 1 | 14 | Clint Bowyer | Toco Warranty Ford | 118.794 | 136.371 |
| 2 | 18 | Kyle Busch | M&M's Hazelnut Toyota | 118.971 | 136.168 |
| 3 | 4 | Kevin Harvick | Busch Beer Millenial Car Ford | 119.058 | 136.068 |
| 4 | 3 | Austin Dillon | Dow Chevrolet | 119.314 | 135.776 |
| 5 | 19 | Martin Truex Jr. | Bass Pro Shops/TRACKER ATVs /USO Toyota | 120.334 | 134.625 |
| 6 | 6 | Ryan Newman | Acorns Ford | 120.383 | 134.57 |
| 7 | 20 | Erik Jones | Craftsman Toyota | 120.405 | 134.546 |
| 8 | 48 | Jimmie Johnson | Ally Chevrolet | 120.66 | 134.262 |
| 9 | 12 | Ryan Blaney | BodyArmor Ford | 120.892 | 134.004 |
| 10 | 22 | Joey Logano | Shell Pennzoil Ford | 121.584 | 133.241 |
| 11 | 9 | Chase Elliott | NAPA Brakes Chevrolet | 121.978 | 132.811 |
| 12 | 11 | Denny Hamlin | FedEx Express Toyota | 122.125 | 132.651 |
| 13 | 10 | Aric Almirola | Smithfield Ford | 123.814 | 130.841 |
| 14 | 2 | Brad Keselowski | Discount Tire Ford | 124.059 | 130.583 |
| 15 | 1 | Kurt Busch | GEARWRENCH/Monster Chevrolet | 128.176 | 126.389 |