Rosenqvist wins first career IndyCar pole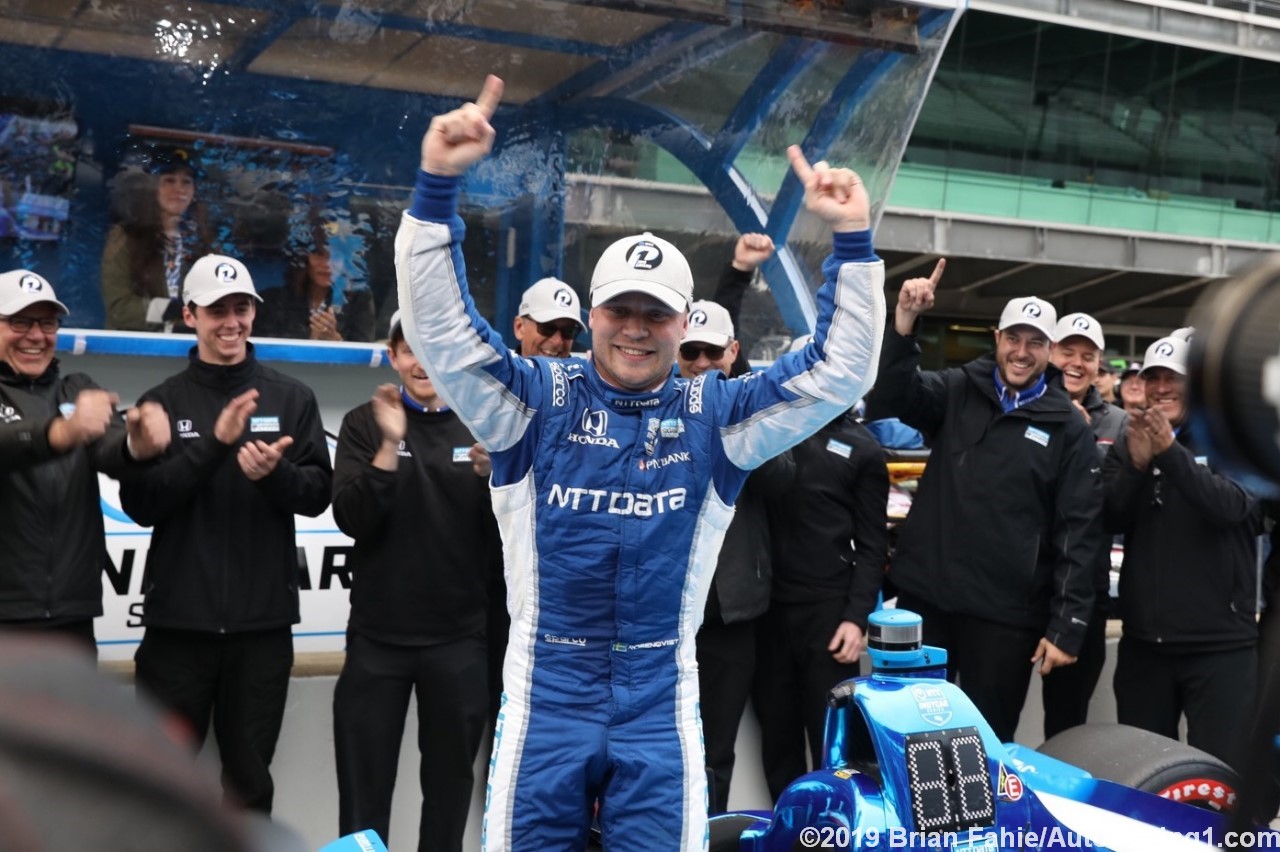 Felix Rosenqvist
In an incredibly tight pole qualifying session, rookie Felix Rosenqvist turned the fastest lap of 1m08.278s to beat his Ganassi Honda teammate Scott Dixon by just 0.0194s to win his first-ever career IndyCar pole for the Grand Prix of Indianapolis.
"The first two laps [of final round qualifying], I didn't really feel like I had the [tire] grip [for pole]. But then on the final lap, there was something switching on [as the tires came up to temperature] and I was like, 'OK, this could be good' said Rosenqvist.
"But honestly, I didn't think it was going to be [fast enough]. The field here is so tight. I looked up at the screen and we were P1. I just prayed it was going to hold until the end – and it did."
Jack Harvey posted his career-best qualifying result in the No. 60 AutoNation / SiriusXM IndyCar as his 1:08.323-second lap at the Indianapolis Motor Speedway secured third on the grid for Saturday's INDYCAR Grand Prix.
Harvey got off to a fast start during Friday morning's two practice sessions and carried that momentum into qualifying on Friday afternoon in the MSR machine. Starting off in Group 1 qualifying, Harvey posted a 1:08.348-second lap which was good enough to transfer him into the top 12 for the third time this year.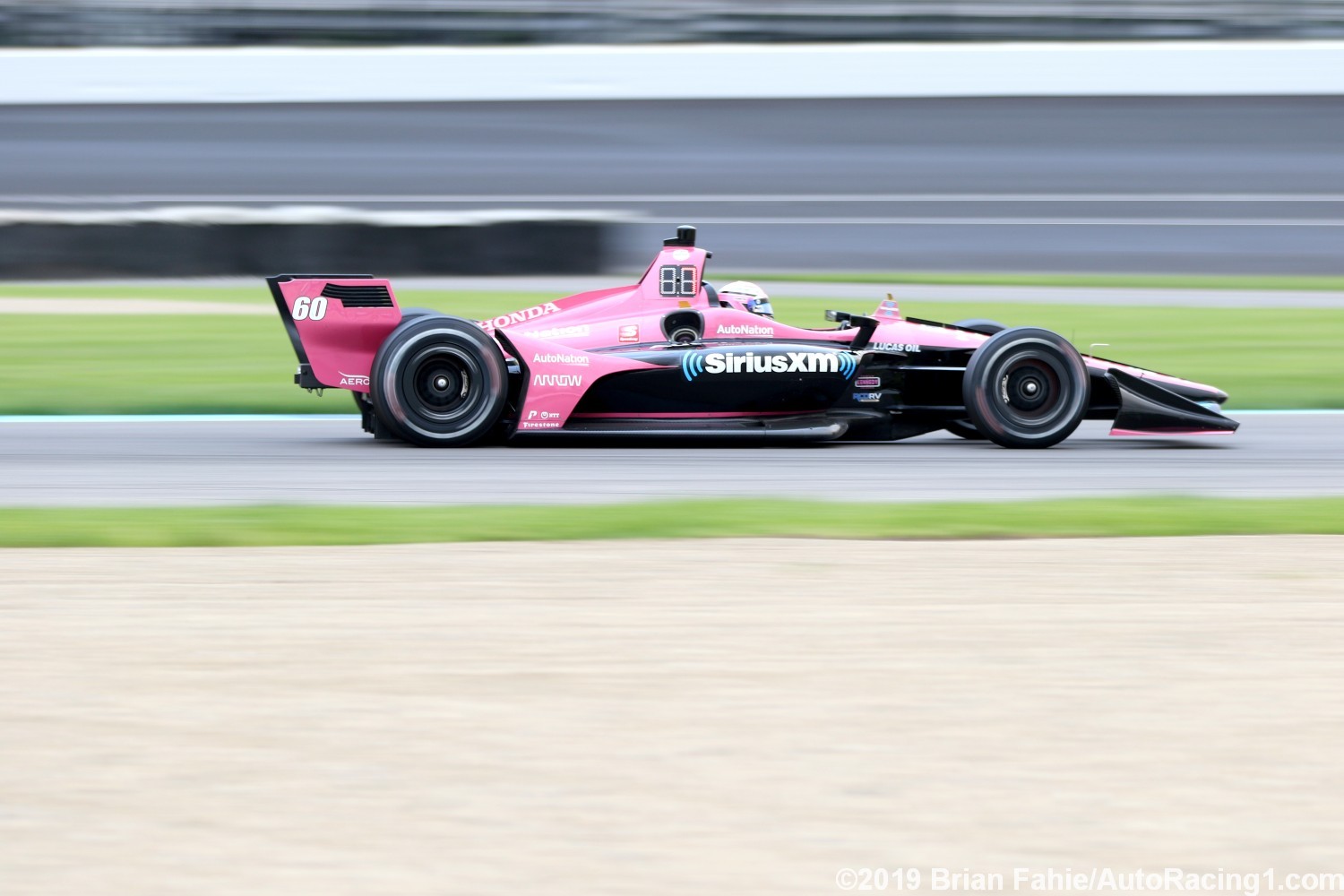 Jack Harvey
Harvey brought yet more pace in the second session by carding third quickest time of 1:08.110-seconds to move him into the Firestone Fast Six.
Making his first ever Firestone Fast Six appearance, Harvey immediately laid down his fast time of 1:08.323-seconds which secured him a spot on the second row in third for Saturday's INDYCAR Grand Prix.
"I feel like we have been on the brink of a Firestone Fast Six result and now qualifying in the top of the Fast Six will be the momentum we need to replicate it more often," said Harvey. "I was so focused on trying to get a good lap in that I didn't even know we had gone P1 there for a second. This gives us confidence and what we are doing is headed in the right direction. Of course, we will continue to work at it to continue to get better."
Ed Jones, driver of the No. 20 Preferred Freezer Services Chevrolet of Ed Carpenter Scuderia Corsa, will start fifth in Saturday's race, easily his best of the season (his previous best this year was 15th in St. Petersburg, Florida, in March).
[adinserter name="GOOGLE AD"]Dixon has never won an INDYCAR Grand Prix, but he has had strong races. He finished second last year after starting 18th.
The first round of qualifying was interesting as three drivers – series points leader Josef Newgarden, three-time Indianapolis 500 winner Helio Castroneves and 2018 championship runner-up Alexander Rossi – failed to advance out of the first group. Team Penske drivers Newgarden, Castroneves and Power took turns bumping each other out of the transfer line in the closing seconds of the session.
Newgarden was surprised to be nearly six-tenths of a second off the session's best lap, which means the driver of the No. 2 Fitzgerald USA Chevrolet will have work to do starting 13th on Saturday.
"That's a big deal," he said of the time discrepancy. "I'm not sure where that (improvement) is at."
Changing weather conditions open up the possibility of a wet race. In that case, the action could be especially thrilling as teams manage the conditions and drivers put their skills to the test in the rain.
"If it rains, it rains, (and) it's the same for everybody," Pagenaud said.
Coverage of the 85-lap INDYCAR Grand Prix, the fifth race of the 2019 NTT IndyCar Series season, begins at 3 p.m. Saturday on NBC, NBCSsports.com, the NBC Sports app and the Advance Auto Parts INDYCAR Radio Network.
Quotes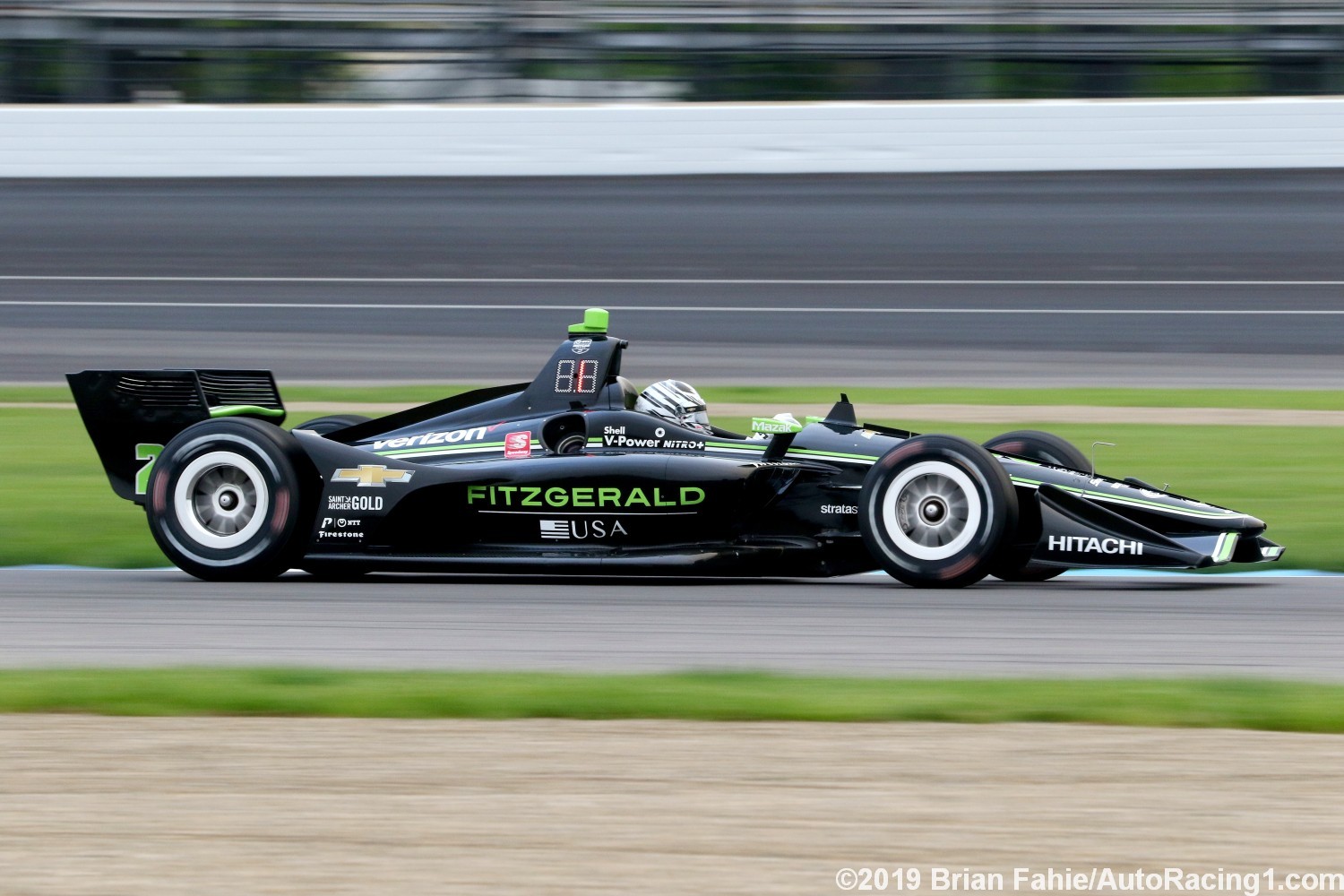 Bad day for Newgarden
JOSEF NEWGARDEN (No. 2 Fitzgerald USA Team Penske Chevrolet): " The Fitzgerald car feels really good out there, we are just six-tenths off. I felt like I did a good lap, but for whatever reason, we are all back there. I am not sure where we are missing it. But I can promise you we are going to go to work and figure it out. Unfortunately, we just aren't that close. So now you just go to work and try and figure out where you can do better. If you can't get the speed completely, you just make the most of the race, and that's all we can do. This Fitzgerald USA team is the best, so we will make the most of it. And it might rain, so it could be a crapshoot either way."
HELIO CASTRONEVES (No. 3 Pennzoil Team Penske Chevrolet): "Going out on reds twice was the strategy that we decided early on to see if we were going to be able to make the next round. We are not in the hunt for points or anything. We are just looking for the Indy 500, so it was a good gamble to find out what we could do. Plus, it collects information for our teammates for the setup on the reds. That is what we did. Unfortunately, it didn't work out and we were just five hundredths behind. And it was good for me to get rhythm and for everyone else. So we will just see how the Pennzoil Chevrolet is tomorrow."
MATHEUS LEIST (No. 4 ABC Supply AJ Foyt Racing Chevrolet): "A tough day today. We are struggling for grip everywhere. There's not much else to say right now."
JAMES HINCHCLIFFE (No. 5 Arrow Schmidt Peterson Motorsports Honda): "We struggled with the (Firestone alternate) reds in Practice 2 and we're not quite sure why. The cold temperatures are obviously playing a part. We just missed it a little bit. Our pace on (Firestone primary) blacks is pretty competitive, and ultimately both of our teammates made it into Q2. We just have to take a look back and see what we did wrong. We also tried trimming a little bit, may have been a bit aggressive for the reds, I'm not sure. We can still race from there. We've got extra reds for the race, and it's usually a red race here, which can be good if a caution plays into our hands. Not the day we wanted for sure, but the Arrow SPM team can bounce back."
MARCUS ERICSSON (No. 7 Arrow Schmidt Peterson Motorsports Honda): "I wouldn't say (our qualifying) was a big success, but obviously we've been struggling a lot in qualifying and have been out of Q1 in the first four events. We're not here to aim to be P9, for sure, but it's a good start to sort of break the qualifying streak of exiting in Q1, so I'm happy with our improvement. Obviously all the cars are very close, and with another tenth (of a second) the Arrow car would have been in the top six, so I thought it was a good session. We're definitely going to go for the podium. We've shown this year that we are very strong in race conditions, and with me starting around 18th/20th and making it up to the top eight each time, I think that shows we have a lot of potential. For tomorrow, we're starting within the top 10, it should be a good chance for us to be on the podium."
SCOTT DIXON (No. 9 PNC Bank Chip Ganassi Racing Honda): "I think our setups are pretty close. I think all weekend it's just been kind of who pieced a lap together a little bit better. In that scenario, I think the start of my first lap was really good and I didn't do well in the second half, and then on the second lap I kind of messed up Turn 2. I think it's just one of those things. Both cars were very close, and we've been pretty close throughout the weekend, but I'd say they're almost identical, which is nice. It's nice to work with someone that has a very similar feel (for the car) and (driving) likeness, too. I'm looking forward to a strong race tomorrow with the PNC Bank car."
FELIX ROSENQVIST (No. 10 NTT DATA Chip Ganassi Racing Honda): "We've been up there all day. The NTT Honda car has been amazing. Big thanks to the 10 car crew and also the 9 car crew. Just a really good day. It started very solid. Been sort of top five all day and that's a fine run on reds. The first two laps I didn't really feel like I had a grip and then the final lap there was just something switching on and I was like 'OK, this could be good.' But honestly I didn't think it was going to be. It is so tight and I looked up at the screen and we were P1 and I just prayed it was going to hold but, yeah, fantastic day. Thanks to my team." (About w hat kind of an advantage is it to start on the pole and have his teammate next to him): "I spent the last two races sort of in the angry midpack so it's a good change to be back where we were at St. Pete and COTA. Also, well done by Scott (Dixon). I hope we can sort of go together so that we finish in 1, 2 there."
WILL POWER (No. 12 Verizon 5G Team Penske Chevrolet): " I think we've been on the back foot all day, honestly. The lap I did to get in the Fast Six was a great lap at just the right time on the tires. Then the tires had gone away in the final session. But man, I wasn't even close in the final session and I was killing myself out there for position six. But that is what we are dealing with now. It is so competitive out there and if you are a little bit out of the window, you are going to struggle."
TONY KANAAN (No. 14 ABC Supply AJ Foyt Racing Chevrolet): "We're having trouble getting the car to where we need and it's been frustrating, not only for me, but for all team members. We need to regroup and focus on moving forward to get this month going in the right direction."
GRAHAM RAHAL (No. 15 Mi-Jack Honda): "Everybody on this team just did an amazing job coming up with the set up for qualifying here. We were nervous to go to Takuma's (Sato) set up a little. Takuma can just drive a car that's a lot looser than I'm willing to tolerate. So, we were a little nervous to go that far, but we came up with it. It was a complete flyer honestly from where we were in the second practice but it worked and I think we were a lot more competitive. If you find one tenth, you're second or third so it's close. We came up just a little bit shy there, but it was a tremendous job by everybody and, you know, we can race from there. What you want (from your car) to qualify and what you want to race are different, at least in my book. We'll detune her for tomorrow and hopefully she'll be a little better."
SEBASTIEN BOURDAIS (No. 18 GEICO Honda): "The No. 18 GEICO Honda team made a step forward after a really tough test. The guys did a really good job bouncing back. The first session this morning was really trying, but in the second practice we improved the car. We had a feeling we were going to need a bit more to make it into the Firestone Fast 6. We made a little adjustment, but it didn't really help the car. In the second round we picked up too much understeer, but the GEICO car is good."
SANTINO FERRUCCI (No. 19 Cly-Del Manufacturing Honda): "We worked really hard. We had a good test here with Honda last week, and that has helped us today. The #19 Cly-Del Manufacturing car has been really strong. We're just missing a little bit on the primary tires but when we put on the alternate Firestone tires everything seemed to be quite alright. Everyone in the NTT IndyCar Series is so fast, it's such a competitive group of drivers, so it's a matter of a blink of an eye and you're outside of the Top 6. I didn't really maximize the lap. We had the car to advance. Now we focus on the race, I'm looking forward to it."
ED JONES (No. 20 Ed Carpenter Racing Scuderia Corsa Chevrolet): "This is a really good starting position for us. It's been a tough start to the season, especially qualifying-wise, but we have had a solid car all day long. We managed to put it together in qualifying, especially Rounds 2 and 3. It's great for Ed Carpenter Racing and for Chevrolet, as we were the fastest Chevy. Thanks to Scuderia Corsa and ECR for all of the hard work. This gives us good momentum going into tomorrow and the entire month of May."
SPENCER PIGOT (No. 21 Ed Carpenter Racing Chevrolet): "Qualifying was a little frustrating after the pace we had in practice, but we think we know where we went wrong. Hopefully, we can make a few changes overnight and be back to where we were earlier today."
SIMON PAGENAUD (No. 22 Menards Team Penske Chevrolet): "It's a lot of fun out there. It is so competitive. Everyone on the Menards Chevy did a great job today. We took a step backward in practice two and took a big step forward in that qualifying session. I'm pretty happy thought. I gave it everything I could. That was the best lap I could have done, we just need to find a little bit more. We are right there. And if it rains tomorrow, you just have to adapt. It's the same for everyone. I enjoy driving in the rain, so we will put on a good show tomorrow."
ZACH VEACH (No. 26 Gainbridge Honda): "It was a confusing qualifying today. I think as a team we're kind of struggling a bit. I'm frustrated with myself. I got through Turn 4 and once I got through the chicane, I looked down at the dash to see what the split was and ran up on the curb and lost about 4.5 tenths (of a second). It's frustrating because that is something we could've avoided, and I think I maybe could've gotten closer to the (Firestone) Fast Six. I don't know if we would've had enough to advance but could have at least been in the seventh area. But, we're all back there, my teammates are there, we're sharing the back half of the grid, so we just have to figure out what's going on for tomorrow."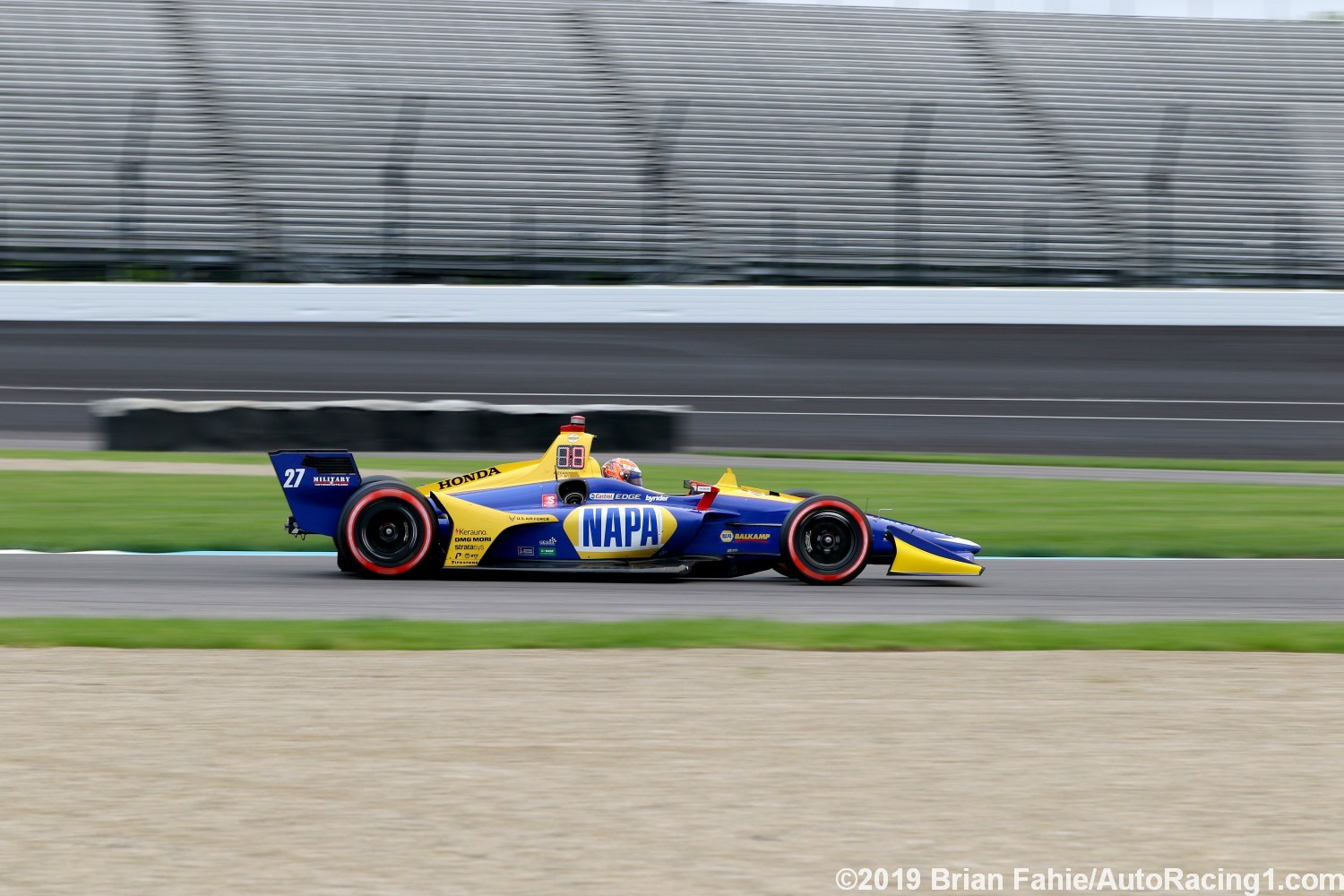 Rossi out to lunch on the Indy road course
ALEXANDER ROSSI (No. 27 NAPA AUTO PARTS Honda): "We were just missing overall grip and pace all day. I don't know that we can pinpoint it to one thing. We tried a whole new package for qualifying and it didn't quite work out, and it wasn't entirely different from (Practice 2) from performance and balance standpoint. We have some homework to do overnight. We've seen in the past that the guys who have an extra set of (Firestone alternate) reds – because they don't advance out of Q1 – have a pretty good race day. Hopefully that's the case tomorrow for the NAPA Racing team, the reds are a pretty big step ahead of blacks in terms of performance and hopefully we can use that and put on a show tomorrow."
RYAN HUNTER-REAY (No. 28 DHL Honda): "It was a strange qualifying effort today. Pair our starting position with the food poisoning I'm battling, and it's not an afternoon to remember. We were seventh overall in times coming out of practice, before quals, but we just couldn't find the speed to advance when the time came. The DHL team has a couple podiums here, and we're really hoping to take the top step tomorrow. We'll spend time looking at it tonight, but we have some work to do."
TAKUMA SATO (No. 30 Mi-Jack/Panasonic Honda): "We didn't have a strong day at the test day here so we came here with different concept and we're working through it. It seems that we we're looking at quite good speed for qualifying, but unfortunately on the second segment I had some traffic and couldn't get heat in the tires. I just had one shot, it was the last lap and unfortunately I didn't get the grip I wanted. It's disappointing being 11th after a competitive first segment but I think tomorrow it's a track we can overtake so I'll stay optimistic."
PATRICIO O'WARD (No. 31 Carlin Chevrolet): "It's been a very messy day. We just didn't have time to get a run on the (Firestone alternate) reds this morning in the second practice because of an alternator issue, so we were a little bit behind everyone else in qualifying. We missed it by, I think, a tenth and a half to transfer into the second round, but we're just not near where we should be with the No. 31 Carlin Chevrolet. We just need to find some grip and work out what's going on before the warm-up tomorrow morning so we can make sure we're in good shape for the race."
MAX CHILTON (No. 59 Gallagher Carlin Chevrolet): "Something really caught us out today in qualifying. I was really quite happy with our red pace in the No. 59 Gallagher Carlin Chevrolet this morning – I knew where I needed to improve but that just wasn't the case during our qualifying run. I know I wasn't the only one to have some issues out there – a few of the front runners were caught out as well. I just had a massive lack of grip from this morning on reds and the problem is when you only have one or two laps to get it right. Any time I tried to do what I did this morning, it bit and then I lost all my speed down the straight. I ended up just basically losing time for two laps. We're starting nowhere near where we wanted to be or where we should be, but at least this is a track where you can overtake."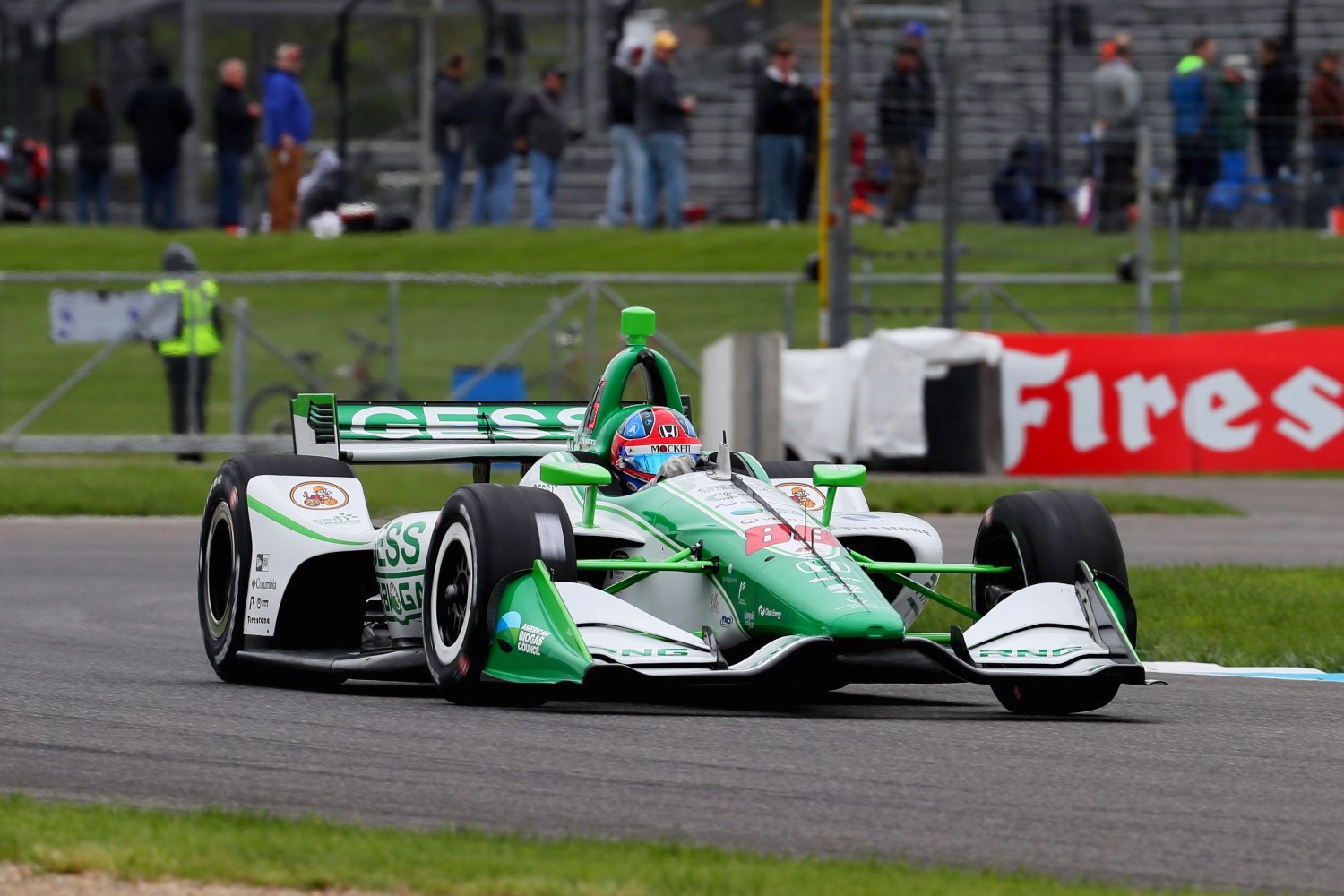 Herta is fast, watch him on race day
JACK HARVEY (No. 60 AutoNation/Sirius XM Honda): "I feel like we have been on the brink of a Firestone Fast Six result and now qualifying in the top of the Fast Six will be the momentum we need to replicate it more often," said Harvey. "I was so focused on trying to get a good lap in that I didn't even know we had gone P1 there for a second. This gives us confidence and what we are doing is headed in the right direction. Of course, we will continue to work at it to continue to get better."
COLTON HERTA (No. 88 GESS International Honda): "The GESS International car was great today, it had really great balance. We haven't been in the Firestone Fast Six since we raced at the Circuit of the Americas, so it was great to be back this weekend. I look forward to having a great race tomorrow for the INDYCAR Grand Prix."
MARCO ANDRETTI (No. 98 U.S. Concrete/Curb Honda): "Really disappointing qualifying today for the team. We're missing pace and just not sure where our lack of speed is coming from. On the 98 side, we just felt like we didn't have grip. We have a lot of work to do tonight and will have to fight our way up tomorrow. It'll be a long 85 laps, but we'll give it everything we can."
Lineup
| | | | | | | |
| --- | --- | --- | --- | --- | --- | --- |
| Pos | Car | Driver Name | Engine | Time | Speed | Session |
| 1 | 10 | Rosenqvist, Felix (R) | HONDA | 01:08.2785 | 128.597 | Round 3/Firestone Fast Six |
| 2 | 9 | Dixon, Scott | HONDA | 01:08.2979 | 128.560 | Round 3/Firestone Fast Six |
| 3 | 60 | Harvey, Jack | HONDA | 01:08.3238 | 128.512 | Round 3/Firestone Fast Six |
| 4 | 88 | Herta, Colton (R) | HONDA | 01:08.3743 | 128.417 | Round 3/Firestone Fast Six |
| 5 | 20 | Jones, Ed | CHEVY | 01:08.4609 | 128.254 | Round 3/Firestone Fast Six |
| 6 | 12 | Power, Will | CHEVY | 01:08.7901 | 127.640 | Round 3/Firestone Fast Six |
| 7 | 15 | Rahal, Graham | HONDA | 01:08.2153 | 128.716 | Round 2/Top 12 |
| 8 | 22 | Pagenaud, Simon | CHEVY | 01:08.2445 | 128.661 | Round 2/Top 12 |
| 9 | 7 | Ericsson, Marcus (R) | HONDA | 01:08.2497 | 128.651 | Round 2/Top 12 |
| 10 | 18 | Bourdais, Sebastien | HONDA | 01:08.2998 | 128.557 | Round 2/Top 12 |
| 11 | 30 | Sato, Takuma | HONDA | 01:08.3300 | 128.500 | Round 2/Top 12 |
| 12 | 21 | Pigot, Spencer | CHEVY | 01:08.4697 | 128.238 | Round 2/Top 12 |
| 13 | 2 | Newgarden, Josef | CHEVY | 01:08.6240 | 127.949 | Round 1/Group 1 |
| 14 | 19 | Ferrucci, Santino (R) | HONDA | 01:08.4499 | 128.275 | Round 1/Group 2 |
| 15 | 3 | Castroneves, Helio | CHEVY | 01:08.6497 | 127.902 | Round 1/Group 1 |
| 16 | 28 | Hunter-Reay, Ryan | HONDA | 01:08.6235 | 127.950 | Round 1/Group 2 |
| 17 | 27 | Rossi, Alexander | HONDA | 01:08.6994 | 127.809 | Round 1/Group 1 |
| 18 | 5 | Hinchcliffe, James | HONDA | 01:08.7710 | 127.676 | Round 1/Group 2 |
| 19 | 31 | O'Ward, Patricio (R) | CHEVY | 01:08.7487 | 127.717 | Round 1/Group 1 |
| 20 | 26 | Veach, Zach | HONDA | 01:08.8170 | 127.591 | Round 1/Group 2 |
| 21 | 4 | Leist, Matheus | CHEVY | 01:08.7751 | 127.668 | Round 1/Group 1 |
| 22 | 59 | Chilton, Max | CHEVY | 01:08.9572 | 127.331 | Round 1/Group 2 |
| 23 | 98 | Andretti, Marco | HONDA | 01:08.8995 | 127.438 | Round 1/Group 1 |
| 24 | 14 | Kanaan, Tony | CHEVY | 01:09.1230 | 127.026 | Round 1/Group 2 |
(R) Rookie