Acura Penske #6 victorious at Mid-Ohio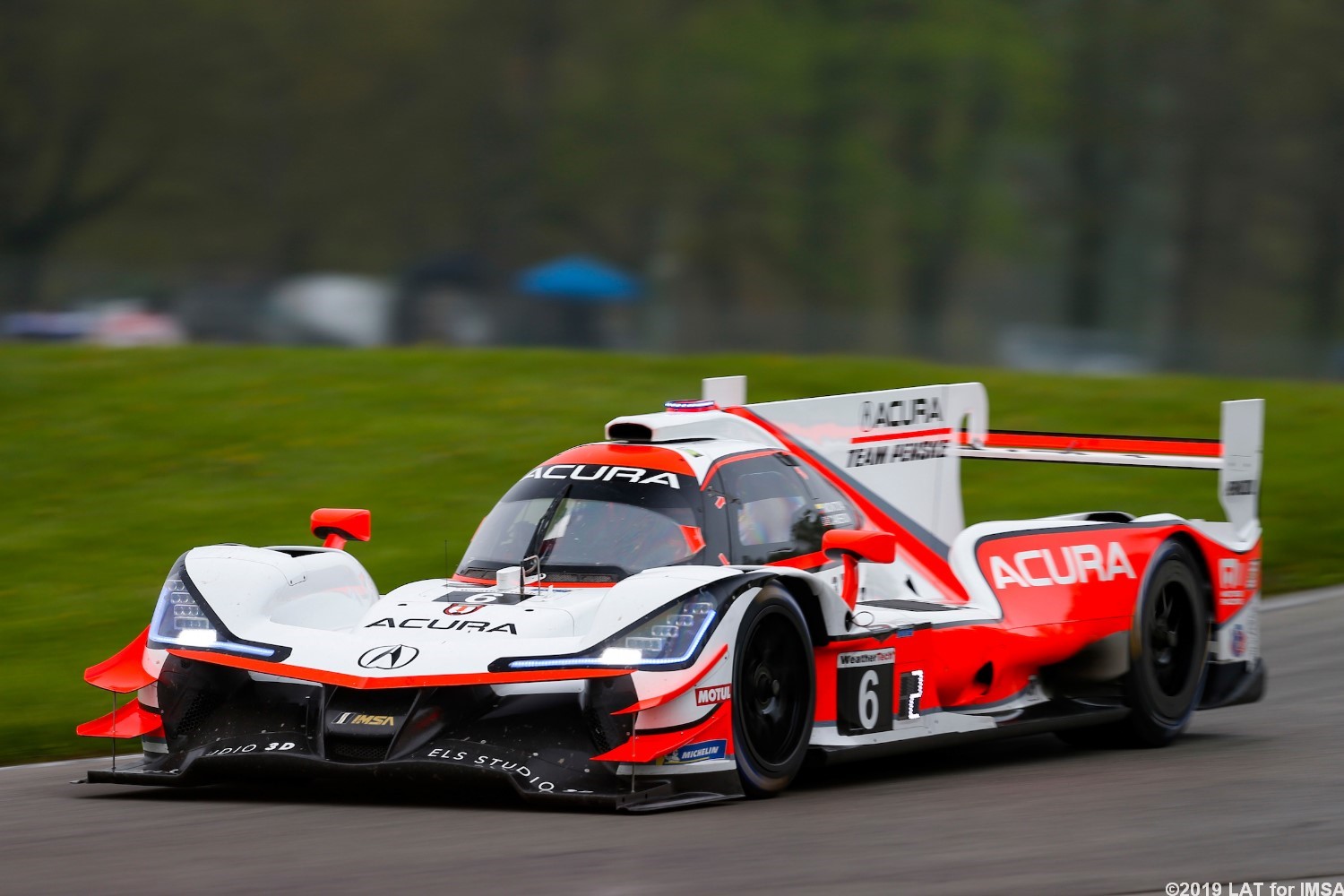 Juan Montoya and Dane Cameron win their first IMSA race. An Acura win for the Acura sponsored race.
Juan Pablo Montoya and Dane Cameron have claimed their first victory with Acura Team Penske in Sunday's Acura Sports Car Challenge at Mid-Ohio.
Montoya took the No. 6 Acura ARX-05 to a 2.022-second win over the No. 77 Team Joest Mazda RT24-P of Tristan Nunez, following a race-long battle between the two DPi cars.
It marked Penske and Acura's second overall victory in IMSA WeatherTech SportsCar Championship competition, coming 12 months after the program's maiden win with Ricky Taylor and Helio Castroneves.
Jonathan Bomarito took third despite briefly slowing with two laps to go after a fierce battle with the No. 31 Whelen Engineering Cadillac DPi-V.R of Felipe Nasr.
Nasr was forced to serve a drive-through penalty for passing under a local yellow in Turn 1 for the parked No. 9 Pfaff Motorsports Porsche 911 GT3 R of Scott Hargrove, which resulted in a fourth place finish for the DPi championship leader.
[adinserter name="GOOGLE AD"]The No. 7 Penske Acura DPi of Ricky Taylor, whose was forced on a four-stop strategy, completed the top-five, despite having right-side bodywork damage from opening-lap contact between co-driver Helio Castroneves and the No. 55 car of Ryan Hunter-Reay.
LMP2 class honors went to the No. 52 PR1/Mathiasen Motorsports Oreca 07 Gibson of Matt McMurry and Eric Lux, who finished 11th overall.
Porsche Takes Third Straight GTLM Win
Porsche has claimed its third straight IMSA WeatherTech SportsCar Championship win in GT Le Mans, with Earl Bamber and Laurens Vanthoor taking top class honors.
Quick pit work and a rapid in and out lap by Bamber put the No. 912 Porsche 911 RSR out ahead of the then-race leading No. 3 Corvette C7.R of Antonio Garcia following the final round of pit stops.
Bamber held the lead through the race's one-and-only full-course caution and restart with 23 minutes to go, finishing 2.340-seconds ahead of Garcia.
Garcia and Jan Magnussen came home second, with Nick Tandy charging to a third place class finish after contact between his No. 911 Porsche and the No. 25 Team RLL BMW M8 GTE of Tom Blomqvist in the closing laps.
Lexus wins in GTD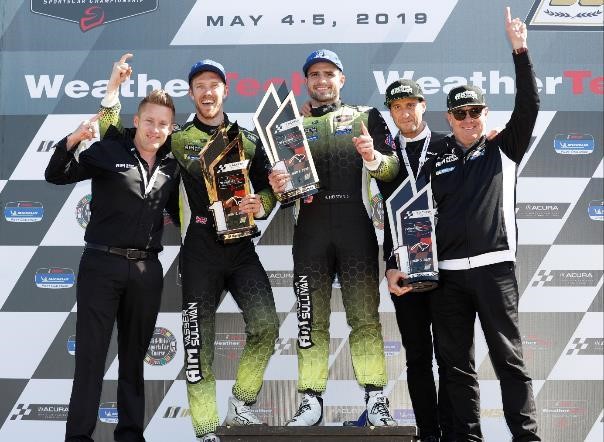 Jack Hawksworth and Richard Heistand piloted the No. 14 Lexus RC F GT3 to victory
Jack Hawksworth and Richard Heistand piloted the No. 14 AIM VASSER SULLIVAN Lexus RC F GT3 to victory today in the Acura Sports Car Challenge at the Mid-Ohio Sports Car Couse in Lexington, Ohio.
Starting from the pole, Heistand led the first eight laps before surrendering the lead to the No. 86 Meyer Shank Racing w/ Curb-Agajanian car. Heistand stayed close and then turned the AVS machine over to Hawksworth with approximately one hour and 50 minutes remaining in the two hour and 40 minute contest.
Hawksworth closed the gap to the leaders to as little as five seconds, but couldn't get by. That was until with 24 minutes remaining the first and only yellow flag of the race occurred. On the restart, Hawksworth swooped passed the leader and never looked back.
The win was the first for AIM VASSER SULLIVAN in just their third race, the first for Heistand since 2006 and the first for Hawksworth since 2014 in his first IMSA start in the Indianapolis Brickyard GP (Prototype Class).
The duo led a total of 29 laps (Heistand 8, Hawksworth, twice for 21 laps). Hawksworth also posted the fastest GTD class race lap, 1:21.338, while Heistand had the third-fastest lap at 1:21.415. The No. 14 AVS team is now third in the IMSA WeatherTech SportsCar Championship GTD class standing with 77 points.
Results
| | | | | | | | | |
| --- | --- | --- | --- | --- | --- | --- | --- | --- |
| Pos | PiC | No. | Cl | Drivers | Car | Laps | Behind | Gap |
| 1 | 1 | 6 | DPi | D. Cameron/J. Montoya | Acura DPi | 123 | 0.000 | 0.000 |
| 2 | 2 | 77 | DPi | O. Jarvis/T. Nunez | Mazda DPi | 123 | 2.022 | 2.022 |
| 3 | 3 | 55 | DPi | J. Bomarito/R. Hunter-Reay | Mazda DPi | 123 | 30.050 | 28.028 |
| 4 | 4 | 31 | DPi | F. Nasr/P. Derani | Cadillac DPi | 123 | 39.114 | 9.064 |
| 5 | 5 | 7 | DPi | H. Castroneves/R. Taylor | Acura DPi | 122 | 1 Lap | 1 Lap |
| 6 | 6 | 10 | DPi | R. Van Der Zande/J. Taylor | Cadillac DPi | 122 | 1 Lap | 0.961 |
| 7 | 7 | 84 | DPi | S. Trummer/S. Simpson | Cadillac DPi | 122 | 1 Lap | 9.522 |
| 8 | 8 | 5 | DPi | J. Barbosa/F. Albuquerque | Cadillac DPi | 122 | 1 Lap | 2.467 |
| 9 | 9 | 50 | DPi | W. Owen/K. Kaiser | Cadillac DPi | 122 | 1 Lap | 0.533 |
| 10 | 10 | 85 | DPi | M. Goikhberg/T. Vautier | Cadillac DPi | 122 | 1 Lap | 0.587 |
| 11 | 1 | 52 | LMP2 | M. McMurry/E. Lux | ORECA LMP2 | 116 | 7 Laps | 6 Laps |
| 12 | 1 | 912 | GTLM | E. Bamber/L. Vanthoor | Porsche 911 RSR | 116 | 7 Laps | 25.899 |
| 13 | 2 | 3 | GTLM | J. Magnussen/A. Garcia | Chevrolet Corvette C7.R | 116 | 7 Laps | 2.340 |
| 14 | 3 | 911 | GTLM | P. Pilet/N. Tandy | Porsche 911 RSR | 116 | 7 Laps | 1.422 |
| 15 | 4 | 25 | GTLM | T. Blomqvist/C. De Phillippi | BMW M8 GTE | 116 | 7 Laps | 0.612 |
| 16 | 5 | 67 | GTLM | R. Briscoe/R. Westbrook | Ford GT | 116 | 7 Laps | 16.830 |
| 17 | 6 | 24 | GTLM | J. Krohn/J. Edwards | BMW M8 GTE | 116 | 7 Laps | 11.195 |
| 18 | 7 | 66 | GTLM | S. Bourdais/D. Mueller | Ford GT | 115 | 8 Laps | 1 Lap |
| 19 | 1 | 14 | GTD | R. Heistand/J. Hawksworth | Lexus RC F GT3 | 114 | 9 Laps | 1 Lap |
| 20 | 2 | 86 | GTD | M. Farnbacher/T. Hindman | Acura NSX GT3 | 114 | 9 Laps | 0.598 |
| 21 | 3 | 48 | GTD | B. Sellers/R. Hardwick | Lamborghini Huracan GT3 | 113 | 10 Laps | 1 Lap |
| 22 | 4 | 73 | GTD | P. Long/M. Seefried | Porsche 911 GT3 R | 113 | 10 Laps | 1.585 |
| 23 | 5 | 12 | GTD | F. Montecalvo/T. Bell | Lexus RC F GT3 | 113 | 10 Laps | 3.135 |
| 24 | 6 | 19 | GTD | W. Hardeman/A. Riberas | Audi R8 LMS GT3 | 113 | 10 Laps | 7.669 |
| 25 | 7 | 63 | GTD | C. MacNeil/T. Vilander | Ferrari 488 GT3 | 112 | 11 Laps | 1 Lap |
| 26 | 8 | 44 | GTD | J. Potter/A. Lally | Lamborghini Huracan GT3 | 112 | 11 Laps | 0.355 |
| 27 | 9 | 8 | GTD | P. Chase/R. Dalziel | Audi R8 LMS GT3 | 112 | 11 Laps | 11.796 |
| 28 | 10 | 57 | GTD | K. Legge/C. Nielsen | Acura NSX GT3 | 112 | 11 Laps | 0.506 |
| 29 | 11 | 74 | GTD | G. Robinson V/L. Aschenbach | Mercedes-AMG | 112 | 11 Laps | 1.506 |
| 30 | 12 | 9 | GTD | S. Hargrove/Z. Robichon | Porsche 911 GT3 R | 107 | Not Running | N/A |
| 31 | 8 | 4 | GTLM | O. Gavin/T. Milner | Chevrolet Corvette C7.R | 105 | 18 Laps | N/A |
| 32 | 11 | 54 | DPi | J. Bennett/C. Braun | Nissan DPi | 97 | Not Running | N/A |
| 33 | 13 | 76 | GTD | P. Holton/M. Plumb | McLaren 720S GT3 | DNF | Not Running | N/A |
| 34 | 2 | 38 | LMP2 | K. Masson/C. Cassels | ORECA LMP2 | DNF | 41 Laps | N/A |
| 35 | 14 | 33 | GTD | B. Keating/J. Bleekemolen | Mercedes-AMG GT3 | DNF | Not Running | N/A |
| 36 | 15 | 96 | GTD | B. Auberlen/R. Foley | BMW M6 GT3 | DNF | Not Running | N/A |