Frijns is Formula E's eighth different winner in eight races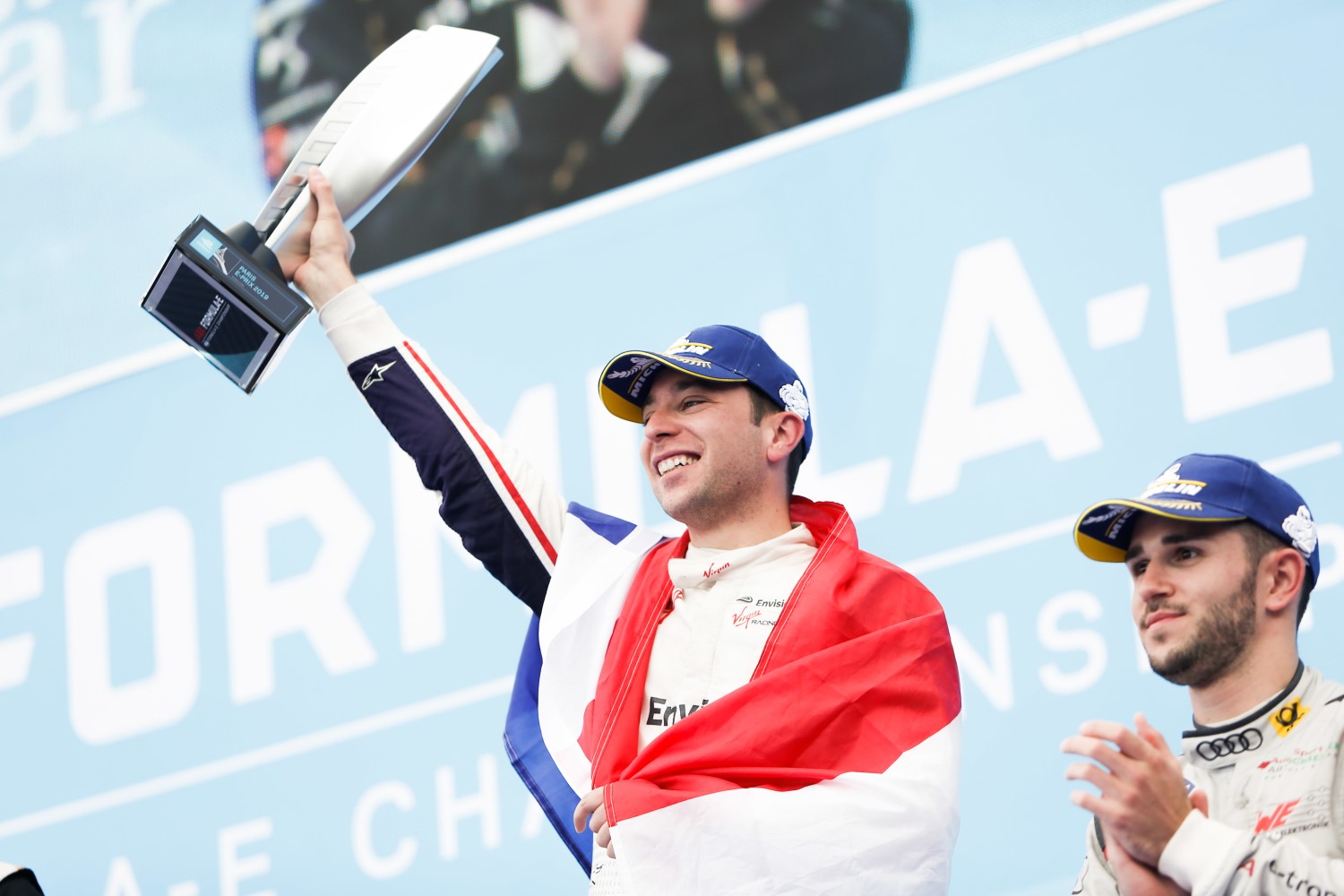 Robin Frijns
Dutch driver Robin Frijns, driving for Envision, won a wet and crash-strewn Paris E-Prix on Saturday to become the all-electric Formula E series' eighth different winner in eight races this season and seize the overall lead. He was joined on the podium by Germans Andre Lotterer, for DS Techeetah, and Daniel Abt for Audi. Brazilian Lucas di Grassi was fourth for Audi.
Here's how it all unfolded…
Starting under the BMW i8 Safety Car due to the damp conditions, the 2019 Paris E-Prix saw new Poleman Oliver Rowland (after Pascal Wehrlein's time was cancelled for incorrect tire pressures) crash out in the opening minutes, handing his teammate Sebastien Buemi the lead.
With Buemi leading, the Swiss driver was shadowed by Envision Virgin Racing's Robin Frijns and Venturi's Felipe Massa in third. With ATTACK MODE activated, Frijns lunged for the lead before Buemi also made for the ATTACK MODE Activation Zone. With both cars running with the additional 25kW of power, the drivers jostled for the top spot with Massa keeping his distance in third.
[adinserter name="GOOGLE AD"]Heading into Turn 8, Buemi slowed, handing Frijns the lead before heading into the pits with a technical issue. Now in the lead, Frijns headed up the pack with DS Techeetah's Andre Lotterer in second and Massa in third. With heavy rain fast approaching, the track conditions worsened, causing traction issues for all 22 drivers. After Frijns made contact with former race leader Buemi, the Dutchman's front splitter appeared to be coming loose.
More rain and hail led to a Full Course Yellow being introduced, with the cars and drivers temporarily keeping their speed to 50kmh. By the time the racing got underway again, there were 23minutes left on the clock. NIO's Tom Dillmann clipped the wall, damaging his car and retiring from the race.
Further down the pack, Envision's Sam Bird over shot Turn 3 before Rowland took BMW i Andretti Motorsport's Alex Sims out of the race, causing another Full Course Yellow.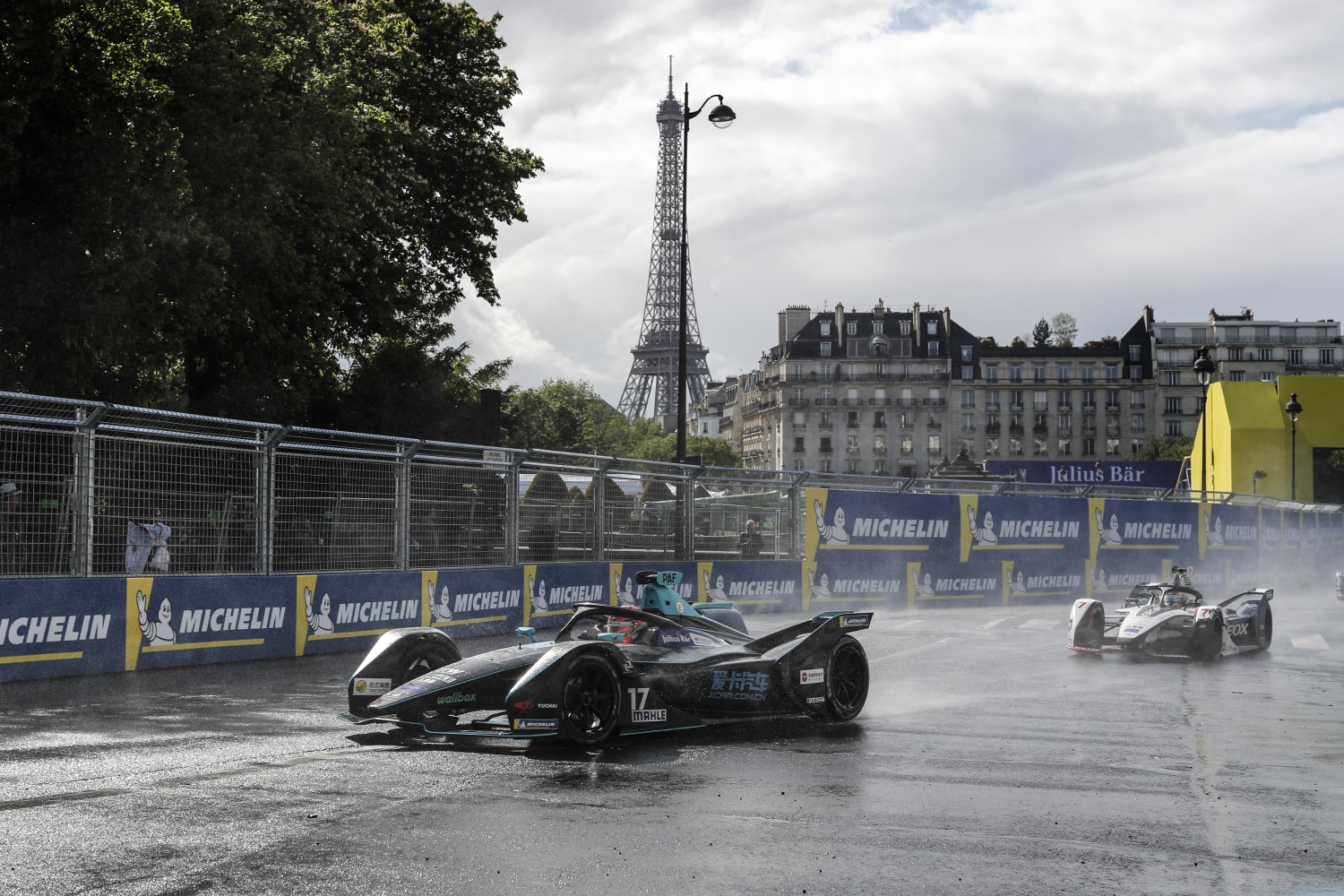 The event was hit by rain
Battling against some of the most challenging conditions seen in Formula E a number of drivers struggled to keep their cars facing in the right direction. With Frijns, Lotterer and Abt all striving to keep their place on the podium, Venturi's Edoardo Mortara collided with Panasonic jaguar Racing's Alex Lynn on Turn 13 before they came to a halt in the wall. While the cars were recovered under a Full Course Yellow, only 17 cars and drivers remained on track with only minutes of the race remaining.
After the Safety Car returned to the pit lane after Lynn and Mortara's cars were recovered, Frijns had less than two minutes left to hold the lead from Lotterer on the attack. Moments later, Mahindra's d'Ambrosio hit the wall on Turn 3. While d'Ambrosio's car was recovered, Frijns took the checkered flag followed by Lotterer and Abt in second and third.
"That was the hardest race of my life," said the Dutchman, clearly overcome with emotion. After the win in Paris, Frijns becomes the eighth winner in eight races this season.
Quotes
ENVISION VIRGIN RACING
ROBIN FRIJNS
"The last thing you want in a race is rain and it was very slippery for everyone – everybody went off at some point. I crashed as well, so it was very tricky conditions and difficult to know what the rain would do to the track. You're surviving really and knowing that you're leading, you're the first car and anticipating the grip in the corners. Andre was behind me and he was waiting for me to make mistakes. So, the pressure was on all race long. I didn't have much time to rest, only during Full Course Yellows, but it was definitely one of the toughest races."
DS TECHEETAH
ANDRE LOTTERER
"It was a good start and we managed to avoid many things. At the beginning I thought – ok, we can do something because I was quite good in the morning in the free practice. But somehow there wasn't grip, or the tyres didn't have grip. For me, the safest thing to do was take it home, and then it started to rain more and visibility was bad. I tried to stay there and sometimes put a bit of pressure just in case he made any mistake."
AUDI SPORT ABT SCHAEFFLER
DANIEL ABT
"I think it was a pretty good race in the dry – I felt super quick, super confident and I had some good battles, especially with Massa… although it was a fun and fair one. I felt really confident and the shower came of course, and it changes the perspective which goes from trying to close the gap and push to win – to trying to survive more or less. All of us were really on a knife-edge. So, bringing third home I think is positive."
Race Results
| POS | DRIVER | TEAM | CAR | LAPS | GAP |
| --- | --- | --- | --- | --- | --- |
| 1 | Robin Frijns | Virgin | Audi | 32 | 0.000s |
| 2 | Andre Lotterer | DS Techeetah | DS | 32 | 1.373s |
| 3 | Daniel Abt | Audi | Audi | 32 | 3.175s |
| 4 | Lucas di Grassi | Audi | Audi | 32 | 3.666s |
| 5 | Maximilian Gunther | Dragon | Penske | 32 | 5.456s |
| 6 | Jean-Eric Vergne | DS Techeetah | DS | 32 | 6.694s |
| 7 | Antonio Felix da Costa | BMW | BMW | 32 | 7.238s |
| 8 | Gary Paffett | HWA | Venturi | 32 | 7.901s |
| 9 | Felipe Massa | Venturi | Venturi | 32 | 10.522s |
| 10 | Pascal Wehrlein | Mahindra | Mahindra | 32 | 10.998s |
| 11 | Sam Bird | Virgin | Audi | 32 | 11.488s |
| 12 | Oliver Rowland | e.dams | Nissan | 32 | 19.451s |
| 13 | Jose Maria Lopez | Dragon | Penske | 32 | 24.023s |
| 14 | Oliver Turvey | NIO | NIO | 32 | 1m22.226s |
| 15 | Sebastien Buemi | e.dams | Nissan | 31 | 1 Lap |
| 16 | Mitch Evans | Jaguar | Jaguar | 31 | 1 Lap |
| 17 | Jerome d'Ambrosio | Mahindra | Mahindra | 29 | Not running |
| – | Alex Lynn | Jaguar | Jaguar | 23 | Retirement |
| – | Edoardo Mortara | Venturi | Venturi | 23 | Retirement |
| – | Stoffel Vandoorne | HWA | Venturi | 18 | Retirement |
| – | Alexander Sims | BMW | BMW | 18 | Retirement |
| – | Tom Dillmann | NIO | NIO | 17 | Retirement |
Drivers' Standings
| POS | DRIVER | POINTS |
| --- | --- | --- |
| 1 | Robin Frijns | 81 |
| 2 | Andre Lotterer | 80 |
| 3 | Antonio Felix da Costa | 70 |
| 4 | Lucas di Grassi | 70 |
| 5 | Jerome d'Ambrosio | 65 |
| 6 | Jean-Eric Vergne | 62 |
| 7 | Mitch Evans | 61 |
| 8 | Daniel Abt | 59 |
| 9 | Sam Bird | 54 |
| 10 | Edoardo Mortara | 52 |
| 11 | Pascal Wehrlein | 38 |
| 12 | Oliver Rowland | 38 |
| 13 | Sebastien Buemi | 30 |
| 14 | Stoffel Vandoorne | 18 |
| 15 | Alexander Sims | 18 |
| 16 | Felipe Massa | 17 |
| 17 | Maximilian Gunther | 10 |
| 18 | Gary Paffett | 8 |
| 19 | Oliver Turvey | 6 |
| 20 | Jose Maria Lopez | 2 |
| 21 | Nelson Piquet Jr. | 1 |
| 22 | Tom Dillmann | 0 |
| 23 | Alex Lynn | 0 |
| 24 | Felipe Nasr | 0 |