Ferrari self-destructs, Bottas wins pole in Baku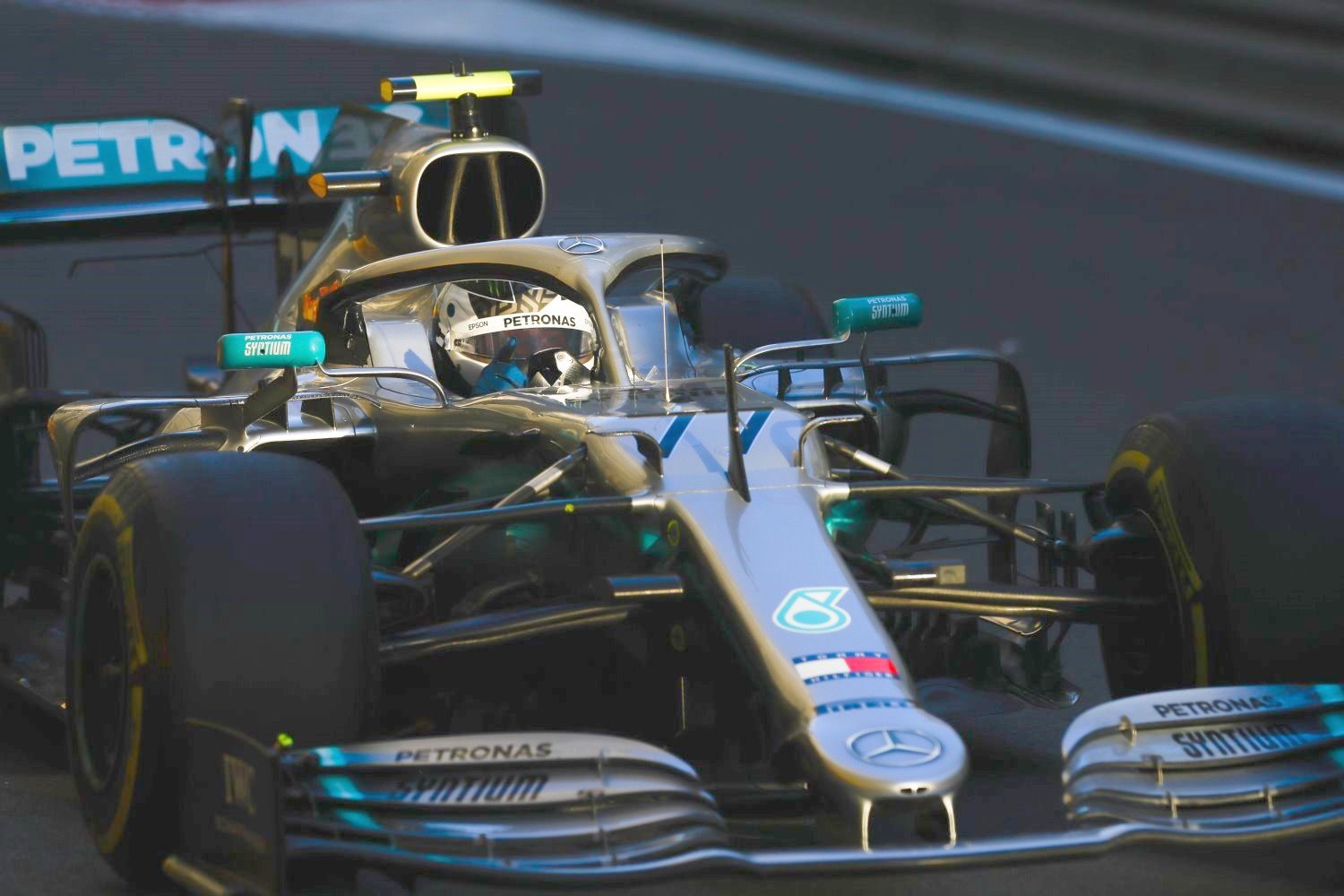 Valtteri Bottas on pole
Sandbagging Valtteri Bottas and his Mercedes team finally showed his hand in Q3 qualifying to win pole over teammate Lewis Hamilton for the Azerbaijan (Baku) Grand Prix as the Ferrari team, who dominated all the practice sessions, choked.
Charles Leclerc stuffed his Ferrari into the barrier in Q2 and had to sit out Q3 due to severe damage to his Ferrari.
Sebastian Vettel just wasn't fast enough and will start third.
Just over two minutes remained as Vettel and most of the others went out for their final runs. Verstappen remained in the pits to see if his front row spot would be preserved.
Vettel was out front. His lap was a 1:40.797 was only good enough for third. Bottas took the pole with a 1:40.495. Hamilton, 0.059 of a second slower, filled out the front row.
[adinserter name="GOOGLE AD"]Max Verstappen put the Red Bull in 4th for Sunday's race as Sergio Perez rounded out the top-5.
Vettel could not capitalize, with a decision to get out early in Q3 backfiring, as Bottas surprised Hamilton to take P1 thanks to a hefty tow down Baku's monstrous main straight.
had a good lap but I had no tow to close the lap so that cost a bit," he said.
"I am happy that we got sort of the maximum out, but not happy overall from the team point of view as we were expecting to have a better session with Charles and myself. I think we thought we would be closer to the front."
On the benefits of a tow, Vettel said: "It depends, up to half a second. Then it is always a compromise because if you are too close in the middle sector you lose out.
"But I would say going with the other people, probably around three tenths. It could have been a bit closer with someone in front.
"The track was getting cooler, the car was more difficult to drive and I prioritized to push on the out lap to have the tires in the window when I started the lap.
"Now I sort of regret I didn't take the gamble on but I think it was still probably the right call."
Quotes
Mercedes AMG Petronas Motorsport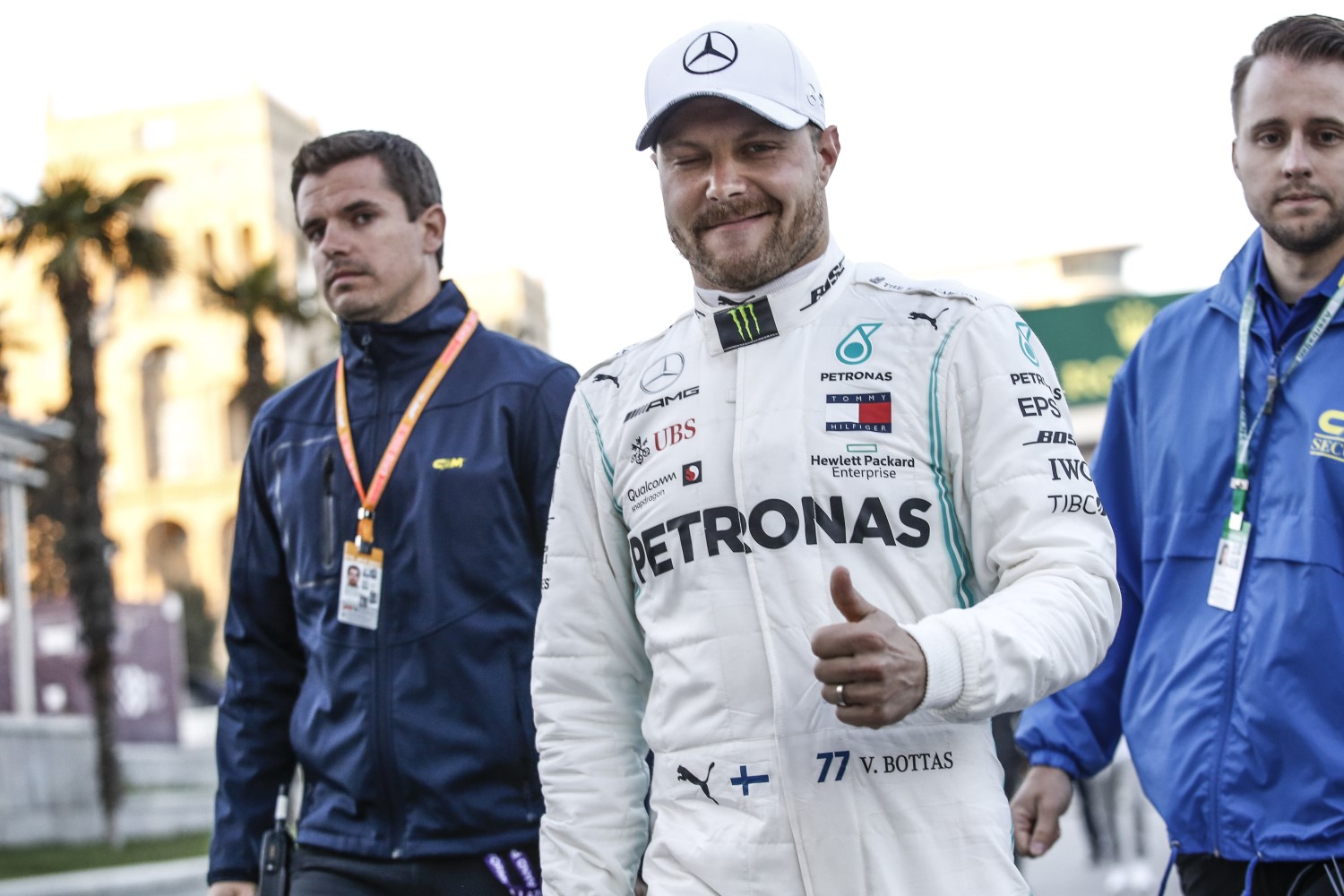 A happy Valtteri Bottas
Valtteri Bottas (1st, 1:40.495): "This pole feels really good, the entire team did a great job today. We saw early on in the Qualifying that the Ferraris were very quick, as they were all weekend, but by the time we got to Q3 we were able to extract the maximum from our car and the tires. As the track was evolving and cooling down, our car was behaving better and better, so it was good that it all came together when it really counted. It's nice to start from the front, but nothing is done yet – tomorrow is what counts. As we've seen in the past, anything can happen around this track, so staying out of trouble is going to be important. Race pace is going to be crucial as well as it is relatively easy to overtake on this track. I think it's going to be an exciting race tomorrow, the top teams all looked very close on long run pace, so it should be fun. I have a bit of unfinished business here in Baku from last year, so I'll give my best tomorrow."
Lewis Hamilton (2nd, 1:40.554): "We didn't think we'd be quick enough to lock out the front row here, Charles in particular had been very strong all weekend. We've made improvements and we thought we'd get within one or two tenths, but not quite make it. So I'm really proud of everyone in the team that we did it. This is one of the toughest, most challenging Qualifying sessions and circuits of the season, but I really enjoy the challenge. I've struggled at this track in the past, so I'm grateful to be on the front row. I was really close to getting pole today, my first lap in Q3 was actually quite good, but on my second lap I lost three tenths in the first two corners and while I did make most of it up, it wasn't enough for pole in the end. So I'm happy in one respect, but on the other hand I'm disappointed because I could have taken pole today. I'll try and make a difference tomorrow – the start is going to be important, our long run pace looked good, but there are usually lots of Safety Cars here, so lots can happen in the race."
Toto Wolff, Team Principal: "The longer the Qualifying session took today, the better our performance looked. It's really tricky to get the tire temperatures in the right window and we were struggling with that all weekend long, but when the ambience and track temperatures dropped towards the end of the session, our car was behaving much better than it had all weekend long. We gained relative performance the longer the session went on and by the time we got to Q3, the competitive order had changed. We didn't expect so many cars going out right with us at the end of Q3, so we were bunched up behind them and both Lewis' and Valtteri's outlaps were compromised. As a result, both of them struggled and Lewis lost quite a bit of time in the beginning of his final lap, but it was enough to lock out the front row for us. It's relatively easy to overtake in Baku, so race pace is going to be key tomorrow."
James Allison, Technical Director: "We absolutely love coming to Baku, but boy, oh boy, is it stressful! Last night at the end of FP2, looking at a one and a half second gap to the Ferrari of Leclerc in front, today's front-row lockout in Qualifying felt very distant. We were reasonably sure that the car had good lap time in it, but persuading the tires into a state where they were willing to give their best in a flying lap was not at all easy for the team and far harder still for the drivers. The Qualifying session today showed just how difficult this track is with a number of people finding themselves casualties of the unforgiving walls, so we were very grateful to finish the session with our drivers having managed it immaculately, able to get the car flying and finally to have the 1-2 and we're really pleased that both cars are in good shape for the race tomorrow."
Scuderia Ferrari Mission Winnow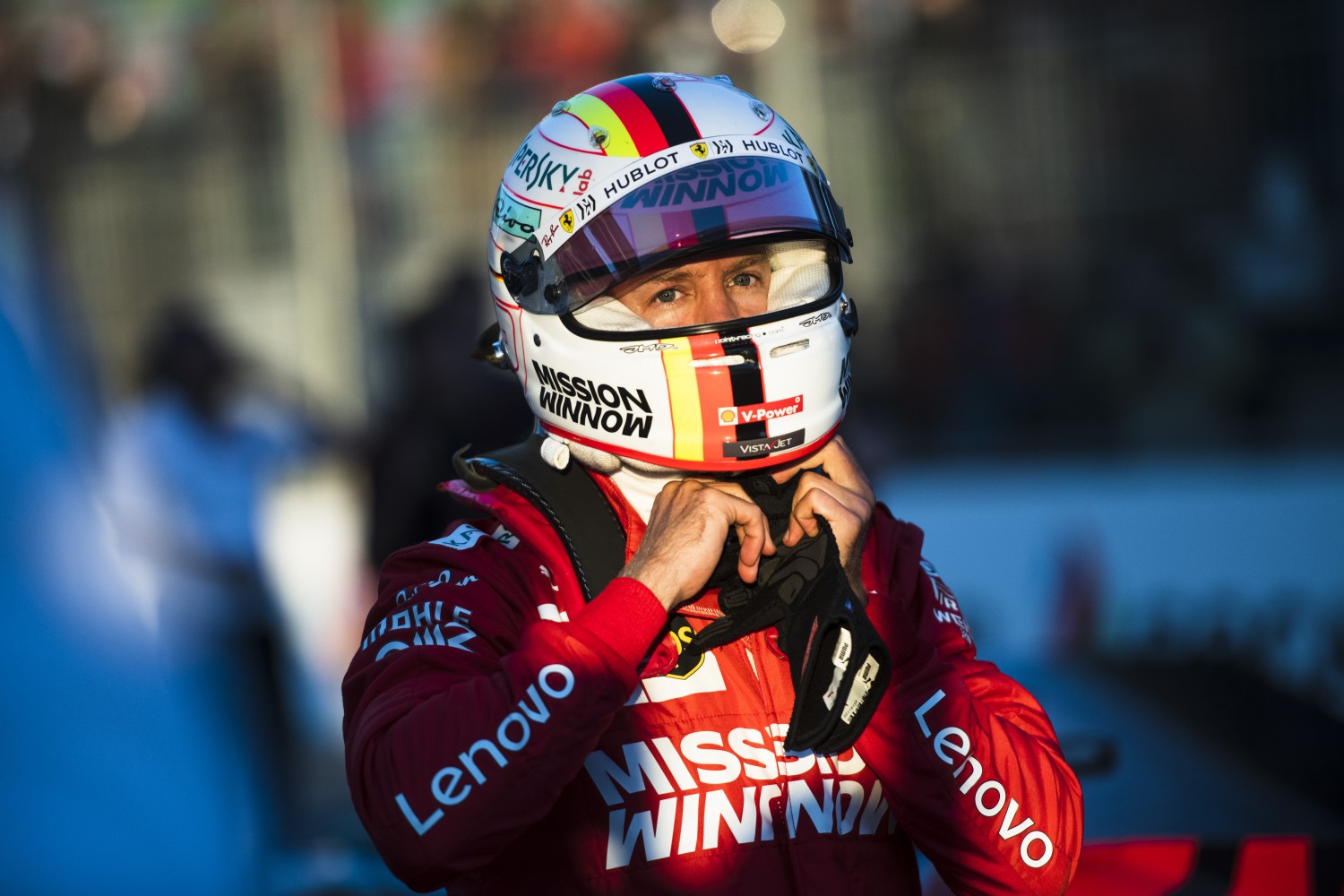 Vettel had to settle for third because he had no tow
Sebastian Vettel (3rd, 1:40.797): "It was a tough call in the end. When the track temperature dropped the car balance changed and getting the tires to work for that one lap, especially after such a long straight before starting the lap, was not easy. With the clock ticking down, everybody was banking on the last run and getting a tow so at some point I had to make the call; do I prioritize my tires or the tow? Which would have meant compromising the outlap and I didn't have the feeling that I could afford that and I wanted to have a clean shot. My first Q3 run was ok, but on the second run I didn't have anybody to tow me along, so I dealt with it just focusing on my lap and obviously I lost quite a lot, about four tenths, compared to the previous lap. But that's what happens at this track. It was a tricky session. I saw Charles in the barrier and realized qualifying was over for him. It was a shame to lose one of our cars. In the end, we are one team and everybody is working extremely hard no matter which side of the garage you are on. Anyway, we need to turn the page as tomorrow is a new day and it's a long race where anything can happen. As a team we can recover and put our rivals under pressure. Overall I feel we have a strong car so we can go and race hard and should have some fun."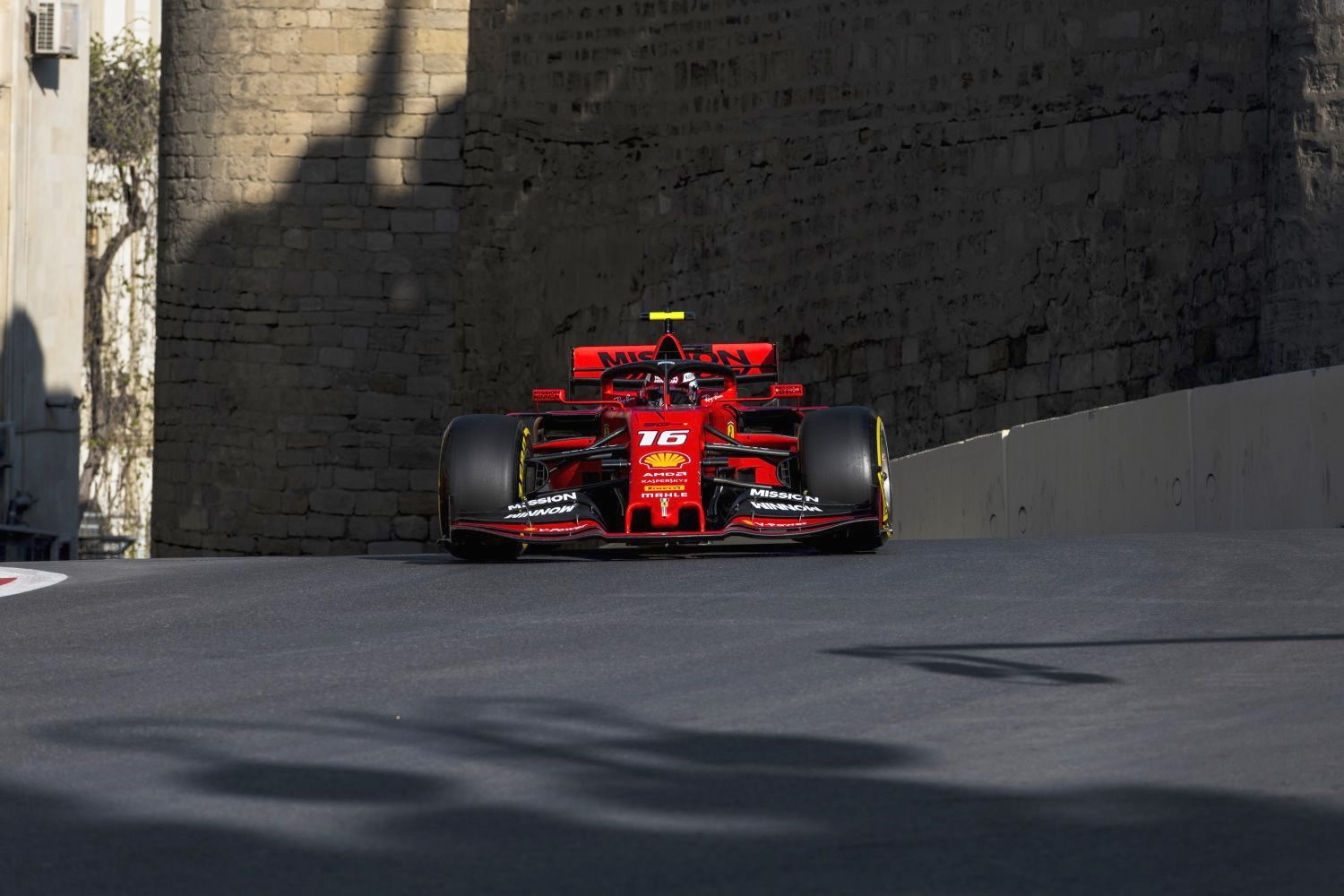 Charles Leclerc choked and crashed
Charles Leclerc (10th, No Time): "I am disappointed with myself. Our pace was good all weekend and we expected to have a positive qualifying result. My first lap in Q2 was very good considering we were on Mediums, but then I made a driving error on the second lap. I just didn't do the job. The team and all the people supporting us out there deserved much more. Tomorrow is a new day. I will stay positive and push to do the best job possible in the race."
Mattia Binotto, Team Principal: "We are not happy about the outcome of qualifying. I think our car was performing well today and we could have certainly achieved a much better result. The upgrades we brought here worked well and we are happy with the way they are behaving. Sebastian improved run after run and found the best feeling with the car right on his last attempt. This is such a peculiar track and had he found a better feeling before he could have done a better job. Charles will be one of the very few of the top ten starting on Medium tires and he can still have a great race. He was very fast today and can be very fast tomorrow as well. It has been a real shame that his qualifying ended at turn 8, but these things happen when you push to the limit."
Aston Martin Red Bull Racing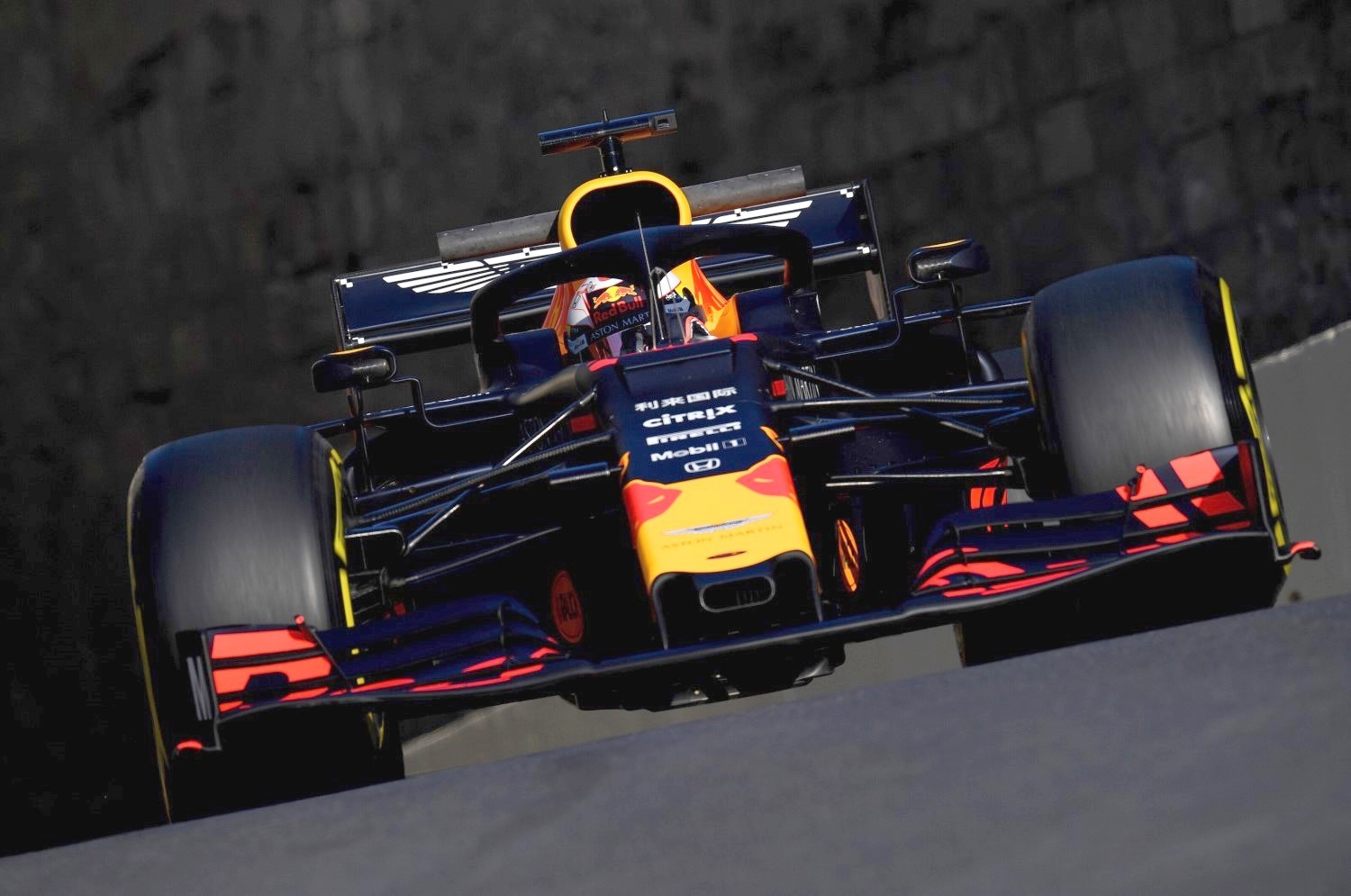 Max Verstappen will start 4th
Max Verstappen (4th, 1:41.069): "We were positively surprised that we were so competitive in qualifying and the second row of the grid is not bad. Everything was going quite smoothly, but in Q3 we were running a different strategy as I only had one set of tires so I was on my own. Around this track it is very painful to be on your own and you of course lose lap time to others who have a tow. Even compared to my own lap in Q2 I was losing around two and a half tenths on the main straight. You can also gain a tenth or two on the other straights having a car six or seven seconds ahead as you get sucked in and these cars have so much drag. I pushed everything I could out of my final lap and it was pretty good. I think we could have fought for pole if we were in that train of cars, but at least we know the car is working well. It's always a crazy one here and for sure the race won't be won at Turn 1. It's all pretty close and from fourth we can still fight for the race."
Pierre Gasly (15th, No Time): "It was nice to end Q1 in P1 but knowing we're starting from the pit lane tomorrow, the most important thing was just to get a feel of the car on low fuel. It felt really good and it's probably the first time this year I've felt that good in the car, so I'm really happy. I felt confident and I'm always working and trying to adapt myself, and it's working step by step. I think we're going in the right direction and overall it was a positive qualifying session. We didn't expect that kind of pace because we didn't turn the power unit up, we went into race mode to save some engine mileage and in the end the performance was good. I think we have a good car here and I was hoping Max would get a good result in Q3. This race track is just insane with all the things that can happen so I will race flat out until the last lap. We have a car good enough to recover and score good points tomorrow, so I will push for it."
Christian Horner, Sporting Director: "It was an interesting qualifying today after several red flags and Pierre did a very good job to go fastest in Q1. Max unfortunately flat spotted a tire so needed to run again in Q1, which reduced the number of tires available to him later in qualifying, but nonetheless we finished Q1 first and fourth. In Q2, we elected not to run Pierre as he will start tomorrow's race from the pit lane due to his weighbridge penalty, but Max was able to go quickest during the session. After the delay following Leclerc's incident, Q3 finally got underway and with one set of tires available, the best approach was quick-slow-quick which put Max out of sync with the drivers that had two sets remaining. Whilst he had the benefit of having a clear lap, he unfortunately didn't have a tow as it would have been impossible to synchronize the different run strategies from the other teams. Overall, it was a strong qualifying with Max starting on the second row and Pierre's time in Q1 would have put him sixth on the grid. A really encouraging display from Pierre and we now look forward to tomorrow's race."
Renault Sport Formula One Team
Daniel Ricciardo (12th, 1:42.477): "Considering how the weekend has gone so far, we probably lowered our expectation for today. Twelfth isn't ideal. This weekend we've been a little bit off the pace and small things make a big difference. We've made changes from yesterday and certainly made progress. You never know what will happen here. I'm right in the midfield for the start and it can be crazy at this place. We have to keep it clean, keep chipping away and aim to come through the field."
Nico Hulkenberg (18th, 1:43.427): "I've been missing the harmony between myself and the car all weekend. We couldn't find that sweet spot with the car or the tires. Things didn't quite go our way in qualifying with a yellow flag hampering my first fast lap and then I locked up and went in too deep on my second. The race, however, is not written off. We know it will be difficult but we know what's happened here in the past. You have to be in it, and we'll race hard tomorrow."
Alan Permane, Sporting Director: "It wasn't a particularly good qualifying for the team today with both drivers missing out on Q3. The weekend has been difficult and a little intermittent, but that's the same for all teams and that's part of the challenge of racing in Baku. Nico has struggled with confidence in the car, while Daniel was slightly happier and managed to get through to Q2 and very close to a shot at the top 10. We know anything can happen here as we've seen in the past couple of years, so we're not counting anything out for tomorrow's race."
Rich Energy Haas F1 Team
Kevin Magnussen (14th, 1:42.699):
Romain Grosjean (17th, 1:43.407):
Gene Haas, Owner:
Guenther Steiner, Team Principal:
Rob Taylor, Technical Director:
McLaren F1 Team
Lando Norris (7th, 1:41.886): "It was obviously a decent quali – in the end – in terms of the result. I managed to stay out of danger, didn't make any silly mistakes and capitalized a bit on others who did. It was having that clean qualifying that made it pretty good for us. It could maybe have gone a little better if I'd nailed the lap but I'm still happy with seventh. I think we maximized today overall and I'm pretty pleased with how it's gone. It's going to be a long one tomorrow though. The starting position doesn't decide the whole race here like it does at some other tracks."
Carlos Sainz (11th, 1:42.398): "A frustrating situation one more time in quali. I don't have much to say. The session was going well, I was lapping in the 1m41.9s – 1m42.0s in Q1, which would have got us easily from Q2 into Q3. The Haas made a mistake in front of me and that meant yellow flags in Turn Two ruined my last attempt. It's not the best way to finish qualifying today. Right now I'm far from happy, but tomorrow I'll be more positive and 100 per cent focused on the race. I have a free choice of tire, and I start from P10 instead of P11 – but the fact is I'm not happy at all."
Gil de Ferran, Sporting Director: "I guess it's a good sign when you are mildly frustrated after the results we had today. In general, this is a very difficult session to manage given the red flags and the importance of track position in order to achieve your maximum potential. Carlos was really unfortunate to come across a yellow flag on what would have been his 'qualifying lap.' On the positive side, he's in a good grid position and with free choice of tires for tomorrow, which may end up being a very important factor for the race. Lando did an absolutely brilliant job improving every time and put himself in a very deserving P7. Tomorrow is another day, as was underlined by today's session. I'm sure we'll again have to contend with many unpredictable situations, which unquestionably will make our job on the pit-wall very complex as well as for the drivers in the cockpit. At the same time, I'm sure it will provide a very exciting race for the fans."
Racing Point F1 Team
Sergio Perez (5th, 1:41.593): "It was a great qualifying, the team did a tremendous job in terms of the strategy. We reacted really well and got all the decisions right – when to go out and when not to go out. It was a long session, the track cooled down a lot but I think we did a good job and we were able to get more out of the car. This is a very unique track, it pushes the driver to the maximum. You need to be on the limit every lap without making any mistakes and that takes a lot of commitment and confidence. It will be a long race, we have some very fast cars around us but anything can happen here in Baku. A single mistake can cost you a lot. It is important to stay cool and I think if we are able to finish the race we should be able to score good points."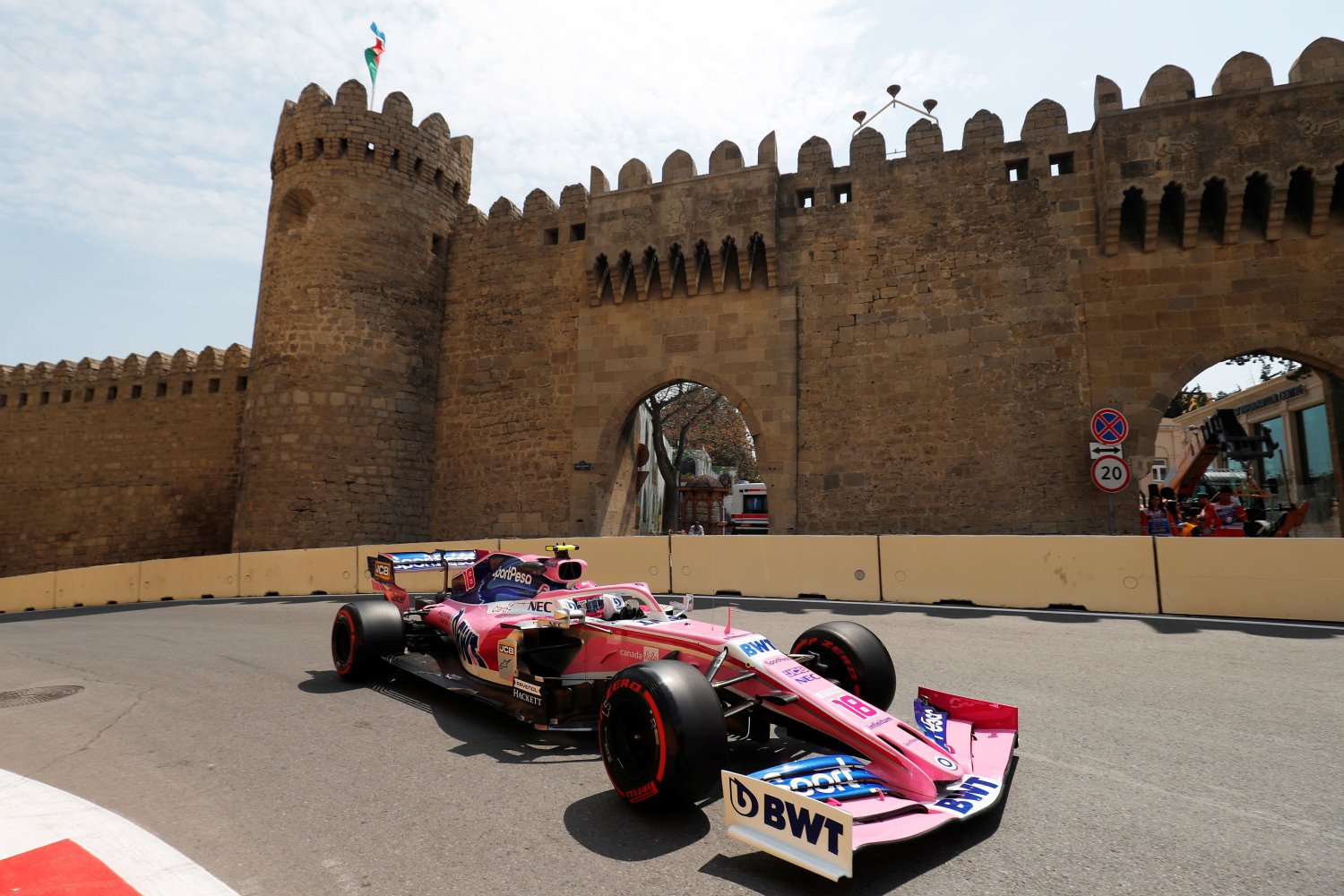 Lance Stroll
Lance Stroll (16th, 1:42.630): "It was a challenging day and it's a shame to go out in Q1. I did what I could with the limited running we could do yesterday. FP3 was a good session and I kept building my confidence up, but in the end we didn't have enough laps. I had to abort my first lap due to the yellow flags, so I only had one attempt. In the end, the lap just wasn't good enough so all we can do is look ahead to tomorrow. The potential of the car is good, as Sergio has shown, and the race can be very unpredictable here. If we come up with a good strategy and make the most of any opportunity we can still come up with a good result, so let's see what happens."
Otmar Szafnauer, Chief Operating Officer: "It was a very interesting session, especially as the track temperatures dropped the longer the sessions went on. As we were expecting, the midfield is very tight: Lance was very unlucky to miss out on Q2 by such a small margin. On the other hand, Sergio got into a good rhythm early on and did a very good job to maximize the performance of the car in each of the sessions. To end up as the fourth quickest team here is very satisfying, but there are no points on offer on Saturday. Tomorrow is when it matters so we will need to be ready to make the most of the race. Our pace on long runs looked good and we believe we have a good car, so points with both cars is our target."
Alfa Romeo Racing
Antonio Giovinazzi (8th, 1:42.424): "To be in Q3 for the first time makes me really happy. My pace was already very strong in yesterday's FP2. We got the maximum out of our car today, and even if I've been given a 10-place penalty I hope to score some points here. It's been a chaotic race for the last two years and we can't predict how it will be tomorrow, so we will do our best to have a good race and fight our way forward."
Kimi Raikkonen (9th, 1:43.068): "Quite disappointing as I couldn't put a decent lap together in the last part of qualifying. For the last try I was to close to the Mercedes so my lap was more or less over before it had even started. My expectations for the race? I don't have any, as anything can happen here."
Frederic Vasseur, Team Principal: "Overall, the qualifying was a good one as we have both cars in the Top Ten for the first time. While Antonio showed a very strong performance, it's a shame we didn't show our potential during Q3 with Kimi. We struggled with the outlap in the traffic. Our pace has been promising so far and we are confident to have a good result in the race."
Red Bull Toro Rosso Honda
Daniil Kvyat (6th, 1:41.681): "It was a good Qualifying, I had a great lap in Q3 – it gives you great satisfaction to put in a good lap, especially at a track like this as it's a circuit for brave drivers. Conditions were not ideal for anyone because we missed out on track time yesterday, but I generally don't need a lot of laps to find good pace. I brushed the wall on one of my laps, but you need to have big balls around this track to get the best time. Tomorrow's a long race and we'll try and put everything together – I think we have a chance for a strong result. The race can be very unpredictable, so I'll keep a cool head and do the best job I can."
Alexander Albon (13th, 1:42.494): "It was a bit of a frustrating end to Qualifying. We had the pace for Q3 the whole weekend, just not when it mattered. I was struggling with the tire temperatures and trying to get them in the right range, especially after the big temperature drop near the end of the session. Maybe I didn't get the warm up lap right, because I struggled for confidence when the track was cold and the car started to slide around a bit. Tomorrow's a new day and anything can happen here, we've seen how chaotic it can be so it's all to play for."
Jody Egginton, Head of Vehicle Performance: "Both drivers reported a reasonable balance during FP3, as such, the changes for Qualifying were limited to ensure that tires and run length were optimized to the track and ambient conditions. In Q1, the time set on the first lap of the second run was sufficient to see both cars through to Q2. However, the Red Flag resulted in the session being delayed and, subsequently, we ended the session in cooler temperatures than expected, which presented an extra challenge for the drivers and engineers. Dany was able to make it into Q3 but unfortunately Alex, although having been very competitive so far in Baku, was not able to do so on this occasion. To try and deal best with the cooler temperatures, we elected to continue with a push-cool-push approach for Q3, with Dany putting in a very good lap to secure sixth on the grid for the race, which is a great reward for the team's effort. We now switch our focus to the race and, with the pace shown so far this weekend, scoring points with both cars."
Toyoharu Tanabe, Honda F1 Technical Director: "This was a very complicated Qualifying with two Red Flags but Daniil did well to be sixth quickest to give Scuderia Toro Rosso its first top ten Qualifying result of the season. It is a positive result with which to go into tomorrow's race. This result is down to all the hard work from everyone at Honda and our partner teams, as together we have produced two strong car packages for this event. Alex who will start from 12th place, having qualified 13th did not get a clean lap in Q2 because of traffic and he brushed the wall, but with the strong pace he showed all weekend, he can move up the order tomorrow. Our aim has to be to get all four cars home in the top ten with plenty of points."
ROKiT Williams Racing
George Russell (19th, 1:45.062): "I went into qualifying quite blind after missing all the running yesterday. Baku is a circuit that requires a lot confidence for you to maintain your momentum. From a personal perspective, I felt comfortable during qualifying and got the most out of the package. It's been a tough weekend and will be a long race tomorrow, but we must stay positive and keep making the most of the situation."
Robert Kubica (20th, 1:45.455): "At this track you pay a high price for a relatively small mistake. I knew it before I came here and unfortunately that's just how it is. It was not a huge impact, but the doctors had to do the usual precautions and I am ok. I turned in too soon and clipped the wall at turn eight, which launched me to the outside of the next corner which is the narrowest point on the Formula One calendar. The temperature is not helping us, but this was a driver mistake and we will evaluate the car for damage."
Dave Robson, Senior Race Engineer: "Although we gathered only limited data from yesterday's running, we were able to make some improvements to the car overnight. Furthermore, with the mechanics having done an excellent job of getting the spare chassis ready for George, we were able to use both cars to conduct some further experiments in FP3. Applying the learning to the cooler conditions of evening qualifying is never straightforward. Overall, we were able to make further progress and George was able to make up for the time he lost yesterday, getting the most out of the car during his runs in Q1. Unfortunately, Robert touched the wall at turn eight on his final flying lap, and this lost him the opportunity to maximize his qualifying performance. We are assessing the damage on Robert's car but expect to be able to make the necessary repairs ahead of tomorrow's race."
Qualifying Results
| | | | | | | | |
| --- | --- | --- | --- | --- | --- | --- | --- |
| POS | NO | DRIVER | CAR | Q1 | Q2 | Q3 | LAPS |
| 1 | 77 | Valtteri Bottas | Mercedes | 1:42.026 | 1:41.500 | 1:40.495 | 20 |
| 2 | 44 | Lewis Hamilton | Mercedes | 1:41.614 | 1:41.580 | 1:40.554 | 21 |
| 3 | 5 | Sebastian Vettel | Ferrari | 1:42.042 | 1:41.889 | 1:40.797 | 23 |
| 4 | 33 | Max Verstappen | Red Bull Racing Honda | 1:41.727 | 1:41.388 | 1:41.069 | 15 |
| 5 | 11 | Sergio Perez | Racing Point BWT Mercedes | 1:42.249 | 1:41.870 | 1:41.593 | 17 |
| 6 | 26 | Daniil Kvyat | Scuderia Toro Rosso Honda | 1:42.324 | 1:42.221 | 1:41.681 | 23 |
| 7 | 4 | Lando Norris | McLaren Renault | 1:42.371 | 1:42.084 | 1:41.886 | 23 |
| 8 | 99 | Antonio Giovinazzi | Alfa Romeo Racing Ferrari | 1:42.140 | 1:42.381 | 1:42.424 | 21 |
| 9 | 7 | Kimi Raikkonen | Alfa Romeo Racing Ferrari | 1:42.059 | 1:42.082 | 1:43.068 | 21 |
| 10 | 16 | Charles Leclerc | Ferrari | 1:41.426 | 1:41.995 | – | 11 |
| 11 | 55 | Carlos Sainz | McLaren Renault | 1:41.936 | 1:42.398 | – | 17 |
| 12 | 3 | Daniel Ricciardo | Renault | 1:42.486 | 1:42.477 | – | 15 |
| 13 | 23 | Alexander Albon | Scuderia Toro Rosso Honda | 1:42.154 | 1:42.494 | – | 18 |
| 14 | 20 | Kevin Magnussen | Haas Ferrari | 1:42.382 | 1:42.699 | – | 16 |
| 15 | 10 | Pierre Gasly | Red Bull Racing Honda | 1:41.335 | – | – | 5 |
| 16 | 18 | Lance Stroll | Racing Point BWT Mercedes | 1:42.630 | – | – | 8 |
| 17 | 8 | Romain Grosjean | Haas Ferrari | 1:43.407 | – | – | 10 |
| 18 | 27 | Nico Hulkenberg | Renault | 1:43.427 | – | – | 8 |
| 19 | 63 | George Russell | Williams Mercedes | 1:45.062 | – | – | 9 |
| 20 | 88 | Robert Kubica | Williams Mercedes | 1:45.455 | – | – | 8 |
[adinserter name="GOOGLE AD"]