Evans gets maiden Jaguar win in Rome E-Prix thriller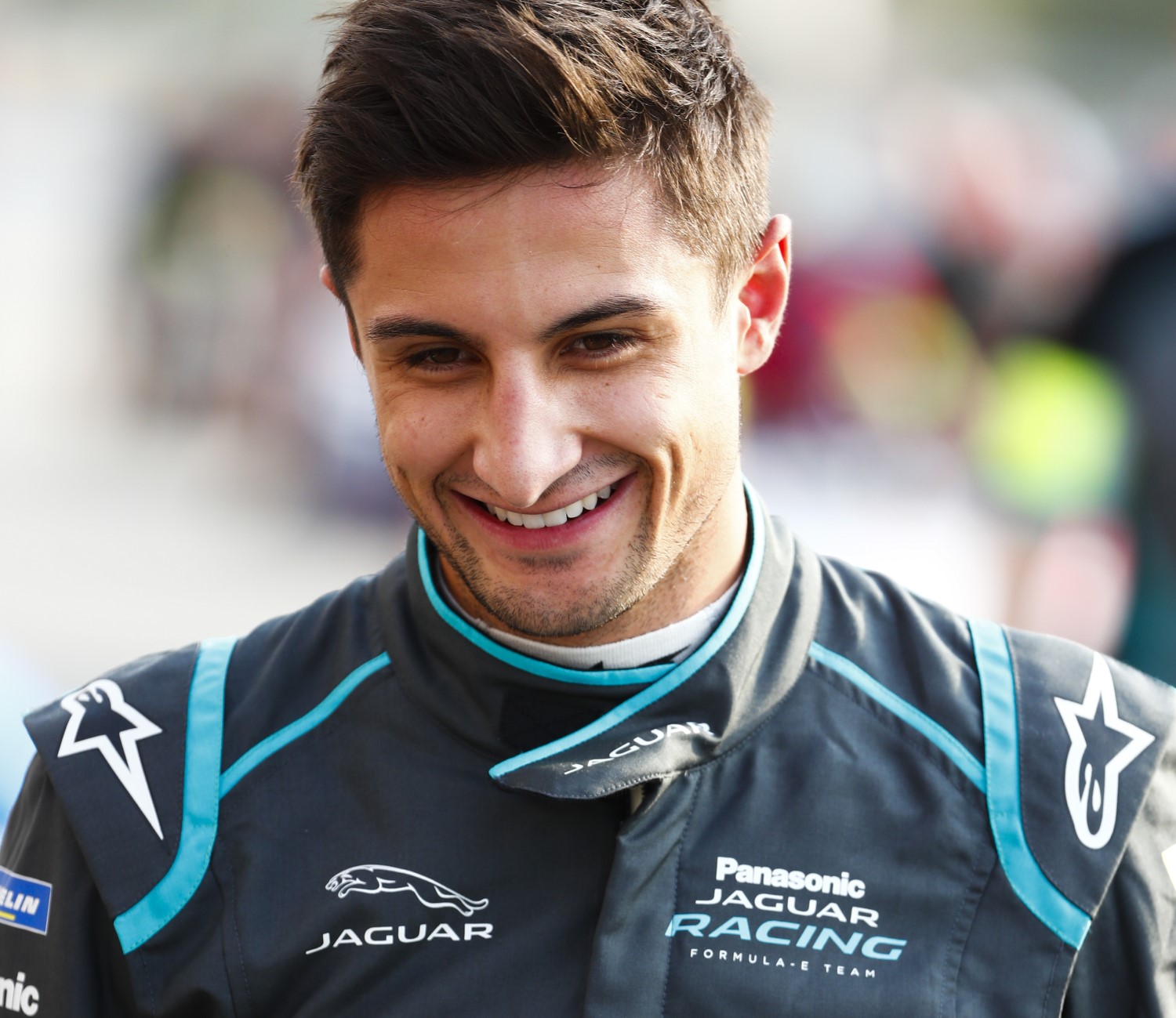 Mitch Evans
Mitch Evans clawed his way passed Andre Lotterer in a hard-fought duel on the streets of Rome to earn his first victory in the ABB FIA Formula E Championship and a maiden win for Panasonic Jaguar Racing.
Evans stalked the back of Lotterer's car in the opening phase of the race, with the DS TECHEETAH driver unable to pull a gap. With both teams and drivers evenly-matched on pace, it became a tactical battle about when to deploy ATTACK MODE.
It was Evans who blinked first – activating ATTACK MODE just after the halfway mark. Despite losing some time moving off the racing line, Evans stayed ahead of Stoffel Vandoorne in third and quickly roped Lotterer back in.
Lotterer chose not to mirror Evans and ran an alternate strategy, holding off on using the higher power mode and keeping the Jaguar behind – intending to reap the rewards later in the race and using track position to his advantage.
However, Evans had other ideas and made a lunge with only seconds to spare with ATTACK MODE running out. Staying in his slipstream with the shining LED lights on the halo, Evans squeezed by Lotterer with a bold move up the inside of Turn 11.
With the lead changing hands, Lotterer used ATTACK MODE twice on the bounce in a bid to counteract the advance of Evans. But despite his best efforts, he couldn't get close enough and had to once again settle for second place.
Managing and closely monitoring his energy to the chequered flag, Evans punched the air as he crossed the finish-line – adding to the list of consecutive different winners so far this season and taking the tally to seven.
Vandoorne hung on to the coat-tails of the top-two and rounded-out the podium places, before coming to a halt on the cool down lap. The result marks the first podium for the Belgian in his rookie season and the first for HWA RACELAB in Formula E.
Robin Frijns progressed through the field to fourth ahead of Sebastien Buemi – who picked-up an extra point for fastest lap – with his Nissan e.dams team-mate Oliver Rowland a place further back, in front of Lucas di Grassi in seventh.
Four points for Jerome D'Ambrosio in eighth was enough to vault him above Antonio Felix da Costa, returning to the top of the ABB FIA Formula E Championship standings with the top-nine drivers covered by a mere 13 points.
Reigning champion Jean-Eric Vergne couldn't replicate his form from Sanya, failing to score points after being caught-up in the first lap melee with Jose Maria Lopez and Gary Paffett that eventually brought out the red flag. Vergne was later penalised for overtaking Da Costa under Full Course Yellow – dropping him further down the order.
The ABB FIA Formula E Championship now heads to Paris for the second instalment of the voestalpine European races on April 27.
For more analysis and to read the full race report, visit – www.FIAFormulaE.com
PANASONIC JAGUAR RACING
MITCH EVANS
"It's beautiful to be honest. The first few laps were tricky, and Andre and I looked comfortable out in front – but it wasn't easy. After the red flag I wanted to stay after him, as normally DS TECHEETAH are really strong in the race. So, I thought let's see what we've got behind them. Once the energy information became visible, I thought it was surprising and I needed to use it to get close and attack. Obviously, it was on the edge but it could be done. I want to thank everyone at Panasonic Jaguar Racing for the hard work. It's not been easy – we've been in the championship since season three – so I'm really delighted to be the first winner for Jaguar."
DS TECHEETAH
ANDRE LOTTERER
"I have mixed feelings obviously. I really wanted to win this one, we've been working really hard – but Mitch was a lot quicker today… so congratulations to him and his team. I need to check what happened because from the middle of the race I started to struggle with the tyres, and it looked like the pressures were getting higher. I tried to hold on to the lead thinking he would back off, but obviously he had his nose in it and tried to leap me. He left me space, which I think was fair."
HWA RACELAB
STOFFEL VANDOORNE
"I'm extremely happy with the result today. We've had a really difficult start to the season and we haven't always had good pace. Anything is possible in Formula E considering what's been happening in the past races. It's unpredictable and we've made progress race-after-race and we've improved our speed. We ticked-off a few boxes this weekend. It was a valuable learning for myself as well – to get to the flag, which I haven't managed this year!"
Provisional Results
| | | | | |
| --- | --- | --- | --- | --- |
| POS | DRIVER | TEAM | CAR | GAP |
| 1 | Mitch Evans | Jaguar | Jaguar | 1h33m51.140s |
| 2 | Andre Lotterer | DS Techeetah | DS | 0.979s |
| 3 | Stoffel Vandoorne | HWA | Venturi | 6.399s |
| 4 | Robin Frijns | Virgin | Audi | 9.181s |
| 5 | Sebastien Buemi | e.dams | Nissan | 9.778s |
| 6 | Oliver Rowland | e.dams | Nissan | 11.262s |
| 7 | Lucas di Grassi | Audi | Audi | 24.340s |
| 8 | Jerome d'Ambrosio | Mahindra | Mahindra | 28.633s |
| 9 | Antonio Felix da Costa | BMW | BMW | 30.651s |
| 10 | Pascal Wehrlein | Mahindra | Mahindra | 30.735s |
| 11 | Sam Bird | Virgin | Audi | 32.272s |
| 12 | Alex Lynn | Jaguar | Jaguar | 42.238s |
| 13 | Oliver Turvey | NIO | NIO | 48.616s |
| 14 | Jean-Eric Vergne | DS Techeetah | DS | 49.732s |
| 15 | Tom Dillmann | NIO | NIO | 52.253s |
| 16 | Jose Maria Lopez | Dragon | Penske | 1m10.373s |
| 17 | Alexander Sims | BMW | BMW | 1m11.373s |
| 18 | Daniel Abt | Audi | Audi | 1 Lap |
| 19 | Maximilian Gunther | Dragon | Penske | Not running |
| – | Felipe Massa | Venturi | Venturi | Retirement |
| – | Edoardo Mortara | Venturi | Venturi | Retirement |
| – | Gary Paffett | HWA | Venturi | Retirement |
Drivers' championship standings
| | | |
| --- | --- | --- |
| POS | DRIVER | POINTS |
| 1 | Jerome d'Ambrosio | 65 |
| 2 | Antonio Felix da Costa | 64 |
| 3 | Andre Lotterer | 62 |
| 4 | Mitch Evans | 61 |
| 5 | Lucas di Grassi | 58 |
| 6 | Robin Frijns | 55 |
| 7 | Jean-Eric Vergne | 54 |
| 8 | Sam Bird | 54 |
| 9 | Edoardo Mortara | 52 |
| 10 | Daniel Abt | 44 |
| 11 | Pascal Wehrlein | 37 |
| 12 | Oliver Rowland | 35 |
| 13 | Sebastien Buemi | 30 |
| 14 | Stoffel Vandoorne | 18 |
| 15 | Alexander Sims | 18 |
| 16 | Felipe Massa | 15 |
| 17 | Oliver Turvey | 6 |
| 18 | Gary Paffett | 4 |
| 19 | Jose Maria Lopez | 2 |
| 20 | Nelson Piquet Jr. | 1 |
| 21 | Tom Dillmann | 0 |
| 22 | Maximilian Gunther | 0 |
| 23 | Alex Lynn | 0 |
| 24 | Felipe Nasr | 0 |
Teams' championship standings
| | | |
| --- | --- | --- |
| POS | TEAM | POINTS |
| 1 | DS Techeetah Formula E Team | 116 |
| 2 | Envision Virgin Racing | 109 |
| 3 | Audi Sport ABT Schaeffler | 102 |
| 4 | Mahindra Racing | 102 |
| 5 | BMW i Andretti Motorsport | 82 |
| 6 | Venturi Formula E Team | 67 |
| 7 | Nissan e.Dams | 65 |
| 8 | Panasonic Jaguar Racing | 62 |
| 9 | HWA Racelab | 22 |
| 10 | NIO Formula E team | 6 |
| 11 | Geox Dragon | 2 |