Castroneves puts Acura on pole in Long Beach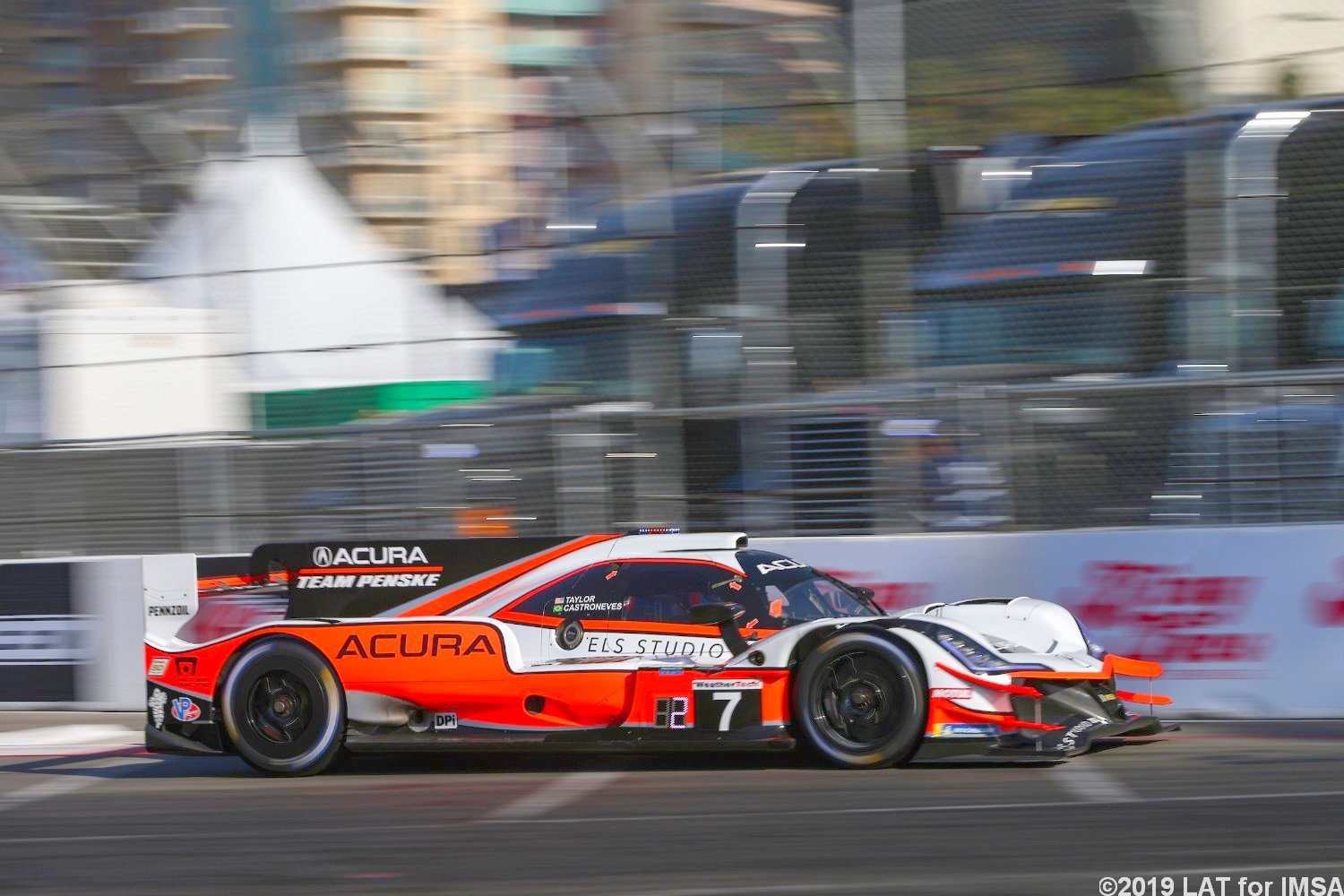 Helio Castroneves
Driving the #7 Acura ARX-05 prototype he will share with co-driver Ricky Taylor, Castroneves snared the second pole of the season for Acura with a new lap record time of 1:11.332, more than 1.5 seconds quicker than the existing mark, set by teammate Juan Pablo Montoya in 2018.
10 of the 11 DPi competitors under the previous record by Montoya.
The Brazilian drove his No. 7 Acura ARX-05 to a quick lap of 1:11.332 to edge out countryman Felipe Nasr in the No. 31 Whelen Engineering Racing Cadillac DPi-V.R by 0.218 seconds.
The Brazilian made 13 Champ Car/IndyCar starts here, winning what now is known as the Acura Grand Prix of Long Beach back in 2001, and taking the pole position in each of his last three IndyCar starts from 2015 to 2017. In fact, Castroneves' prowess at Long Beach was so great that he was inducted into the track's Motorsports Walk of Fame last year.
Castroneves added to his Long Beach legend in qualifying for Saturday's BUBBA burger Sports Car Grand Prix at Long Beach, scoring the Motul Pole Award with a track record lap of one minute, 11.332 seconds (99.321 mph) in the No. 7 Acura he shares with co-driver Ricky Taylor. Castroneves' Acura Team Penske teammate Juan Pablo Montoya held the previous record of 1:12.922 set last year in qualifying.
[adinserter name="GOOGLE AD"]It was Castroneves' third career pole in WeatherTech Championship competition. Including the three IndyCar poles, it now is Castroneves' fourth pole in his past five races at Long Beach.
"I have to say, today the experience paid off," Castroneves said. "We made adjustments in the car that I felt that would work, even against my engineer a little bit and little doubts, but he believed it. We were able to put it (on pole), and I feel that this pole position was part of the experience.
"My teammate also felt like, 'Are you sure?' I said, 'Yes, I'm positive. That's what happened before with me in IndyCar and I know it's going to be better.' The whole combination was really good and now we've just got to keep going and hopefully for tomorrow, it's even a better day."
Castroneves will be joined on the front row by his Brazilian countryman Felipe Nasr in the No. 31 Whelen Engineering Cadillac DPi-V.R after Nasr posted a best time of 1:11.550 (99.018 mph). Nasr and his co-driver, Pipo Derani, head into the race tied for the WeatherTech Championship DPi points lead with No. 10 Konica Minolta Cadillac DPi-V.R co-drivers Renger van der Zande and Jordan Taylor, who qualified seventh.
The second row will resemble the first as the field rushes into Turn 1 at 5 p.m. ET on Saturday. Montoya will start third after running a best lap of 1:11.847 (98.609 mph), while Nasr's Action Express Racing teammate Joao Barbosa, qualified fourth at 1:11.870 (98.577 mph) in the No. 5 Mustang Sampling Cadillac DPi-V.R.
Jonathan Bomarito rounded out the top five in the No. 55 Mazda Team Joest RT-24P DPi. His best time was a 1:11.884 (98.558 mph) despite the fact that he missed most of the second half of the session after sliding into the Turn 6 tire barrier and damaging the left front of the car.
Helio Castroneves
"Man, it was tough. The other competitors pushed very hard. But to be honest, I was very confident in my Acura Team Penske prototype. You have to enjoy the moment. Obviously, it's not a [race] win, but it's certainly a great start for the weekend. A great job by Team Penske and Acura, especially here in Southern California for the Acura Grand Prix of Long Beach. Can we start the race now? I'm ready!"
Porsche 1-2 in GTLM
Nick Tandy drove his #911 Porsche the GT Le Mans class pole for Saturday's Bubba Burger Sports Car Grand Prix and sweep of the front row for the German manufacturer.
The Englishman turned a lap of 1:16.313 in the15-minute qualifying session to edge out the No. 912 Porsche of Laurens Vanthoor by 0.064 seconds.
Vanthoor's 1:16.377 lap time, with seconds left on the clock, bumped the No. 4 Corvette C7.R of Oliver Gavin from the front row to third on the grid.
The car co-driven by Nick Tandy and Patrick Pilet has scored all three pole positions in 2019, with the former getting the job done on Friday ahead of the 100-minute BUBBA burger Sports Car Grand Prix.
It's the second pole for Tandy this year after posting the fastest lap at the Rolex 24 at Daytona in January, while Pilet earned the pole at the Mobil 1 Twelve Hours of Sebring Presented by Advance Auto Parts last month.
Tandy's time of one minute, 16.313 seconds (92.838 mph) was .556 seconds quicker than the previous track record set in 2018 by Joey Hand in the No. 66 Ford Chip Ganassi Racing Ford GT.
Five of the eight GT Le Mans qualifiers were under that category's previous record, accounting for 15 of the 19 total cars set for Saturday's Bubba Burger Sports Car Grand Prix at Long Beach.
"The car was really good," said Tandy. "We made some changes after the practice session. It really worked. I'm really surprised at the lap time we were able to do. It's a strange day here today. You have the two practice sessions and straight into the qualifying. You don't have a lot of time to fine tune and work with your driving and things like that. Obviously, really happy. It's the best place to start, being the shortest race of the year, track position makes a big difference."
RESULTS: Qualifying