Mike Salinas scores first win in Las Vegas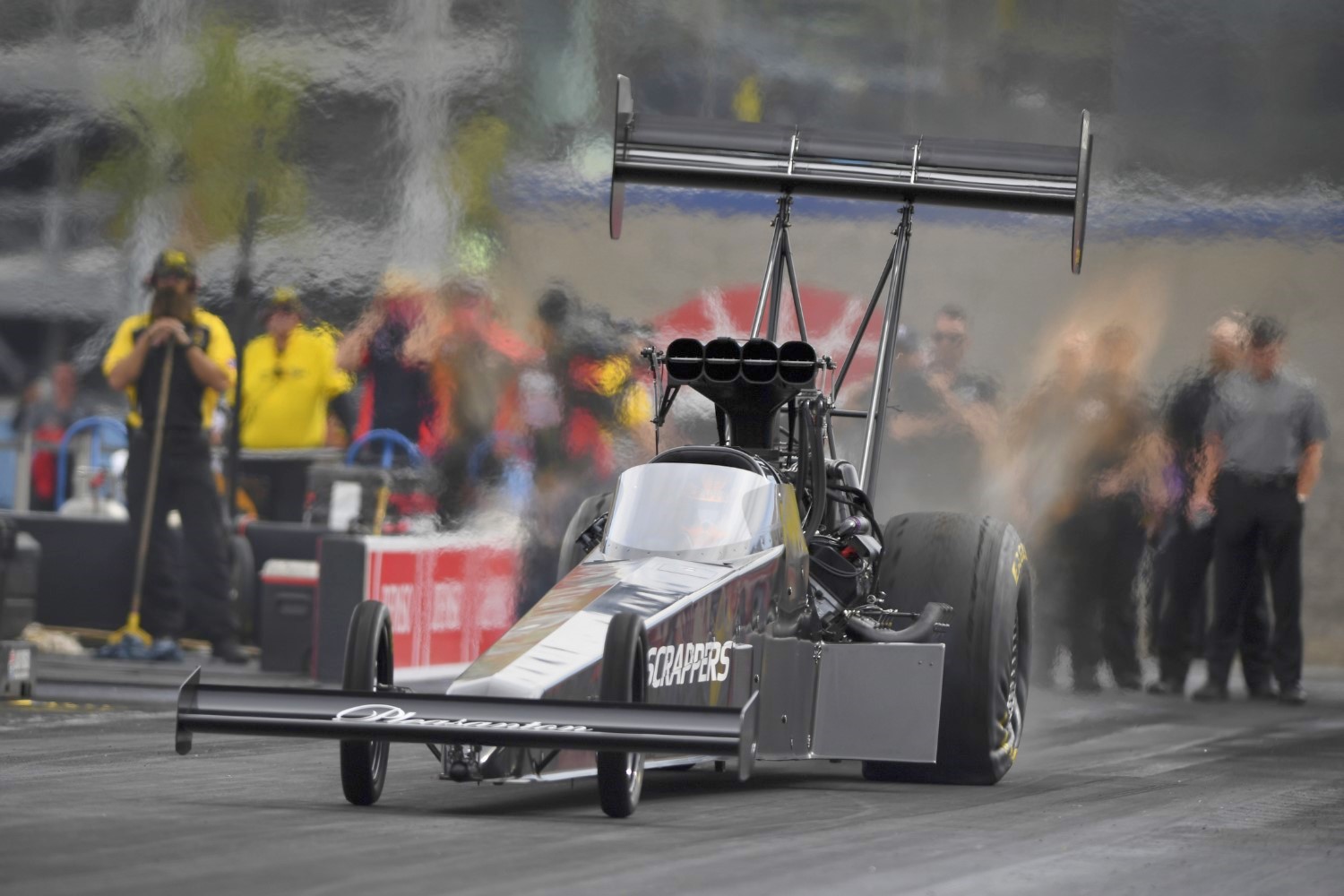 Top Fuel winner Mike Salinas
Mike Salinas captured his first career win in his second final round with a terrific reaction time in just his fourth race paired up full-time with legendary crew chief Alan Johnson. The San Jose-based businessman defeated Brittany Force, Clay Millican and Doug Kalitta to the stripe at the Denso Spark Plugs NHRA Four-Wide Nationals to score his victory.
He was joined in the winner's circle by defending Funny Car world champion J.R. Todd, who earned his first win of the 2019 season. Todd beat Don Schumacher Racing teammates Tommy Johnson Jr. and Jack Beckman, as well as No. 1 qualifier Tim Wilkerson. All four racers were looking for their first win of the season.
Bo Butner continued to dominate Pro Stock as he won for the third time in four races. Hector Arana Jr. won for the first time this season. This is the second Pro Stock Motorcycle race of the 2019 campaign.
[adinserter name="GOOGLE AD"]TOP FUEL WINNER MIKE SALINAS: "It feels great; it's my first win in any kind of motorsports. I had this program I put in my head that I believed would work and Alan Johnson made it happen. We built something and now we can go racing. I have four daughters in racing and I set the bar for my family all the time, and now I've set the bar for them to reach. NHRA has been amazing with us and helped me; it's just been awesome, kind of surreal to be honest.
To be honest, I expected to win Pomona. I've done everything I can to make this happen. I know that sounds arrogant but here's the deal: I've done everything in power, given Alan everything he needs, not questioned anything – we don't even talk until he needs to ask me something; that's how we do it – he does his job and I do mine – let's just go win. I'm a goal achiever. Now that this is out of the way – now that I've gotten this gorilla off my back – we can have some fun racing and win some more races."
FUNNY CAR WINNER J.R. TODD: "Ever since I've come onboard at Kalitta Motorsports we've done well here; all four cars have a real good handle on this place, especially Todd Smith and Jon [Oberhofer]. We struggled early this year shaking the tires on cold tracks and I knew it wouldn't be cold everywhere we went, and, sure enough, it was hot and nasty today which is a good equalizer for us. That .97 in the final was pretty stout.
"This is the fifth anniversary of me getting the call from [team owner Connie Kalitta]. I was at home eating chicken wings and drinking beer and watching March Madness with my parents when called me and asked me to get on a plane and come here and drive his car on Saturday and that's where it all started. I can't thank him enough."
TOP FUEL
Round 1 recap: The unique format of the Four-Wide Nationals, where the first two finishers in each quad advanced, allowed Terry Totten to score his first career round win as he followed only Clay Millican across the stripe in their quad, with Leah Pritchett and Austin Prock up in smoke behind them.
Brittany Force and Richie Crampton finished 1-2 in their quad with 3.7-second passes; Scott Palmer also ran in the 3.70s but finished third and went into the trailer along with Cameron Ferre. Steve Torrence won his quad with a strong 3.729, low e.t. of the round, and finishing ahead of Doug Kalitta who beat Terry McMillen on a holeshot, and tire-smoking Steve Chrisman. Despite his strong 3.780, Kalitta was the fourth slowest of the winners and won't have a choice of any lane in the semifinals.
Low qualifier Mike Salinas and Billy Torrence also advanced to the semifinals, beating Antron Brown in the one-short quad.
Semifinal recap: Doug Kalitta, who has never won a four-wide event in 10 tries, advanced to the final round by beating Steve Torrence on a holeshot, 3.798 to 3.783, to finish second behind Brittany Force's 3.769.
Low qualifier Mike Salinas kept alive his hopes of a first career NHRA Wally as he powered the Scrappers Racing machine to a 3.76 victory and will be joined in the final by Clay Millican, whose 3.793 finished ahead of Billy Torrence (3;817) and Terry Totten (4.157) in their quad.
Final recap: Low qualifier Mike Salinas scored his first career win in just his 42nd start, taking advantage of a new tuning tandem of Alan Johnson and Brian Husen to put his Scrappers Racing dragster into the winner's circle.
Salinas powered to a 3.801 to fend off Brittany Force's close 3.810 with Doug Kalitta and Clay Millican finishing third and fourth. Salinas' win ended a streak of three straight four-wide wins by world champ Steve Torrence and made his the first first-time winner in the class since Billy Torrence last year in Brainerd.
FUNNY CAR
Round 1 recap: Just like in Top Fuel, there was a major upset in the first round of Funny Car as Jeff Diehl made it out of the first round at the expense of Robert Hight and Shawn Langdon; it's Diehl's first "win" since the Seattle event in 2016. Low qualifier Tim Wilkerson won that quad with a 3.891, low e.t. of the meet.
In one of the weirdest quads of the first round, Tommy Johnson Jr. and Ron Capps advanced with respective e.t.s of 4.234 and 4.280, runs not usually good enough to beat one car let alone two, but they finished ahead of the close e.t.s of Bob Tasca III (4.332) and Terry Haddock (4.302).
John Force, still in pursuit of milestone win No. 150, looked good with a 3.915 to beat Jack Beckman's 3.958 across the stripe with Cruz Pedregon's 3.98 and a fiery 4.17 by Phil Burkhart Jr. trailing. Defending event champ J.R. Todd used a 4.34 to 4.33 holeshot to eke ahead of Gary Densham to finish second behind Matt Hagan with Jim Campbell trailing in fourth.
Semifinal recap: Defending event champ J.R. Todd reached the final round again at the Denso Spark Plugs NHRA Four-Wide Nationals, clawing his way in the showdown by finishing second behind Tim Wilkerson on a 4.030 to 4.017 holeshot over Matt Hagan.
DSR teammate Tommy Johnson Jr. and Jack Beckman will make up the other half of the four-wide final after finishing ahead of John Force and Ron Capps.
Final recap: J.R. Todd won the Denso Spark Plugs NHRA Four-Wide Nationals for the second straight and won for the third straight time at The Strip at Las Vegas Motor Speedway.
Todd, who also won last year's fall event at The Strip en route to winning the world championship, outdueled Tommy Johnson Jr. to win, 3.970 to 3.975; Johnson was gunning for his first four-wide win in four final-round appearances.
Jack Beckman, a two-time four-wide winner, finished third with low qualifier Tim Wilkerson crossing fourth after running into problems.
J.R. Todd Quotes:
Talk about winning three in a row here at The Strip:
"It's all Kalitta Motorsports. It seems like these DHL Toyota Camrys always run well here. The whole team has a really good handle on this place, especially my crew chiefs Todd Smith and Jon Oberhofer. It seems like the more we come here, the better grip they get on this place. We struggled early this year with cold tracks and shaking the tires. I knew that it was eventually going to warm up and sure enough, it was hot and nasty here today. That's been an equalizer for us."
Tell us about that final run:
"That 3.97 was pretty stout. The 4.03 in the second run – I definitely stole some away there and I didn't mean to do that. It was probably a 4.01, which was right in the hunt with everyone. (Tim) Wilkerson was really good all weekend. I expected him to step it up and throw down in the final, but you never count out Todd Smith and Jon O. Give them enough shots at it and they're going to figure it out and sure enough we got our act together this weekend."
You seem to have a lot of success in four-wide racing, is there a reason?
"There's nothing you can really do to prepare yourself for the four-wides. You really don't even change your routine. You just make yourself aware of where you are on the track – what lane you're in, who you are racing. You just go up there and do what you do and hit the gas pedal when the light goes on. For whatever reason, we've done well in the four-wides – here and in Charlotte. I guess I can't say I'm not a fan of it because I've got two Wallys I've won so far. It's different. The fans seem to like it and it packs the stands here in Vegas and if that's what we need to do to put some butts in the seats, I'm all for it. We need to do whatever we can to take the sport to the next level."
How is racing here compared against racing in Charlotte?
"Racing here is different than Charlotte because of the altitude here. You've got to really stand on the tune-up and that's where I think it plays into Kalitta Motorsports. They just have a handle on the altitude here and when you've got to really stand on it because you spin the blower a lot faster here. It's different than Charlotte. I like it. The track is really smooth. They did an awesome job prepping the track. Charlotte has some different characteristics to it. Both are really good. Bruton Smith doesn't mess around when it comes to building tracks."
You've won 9 of your last 38 Funny Car events. Are you feeling at home in a Funny Car?
"Yes and no. I think I still have a lot of work to do in the car, especially when it comes to pedaling it and things like that. We came out and blew the tires off in the first round. I'm really hard on myself in keeping our DHL Toyota in the groove. Anytime it smokes the tires, I'm the first one to blame myself. It was spinning pretty good in the first round. I lifted and pedaled it, but I probably should have just run right through it. I pedaled it and it backfired the super charger. But it was good enough to hang on and turn on the win light and get us into the second round. That was our lucky break for the day. I robbed us there in the second round. The crew chiefs really had my back in the final round. That was awesome and a hell of a way to cap it off."
Las Vegas holds a special distinction for you doesn't it?
"This weekend is the fifth year anniversary of getting the call from the old man, Connie Kalitta, On Friday night, I was at home at Indy, eating chicken wings, drinking beer and watching March Madness with my parents and he calls me up and asks me if I can get on a plane and drive his car Saturday. That's where it all started and I can't thank him enough."
Any chance you're going to bring that hat back in the fall and save Chris Powell and the LVMS some money out here on your hats?
"No way. i want to collect as many of these things as I can. I think they can afford some new hats. No, Chris Powell and his staff, they have it going on at this place. With as many fans as they had this weekend, they can afford way more hats."
Any last thoughts?
Chad Langdon, Shawn's dad, just had a liver transplant and it was kind of touch-and-go there for a while. I hear he's going to be released from the hospital soon. So there will be a little bit of a recovery for him, but it's a bit of a miracle what happened with him. We've been thinking of him. I'm glad it's all worked out and looking forward to having him back at the track with us."
PRO STOCK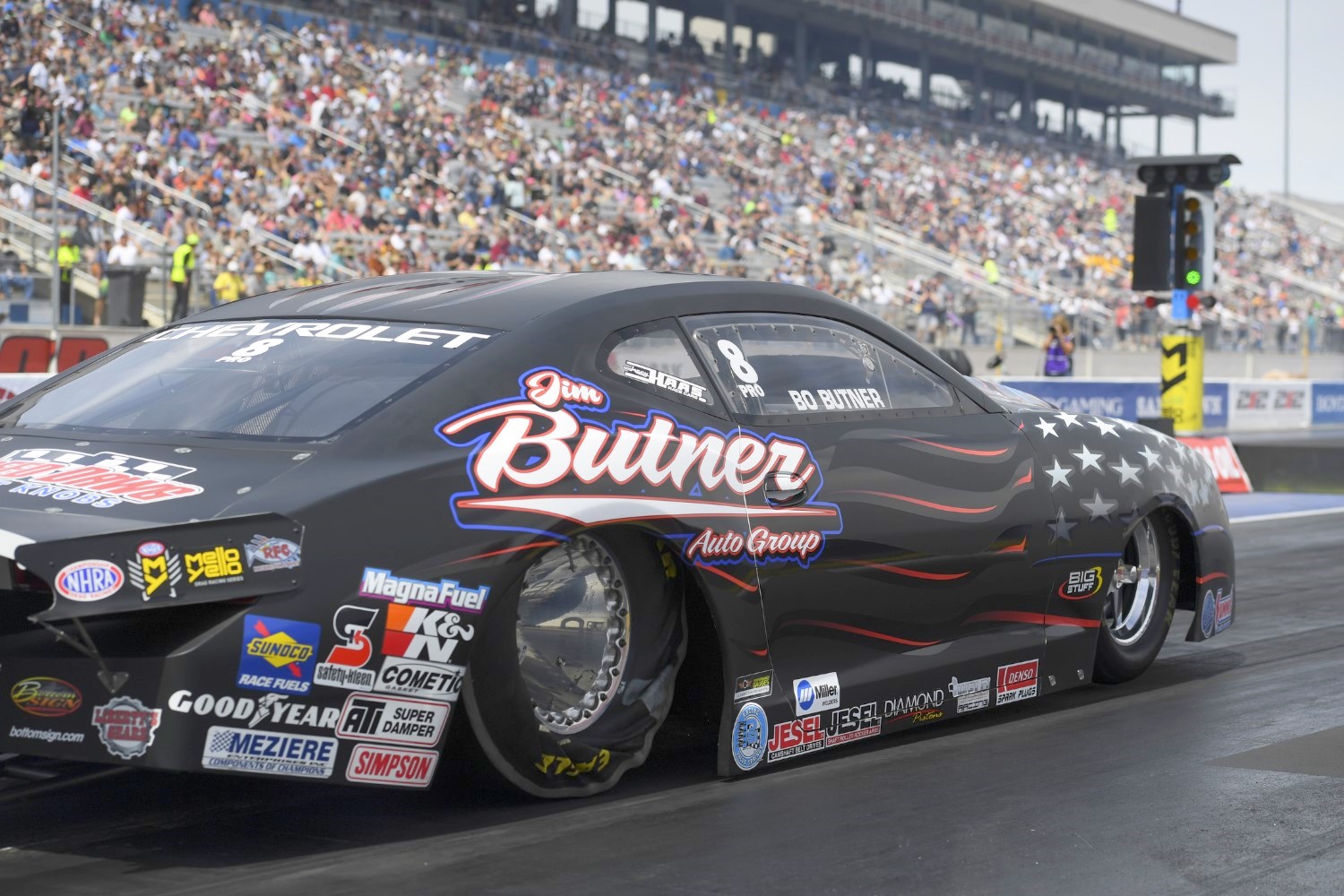 Pro stock winner Bo Butner
Round 1 recap: Bo Butner ran quickest in the first round of Pro Stock racing and he did so in the wildest quad of the session. Butner ran a 6.939 and advanced to the semifinals alongside Jeff Isbell, who picked up his first round win of his career. Deric Kramer and Fernando Cuadra both turned on the red light, giving Butner and Isbell comfortable victories.
Those wins didn't come so comfortably for the rest of the Pro Stock racers. Erica Enders made her best run of the weekend (6.651) and it paid off. She'll get lane choice in a killer quad that features teammate Alex Laughlin and a pair of K.B. Racing stalwarts: Greg Anderson and Jason Line.
Matt Hartford and Chris McGaha also advanced by making their best runs of the weekend. Hartford made the better run and will get to pick his lane before the Texan.
Semifinal recap: Jason Line blew past his teammate, Greg Anderson, and a pair of Elite Motorsports competitors to advance to the final round of Pro Stock competition at the Denso Spark Plugs NHRA Four-Wide Nationals. Line's silver Summit Chevy Camaro has been the picture of consistency since the second round and he just needs one more round to get his first win of 2019.
He'll battle teammate Anderson, also looking for his first win of the season, before Pro Stock takes a three-race break before returning in Richmond in May. Bo Butner has won two of the first three races and will have a chance to win yet again — as long as he also beats Matt Hartford. The Arizona native (that's Hartford) advanced on a holeshot after beating Chris McGaha and Jeff Isbell.
Final recap: Bo Butner owns three of the first four Pro Stock Wallys handed out in 2019. He beat Greg Anderson, Jason Line and Matt Hartford on a triple-holeshot to tighten his grip on the Pro Stock lead at the Denso Spark Plugs NHRA Four-Wide Nationals. His .030 light won't break any records, but it was good enough — and his 6.667 elapsed time was quick enough — to get him yet another yellow hat.
Butner also won the last time the NHRA Drag Racing Series raced in Las Vegas. He lost to Tanner Gray in Las Vegas two years ago, the latest in a long string of runner ups while he chased his first-ever win. That feels like a long time ago now that he has 10 Pro Stock wins and a world championship to his name.
Pro Stock now takes a break for three races and will return in Richmond. That means they have some time to think about ways to catch up to the performance advantage K.B. Racing, and Butner, has on the field.
PRO STOCK MOTORCYCLE
Round 1 recap: Angie Smith advanced to the second round of the Denso Spark Plugs NHRA Four-Wide Nationals on a double holeshot thanks to a .011 reaction time. She beat both Angelle Sampey and Ryan Oehler to join Matt Smith in the semifinals of Pro Stock Motorcycle action at their sponsor's event. They'll battle Andrew Hines and Karen Stoffer – and Matt will have lane choice.
Hector Arana Sr. made the second-quickest run of the session (6.891) and will have lane choice against his son, Hector Arana Jr., along with Eddie Krawiec and Jerry Savoie. 2017 champ Savoie picked up .05 second over his qualifying time and had to fight his Suzuki all the way down the track, eventually willing his way into the second round.
Semifinal recap: A battle of EBRs and Harley-Davidsons will break out in the final round of Pro Stock Motorcycle at the Denso Spark Plugs NHRA Four-Wide Nationals. Andrew Hines ran quickest, just a thousandth off his first-round time, and will get lane choice as he chases his second-straight victory.
He will battle teammate Eddie Krawiec for the second-straight event — and Krawiec will have the last pick. Matt Smith and Hector Arana Jr. also reached the final on their EBR-bodied bikes. The members of the Denso Spark Plugs 200-mph club ran within .004 second of one another and have a shot to pick up their first wins of the 2019 campaign.
Smith owns the quickest run of the weekend as the pole sitter and the four are the quickest bikes of the event. That should make for one very quick quad.
Final recap: Hector Arana Jr. scored his first win of the season and second-straight at The Strip at Las Vegas Motorspeedway. He defeated Matt Smith on a holeshot while Eddie Krawiec red-lit and Andrew Hines broke at the starting line in a typically wild final round at the Denso Spark Plugs NHRA Four-Wide Nationals.
The win is Arana's first since that win in Las Vegas in October 2018. He won three times last season in a failed bit to take home his first Pro Stock Motorcycle championship. He's now a 15-time event winner and two-time four-wide champion. That win will help him towards the top of the table as the motorcycles take a race off before going four-wide again in Charlotte at the NGK Spark Plugs NHRA Four-Wide Nationals.
LUCAS OIL DRAG RACING SERIES FINAL ROUND RESULTS
Top Alcohol Dragster
Jackie Fricke def. Joey Severance
Top Alcohol Funny Car
Chris Marshall def. Doug Gordon
Comp
Doug Lambeck def. Josh Lee
Super Stock
Anthony Bertozzi def. Don Thomas
Stock
Justin Jerome def. Ryan Mangus
Super Comp
Marko Perivolaris def. Luke Bogacki
Super Gas
Tanner Hiatt def. Steve Williams
Top Dragster
Andy Spiegel def. Robert Tehle
Top Sportsman
Doug Crumlich def. Jeff Gillette