Kyle Busch beats brother at Bristol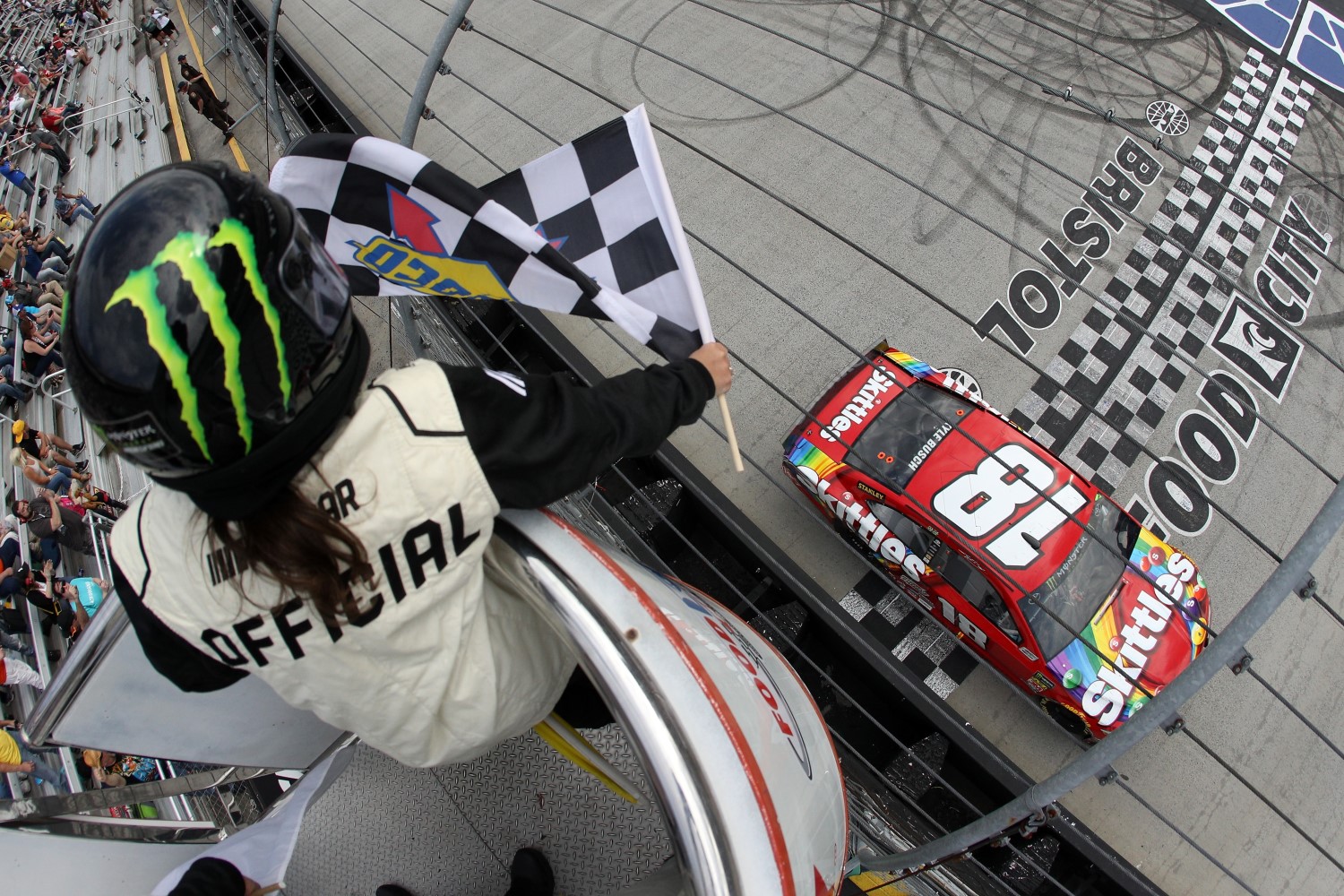 Kyle Busch takes the checkered flag
Chris Graythen/Getty Images
Kyle Busch did not care if the grandstands were half empty for Sunday's Food City 500 at Bristol Motor Speedway, he battled back from a crash on Lap 1 to earn his third victory of the 2019 Monster Energy NASCAR Cup Series season.
Busch received rear damage to the No. 18 Toyota on the opening lap after Ricky Stenhouse Jr. slammed into the back of him, sending Busch for a spin down the straightaway. But repairs were made and Busch was able to methodically work his way back up to the front, taking his first lead of the day on Lap 418 after starting 17th.
The key point of the race for Busch occurred when the Joe Gibbs Racing team elected to stay out following a caution with 22 laps remaining, taking off on the final restart with 15 laps to go and never looking back.
"We're crazy. We just do what we do to win," Busch told FS1 of the strategy call after the race. "… We just made the most of not having the best and got everything we needed at the end."
Busch led a total of 71 laps, edging out older brother Kurt Busch in the closing laps for his eighth triumph at the 0.533-mile Tennessee short track. It's the second time the Busch brothers have finished 1-2 with the first one occurring in 2015 at Sonoma Raceway.
[adinserter name="GOOGLE AD"]After leading 146 of the 500 circuits, Joey Logano brought the No. 22 Team Penske Ford home in third. Logano's teammate Ryan Blaney managed a fourth-place finish after leading a race-high 158 laps. Denny Hamlin was able to recover from a late pit-road speeding penalty to round of the top five.
While Logano cruised to the Stage 2 victory, a caution late in Stage 1 set up a three-lap sprint to the green-white-checkered where Ty Dillon prevailed over Bowyer after staying out while the leaders made pit stops. It marked the first stage victory of Dillon's career.
The afternoon got off to a hectic start after the green flag dropped, as Byron and Aric Almirola made contact on the opening lap, sending Almirola's No. 10 Ford Mustang into the outside wall.
But the wrecking didn't stop as things jammed up behind them, which resulted in the incident between Kyle Busch and Stenhouse. Almirola retired from the race after going behind the wall, while Byron and Stenhouse remained in the race, though Stenhouse ended the day multiple laps down.
Quotes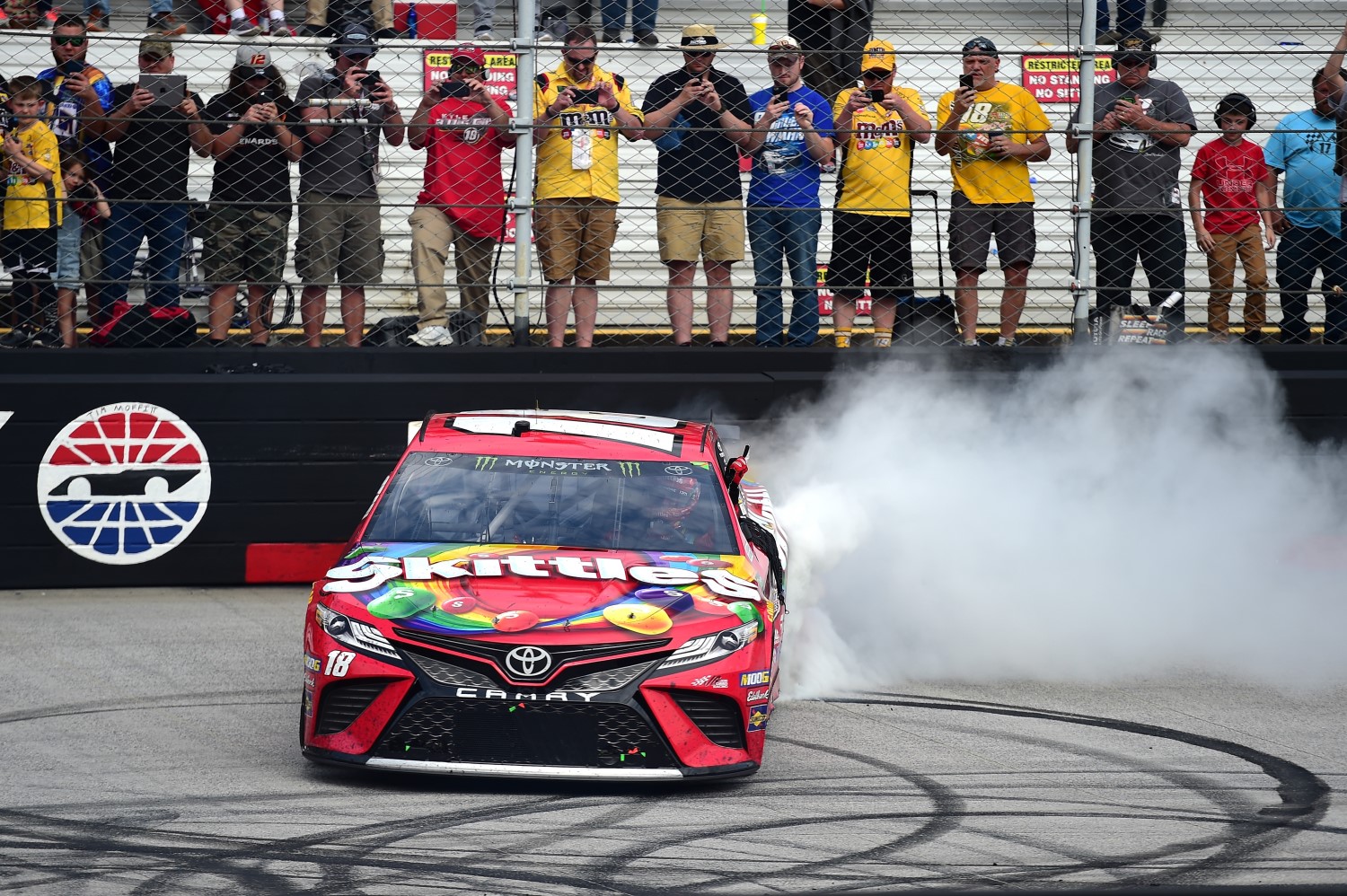 Busch does some donuts
KYLE BUSCH, No. 18 Snickers Toyota Camry, Joe Gibbs Racing
Finishing Position: 1st
What was your confidence level when you decided to stay out with 20 to go?
"I don't know. We're crazy. We just do what we do, try to win. It's pretty awesome to be able to snooker those guys, get our win today here at Bristol. Love this place. It was fun to battle out the brother there at the end. I know we didn't quite get sideâ€'byâ€'side racing it out. I saw him working the top. I'm like, I better go. I got up there, was able to make some ground. Man, just awesome to be here in front of this crowd, here at Bristol Motor Speedway. The Skittles Camry wasn't the best today, but we made the most of not having the best and got everything we needed here at the end."
What does it mean to have won here eight times?
"It ain't 12, that's for sure. So I got more to go. We're getting there and it's fun. It's the most (among) active driver(s), I guess. I think I heard that. But, you know, there's a lot more years left hopefully."
How much did it feel like you had to overcome today at Bristol?
"I felt like we had to overcome a lot especially there just on the short runs. We just didn't have the burst-off speed that we needed for the first 30-40 laps. It kind of seemed after that we could maintain with a bunch of those guys and then we could kind of run those guys back down just a little bit. It was hit or miss a little for us today and this weekend. We thought we had a pretty good car in second practice yesterday and going into the race. We just didn't quite have the speed. We just didn't show exactly what we needed there."
Were you worried that you stayed out on that last caution when a lot of the field made pit stops?
"Yes and no. I've seen that game played both sides. I've seen it work more times than not. When the guys stay out you have a better opportunity to be able to go for the win. It kind of fell into our hands there being able to lead the restart, being able to get Kurt (Busch) to not spin his tires and get up second – it's a good run for us Busch brothers to come home 1-2."
How special is this victory?
"I mean it's good. I love winning at Bristol. You love winning everywhere. It's nice to continue to bounty up some of those bonus points for the playoffs."
KURT BUSCH, NO. 1 MONSTER ENERGY CAMARO ZL1 – Finished 2nd
ON THE RESTART, YOU STARTED RIGHT NEXT TO YOUR BROTHER (KYLE, RACE WINNER). TAKE US THROUGH THE RACE AND ESPECIALLY THE LAST RESTART
"It was tough battling our No. 1 Chevy. The Monster Energy team is doing a good job. But that one was tough. I really wanted to beat him. I was going to wreck him (laughter). I was wanting to stay close enough so that when we took the white, I was just going to drive straight into (Turns) 3 and 4; I mean he's already won. I figured he could give a little love to his brother, but no. I wanted that one bad. I feel like him right now. I'm like ugh, I'm mad because I didn't win.
"But, this car, we're struggling on qualifying and we struggle on taking off. And, I just can't get the right rear to grip until it gets heat in it. And, it's hard to be patient when you're running for the win on old tires. So, I'm happy that we were in position to do it, this group of guys. We're not quite ready to win yet, but that was close. And I was going to wreck my little brother to win today. But with three laps to go, I just stepped out in Turn 1 and I wasn't close enough after that. But, thanks to (crew chief) Matt McCall and everybody at Ganassi. This No. 1 Monster Chevy is fast. We've just got to fine-tune it all."
Results
| | | | | | |
| --- | --- | --- | --- | --- | --- |
| POS | NO. | DRIVER | MANUF | LAPS | BEHIND |
| 1 | 18 | Kyle Busch | Toyota | 500 | 0.000s |
| 2 | 1 | Kurt Busch | Chevy | 500 | 0.722 |
| 3 | 22 | Joey Logano | Ford | 500 | 1.823 |
| 4 | 12 | Ryan Blaney | Ford | 500 | 3.629 |
| 5 | 11 | Denny Hamlin | Toyota | 500 | 3.799 |
| 6 | 21 | Paul Menard | Ford | 500 | 5.001 |
| 7 | 14 | Clint Bowyer | Ford | 500 | 5.084 |
| 8 | 41 | Daniel Suarez | Ford | 500 | 5.345 |
| 9 | 6 | Ryan Newman | Ford | 500 | 5.800 |
| 10 | 48 | Jimmie Johnson | Chevy | 500 | 6.013 |
| 11 | 9 | Chase Elliott | Chevy | 500 | 6.264 |
| 12 | 95 | Matt DiBenedetto | Toyota | 500 | 6.403 |
| 13 | 4 | Kevin Harvick | Ford | 500 | 6.410 |
| 14 | 3 | Austin Dillon | Chevy | 500 | 7.035 |
| 15 | 13 | Ty Dillon | Chevy | 500 | 7.439 |
| 16 | 24 | William Byron | Chevy | 500 | 10.947 |
| 17 | 19 | Martin Truex Jr. | Toyota | 499 | -1 Lap |
| 18 | 2 | Brad Keselowski | Ford | 499 | -1 |
| 19 | 42 | Kyle Larson | Chevy | 499 | -1 |
| 20 | 43 | Bubba Wallace | Chevy | 499 | -1 |
| 21 | 38 | David Ragan | Ford | 498 | -2 |
| 22 | 37 | Chris Buescher | Chevy | 498 | -2 |
| 23 | 88 | Alex Bowman | Chevy | 497 | -3 |
| 24 | 20 | Erik Jones | Toyota | 497 | -3 |
| 25 | 47 | Ryan Preece # | Chevy | 496 | -4 |
| 26 | 00 | Landon Cassill | Chevy | 495 | -5 |
| 27 | 36 | Matt Tifft # | Ford | 494 | -6 |
| 28 | 34 | Michael McDowell | Ford | 493 | -7 |
| 29 | 15 | Ross Chastain(i) | Chevy | 491 | -9 |
| 30 | 8 | Daniel Hemric # | Chevy | 490 | -10 |
| 31 | 52 | Bayley Currey # | Chevy | 488 | -12 |
| 32 | 77 | Quin Houff | Chevy | 476 | -24 |
| 33 | 17 | Ricky Stenhouse Jr. | Ford | 395 | -105 |
| 34 | 32 | Corey LaJoie | Ford | 308 | -191 |
| 35 | 66 | * Timmy Hill(i) | Toyota | 239 | -260 |
| 36 | 51 | Gray Gaulding(i) | Ford | 142 | -357 |
| 37 | 10 | Aric Almirola | Ford | 3 | -496 |