IMSA Acura GP of Long Beach Preview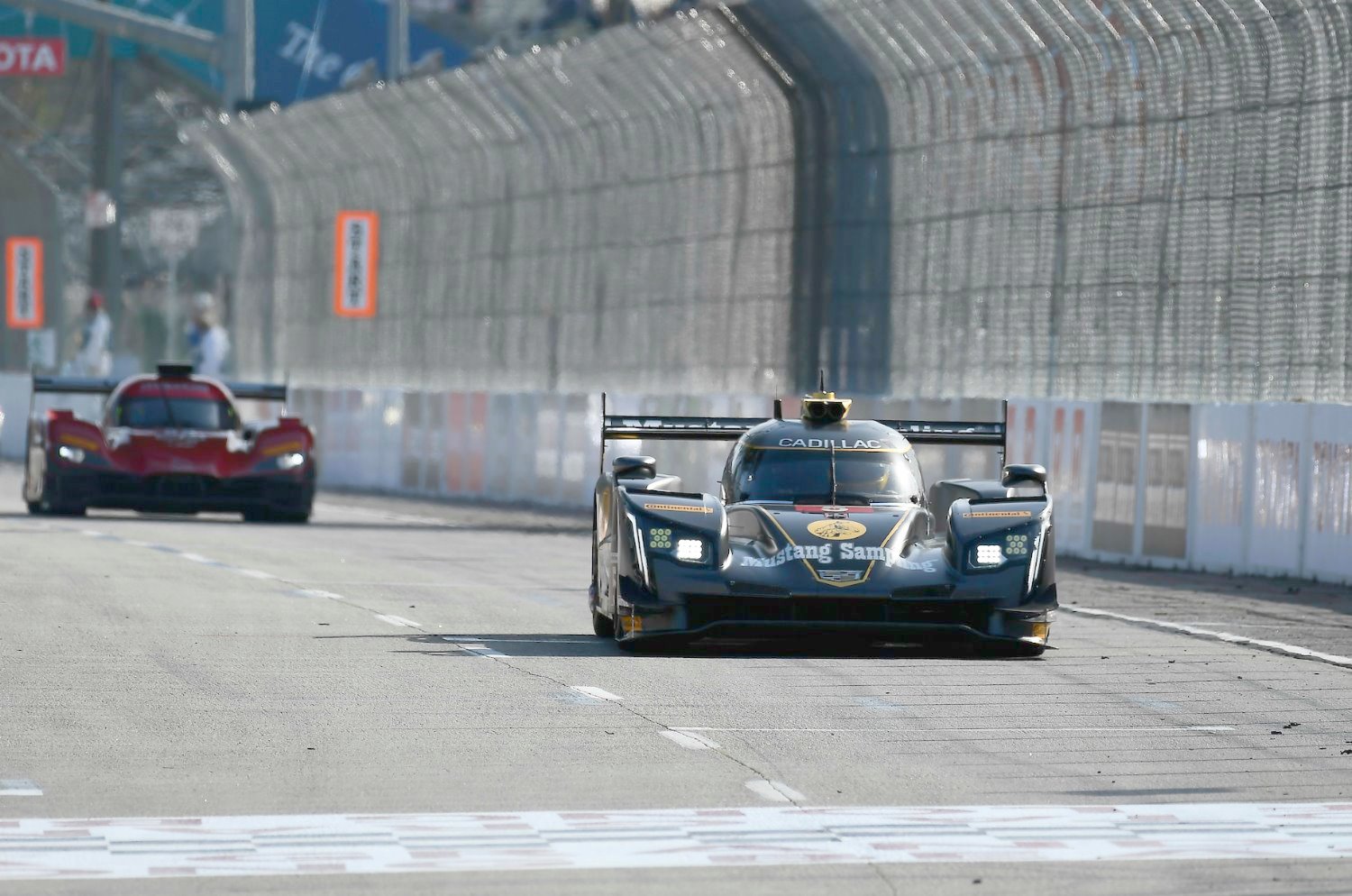 The #5 Cadillac was victorious last year
It's time – once again – for the battle at The Beach.
And when we say battle, the BUBBA burger Sports Car Grand Prix at Long Beach on Saturday, April 13 will be an all-out, 100-minute war featuring the IMSA WeatherTech SportsCar Championship Daytona Prototype international (DPi) and GT Le Mans (GTLM) machines on the iconic, 1.968-mile temporary street circuit in Southern California.
Heading into its 45th rendition in 2019, the Acura Grand Prix of Long Beach is the granddaddy of all street circuit races in the U.S. This will be IMSA's 14th consecutive appearance at Long Beach, and 18th in total dating back to IMSA GTO and Supercar races in the early-to-mid 1990s.
The entry list released today features a total of 19 world-class sports cars. There are 11 DPi machines and eight GTLM entries for the race, which will be televised live on NBCSN beginning at 5 p.m. ET. IMSA Radio also will cover the action live on IMSA.com, RadioLeMans.com and SiriusXM Radio.
[adinserter name="GOOGLE AD"]Tickets are available now on GPLB.com.
Here's a closer look at this year's BUBBA burger Sports Car Grand Prix of Long Beach field:
Of the 38 drivers on the entry list, 14 have recorded at least one IMSA race victory on the streets of Long Beach.
Oliver Gavin leads the way among active drivers with five Long Beach victories, including the GTLM class win each of the past two years in the No. 4 Corvette Racing Chevrolet Corvette C7.R alongside co-driver Tommy Milner. Milner and Gavin also won together at Long Beach in 2012.
Both Juan Pablo Montoya and Helio Castroneves have IndyCar race victories in the Acura Grand Prix of Long Beach. Montoya – who will share the No. 6 Acura Team Penske ARX-05 DPi with Dane Cameron – won in 1999. Castroneves, who co-drives the No. 7 Acura DPi with three-time BUBBA GP winner Ricky Taylor, won the 2001 IndyCar race at Long Beach. Castroneves also won an Indy Lights race at Long Beach in 1997.
Other multi-time sports car winners at Long Beach include No. 10 Konica Minolta Cadillac-DPi-V.R driver Jordan Taylor with three (2015, 2016, 2017), No. 3 Corvette Racing C7.R driver Jan Magnussen with two (2008 and 2014) and No. 66 Ford Chip Ganassi Racing Ford GT driver Dirk Mueller with two (2008 and 2011).
Magnussen is the active driver with the most IMSA pole positions at Long Beach with three (2008, 2014 and 2017). He went on to win two of those three races (2008 and 2014). Two other drivers – Joey Hand and Ricky Taylor – have multiple IMSA poles at Long Beach. Hand took the ALMS GT pole in 2011 and the GTLM pole last year, while Taylor took home overall and Prototype class Motul Pole Awards in 2015 and 2017.
Corvette Racing is the winningest IMSA team on the streets of Long Beach with seven victories, including wins each of the past two years with its No. 4 C7.R. The BUBBA burger Sports Car Grand Prix at Long Beach also was the site of the team's most recent WeatherTech Championship race win. That 2018 victory was the team's 99th in IMSA competition.
Buoyed largely by Corvette Racing's seven victories, Chevrolet is the winningest IMSA manufacturer at Long Beach with nine total wins. The manufacturer also scored overall and Prototype class wins with Jordan and Ricky Taylor in the No. 10 Wayne Taylor Racing Corvette DP in 2015 and 2016. Porsche is second with eight Long Beach victories in IMSA competition.
Previous BUBBA burger Sports Car Grand Prix at Long Beach Winning Drivers in 2019 Field (15)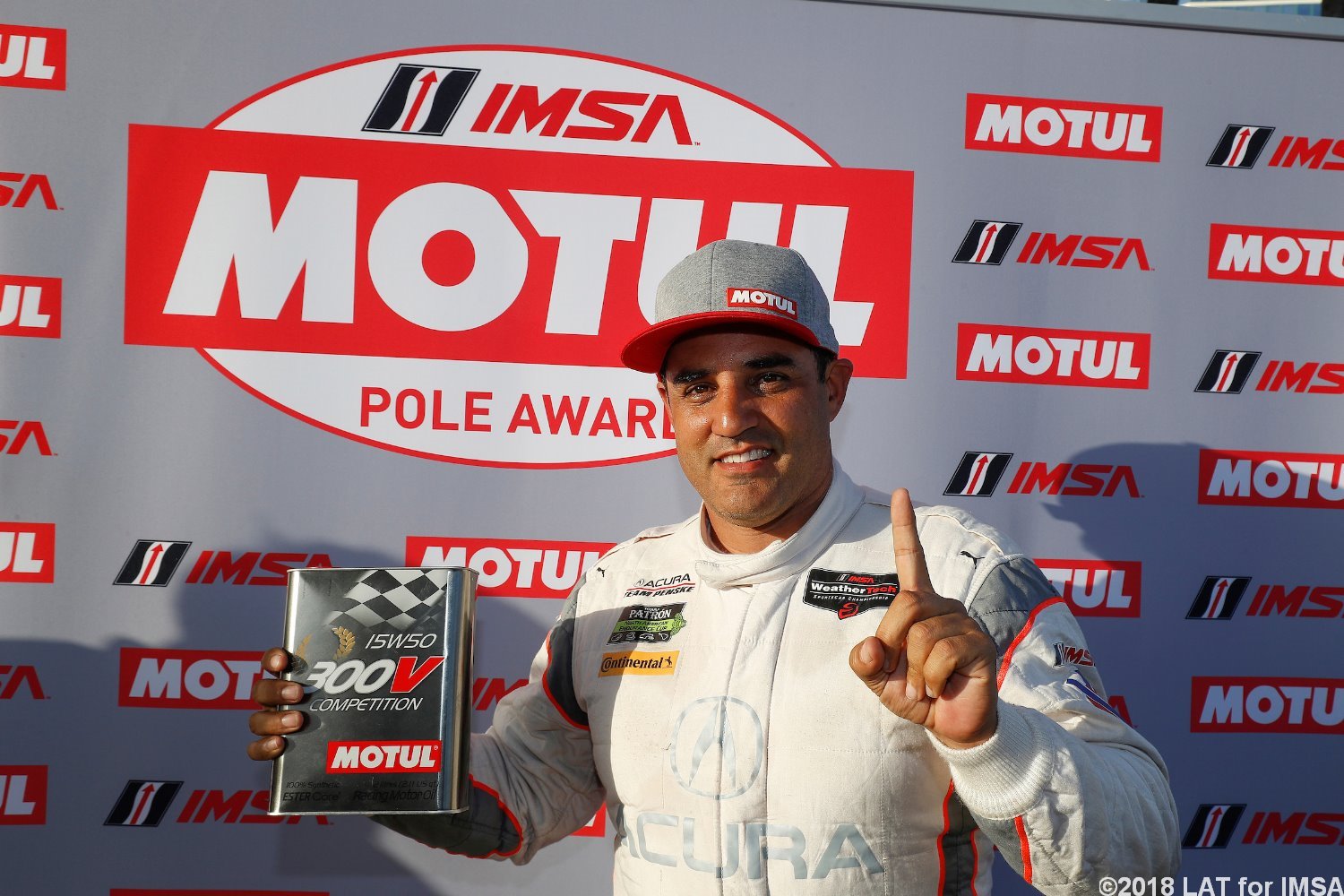 Juan Montoya put the Acura on pole last year
Oliver Gavin (5) – ALMS GT1 – 2007, 2009; ALMS GT – 2012; GTLM – 2017, 2018
Tommy Milner (3) – ALMS GT – 2012; GTLM – 2017, 2018
Jordan Taylor (3) – P/Overall – 2015, 2016, 2017
Ricky Taylor (3) – P/Overall – 2015, 2016, 2017
Jan Magnussen (2) – ALMS GT1 – 2008; GTLM – 2014
Dirk Mueller (2) – ALMS GT2 – 2008; ALMS GT – 2011
Joey Hand (1) – ALMS GT – 2011
Jon Bennett (1) – ALMS PC – 2013
Colin Braun (1) – ALMS PC – 2013
Antonio Garcia (1) – GTLM – 2014
Misha Goikhberg (1) – PC – 2016
Patrick Pilet (1) – GTLM – 2016
Nick Tandy (1) – GTLM – 2016
Filipe Albuquerque (1) – P/Overall – 2018
Joao Barbosa (1) – P/Overall – 2018
Previous BUBBA burger Sports Car Grand Prix at Long Beach Pole-Winning Drivers in 2019 Field (7)
Jan Magnussen (3) – ALMS GT1 – 2008; GTLM – 2014, 2017
Joey Hand (2) – ALMS GT – 2011; GTLM – 2018
Ricky Taylor (2) – P/Overall – 2015, 2017
Oliver Gavin (1) – ALMS GT1 – 2007
Patrick Pilet (1) – ALMS GT2 – 2008
Ryan Briscoe (1) – ALMS P2 – 2013
Juan Pablo Montoya (1) – P/Overall – 2018
Previous BUBBA burger Sports Car Grand Prix at Long Beach Winning Teams in 2019 Field (7)
Corvette Racing (7) – ALMS GT1 – 2007, 2008, 2009; ALMS GT – 2012; GTLM – 2014, 2017, 2018
CORE autosport (3) – ALMS PC – 2011, 2012, 2013
Wayne Taylor Racing (3) – P/Overall – 2015, 2016, 2017
Chip Ganassi Racing (2) – GRAND-AM DP/Overall – 2006; P/Overall – 2014
Penske (1) – ALMS P2/Overall – 2007
JDC-Miller Motorsports (1) – PC – 2016
Porsche GT Team (1) – GTLM – 2016
Previous BUBBA burger Sports Car Grand Prix at Long Beach Winning Manufacturers in 2019 Field
Chevrolet – 9
Porsche – 8
Acura – 3
BMW – 3
Cadillac – 2
Ford – 1