Hamlin rallies to win in Texas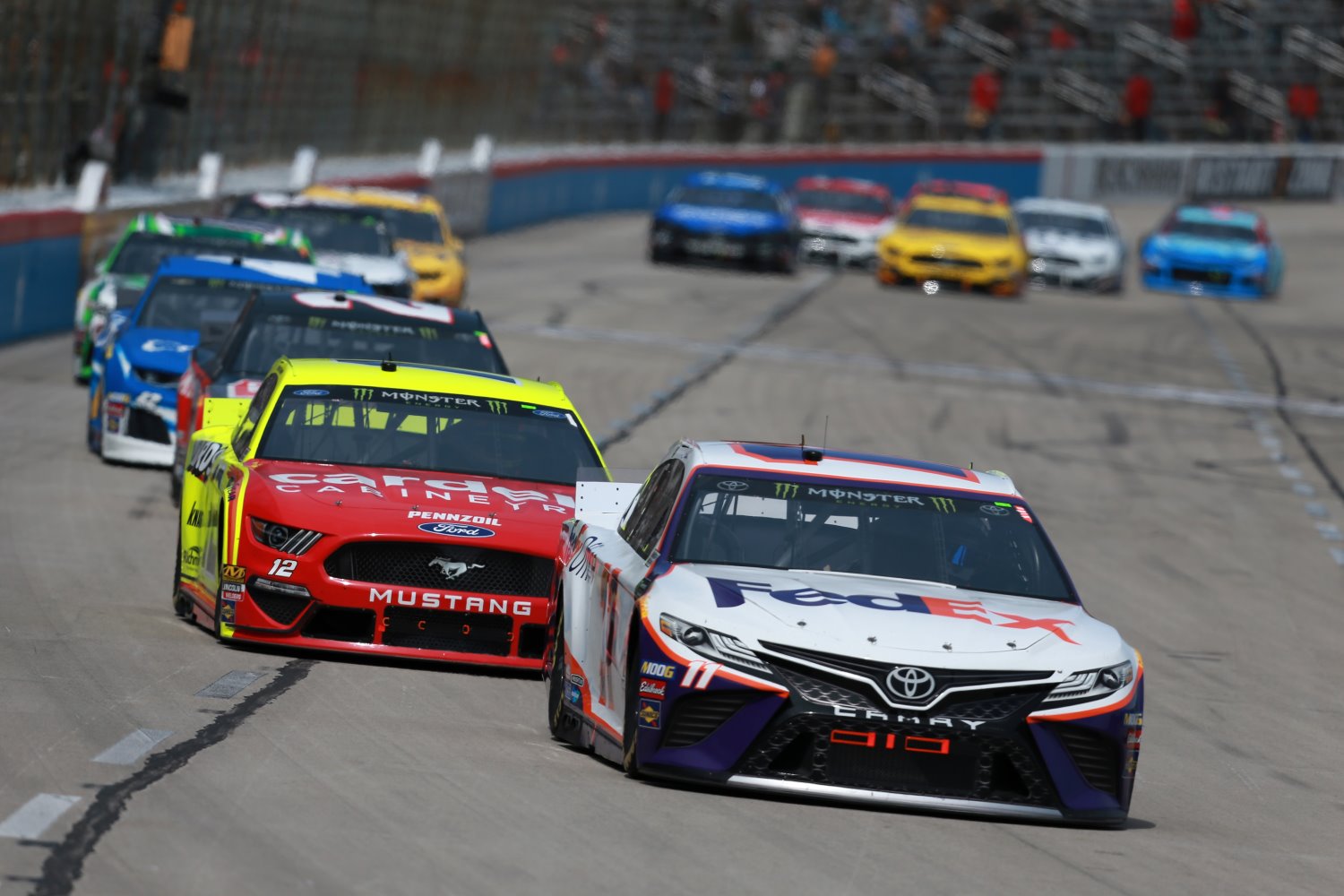 Denny Hamlin, driver of the #11 FedEx Office Toyota, leads a pack of cars on the way to victory
Sean Gardner/Getty Images
Denny Hamlin powered to his second Monster Energy NASCAR Cup Series victory of the season Sunday, recovering from two pit-road penalties to win at Texas Motor Speedway.
Hamlin rallied after a pair of pit-road penalties — one for speeding, another for an uncontrolled tire — to lead 45 of the 334 laps in the Joe Gibbs Racing No. 11 Toyota. His triumph in the O'Reilly Auto Parts 500 was his third win at the 1.5-mile Fort Worth track and the 33rd of his Monster Energy Series career.
Clint Bowyer held on for second place in the Stewart-Haas Racing No. 14 Ford. Teammate Daniel Suarez secured third, Erik Jones recovered from a Lap 14 spin to take fourth, and pole-starter Jimmie Johnson led 61 laps and claimed fifth for his first top-five finish of the season.
Kyle Busch was bidding for a sweep of the NASCAR national-series tripleheader. He scraped the outside retaining wall with his Joe Gibbs Racing No. 18 Toyota, forcing him to pit with 54 laps remaining. Busch wound up 10th.
Ryan Blaney led 45 laps, but his victory hopes fizzled when his Team Penske No. 12 Ford lost power on Lap 226. Teammate Brad Keselowski, last weekend's winner at Martinsville Speedway, also spent significant time in the garage with mechanical issues after he slowed during the Stage 1 intermission. Both finished outside the top 30.
Quotes
DENNY HAMLIN, No. 11 FedEx Office Toyota Camry, Joe Gibbs Racing
Finishing Position: 1st
How were you able to get the win today at Texas?
"Just a fast car. Gave me a fast car, a car that could really pass anyone in the field. That means a lot. Definitely was a different type of race here, trying to draft, trying to get out of everyone's wake. Proud of this whole FedEx Office team here, Toyota, Cocaâ€'Cola, the Jordan Brand, Little Big Burger, everyone who helps put this race car on the race track. Joe Gibbs, J.D. Gibbs, still thinking about him and his legacy. Have to say hi to Jordan and the kids at home. Hopefully we have some fun tonight."
How did you pull off the win today?
"Our car was really, really fast. We obviously saw that. Once we got out front, we were actually able to pull away from the pack a little bit. Just got a little bit loose right there when we were racing our teammates with the 18 (Kyle Busch) and the 20 (Erik Jones), so I wasn't able to be as aggressive as I was earlier in the race. We had a super-fast car and that's why we won. I missed pit road under green, that cost us three or four seconds as well. We tried every way we could to just give it away and we found a way to do it with this FedEx Camry."
How did you overcome all the adversity today with the pit road penalties?
"I told them when I was making my way through the pack, I know this really sucks because we're probably not going to win with the fastest car. It was fun passing all those cars, it really was. We had a fast FedEx Camry and we just took advantage of the cards that were given to us. We had to get a little off sequence there with all the penalties that we had and then I missed pit road under green. That cost us three or four seconds. I don't know, we had such a fast car and that's how we were able to make up time there at the end."
How are you assessing your season to date?
"We've been fast all year, this is not surprising for us. We know we've been fast all year and I'm sure we're probably leading the points now. We're on a roll. We just have to keep it going."
Clint Bowyer, finished 2nd: "We had to unclog ourselves. Once we unclogged ourselves, we were really good. Our Mustangs were fast all weekend long. Took a while for our Mustang to get good. This Rush Trucks Center Cummins car was a little off all weekend long. I was pretty nervous coming into the race. (Crew chief) Mike (Bugarewicz), and everybody made some good adjustments, and then lean on your teammates.
"When you only have an hour's worth of practice, it pulls you away from something you were trying, anything out of your wheelhouse. Just kind of put us all back together with all four cars at Stewartâ€'Haas. All in all, hey, I wanted to catch him (Hamlin) bad. He just come out of the pits way too far ahead of me. Wasn't much I could do about it."
Daniel Suarez, finished 3rd: "It was a solid day, for sure. Overall I want to just say that I'm very proud of Stewartâ€'Haas Racing, everyone that makes this possible. We've been working very hard to make our race cars better. Definitely we're heading in the right direction. It's the second week in a row that all Stewartâ€'Haas cars are in the top 10. That's something very good."
Erik Jones, finished 4th: "It was good. We had a really good Craftsman Camry, but I put us behind there at the start getting myself in trouble spinning out. I was in a weird spot with fuel and what we needed to do. We needed to take more fuel than everybody else and ended up losing the lead there on that green flag cycle. It's a good day, but it's disappointing at the same time. We knew we had a car that could've won and to not capitalize on that is frustrating, but it's also nice to get on track and have some good runs again."
Jimmie Johnson, finished 5th: "We are definitely moving in the right direction. The car was good in clean air and had a lot of speed in it, so I think we have found kind of center for our cars and what has to happen. It was a little evil in traffic, and I had a heck of a time on green flag restarts but really worked hard to get it up underneath me and tightening the car up a little bit for us to race. Ended up having great pace and decent drivability, so we are working in the right direction. I am just so proud of everybody on this Ally team. We've had a lot of pressure on us, and everyone has stepped up and (are) getting it done."
William Byron, finished 6th: "it was good. We had a gun break on the first pit stop. I felt like we were running in the top five at that point. And then we got back to the top five later in the race, and I ran about fifth or sixth. It just felt like we were right there all day. It was a little bit free after that last green flag pit stop and that hurt us a slight bit. But, overall it's good and it's definitely a step in the right direction."
Aric Almirola, finished 7th: "I'm tired. It was a long night last night. I didn't sleep at all, throwing up with a stomach bug, so I'm really, really depleted. I haven't been able to keep anything down, so I'm just really hungry and I'm really tired. … We don't get to call in sick. That's the challenging part of our job occasionally. The flu or a cold or a stomach bug pops up and you've got to fight through it. I'm really proud of everybody on our Smithfield Prime Fresh Ford Mustang. We had a good car and track position there and strategy and pit stops and stuff and we still got out of here with a top 10, so that's six in a row. I'm proud of that."
Kevin Harvick, finished 8th: "Our day was a disaster. Our car drove terrible, and that pretty much sums it up."
Kurt Busch, finished 9th: "It was tough today. We had a right front (tire) go bad. So, somehow we're not getting enough heat into the tires to get a good qualifying run and not lose spots on restarts, but then the car comes alive once it has heat and then that was burning up right fronts going too far through them. So, it was kind of a weird day; really confused about a lot of different things with the dirty air and the grip level. But, all-in-all to be another top 10, I'm really happy for the GEARWRENCH Team and everybody that's working on the car. We really need to get into some big detail and debrief and figure out what we can do to be better."
Kyle Busch, finished 10th: "The car just got loose there. We had made an adjustment to help with the loose issue, but it went the other way for some reason – so something to learn from there. We were in a good position there though to get the win today with our Interstate Batteries Toyota, but it just wasn't meant to be. We will go on to next week and get back on it at Bristol."
Results
| | | | | | |
| --- | --- | --- | --- | --- | --- |
| POS | CAR | DRIVER | MANUF | BEHIND | LAPS |
| 1 | 11 | Denny Hamlin | Toyota | 0.000s | 334 |
| 2 | 14 | Clint Bowyer | Ford | 2.743 | 334 |
| 3 | 41 | Daniel Suarez | Ford | 5.099 | 334 |
| 4 | 20 | Erik Jones | Toyota | 5.321 | 334 |
| 5 | 48 | Jimmie Johnson | Chevy | 6.625 | 334 |
| 6 | 24 | William Byron | Chevy | 7.260 | 334 |
| 7 | 10 | Aric Almirola | Ford | 9.377 | 334 |
| 8 | 4 | Kevin Harvick | Ford | 9.638 | 334 |
| 9 | 1 | Kurt Busch | Chevy | 9.773 | 334 |
| 10 | 18 | Kyle Busch | Toyota | 11.616 | 334 |
| 11 | 6 | Ryan Newman | Ford | 13.272 | 334 |
| 12 | 19 | Martin Truex Jr. | Toyota | 13.641 | 334 |
| 13 | 9 | Chase Elliott | Chevy | 17.223 | 334 |
| 14 | 3 | Austin Dillon | Chevy | 17.456 | 334 |
| 15 | 34 | Michael McDowell | Ford | 22.902 | 334 |
| 16 | 17 | Ricky Stenhouse Jr. | Ford | -1Lap | 333 |
| 17 | 22 | Joey Logano | Ford | -1 | 333 |
| 18 | 88 | Alex Bowman | Chevy | -1 | 333 |
| 19 | 21 | Paul Menard | Ford | -1 | 333 |
| 20 | 37 | Chris Buescher | Chevy | -1 | 333 |
| 21 | 13 | Ty Dillon | Chevy | -2 | 332 |
| 22 | 47 | Ryan Preece # | Chevy | -2 | 332 |
| 23 | 43 | Bubba Wallace | Chevy | -2 | 332 |
| 24 | 36 | Matt Tifft # | Ford | -2 | 332 |
| 25 | 38 | David Ragan | Ford | -3 | 331 |
| 26 | 95 | Matt DiBenedetto | Toyota | -3 | 331 |
| 27 | 96 | * Parker Kligerman(i) | Toyota | -4 | 330 |
| 28 | 32 | Corey LaJoie | Ford | -4 | 330 |
| 29 | 15 | Ross Chastain(i) | Chevy | -5 | 329 |
| 30 | 00 | Landon Cassill | Chevy | -8 | 326 |
| 31 | 51 | BJ McLeod(i) | Chevy | -9 | 325 |
| 32 | 77 | Garrett Smithley(i) | Chevy | -9 | 325 |
| 33 | 8 | Daniel Hemric # | Chevy | -10 | 324 |
| 34 | 27 | * Reed Sorenson | Chevy | -12 | 322 |
| 35 | 52 | Bayley Currey(i) | Ford | -14 | 320 |
| 36 | 2 | Brad Keselowski | Ford | -55 | 279 |
| 37 | 12 | Ryan Blaney | Ford | -108 | 225 |
| 38 | 66 | * Timmy Hill(i) | Toyota | -165 | 168 |
| 39 | 42 | Kyle Larson | Chevy | -186 | 147 |
# DENOTES ROOKIE
(I) NOT ELIGIBLE FOR POINTS
(*) REQUIRED TO QUALIFY ON TIME
[adinserter name="GOOGLE AD"]