Former IndyCar owner Larry Curry dies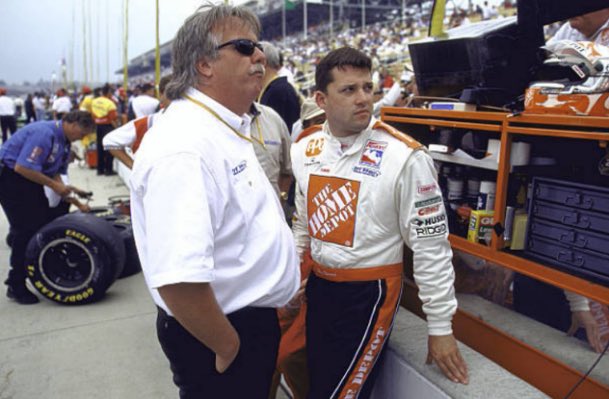 Larry Curry and his driver Tony Stewart in 1997 at Indy. They led 44 laps before blowing up
The man who embezzled $1 million from the man he worked for (IndyCar owner John Menard), Larry Curry, 68, died Friday in Indianapolis after a series of strokes during the past two years.
Curry, who convinced Menard to give Tony Stewart a ride in IndyCar, started as a mechanic in IndyCar in the early 1970s and worked for various teams that included Scott Brayton, Dick Simon, Menard's Racing, and later ran Tony George's Vision Racing in 2005, and then ran Dreyer & Reinbold for 5 years.
Curry was a big supporter of the IndyCar Racing League that Tony George formed to destroy CART, and that effort has left IndyCar racing a mere shadow of NASCAR and F1 after CART built it to be close to the #1 form of motorsports in the world.
But Tony Stewart did not forget the man that have him his big start. After learning of his death Stewart tweeted, "I'm not sure I would've had the opportunity to race in INDYCAR. He pushed for me, and allowed me to make the jump from USAC to INDYCAR. He always believed in me, and I'll always remember him. RIP, Big Daddy."
Always underfunded, Curry had limited success in IndyCar and it's sad that the biggest headlines he ever achieved was for the two years he spent in a federal penitentiary in 2001-2002 for embezzling the $1 million from Menard.
He is survived by wife Bobbie and son Matt.