Like Kyle Larson, will Simon Pagenaud and Santino Ferrucci lose their real rides over actions in an iRacing event?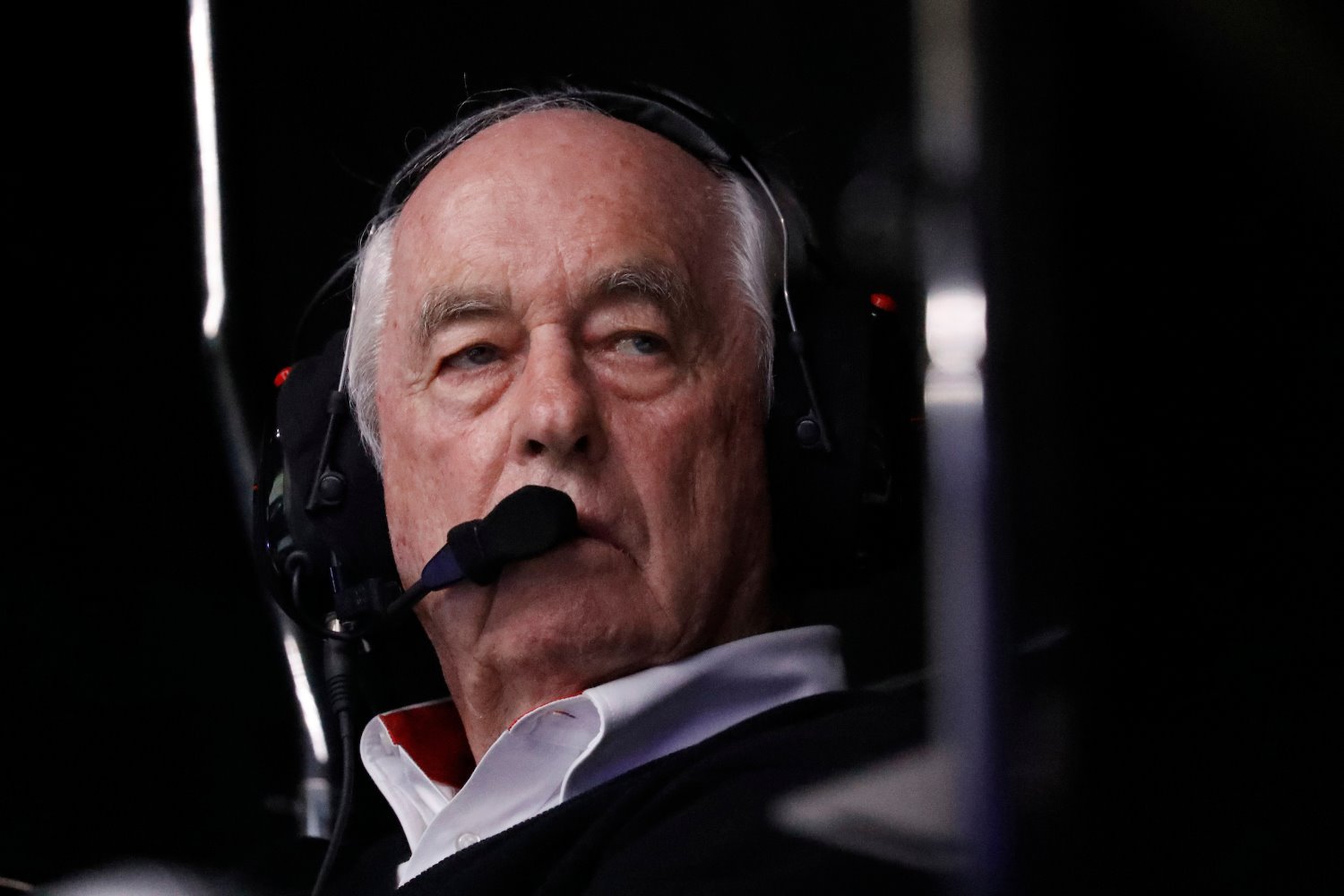 Roger Penske looks spitting mad
Roger Penske must be spitting mad after Saturday's First Responder 175 presented by GM IndyCar iRacing event at Indianapolis Motor Speedway.
His driver Simon Pagenaud, returned to the track after a collision with Graham Rahal, slowed off Turn 4 as leader Lando Norris came on to the straight with less than 3 laps to go, brake checked Norris, and the two made contact.
And he did it on purpose and later lied about it, making it doubly worse.
As he returned to the track, a video feed of a conversation between the Penske driver and Penske race engineer Ben Bretzman saw them decide: "We take Lando out, let's do it!"
Pagenaud said, "Oh, I was pitting, I didn't mean to do…I didn't mean to crash him. I was just pitting," as he lied thru his teeth. He had just exited the pits, he was not going back into the pits again and the recorded audio proved the Frenchman was lying about his indiscretions.
The sponsors (including Menards, PPG, Hitachi and Chevrolet) on Simon Pagenaud's car must be checking their contracts as they read their out-clause should a driver carrying their sponsor logo damage their reputation due to unprofessional conduct.
Likewise, will Sealmaster want to continue to sponsor Santino Ferrucci after his equally unprofessional actions taking out leader Oliver Askew 100 yards from the finish line by purposely swerving hard left and crashing out the leader.
We already saw Kyle Larson lose his NASCAR ride with Chip Ganassi Racing as sponsors bailed after he used the 'N'- word during an iRacing event. Given that Pagenaud and his engineer Bretzman plotted to purposely wreck Norris who was on his way to schooling the IndyCar regulars at virtual Indy in his first ever oval race, will Roger Penske fire Pagenaud?
Likewise, will Dale Coyne be forced to sack Santino Ferrucci if his sponsors bale?
Tweets afterwards
The Race's own Scott Mitchell reacted to Ferrucci's behaviour, and in reply McLaren F1 boss Zak Brown chimed into the debate.
I'm not surprised…..

— Zak Brown (@ZBrownCEO) May 3, 2020
Totally agree, Simon's (move) surprised me but this doesn't. I am just disappointed that so many fans think badly of us. Lando deserved that one & so did Oliver. I know it's a game but when you are wearing a team shirt representing sponsors, a team, a series you should be held accountable
— M A X Chilton (@maxchilton) May 3, 2020
On the Pagenaud/Norris incident, Brown added: "Not what you expect of a champion."
Coanda Simsports racer and Dreyer & Reinbold IndyCar driver Sage Karam shared a video replying to someone who had zoomed in, appearing to show Ferrucci turning down into Askew on purpose.
— Sage Karam (@SageKaram) May 2, 2020
Lame ending @SantinoFerrucci .

— Marco Andretti (@MarcoAndretti) May 2, 2020
"I did not expect to do that." @SantinoFerrucci talks about his contact with @Oliver_Askew that ultimately cost both of them a shot at the win coming to the yard of bricks at @IMS. pic.twitter.com/3VYpPdg2kC

— IndyCar on NBC (@IndyCaronNBC) May 2, 2020
Wow feel bad for @Oliver_Askew… what an awful move that was coming to the finish line. You deserved the win.

— Sage Karam (@SageKaram) May 2, 2020