Richmond to replace Pocono IndyCar race (9th Update)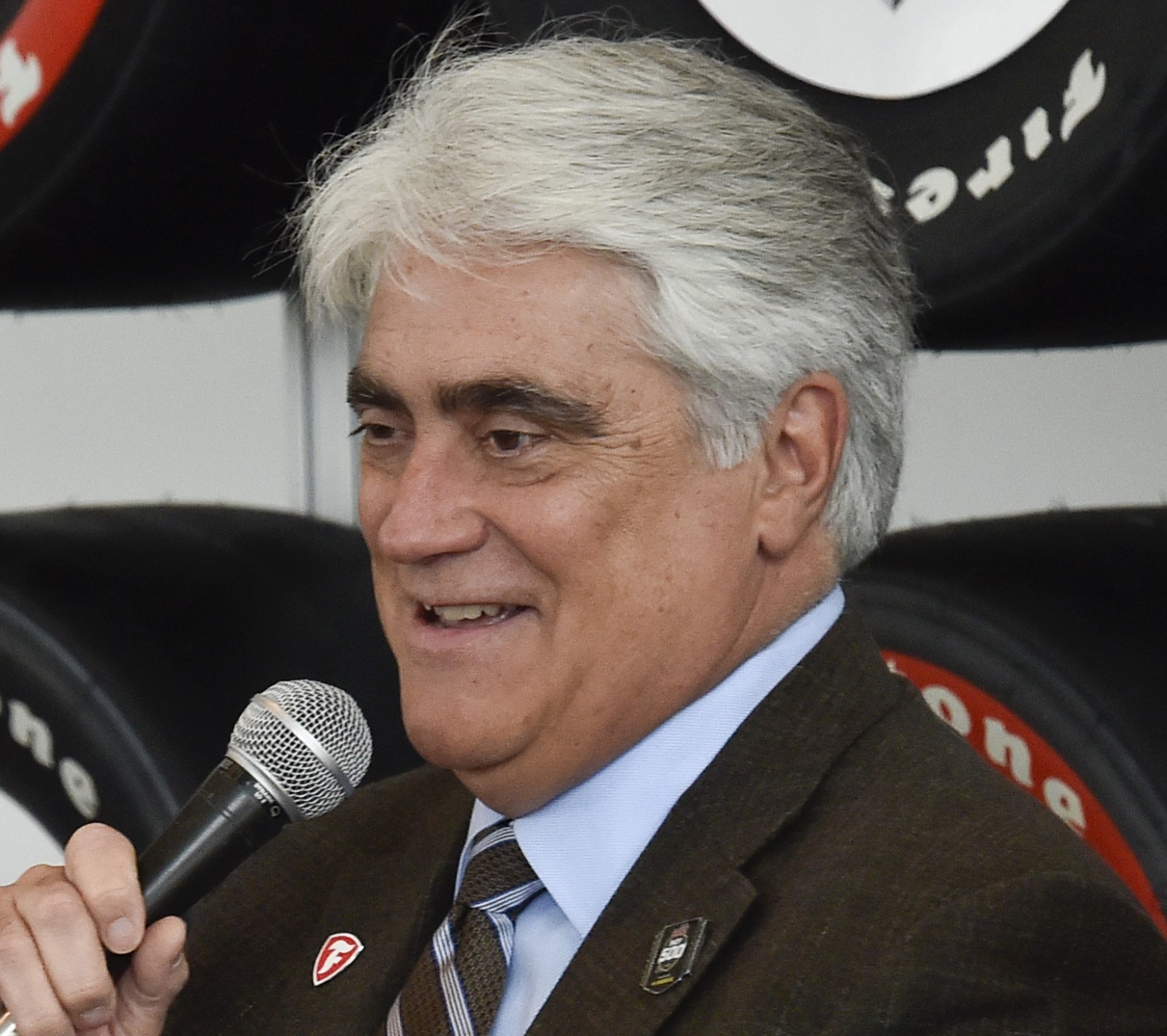 Mark Miles
UPDATE Richmond Raceway will indeed be on the 2020 IndyCar schedule, per an Adam Stern source with direct knowledge of the move, and the track has a press conference slated for next Tuesday.
08/20/19 Brian Carroccio here.
I caught up with Hulman & Co. CEO Mark Miles about an hour before the green flag for Sunday's ABC Supply 500 at Pocono Raceway. My goal in speaking with Miles was to get the series' view on where matters stood between INDYCAR and Pocono with regard to continuing the event. I approached him within the context that it had been reported by this outlet (see below) and others that INDYCAR had been somewhat lukewarm with respect to inquires from Pocono Raceway to continue the event.
With respect to the future of the event, Miles was non-committal. However, I did find his quotes thoughtful and revealing, and will share them below.
With respect to the event continuing, "We've not made any final decisions, but we're late in the process now of putting out our calendar for 2020. We've had months of conversations and really over the years with Pocono about what the future could look like.
"But in this context for 2020, for at least a few months we've said 'we'd like to understand how you can grow this'? The question is what is the forward looking trajectory for the popularity and success of the event?
"As everybody understood that NASCAR was reevaluating what would happen here, we thought that might create an opportunity. And I don't want to get into the details, but I would just say 'there's been a genuine opportunity and effort to understand what could be done to grow the event, and there's been no shortage of opportunities to talk about that and trade views about that. And based on what we've got, we'll have to make a decision."
Miles was not entirely sure when a decision on the 2020 calendar could occur, but he did mention that following the Portland weekend was a possibility.
08/18/19 AR1.com has learned that ABC Supply has committed to sponsor additional Pocono 500 races if IndyCar is willing to come back.
One Pocono spokesperson told AR1.com that "ABC Supply has committed to sponsor every IndyCar race at Pocono. We have given IndyCar multiple proposals and IndyCar executives have been at the track all weekend and they have made zero effort to talk to our executives."
Pocono's large size makes the attendance look worse than it really is. There will be more fans here today at Pocono than a race at Richmond would get, but it appears IndyCar is blowing off Pocono and are going to make their bed with IndyCar's #1 enemy.
We also learned that the once every three years proposal to IndyCar was in conjunction with two other tracks – a 3 track rotation. One of the other tracks was Watkins Glen.
08/13/19
.@PoconoRaceway is seen in the @IndyCar paddock as unlikely to be on the '20 schedule, though the sides insist a final decision has not been made.

âž- If IndyCar doesn't return in '20, Pocono has offered to host a race once every three years.

âž- Schedule expected in September. pic.twitter.com/72ZSt9TYDv

— Adam Stern (@A_S12) August 13, 2019
The empty grandstands at Richmond in 2009 – the IndyCar's last race at Richmond.
08/01/19 IndyCar is in advanced talks with Richmond Raceway to hold a race there in '20, AR1.com sources said last weekend at Mid-Ohio, and a deal should be reached soon. IndyCar raced at the ISC-owned venue from '01-09 and they will never learn – 100% of IndyCar races fail at ISC owned tracks because ISC only cares about NASCAR. IndyCar last raced at an ISC facility at ISM Raceway in '18, but that race was dropped due to low attendance like every other ISC event for IndyCar.
Everyone expects Pocono to be dropped after this year (yet another failed IndyCar oval event), but IndyCar and Pocono continue to insist publicly that they are still in talks. Pocono CEO Nick Igdalsky admitted to NASCAR media last weekend that the track has no deal for '20 with IndyCar at this point. IndyCar will race at Pocono on Aug. 18, and then announce they are not returning.
One thing is certain, IndyCar will race at Richmond for a few years, the race will fail yet again, and will drop off the schedule. As the genius Albert Einstein always said, "The definition of insanity is doing the same thing over and over and expecting different results."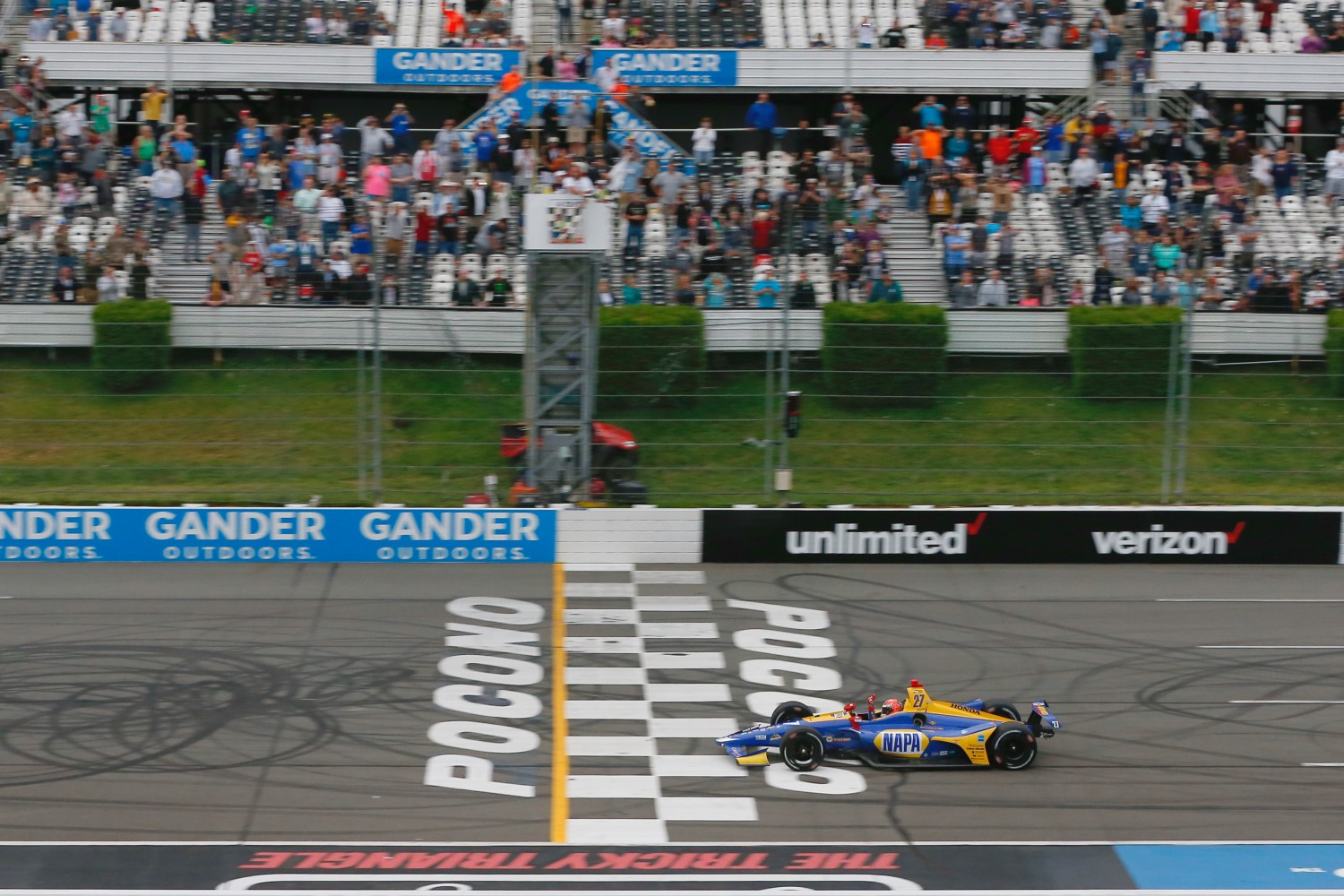 Rossi takes dominating win in 2018 at Pocono.
07/28/19 This rumor is upgraded to 'strong' today with reporting from AR1.com's Brian Carroccio and Tim Wohlford at Mid-Ohio.
06/28/19 During a visit to Allentown with NASCAR driver Ryan Blaney on Wednesday, Nick Igdalsky, Pocono Raceway's chief executive officer, confirmed with the Allentown Morning Call that negotiations continue with IndyCar about the open-wheel racing series' future at the Long Pond, PA speedway.
No contract is in place beyond the Aug. 18 ABC Supply 500 and IndyCar may be considering removing Pocono from its schedule in the aftermath of the 2015 accident that took the life of Justin Wilson and last year's crash that caused life-altering injuries, including one to the spinal cord, that has likely ended Robert Wickens' career.
Earlier this month, Hulman & Co. CEO Mark Miles told the Indianapolis Star that negotiations with Pocono continue but no extension has been announced.
"Right now, we're each evaluating the prospects for growth and what it would look like," Miles told the Indianapolis Star.
With Pocono down to one NASCAR weekend in 2020, a doubleheader, you would think that Pocono and IndyCar could make something happen since the track is losing one of its two big NASCAR event weekends.
However, there are zero support series races during the Pocono weekend, and with so little on-track racing the fans are bored and head for the exits, never to return.
What about Indy Lights? What about Robby Gordon's Stadium Super Trucks? What about a NASCAR Truck Series Race? Anything to fill the dead air time. Short of doing that IndyCar may as well stay home, thereby adding Pocono to the long history that makes up the IndyCar oval graveyard.
With the race on NBCSN with its low TV Ratings, why would ABC Supply renew their sponsorship?
As for Richmond replacing Pocono, how many failed oval track events has IndyCar tried to regurgitate but then failed a 2nd time?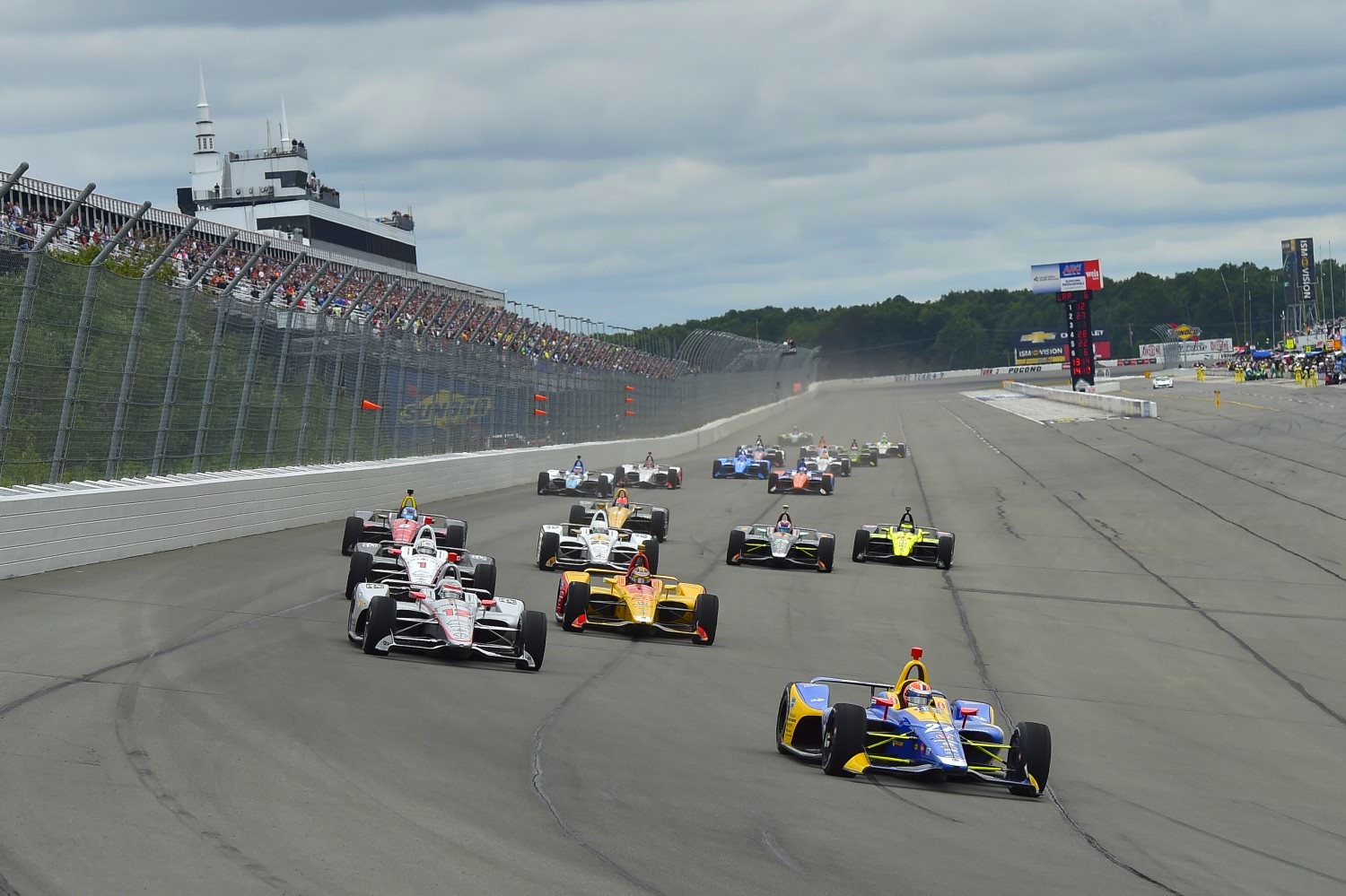 Rossi dominated Pocono in 2018. 2019 is probably the last IndyCar race at Pocono
06/06/19 Hulman & Co. CEO Mark Miles told IndyStar that while IndyCar continues to negotiate with Pocono Raceway about a possible extension, no agreement has been struck.
He confirmed that IndyCar's contract with Pocono expires after the series visits the famed "Tricky Triangle" in August.
Given how small the crowds are at Pocono, given there are no concerts and so much dead track time to keep the fans entertained so they don't come, given the danger (Justin Wilson death followed by Robert Wickens broken back) it's clear the Pocono's future on the IndyCar schedule is in serious doubt.
Even though most of the ovals can't draw a crowd for IndyCar races, that doesn't stop IndyCar from regurgitating the same failed races thru the schedule.
Now there is talk of a possible Richmond race for 2020, another oval that failed in the past. Richmond has two NASCAR Cup races a year. No way they are going to properly promote an IndyCar race.
Miles confirmed that the series has "talked with Richmond Raceway executives." Miles said the speedway is "being evaluated in the context of the discussions of looking at all of our opportunities." He added that IndyCar is "not interested in expanding its schedule of races" within the continental U.S.
The late great Albert Einstein once said, "The definition of insanity is doing the same thing over and over and expecting different results."
Richmond Raceway's brief romance with IndyCar racing could be rekindled writes Randy Hallman of the Richmond Times-Dispatch.
The IRL raced at Richmond from 2001-2009
05/29/19 The sculpted-for-speed racers that zoom around the 2.5-mile Indianapolis Motor Speedway made an annual stop at the 0.75-mile Richmond track for a few years, and they might be coming back.
Emphasize "might be." So far, there is no deal. There is no memo of understanding. There is not so much as a handshake.
"We are nowhere near a deal," said Stephen Starks, IndyCar vice president of promoter and media partner relations.
"But we have had high-level conversations," he added.
Ah — conversations. That's how things get started. So, Virginia fans of open-wheel racing, there is reason for hope that the IndyCar Series could come back to the commonwealth.
In a phone interview earlier this week, Starks said his organization is impressed with Richmond Raceway's leadership and is gathering information and discussing possibilities with the track.
"A lot of people have been asking about a possible return to Richmond," he said. "It's a great market — the Mid-Atlantic region is important to IndyCar. And a lot of people have fond memories of our races in Richmond.
"It's not undoable," Starks said. "In fact, it's doable."
Richmond Raceway president Dennis Bickmeier said the track is willing to consider hosting the series. As he put it: "We continue to look for more opportunities for programming on our racetrack."
More opportunities. That's an interesting phrase at a time of great fluidity in NASCAR's plans. After years of only minimal changes to its schedule, the stock car racing series has jumbled its 2020 schedule and made it clear that 2021 is likely to see even more change.
That could mean some tracks will lose races. It's not unreasonable to think Richmond Raceway could be left with just one annual NASCAR Cup event rather than two, as has been the case for decades.
IndyCars would qualify as an opportunity. The series had a nine-year run at Richmond — one race a year, 2001-09. Crowds peaked at maybe 50,000. The racing was better some years than others, with the best perhaps in 2002 when Sam Hornish took the lead for the first time with two laps to go and held on to beat Gil de Ferran.
The worst IndyCar race at Richmond Raceway? Unquestionably that 2009 race.
The IndyCar rules package at the time mandated cars that didn't suit racing on the D-shaped Richmond track. Maybe the tires didn't quite suit either. For whatever combination of reasons, passing was nearly impossible. The leader eventually settled in behind the last car in the running order and the whole field politely ran single file to the finish.
Postrace interviews were a chorus of apologies to the fans. Dario Franchitti, who finished second, called it "an awful, awful race."
A month later came the announcement that the series wouldn't be back at the Richmond track. The economy had tanked. Attendance had dwindled, that sanctioning fee of $1 million was too high. And the racing had gone sour.
So why think about returning now? Well, the series rules package has continued to change, and the cars have been running successfully at Iowa Speedway, a track very similar to the Richmond venue.
Designed by driver Rusty Wallace with Richmond in mind, the Iowa track is a 7/8-mile D shape with banking very close to Richmond's all the way around.
In nine of the 12 races at Iowa Speedway since 2007, IndyCars have had nine or more lead changes. That's entertaining action in 300 laps on a short track.
And Richmond fans haven't lost interest in the IndyCar racing. This past Sunday, the Richmond region registered the ninth-highest TV rating among markets nationwide for the Indy 500 telecast.
Meanwhile, the NASCAR and IndyCar organizations have come to recognize each other's strengths. They're looking for new ways to cooperate. Randy Hallman of the Richmond Times-Dispatch