British GP at Silverstone saved? (12th Update)
The BRDC denies they are paying $25M per year
UPDATE The deal to "save Silverstone" as the home of the British F1 Grand Prix could slash as much as $31.3M from the circuit's costs. Details of Silverstone's five-year F1 contract with Liberty Media "are secret," but sources close to track owner British Racing Drivers' Club said that the new deal "represents one of the cheapest in the sport." The new deal will make the British GP a potential profit-maker "for the first time in years" and help to expand facilities.
Meanwhile, Motorsport UK Chair David Richards addressed whether F1 could hold a race in London, saying, "London is a dead duck. There are just too many obstacles in the way. Environmentalists won't stand for it and the costs are huge. It just can't happen." SUNDAY TIMES
07/14/19 (GMM) Silverstone has played down reports about the new British GP race fee.
Earlier this week, Formula 1 announced that Silverstone will remain on the calendar for the next five years at least.
The circuit-owning British Racing Drivers' Club had terminated the previous contract for financial reasons. British newspapers claimed the new fee is $25 million per year.
F1 business journalist Christian Sylt told Forbes that $25m would be 3.6 per cent lower than the previous contract.
But he also claimed: "A well-placed source said yesterday that Silverstone actually settled on $17 million, not $25 million as has been reported."
Either way, Silverstone appears to be paying less than the previous contract, which could interest promoters in Germany, Italy, Mexico and Spain who are also in talks with Liberty Media.
Liberty would not comment on the $25m fee.
But a spokesman for the British circuit said: "I don't know where this figure came from.
"The only time a figure was mentioned in the press conference it was $125m but that referred to the amount of investment that will go in to the Silverstone site over the next five years and was nothing to do with the contract," the Silverstone spokesman added.
07/08/19 (GMM) A new deal to keep the British grand prix at Silverstone could be imminent.
Organizers of the historic race cancelled their contract with Liberty Media for financial reasons, and have been negotiating a new one.
Christian Sylt, a F1 business journalist, wrote in the Mail on Sunday that meetings between British politicians and Chase Carey have taken place in recent days.
Also at the meeting was David Richards, a former F1 team boss who is now chairman of Britain's governing body, the Motor Sports Association.
He told Sportsmail on Sunday: "I'm very positive there will be a successful conclusion before the grand prix."
The British grand prix takes place this weekend.
Richards continued: "The fundamentals, the financial side, have been agreed. It is just the final details that need to be signed off, and I am confident they will be."
He said he does not support moves to relocate the grand prix to London.
"I couldn't support a race in London or the suburbs over Silverstone, when it is one of the greatest race tracks in the world," said Richards.
04/08/19 Liberty Media is "closing on a deal" to continue staging the British Grand Prix at Silverstone after plans to move the race to one of the U.K.'s city centers "failed to move quickly enough to secure its future."
Liberty Media is reportedly in the final stages of agreeing to a new deal with the British Racing Drivers' Club, the operators of Silverstone.
This year's event is the last scheduled at Silverstone, with "no guarantee" that the U.K. will host any race next year. Liberty Media is demanding $24M a year, while the BRDC has offered $20M a year, according to sources. A final agreement is expected "within weeks." FINANCIAL TIMES,
(GMM) Reports that Silverstone is set to secure its place on the F1 calendar are gaining more steam.
Last week, we reported that after race organizers terminated the contract for financial reasons, Liberty Media was now ready to ink a new deal within the month of May.
The Financial Times, citing "multiple people familiar with the matter", now agrees that Silverstone is in "the final stages" of negotiations for a new contract.
"Silverstone has a value," one of those people said.
"Chase (Carey) wants to maintain the historic core of F1."
Both Liberty Media and Silverstone's owner, the British Racing Drivers' Club, would not comment.
03/12/18 The owners of Silverstone are on track to make a £46.9m profit after giving the red light to the British Grand Prix seven years early, according to the latest company filings.
The British GP, launched in 1950, is F1's oldest race. For the past 31 years it has been held at Silverstone, which is owned by the British Racing Drivers Club (BRDC), a group of 850 motorsport luminaries including Nigel Mansell and Lewis Hamilton.
In July last year it abruptly put the brakes on the race by triggering a break clause in its contract and announced that the Northants venue would drop the race after 2019 "because it is not financially viable". The British GP has to rely on ticket sales alone to cover the running costs as well as the £16.2m hosting fee. This fueled combined net losses of £51.7m for the BRDC over the five years to Dec 31 2016.
It explains why the BRDC announced last year that "while we would hate to lose the British GP, Silverstone will have a bright future without it". It has now come to light how bright this will be. The BRDC's accounts state that "approximately half of annual revenue continues to be generated by a single event, the British GP".
This came to £27.5m in 2016 with the remainder generated by amateur events and other races. They will be retained and, unlike F1, are highly profitable. The BRDC announcement revealed that "by running the British GP we sustained net losses of £2.8m in 2015 and £4.8m in 2016".
This means that the cost of running the race came to £4.8m more than the £27.5m that it made in revenue. It gives the British GP costs of £32.3m, with the BRDC's non-F1 costs coming to £20.8m, as it had total expenses of £53.1m.
After dropping the Grand Prix, Silverstone will be left with £27.5m of revenue from events which are not connected to F1. Deducting the £20.8m of costs that come with them yields a £6.7m operating profit, which gives a total of £46.9m over the seven years which were remaining on the BRDC's F1 contract. The Daily Telegraph
01/24/17 The PA's Philip Duncan reported Carey has "resurrected hopes of staging a spectacular grand prix on the streets of London." He wants to see races "staged in a number of major cities across the world."
The American, who has recently moved from his homeland to London, revealed that the city "would have to be considered as a possible destination."
Carey: "London is a great city, and there is no question [you think of it] when you think where are the cities you want to be in. … I don't want to get too far into speculation on any particular city at this point, but London is obviously a great city." PA
01/24/17 This rumor is downgraded to 'speculation' today. As Formula 1 ushers in a post-Ecclestone era, new CEO Chase Carey is seeking to reassure British fans by saying that the British GP will remain on the calendar.
The race has been surrounded in uncertainty since Silverstone's owner, the BRDC admitted that it was considering dropping the promotion of the showcase event for a lack of financial viability.
But the new man in charge of Grand Prix racing's destiny dispelled the worries of seeing the historic disappear from the F1 calendar.
"We will have a British Grand Prix," he told BBC Sport.
"The foundation of the sport is western Europe. We want to grow it. There's a negotiating dynamic that exists, but we want a healthy relationship with our promoters.
"We are going to look at ways of making events bigger and better."
F1's new sporting director, Ross Brawn, echoed of course his bosses sentiment.
"A lot of the new circuits are very exciting and they bring their own element to F1," he said.
"They are in it because they want to be part of that show that includes Monaco, Silverstone, Monza, Hockenheimring and the Nurburgring.
"You have still got to maintain those traditions to have the values in F1."
01/21/17 (GMM) Silverstone has rejected reports it has already decided to drop the British grand prix after 2019.
A report in the Sun newspaper this week quoted a source at the track-owning British Racing Drivers' Club (BRDC) as saying Silverstone "will definitely drop" the race.
But the BRDC has now released an official statement saying those reports are "speculative and wrong".
"We will be considering over the next six months if we should give notice of our intention to exercise the break clause in our contract at the end of 2019. No decision has been made, or will be made, until mid-July," said chairman John Grant.
"Our objective is to preserve the British grand prix at Silverstone for many years to come but, of course, we can only do this if it makes economic sense," he added.
Silverstone circuit is tired of losing their shirt on their F1 race
01/19/17
(GMM) Bad news is still flowing out of Silverstone, the embattled current venue of the historic British grand prix.
Recently, the track-owning British Racing Drivers' Club (BRDC) indicated it could end its F1 race deal, although president Derek Warwick subsequently played down those fears.
But now, a senior BRDC member claims Silverstone "will definitely drop" the British grand prix after 2019 due to unsustainable costs.
"They will definitely drop the grand prix and see what is going to happen over the next two years," F1 business journalist Christian Sylt quoted the source as saying.
"It's a two-year notice period," the BRDC member is quoted by The Sun newspaper. "There is no question about it because it is not affordable."
01/14/17 (GMM) Silverstone's owner is now more confident about the future of the British grand prix.
The chairman of the track-owning British Racing Drivers' Club (BRDC), John Grant, warned recently that a clause to end the race after the 2019 edition could soon be triggered for financial reasons.
But BRDC president Derek Warwick sounds more upbeat.
"We are talking to the government to see if there is any help there," he is quoted by the Guardian.
"I feel there is light at the end of the tunnel and I think we will have a grand prix past 2019."
Former F1 driver Warwick's confidence has also been buoyed by meetings with the sport's new owner Liberty, and also F1 supremo Bernie Ecclestone.
"(Liberty's) Chase Carey understands our dilemma," he said. "Even Bernie is calling us and saying 'Let's set up a meeting and talk about it'."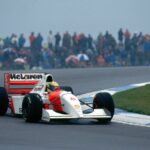 Ayrton Senna leading the British GP at Donington in 1993
01/12/17 Donington Park has "no interest in running the British Grand Prix, even if Silverstone decides to abandon hosting Formula 1," according to Kevin Turner of AUTOSPORT.
Silverstone's owner, the British Racing Drivers' Club, is "currently considering whether to activate the break clause in its GP contract," which could make the '19 edition the last at the Northamptonshire venue. Donington held the European Grand Prix in '93 and "made a failed bid to host an F1 world championship round at the end of the last decade."
When asked if Donington would "consider trying to host the British GP if Silverstone did pull out," current circuit Managing Dir Christopher Tate said, "Absolutely not. … We've no interest in hosting modern, high-speed single-seaters because we'd have to completely change Donington Park."
Tate also criticized the "basis on which circuits have to run GPs, but believes Liberty Media, which is expected to take a controlling interest in F1 soon, seems willing to change deals to help circuits." Tate: "The business model makes no sense to anyone and all the messing around with the F1 calendar has a terrible impact on the rest of motorsport." AUTOSPORT
01/07/17 (GMM) British motor racing tracks have played down Bernie Ecclestone's hint they might be in the running to take over the British grand prix.
As it emerged Silverstone was considering breaking its contract, F1 supremo Ecclestone said there are "two other opportunities in England" where the race could take place.
"I'm not going to say where it is," he told ITV.
However, one circuit, Donington, told the Guardian newspaper: "The board has consistently made it clear that we have no intention of bidding for the British grand prix."
Another, Rockingham, made a similar comment.
Brands Hatch, owned by Renault driver Jolyon Palmer's father Jonathan, declined to comment, as did the Circuit of Wales.
01/05/17
(GMM) A new cloud has moved over the future of the British grand prix.
F1 business journalist Christian Sylt revealed that a letter from Silverstone owner the British Racing Drivers' Club (BRDC) explained the "potentially ruinous risk" that financial problems could spell the race's end.
The Club has a contract with Bernie Ecclestone until 2026, but BRDC chairman John Grant said in the letter published by ITV that he is thinking about "whether we should give notice before the 2017 (race) of our intention to exercise the break clause".
If that clause is exercised, Silverstone will cease hosting the British grand prix after 2019.
F1 legend Sir Jackie Stewart said Grant's warning must be taken seriously.
"I think it's a credible threat and not impossible for it to happen."
And F1 supremo Bernie Ecclestone added: "If they want to activate a break clause, there is nothing we can do.
"Two other tracks have contacted us and we are keen to keep a British grand prix. As far as Silverstone is concerned, it's not in our hands."