Kurt Busch out at SHR for 2019? (Update)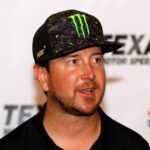 Kurt Busch
UPDATE This rumor is upgraded to 'fact' today. Saying "it's not in the cards for me to stay," Kurt Busch announced on Twitter Sunday night he would not return to Stewart-Haas Racing in 2019.
Busch, who joined SHR in 2014, did not mention where he would race next season. There have been reports that he will join Chip Ganassi Racing.
"I'm looking forward to the future & new opportunities ahead!" Busch said in the post.
The 40-year old driver won six times in the No. 41, including once in 2018 at Bristol. He qualified for the playoffs with the win and finished seventh in the standings. He also earned a season-best five poles.
This year marked Busch's 18th full-time season in the series.
07/28/18 Stewart Haas Racing has insisted that it expects all four Cup drivers back in '19, but there continues to be rumblings over the possibility that Kurt Busch could be out.
RCR is rumored as an option if he did leave but a source close to RCR said that's unlikely. Adam Stern